Hey Sugas!!! We've had last call, now the house lights are finally up and it's time to say goodnight. The time has official come and I must say see ya later to my Polish Con New Orleans Spring 2019 series but not before I share the event exclusives and LEs for another NOLA based maker/brand, Mia of Kathleen & Co.
Oh who am I kidding, the party is NOT over!!! I am excited to be travelling to the greatest Cajun Crawfish City in the world for Polish Con and a little family vacation! Be sure to join me on my Facebook page (link below) for periodic live check-ins from New Orleans and Polish Con, I promise you wont want to miss it!
Enjoy….
**All swatches are done using liquid latex peel off base coat, glossy QDTC and matte topcoat. Swatch photos are taken using artificial lights.**
Exclusives
Nola Lights
A vibrant purple based holo with multichrome magnetic that shifts from green/blue to purple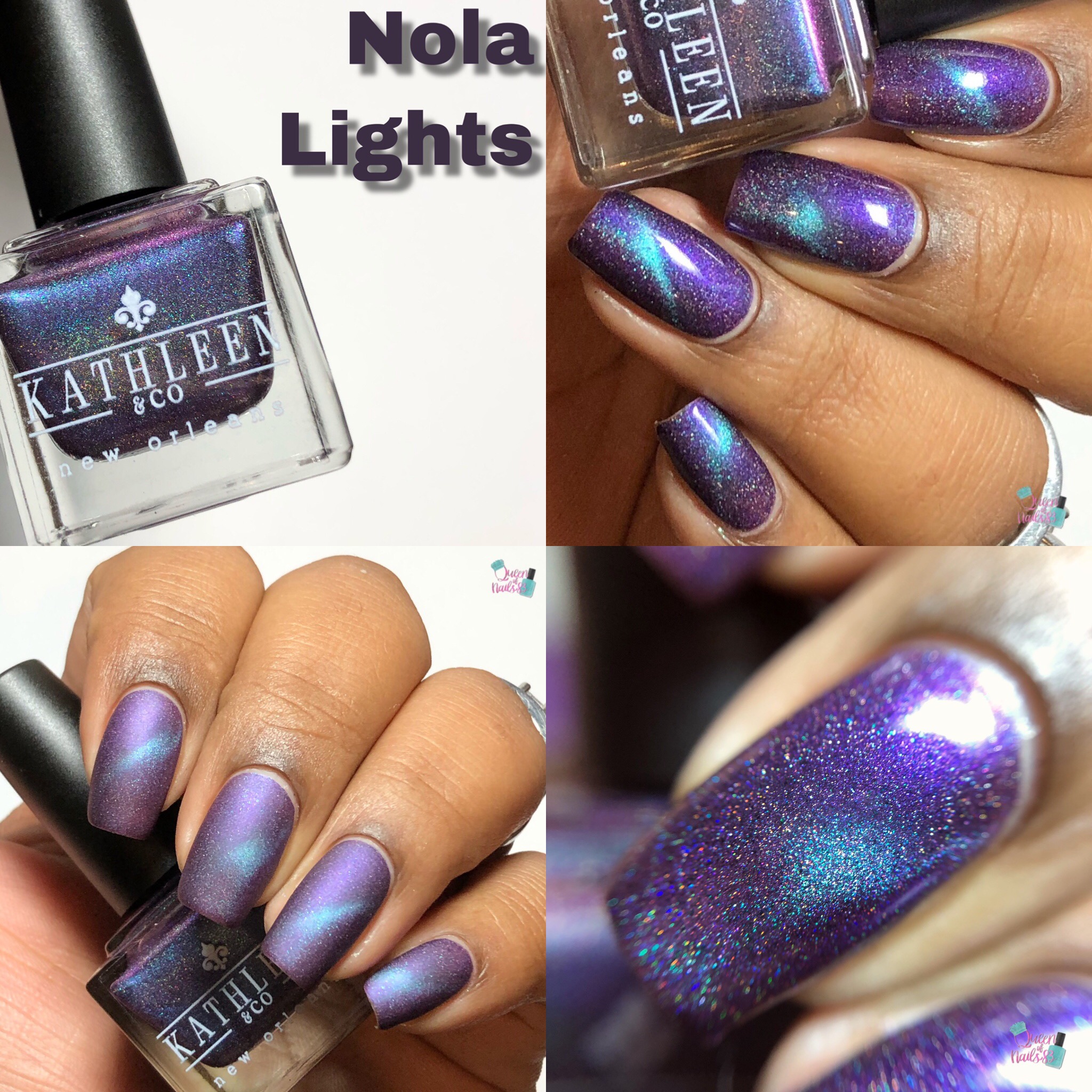 Nola Flare
An aqua green crelly with 5 different kinds of multichrome flakies, a light dusting of holo and turquoise metallic microflakes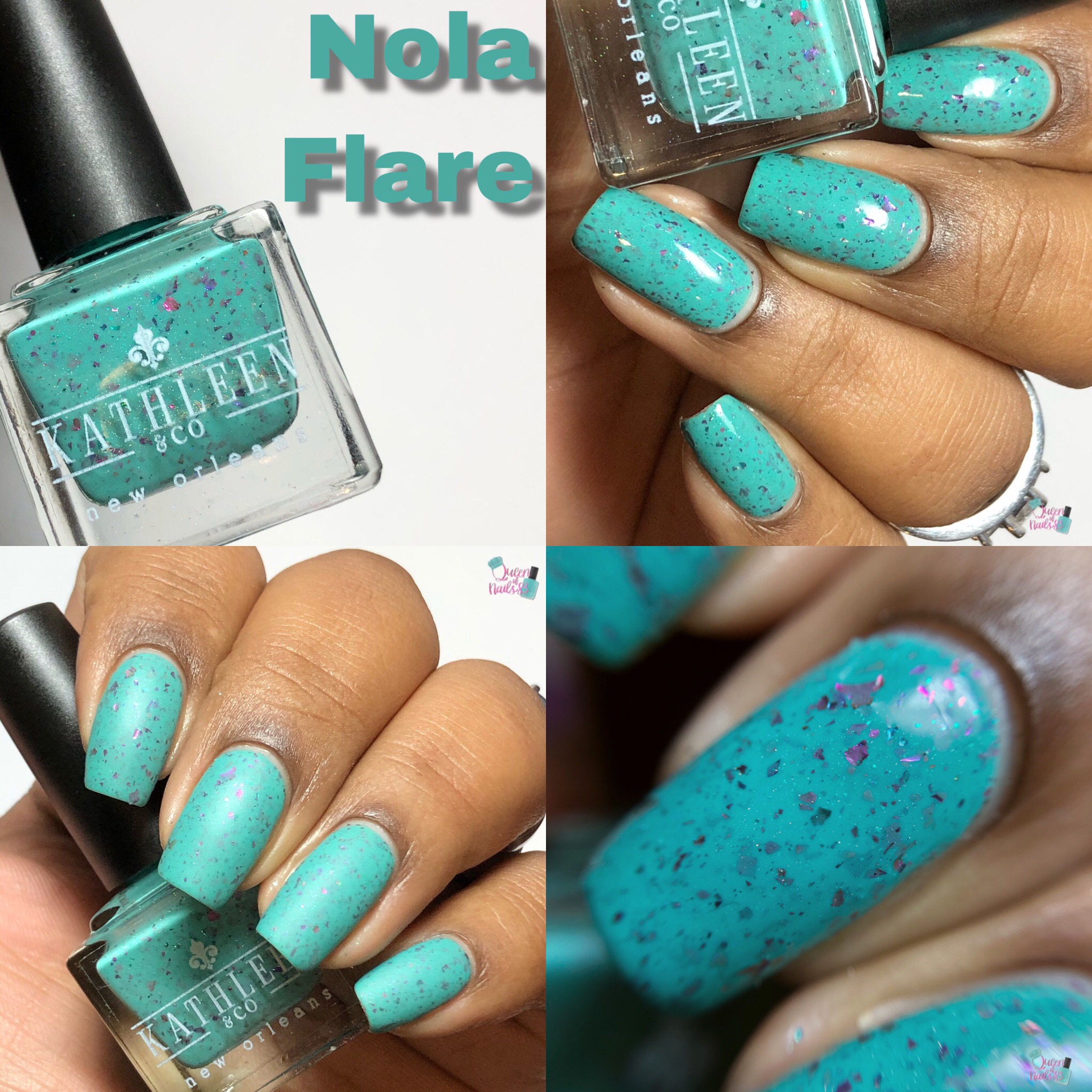 Beads on Bourbon
A purple crelly with same multichrome flakes as Nola flare, a light dusting of holo and purple metallic microflakes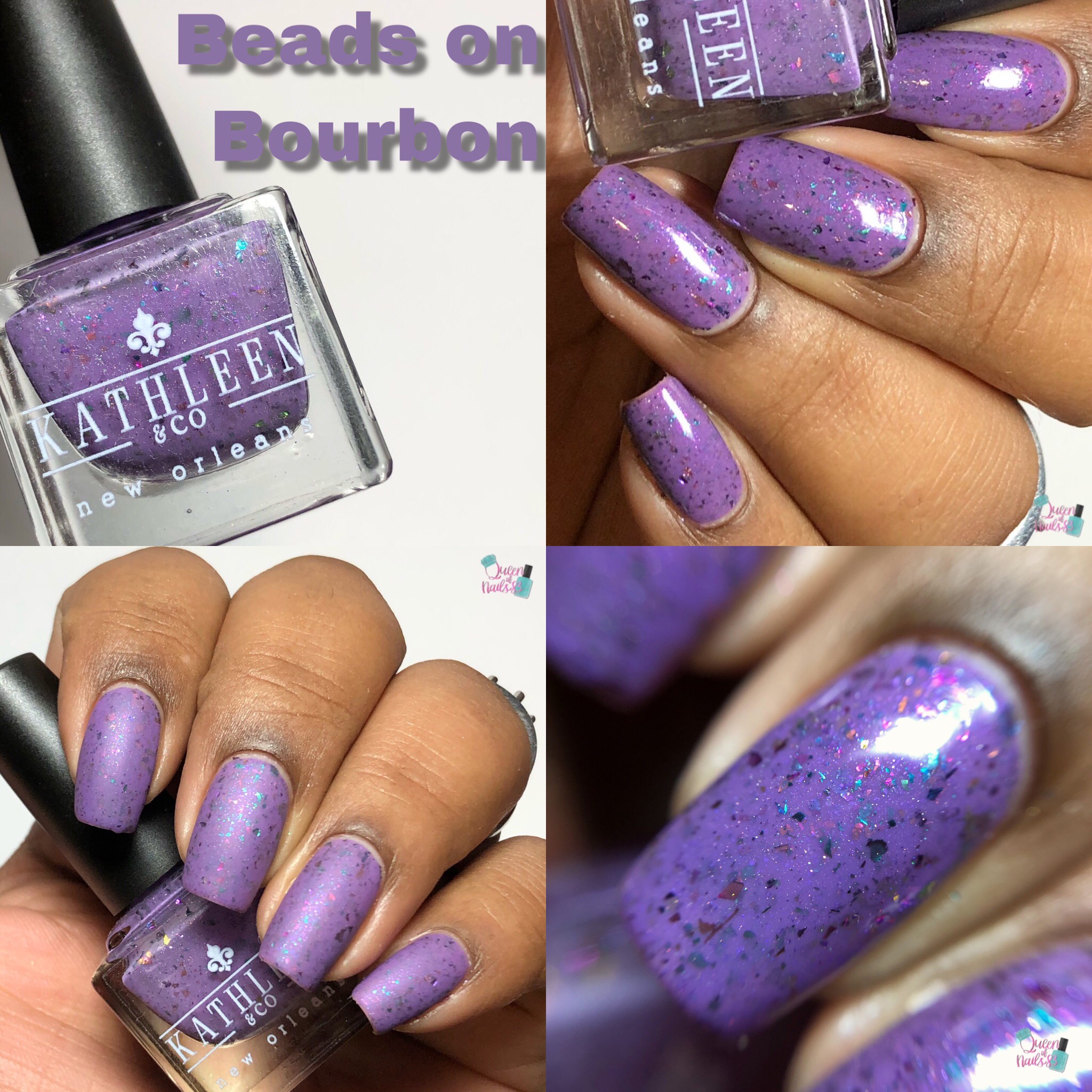 Limited Edition
Rock You Like A Hand Grenade
A turquoise base loaded with glowy iridescent microflakes that shift from aqua/green to pink/purple with a light dusting of holo sparkle to add that extra flash.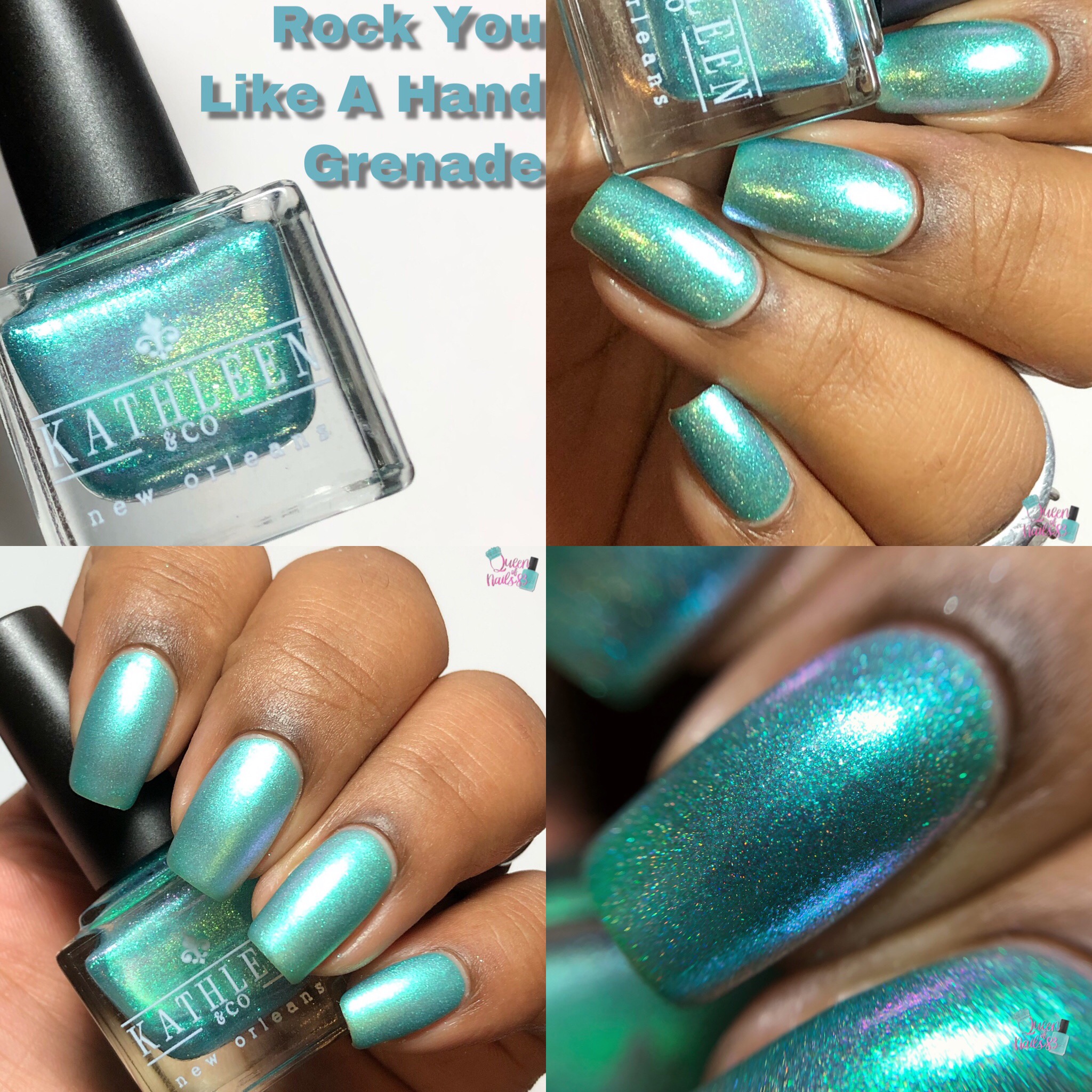 Voodoo Whodoo
A beautiful violet base loaded with holo pigment, holo microflakes and glowy microflakes that flash pink and yellow.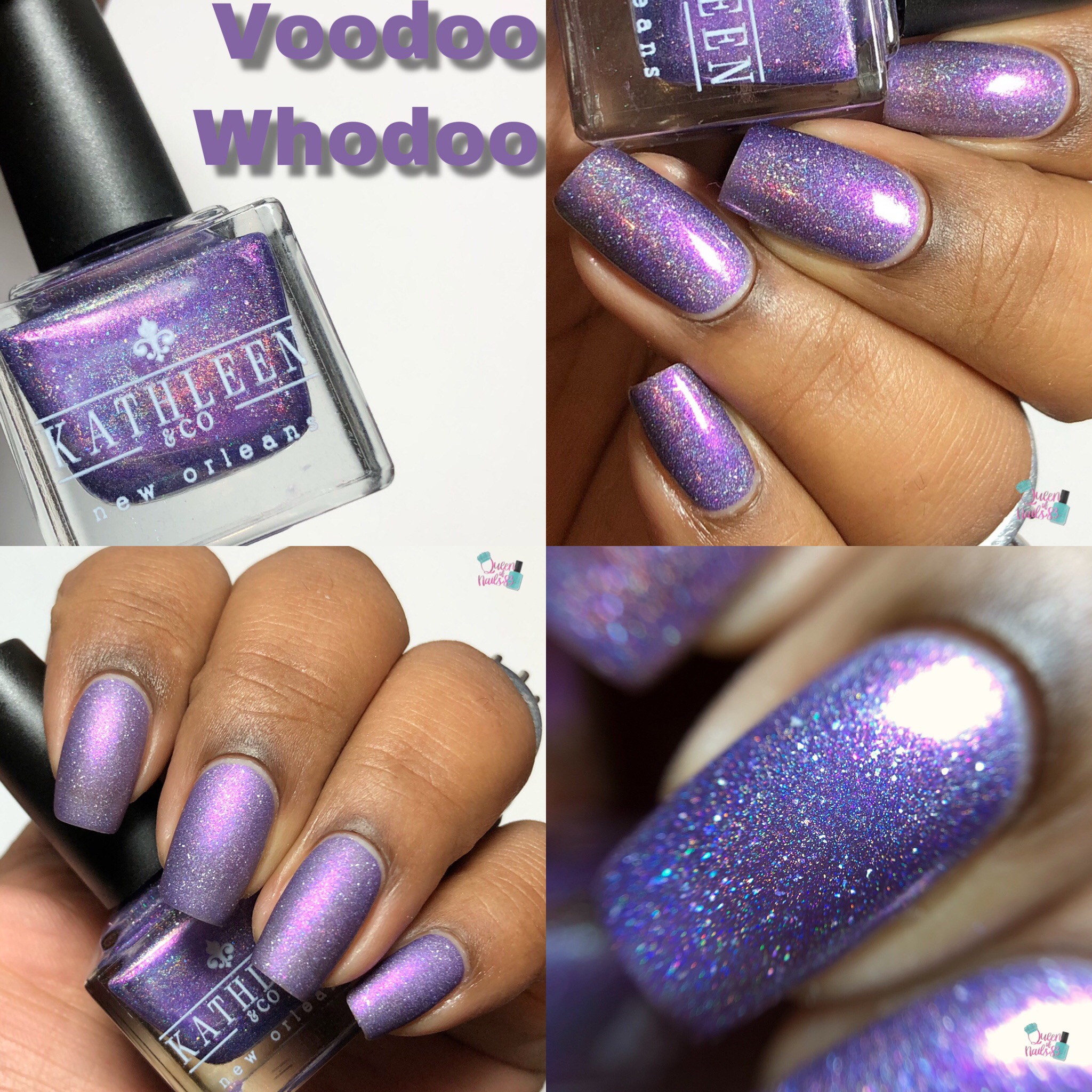 Royal Street Stroll
A beautiful violet base with aurora shimmer that shifts pink/gold/green and a light dusting of holo microflakes.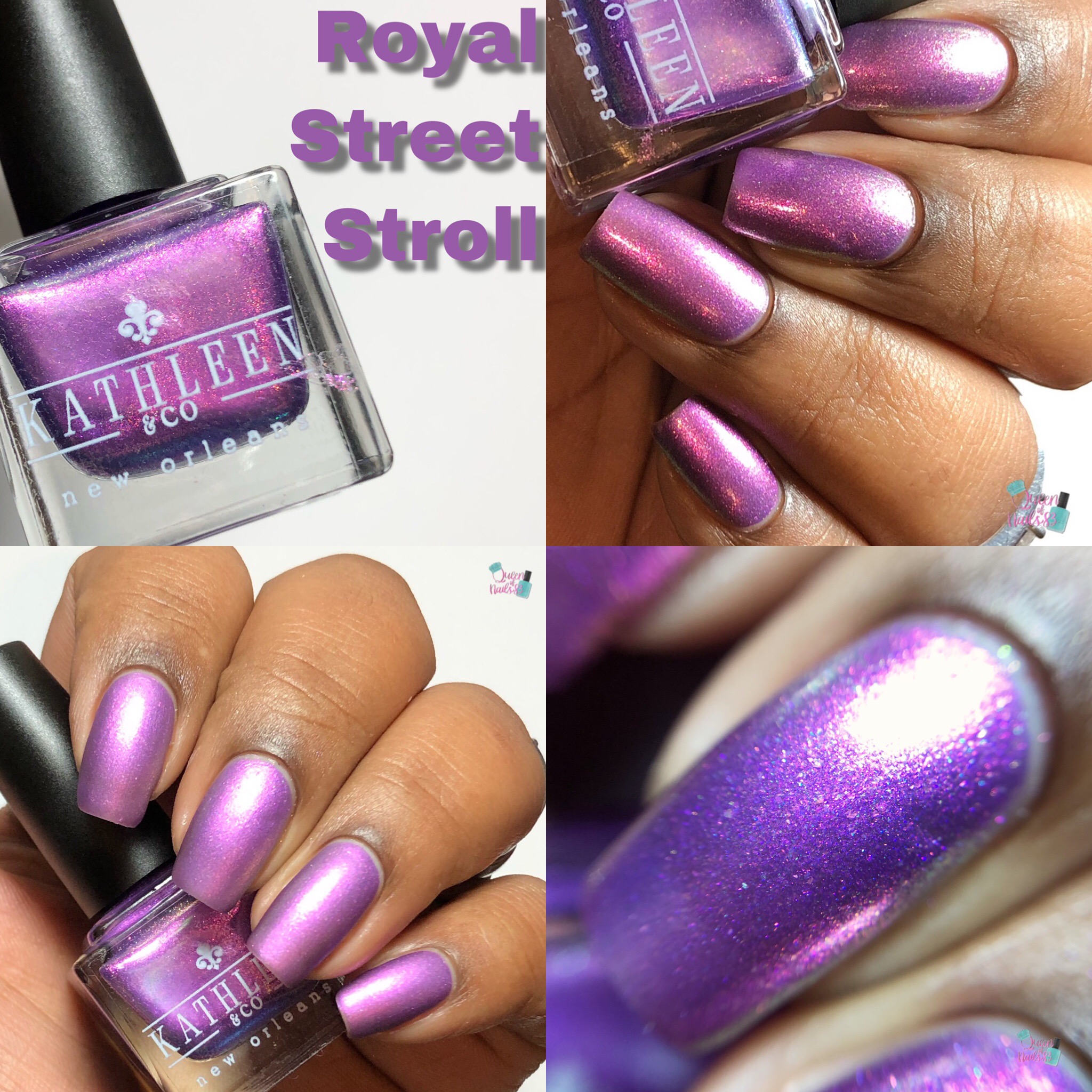 Kathleen & Co – Polish Con New Orleans 2019
Fairy Program: No
Opacity: swatches shown in 3 coats
Price: $12 each except Rock You Like A Hand Grenade and Beads on Bourbon – $11
Availability: Saturday, April 6th at PCNOLA 2019 and online TBA
Kathleen & Co.
To stay in the know of all things Polish Con, shop, like, join and follow
**Polish Con**
The Polish Convention New Orleans
Sat, April 6, 2019
1:00 PM – 6:00 PM CDT
Ponchatrain Convention & Civic Center
4545 Williams Blvd
Kenner, LA 70065
*Like, Comment and Subscribe*
Eat, Laugh, Polish, Repeat
Queen of Nails 83

💕