Hey Sugas!!! We are just about half way through July and you know what that means, for 1 week only you can get your exclusive July 2020 HHC offerings including polish… of course, soap, wax and more!! 
Enjoy… 
**All swatches are done using liquid latex peel off base coat, glossy, QDTC and Matte Topcoat. Swatch photos are taken using artificial lights.**
Bee's Knees Lacquers – Operation Bloodthirsty Bat Removal
Theme: Ghost Adventure
Description: A blue-teal jelly full of red to green shimmer.
Price: $12 / Cap: NONE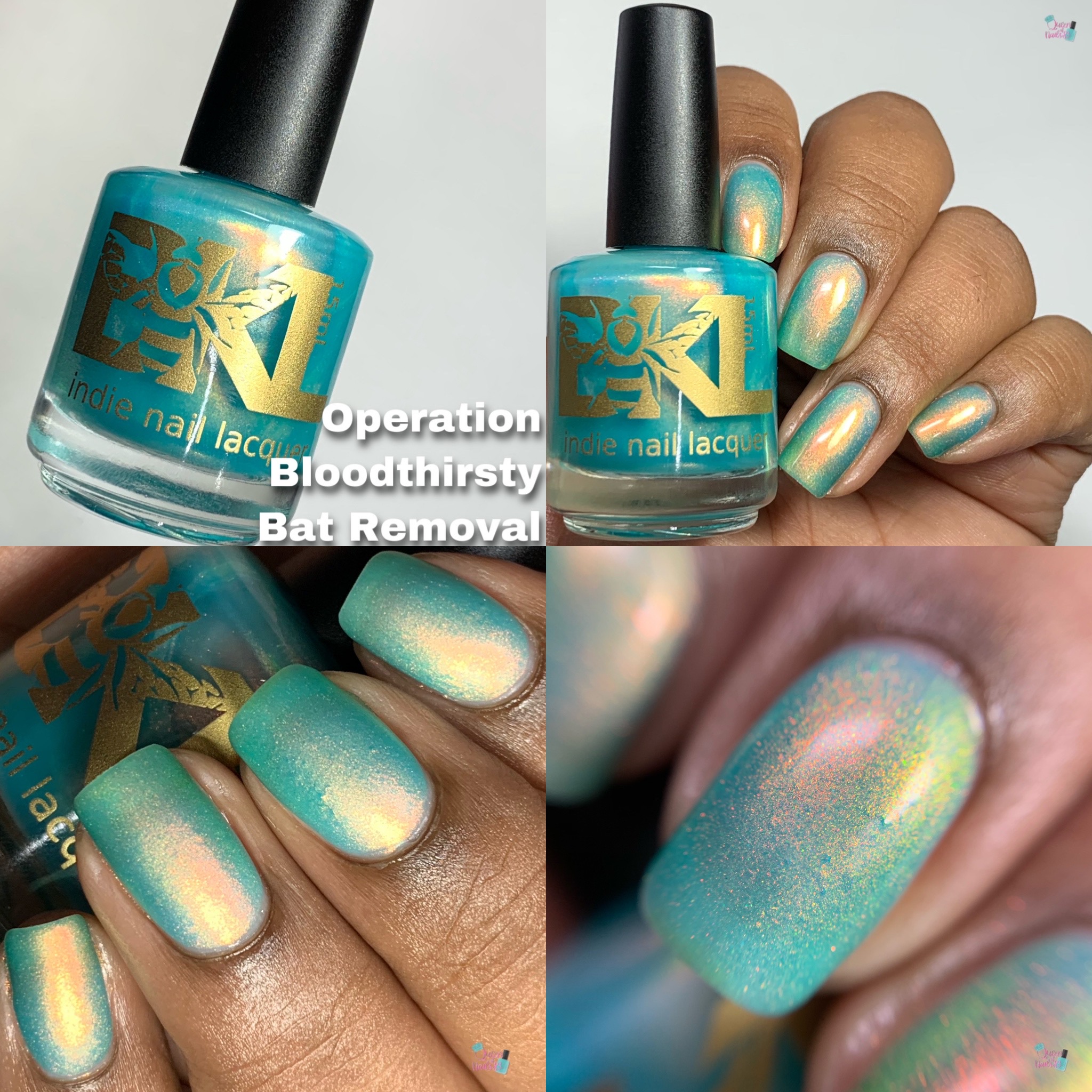 Black Dahlia Lacquer – I Move the Stars for No One
Theme: David Bowie
Description: A very pale, icy blue iridescent shimmer jelly with blue and violet aurora shimmers, and a significant blue/purple/green shift
Price: $11.50 / Cap: NONE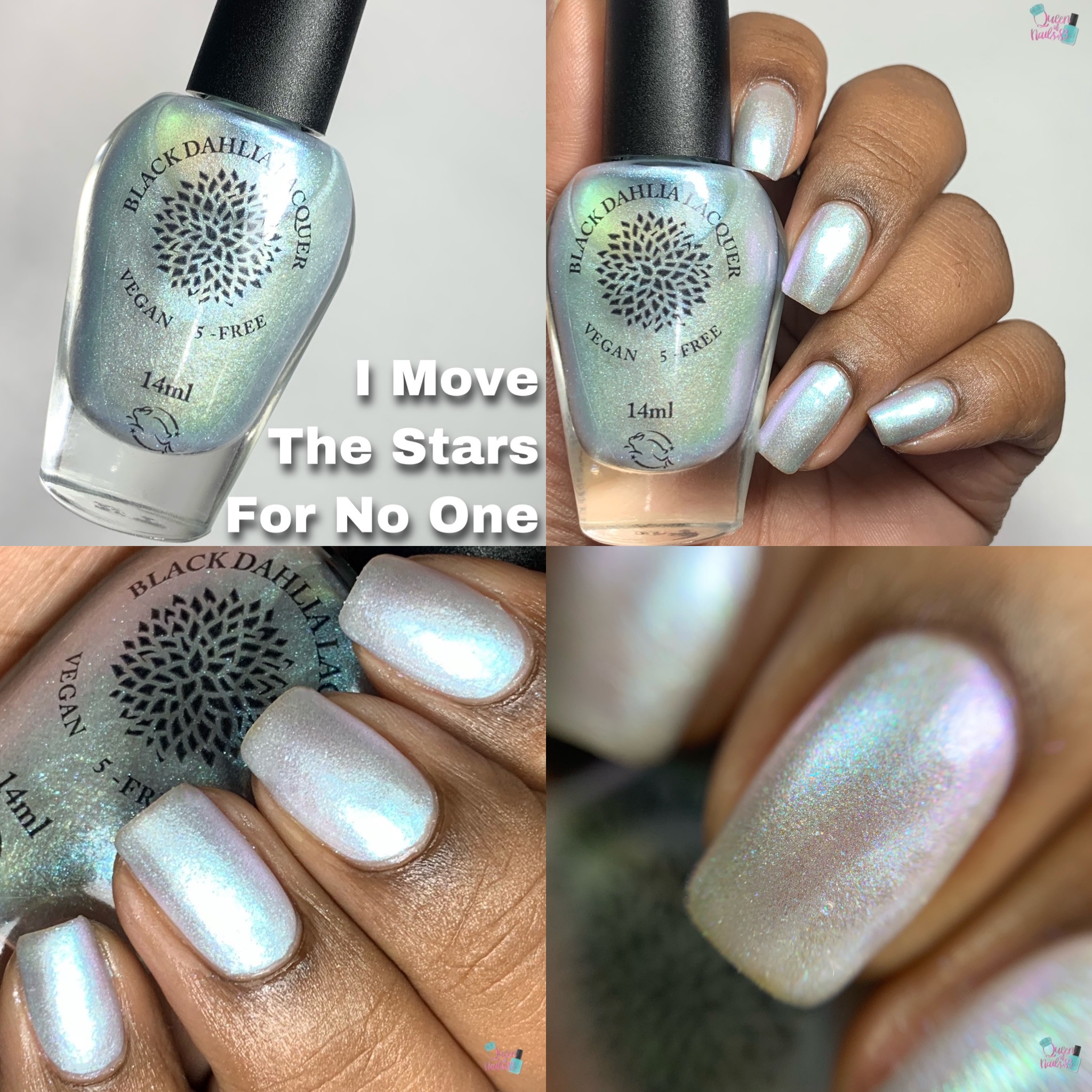 Bluebird Lacquer – Wish Upon a Starling
Theme: Beautiful Birds from Around the World
Description: A purple jelly with purple to red and magenta-purple-gold shifting ucc flakies
Price: $11.50 / Cap: NONE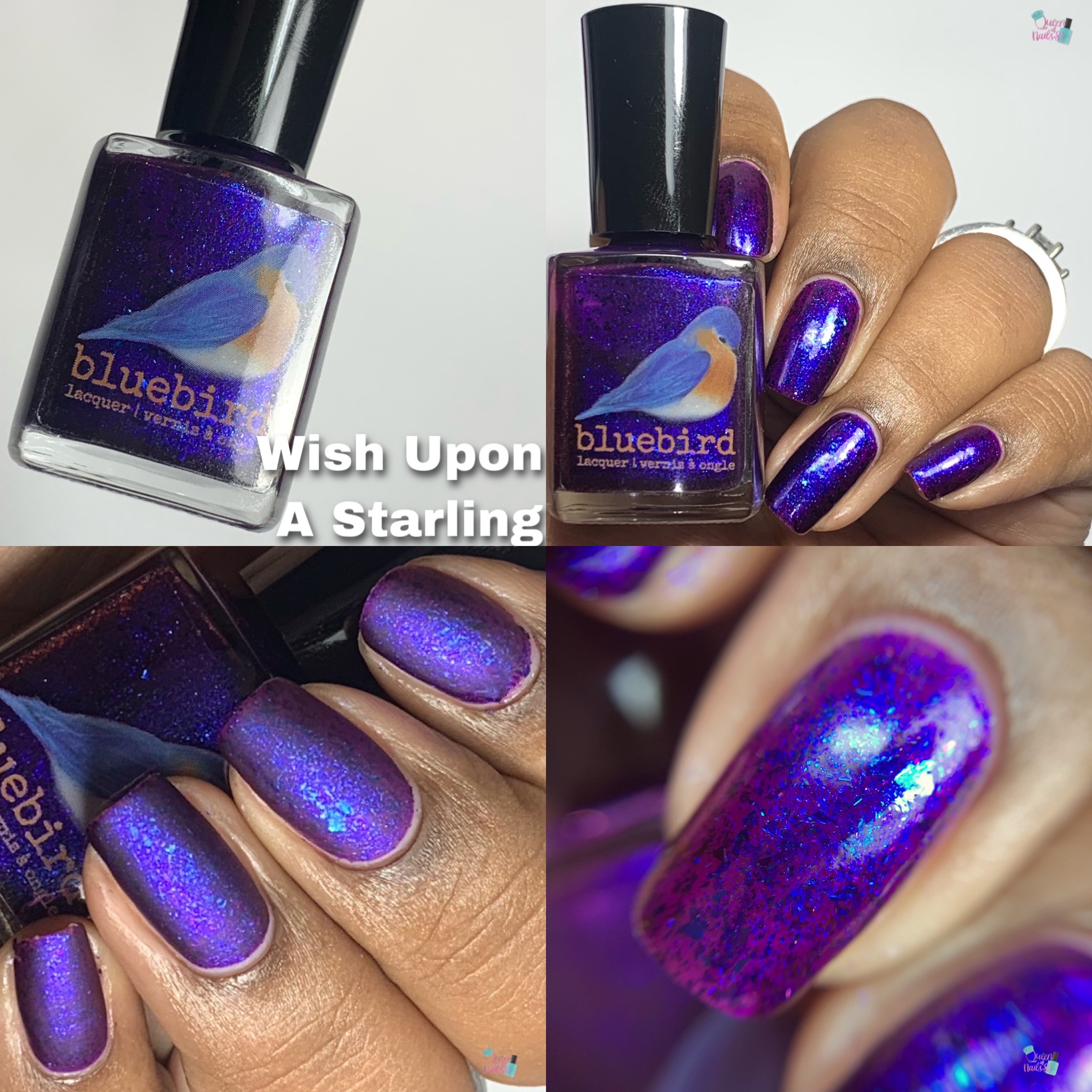 Blush Lacquers –

Beware of the Plastics
Theme: Mean Girls
Description: A bright raspberry pink nail polish loaded with holographic flakes and rose gold flakes
Price: $13 / Cap: NONE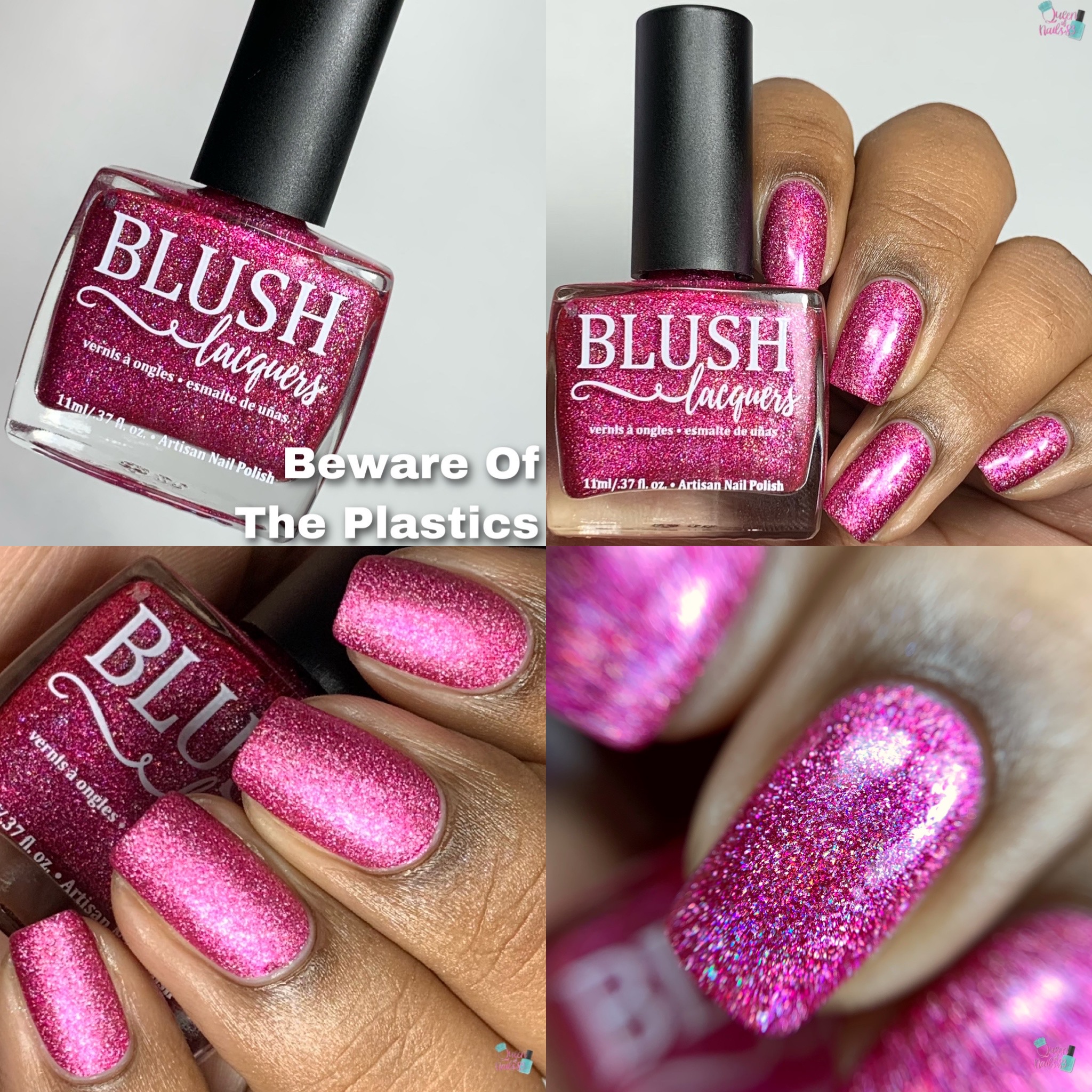 By Vanessa Molina –

Light of Angels
Theme: Angel
Description: A beautiful holographic with a dispersed shimmer
Price: $12.50 / Cap: 100 bottles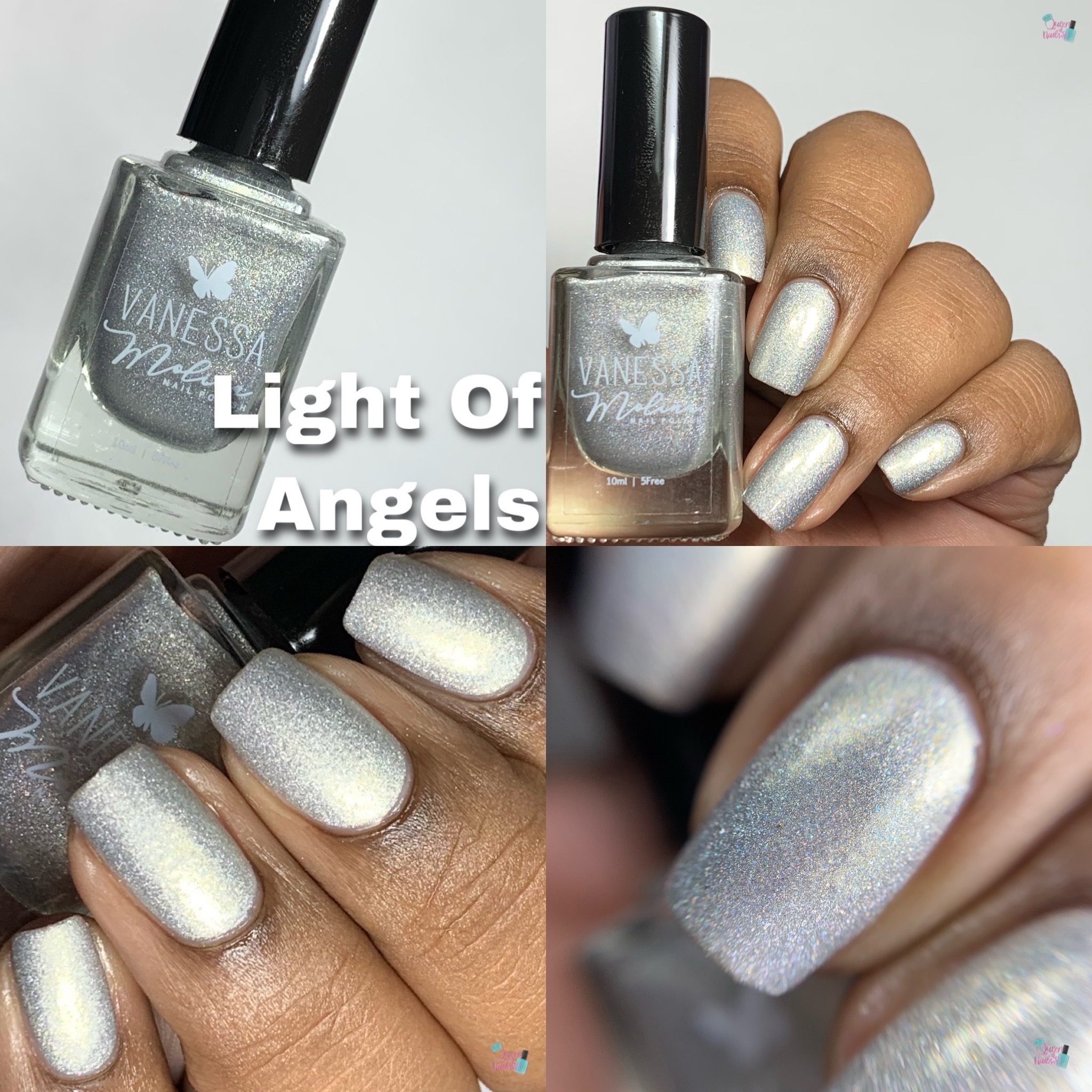 Chirality Nail Polish – 

My Masterpiece
Theme: The Tarantino Effect
Description: A pear green jelly filled with blue-teal-green-purple iridescent shimmer, translucent green micro flakes, green-gold shifting micro flakes, and kaleidoscopic green-purple shifting flakes
Price: $11 / Cap: NONE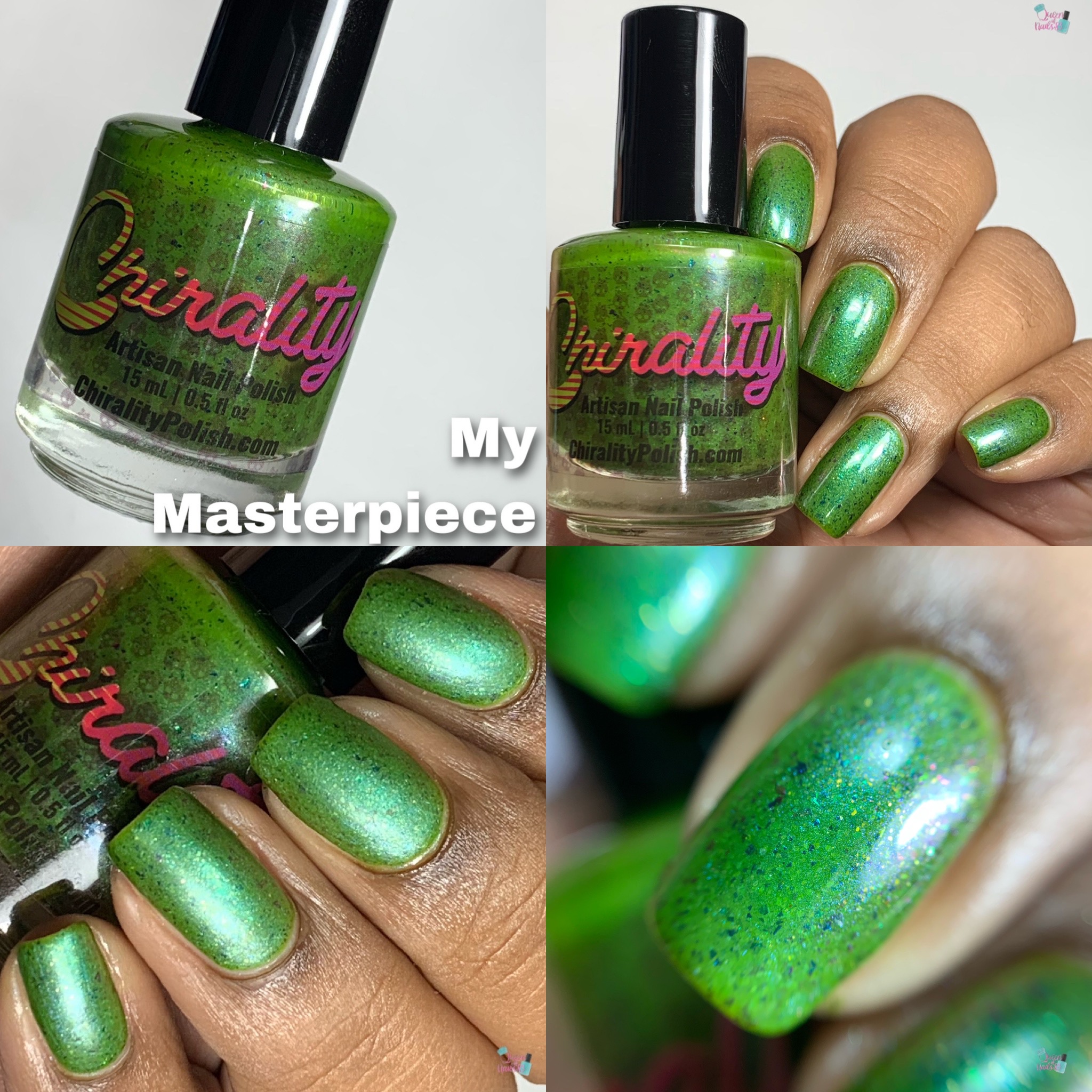 Colors by Llarowe (CbL) –

Off to See the Wizard
Theme: Wizard of Oz
Description: A light periwinkle intense holo with red to green to gold shimmer
Price: $11 / Cap: 130 bottles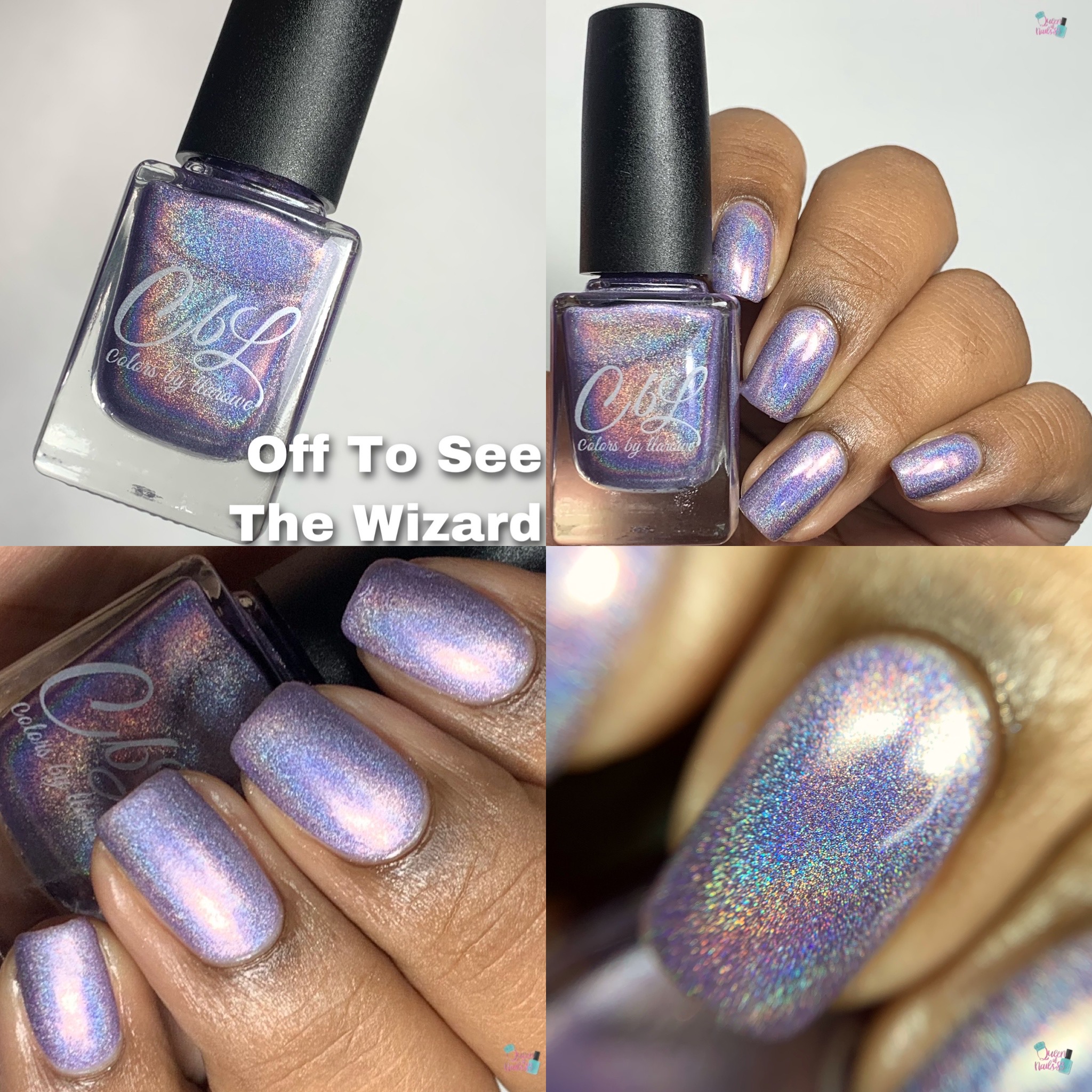 DRK Nails –

Super TrouperSet
Theme: Mamma Mia
Description: Features "Not Feeling Blue", an ultra multichrome that shifts from Blue/Purple/Pink/Bronze/Green & "Light Over It", a white microflake magnetic topper with turquoise/blue/pink flakes.
Price: $19.50 / Cap: NONE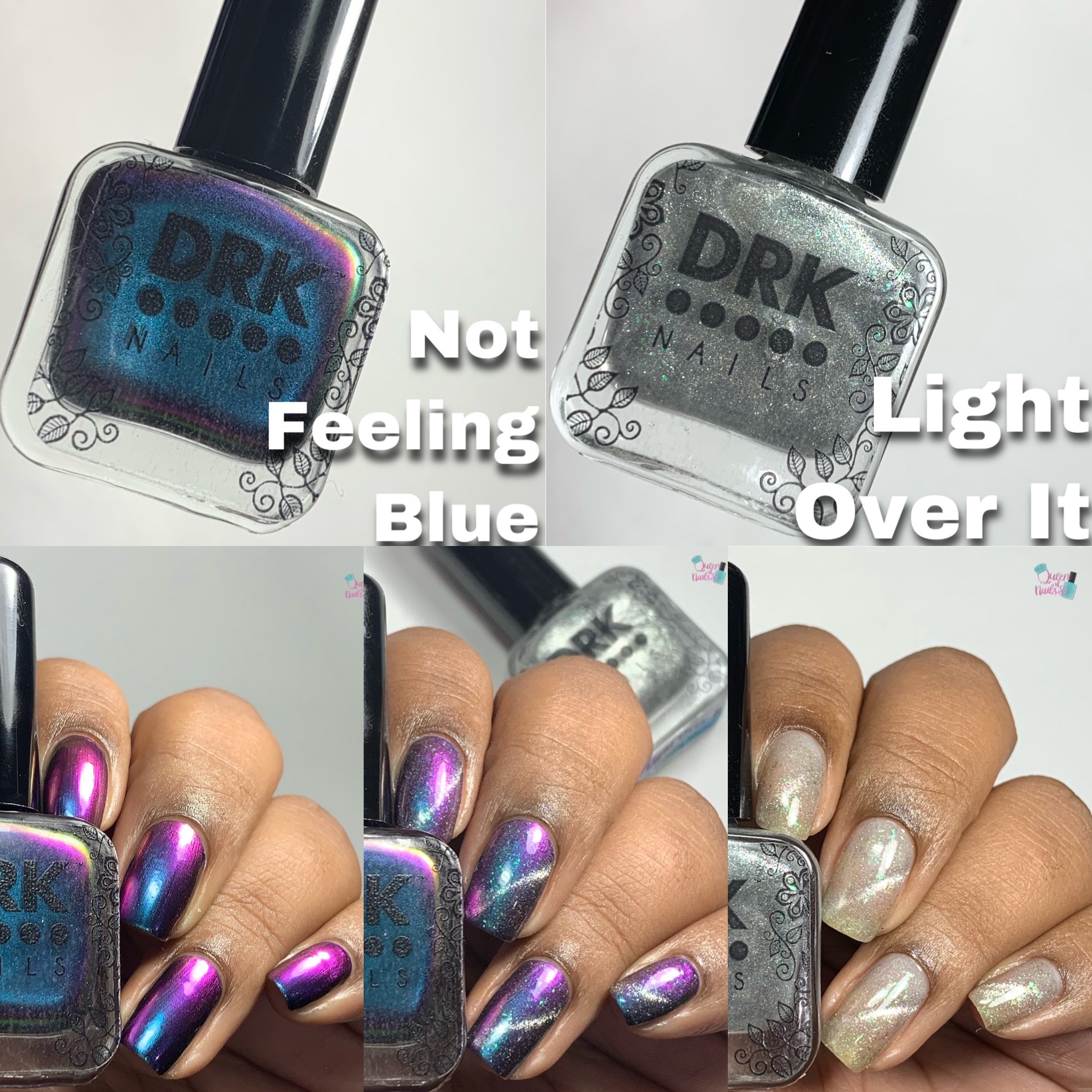 Ethereal Lacquer –

Medusa
Theme: Greek Mythology
Description: A pale stony jade base with a bright emerald to sapphire colorshifting shimmer
Price: $12.50 / Cap: NONE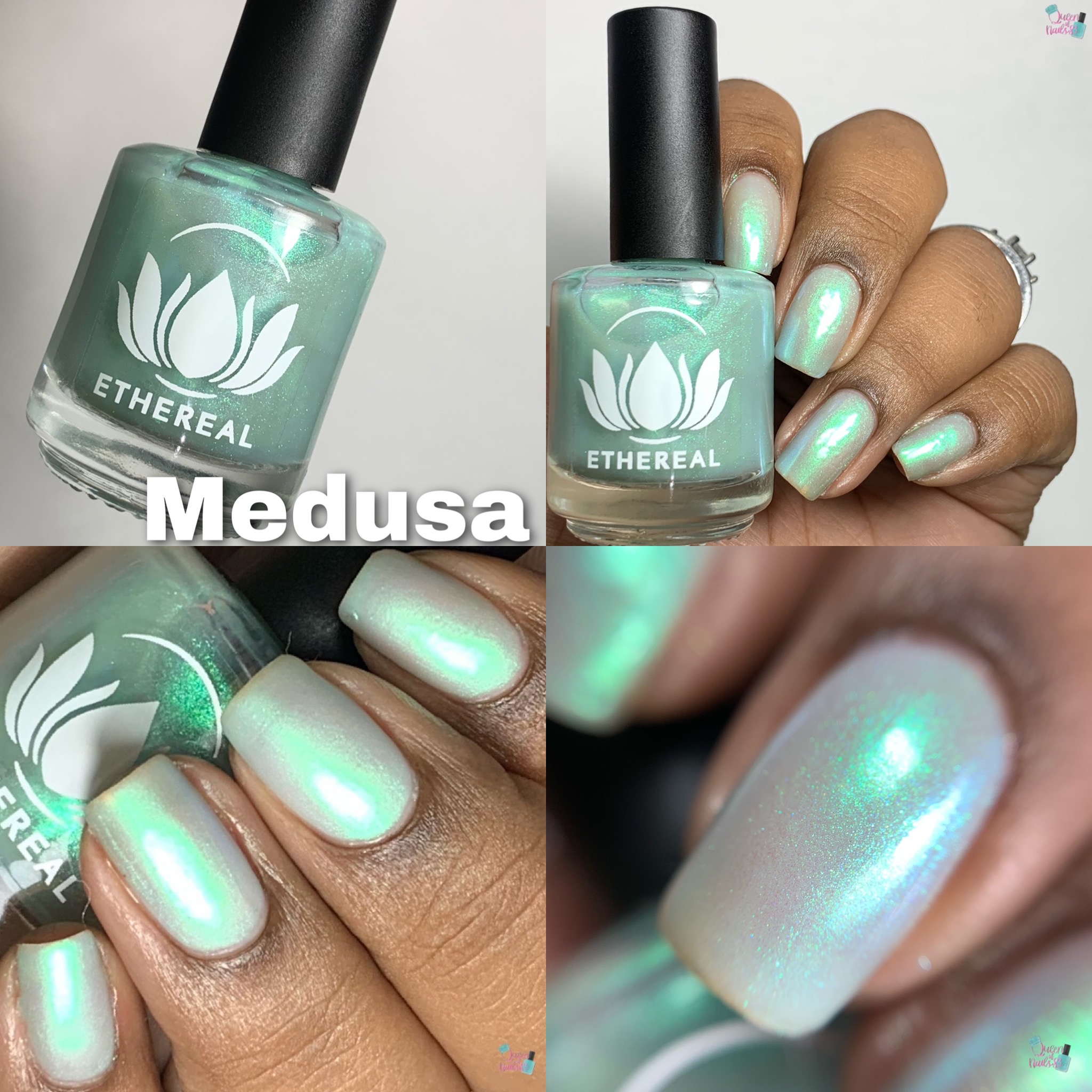 Heather's Hues – I'm Gonna Lose My Freakin' Mind
Theme: The Office
Description: A neon yellow green jelly packed with iridescent red-gold-green shimmer and flakes and a touch of holo microflakes
Price: $12.50 / Cap: NONE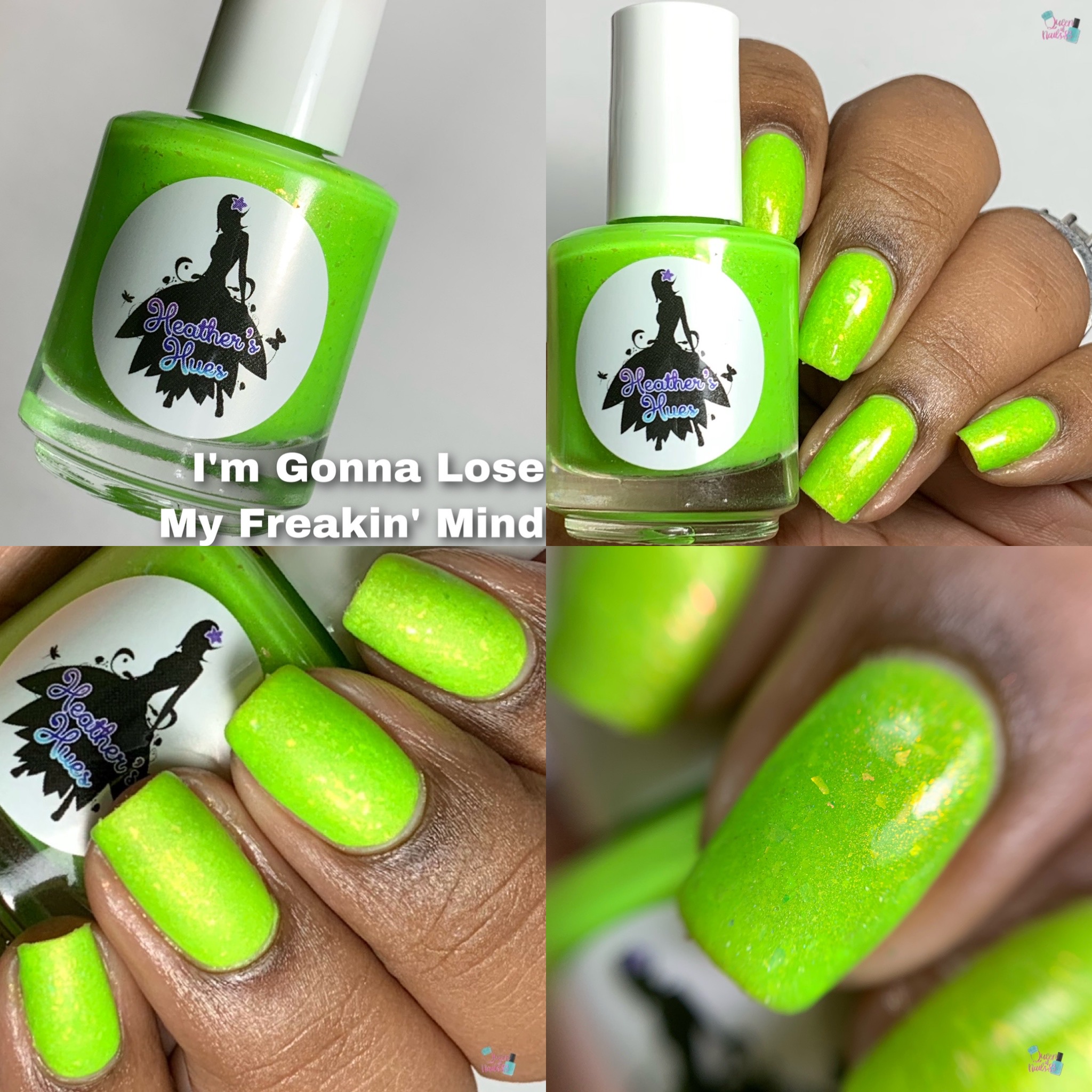 Kathleen & Co –

Volcanic Sky
Theme: Nature
Description: A blue with red shimmer/holo
Price: $12.50 / Cap: 125 bottles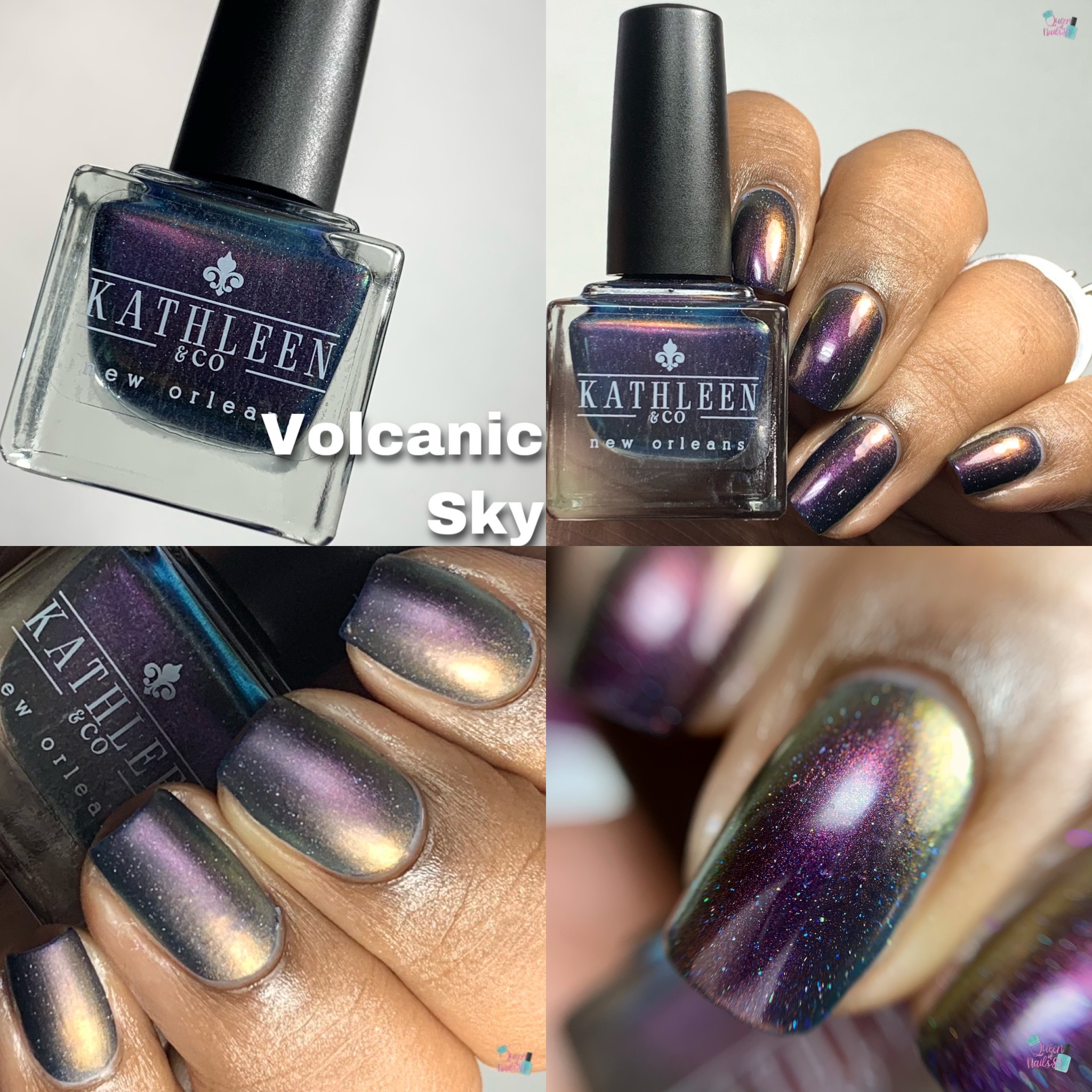 Lollipop Posse Lacquer –

Into the Nightosphere
Theme: Adventure Time
Description: A vampy, eggplant purple crelly packed with a heavy dose of red shifting Aurora shimmer and holographic microflakes.
Price: $13 / Cap: NONE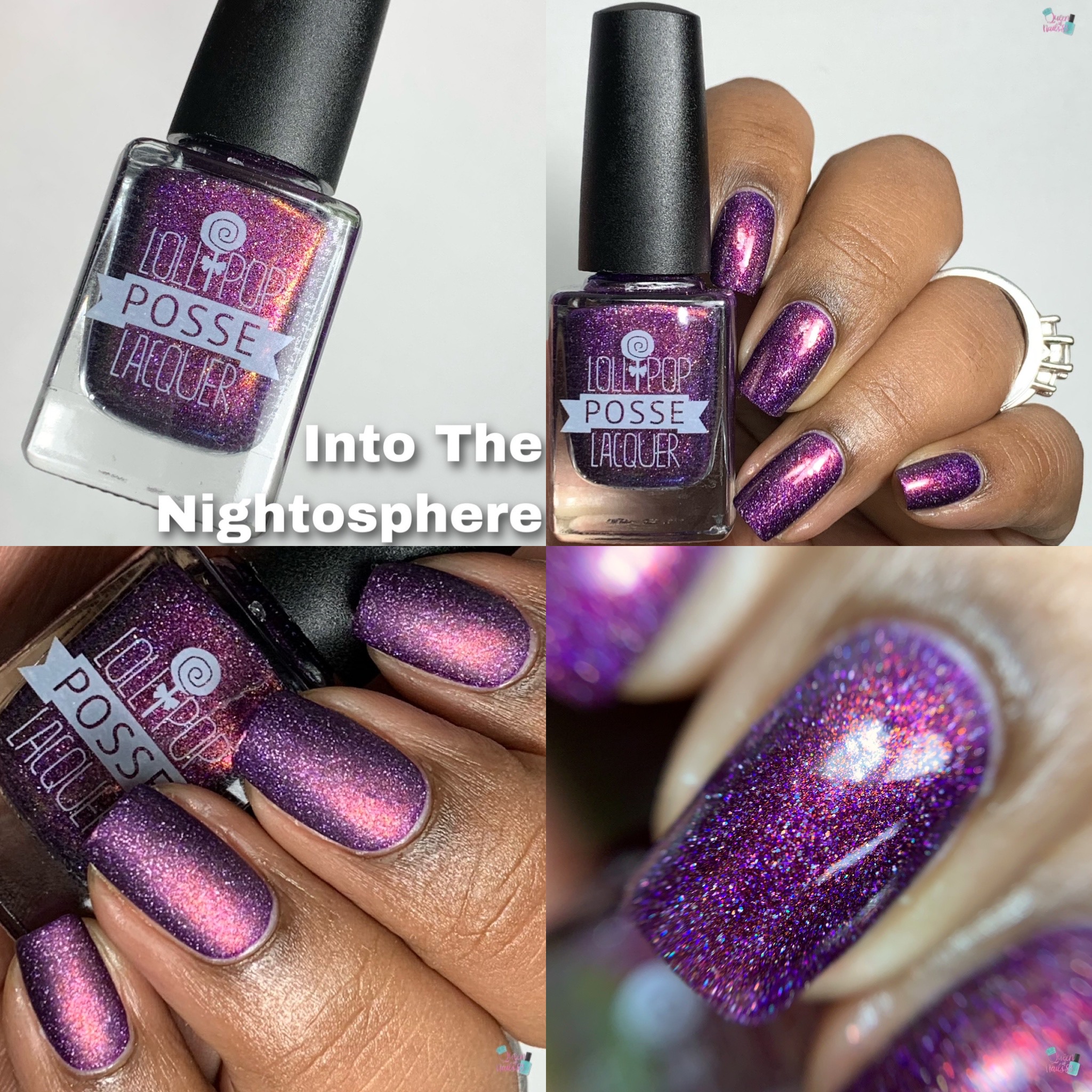 LynB Designs –

We Said Be Aloof Not a Doof

(T)
Theme: Friends
Description: A blue to pink thermal with red to gold to green shifting flakies, a touch of holo shimmer, and red to green shifting shimmer
Price: $12 / Cap: 90 bottles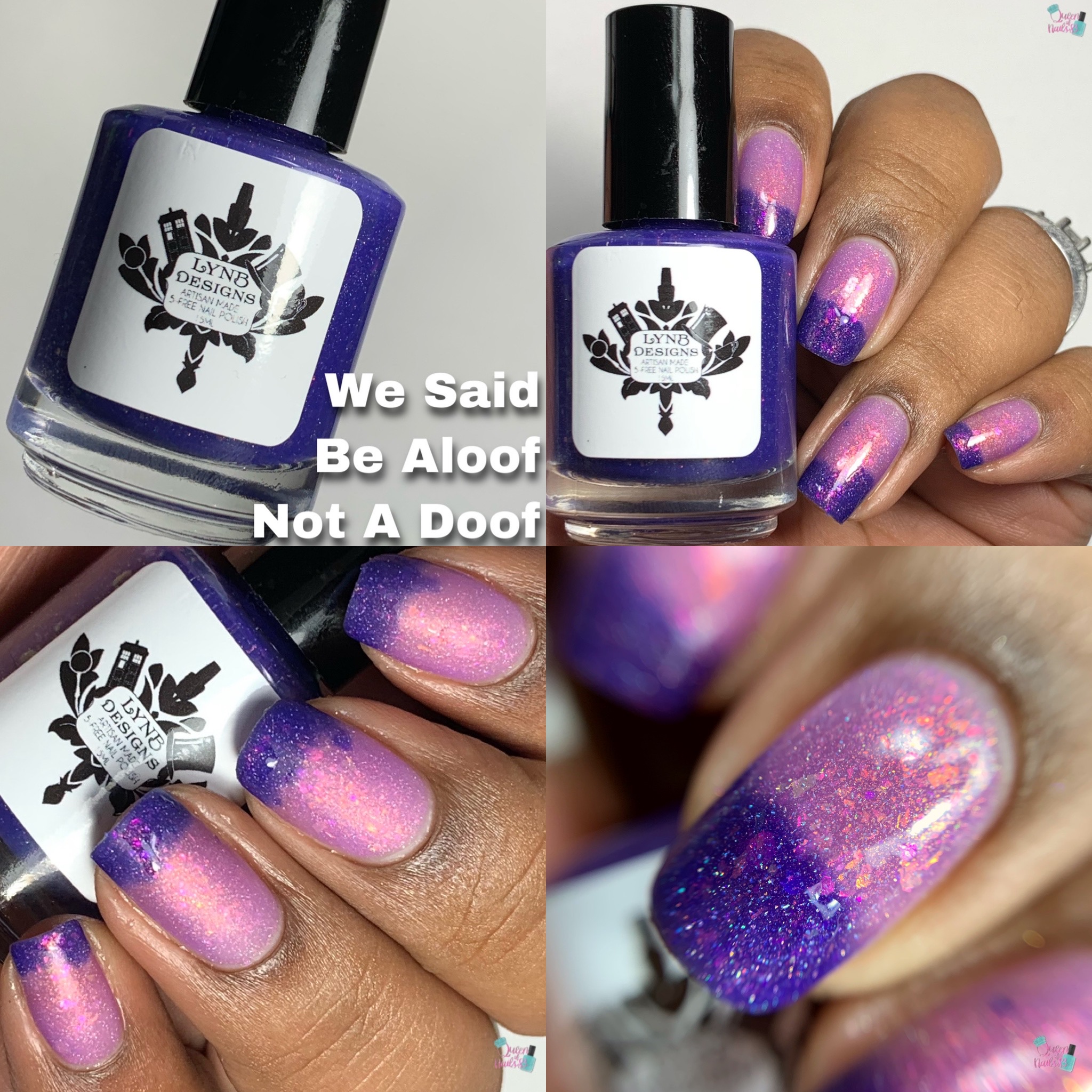 MDJ Creations – Stronger Every Day
Theme: Empowerment
Description: A denim to royal blue base with electric blue to violet color shifting play flakies, holographic glitter, orange to green shifting micro glitter, and a linear holo finish.
Price: $11 / Cap: 80 bottles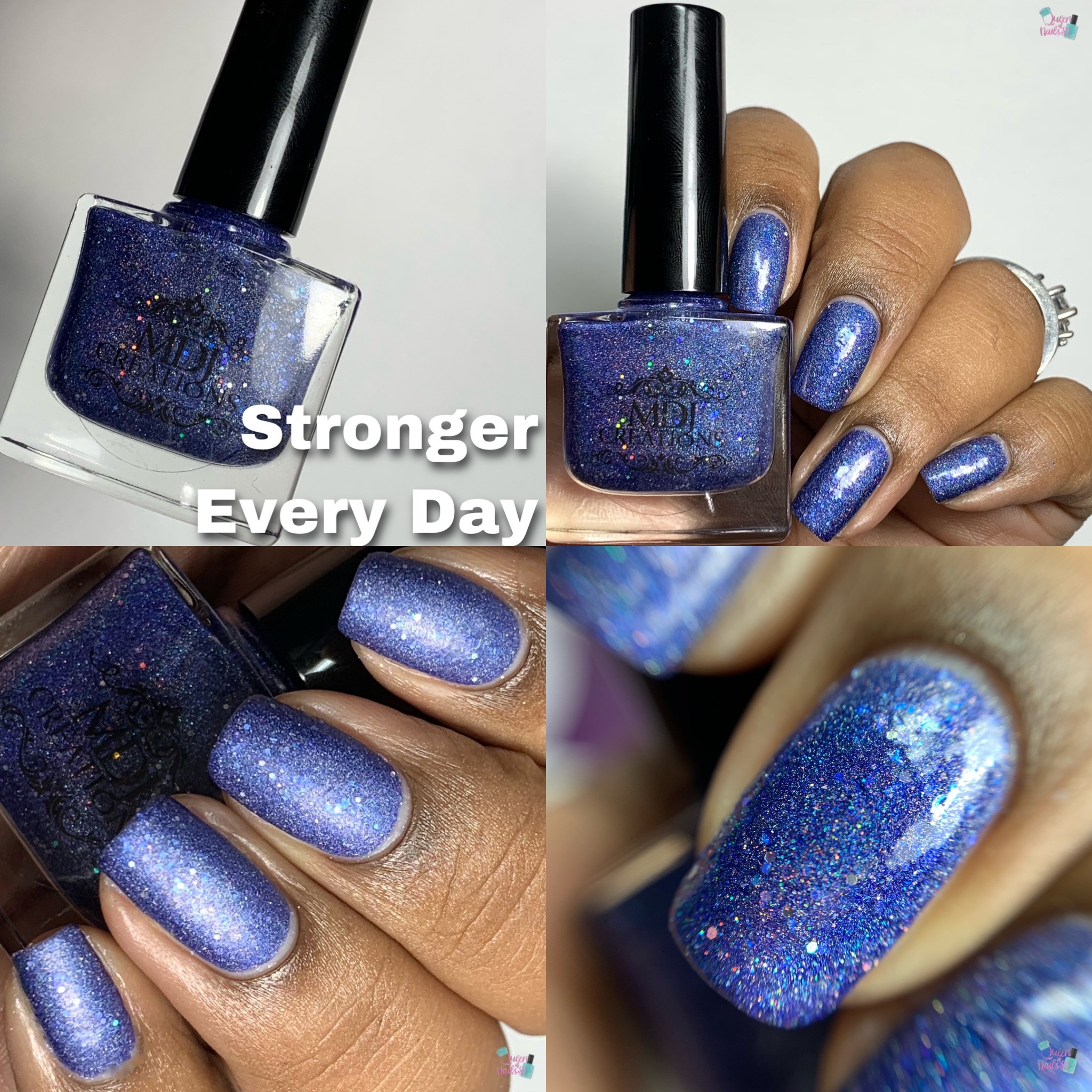 Music City Beauty – Purple Rain
Theme: Prince
Description: A purple jelly base with purple shimmer and violet to green to pink to gold color shifting iridescent flakies
Price: $135 / Cap: 100 bottles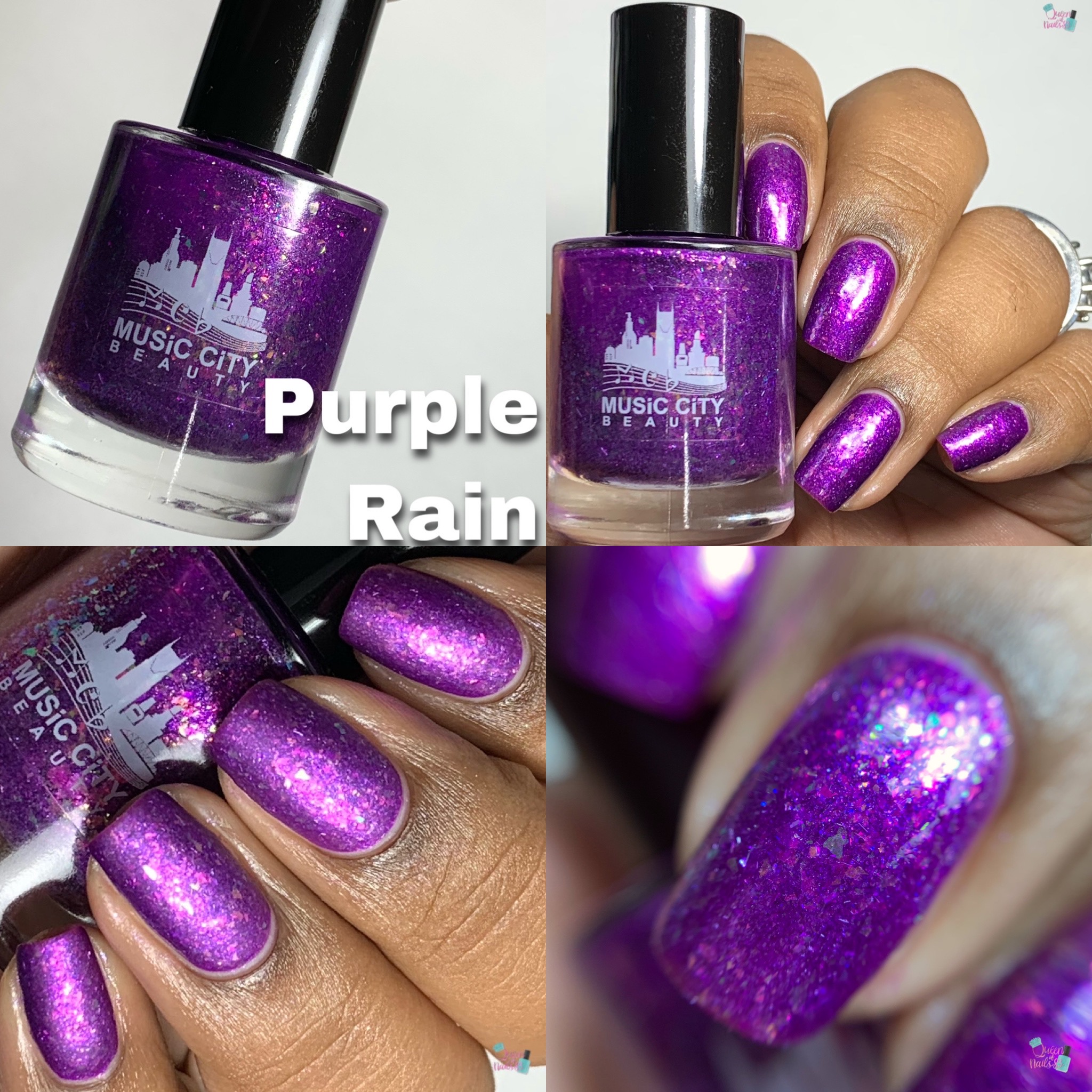 Necessary Evil Polish – What in the Name of Sanity Have You Got on Your Head?
Theme: Dr. Who
Description: A ruby red with gold and silver holo flake, scattered holo and purple shimmer.
Price: $12 / Cap: NONE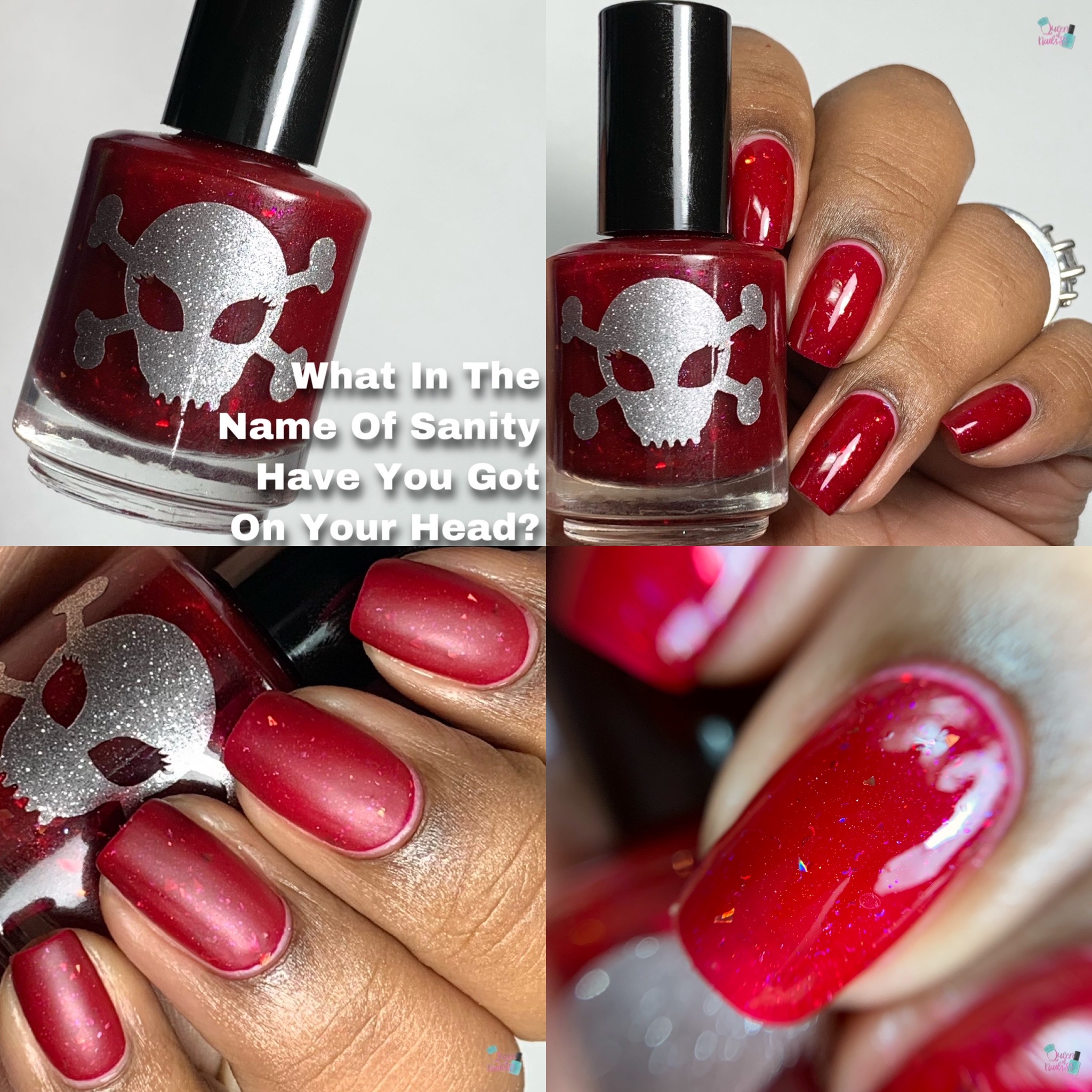 Rogue Lacquer – The Queen's Grocer
Theme: London
Description: A pale spearmint with soft holo and green, blue, magenta ucc flakes
Price: $12.50 / Cap: NONE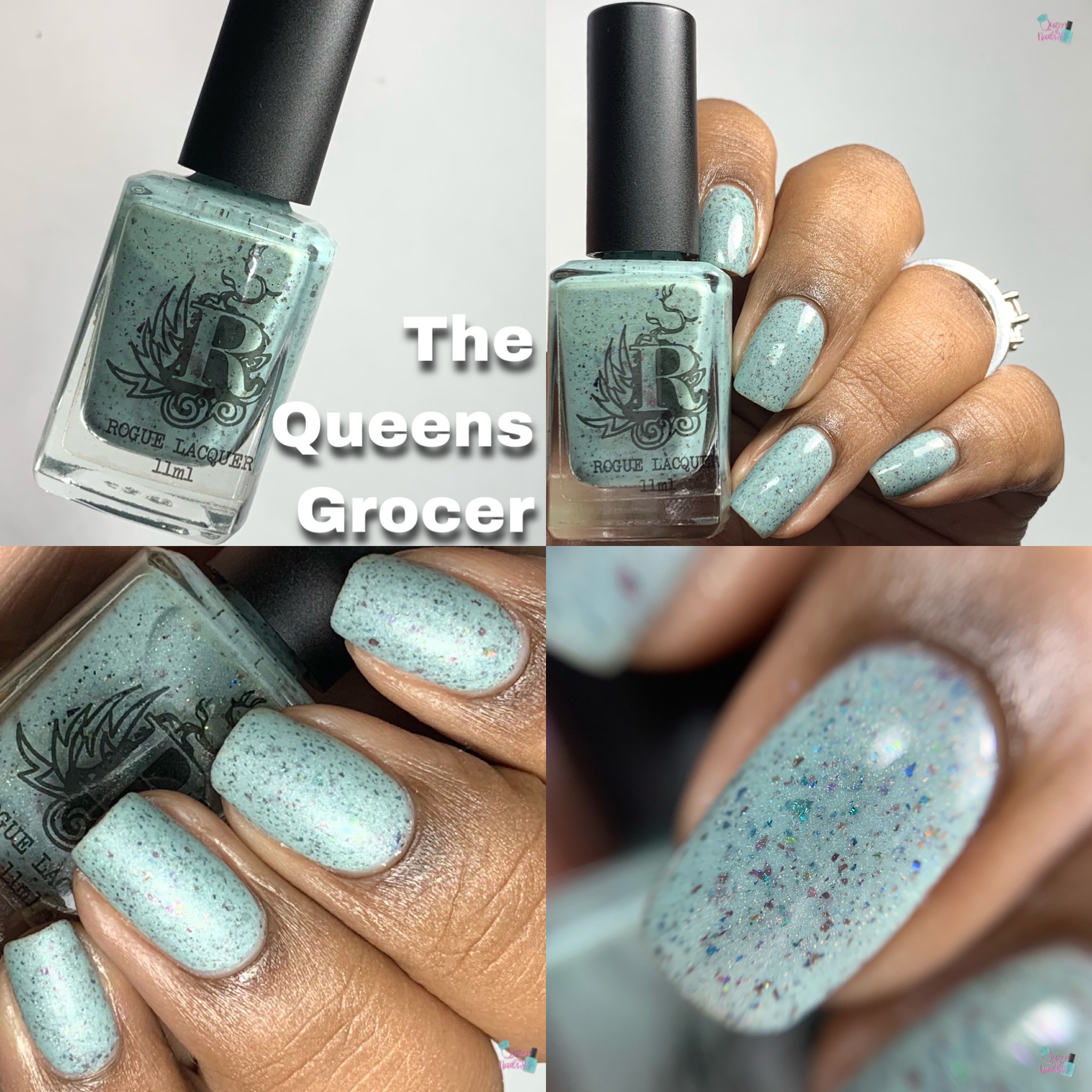 Shleee Polish – Lio
Theme: Promare
Description: A pastel green, with pink iridescent aurora shimmer and flakies, and holographic micro flakes
Price: $15 / Cap: 100 bottles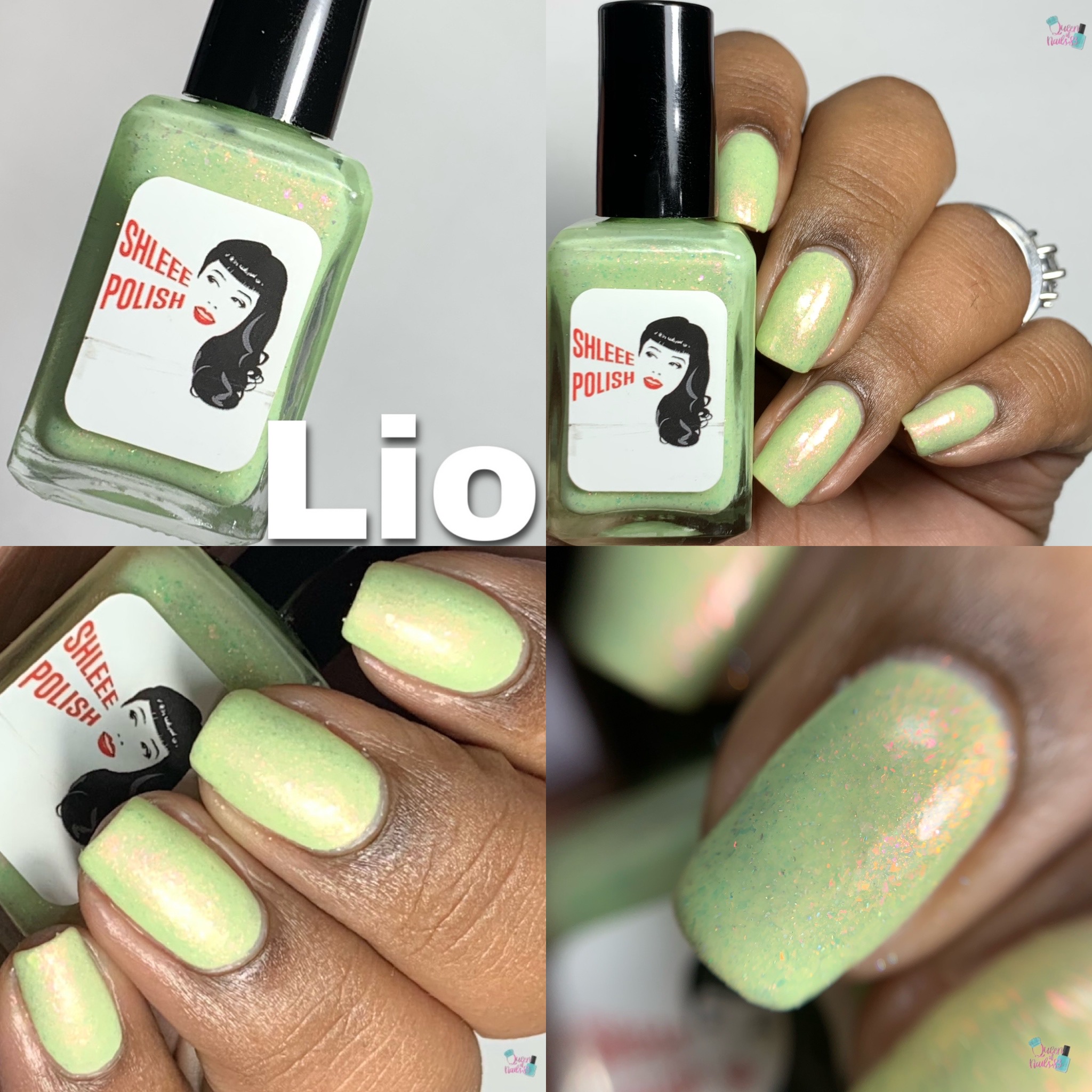 Under A Hula Moon –

I'll Be There For You" Wax Melt
Wax Melts
Theme: Friends
Description: A perfect blend of delectable toffee, rich buttercream notes spooned stirred into a hot cup of Joe and a snickers bar on the side

Price: $4.50 / Cap: NONE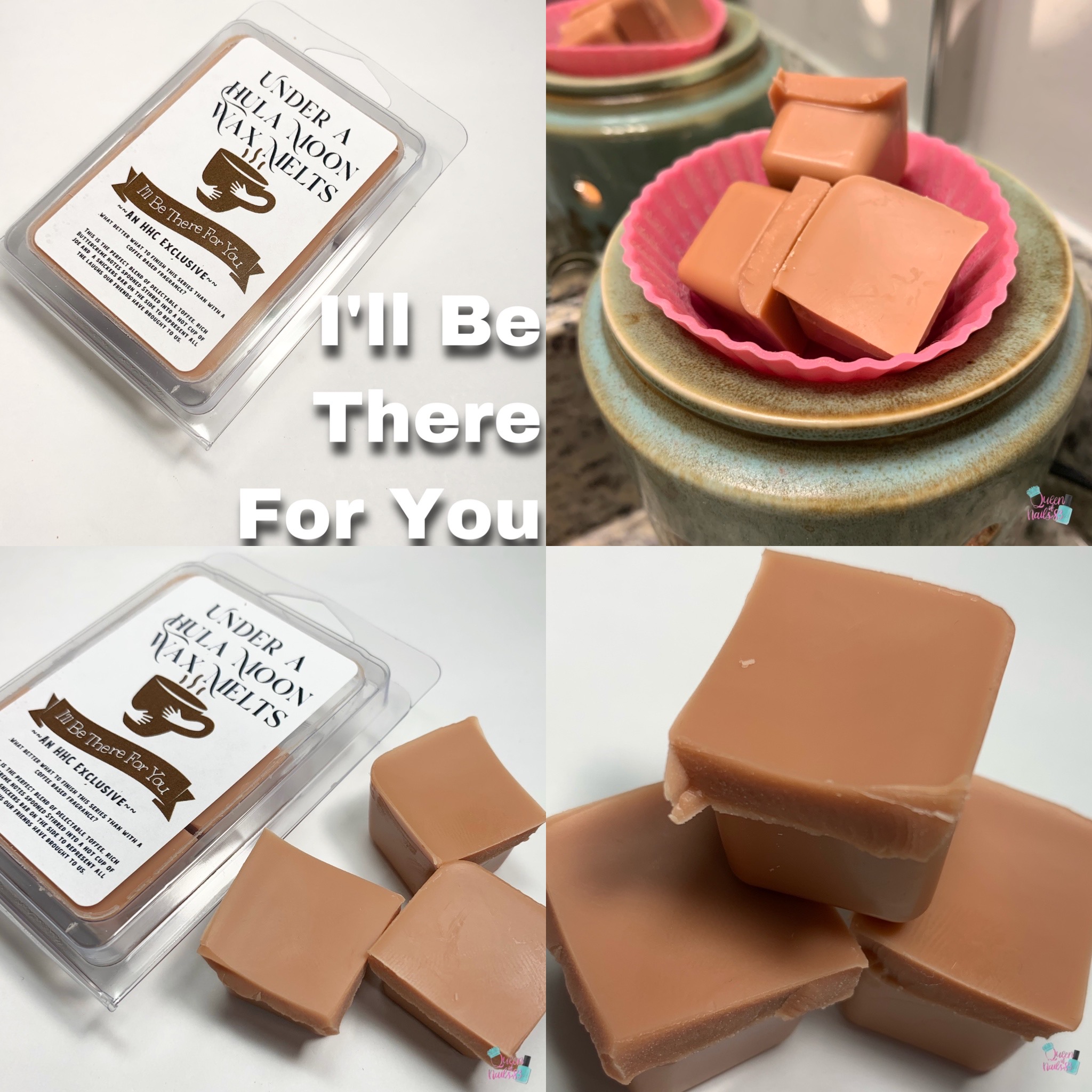 July 2020 Hella Handmade Creations (HHC)
Tuesday, July 14th at 12:01am HST to Tuesday, July
21st 11:59pm HST
Hella Handmade Creations
*Like, Comment and Subscribe*
Eat, Laugh, Polish, Repeat
Queen of Nails 83
💕