Hey Sugas!!! Ready or not, I have some the June 2020 offerings from HHC. Please be advised that some are already sold out, so don't wait, SHOP NOW!!!
Enjoy… 
**All swatches are done using liquid latex peel off base coat, glossy, QDTC and Matte Topcoat. Swatch photos are taken using artificial lights.**
Bee's Knees Lacquers – I Love My Grandkids
Theme: Rick & Morty
Description: A  jungle green base with a glowing blue to purple shimmer
Price: $12 / Cap: NONE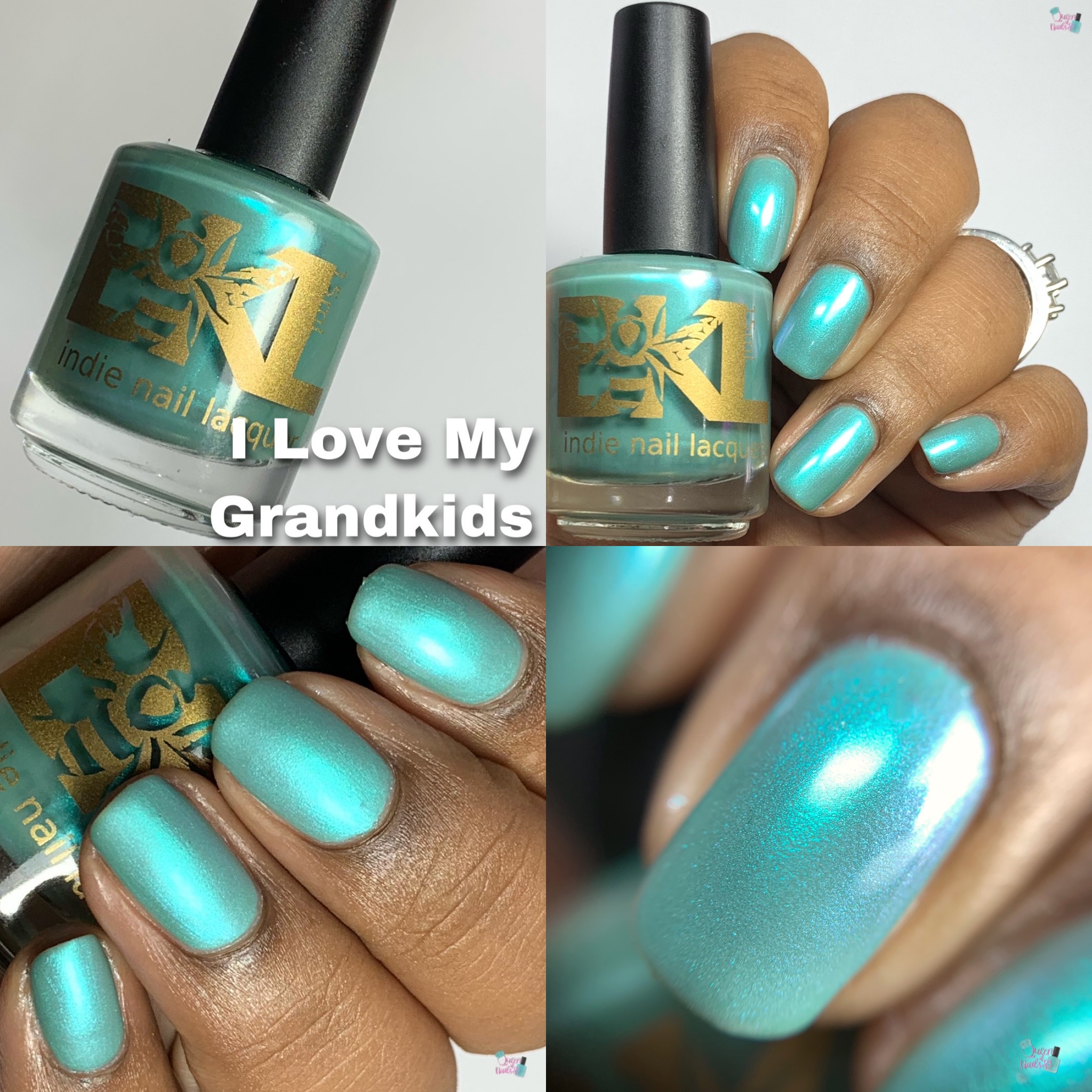 Blush Lacquers – Regulation Hottie
Theme: Mean Girls
Description: A dark gunmetal grey nail polish with a strong linear holographic effect and rose gold metallic micro flakes
Price: $13 / Cap: NONE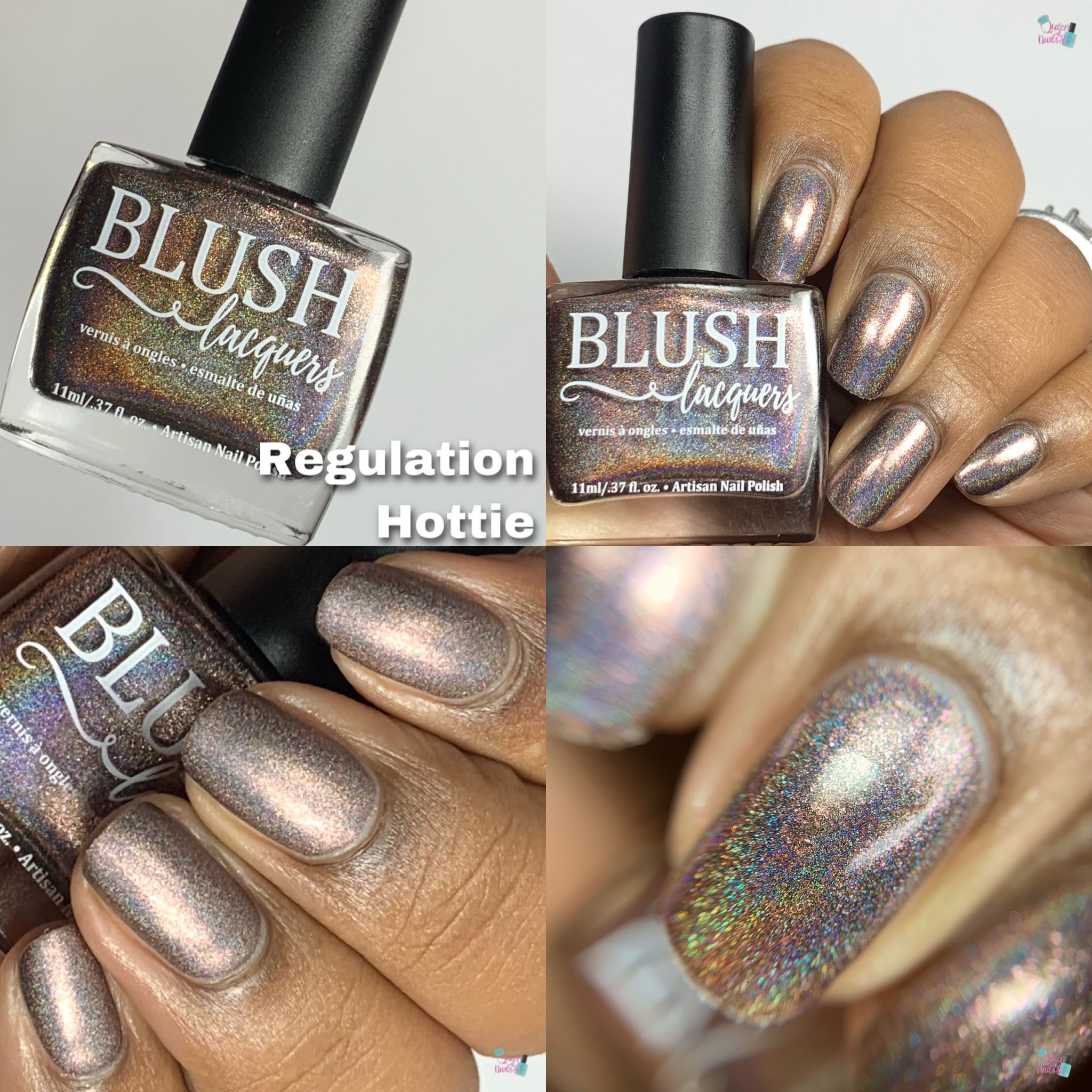 By Vanessa Molina – Dark Angel
Theme: Angel
Description: A multi purpose polish with a tinted black base and iridescent flakes. Can be used as a topper (one thin coat) or three for full coverage.
Price: $13 / Cap: 100 bottles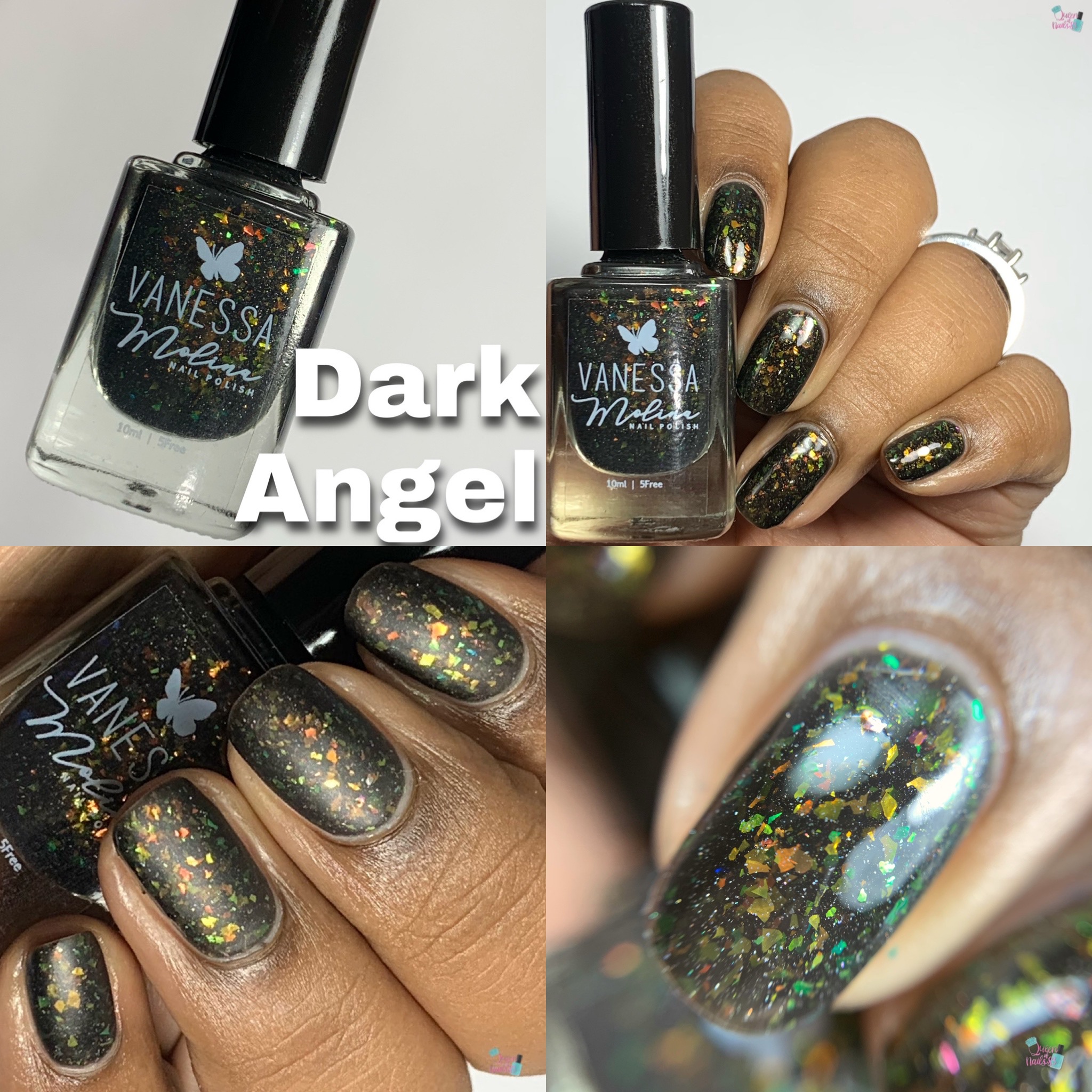 Chirality Nail Polish – Ladies, That Was Fun
Theme: The Tarantino Effect
Description: A fierce punch pink jelly polish accented with rose to copper sparkles with pink and black glitters and hot pink stars
Price: $11 / Cap: NONE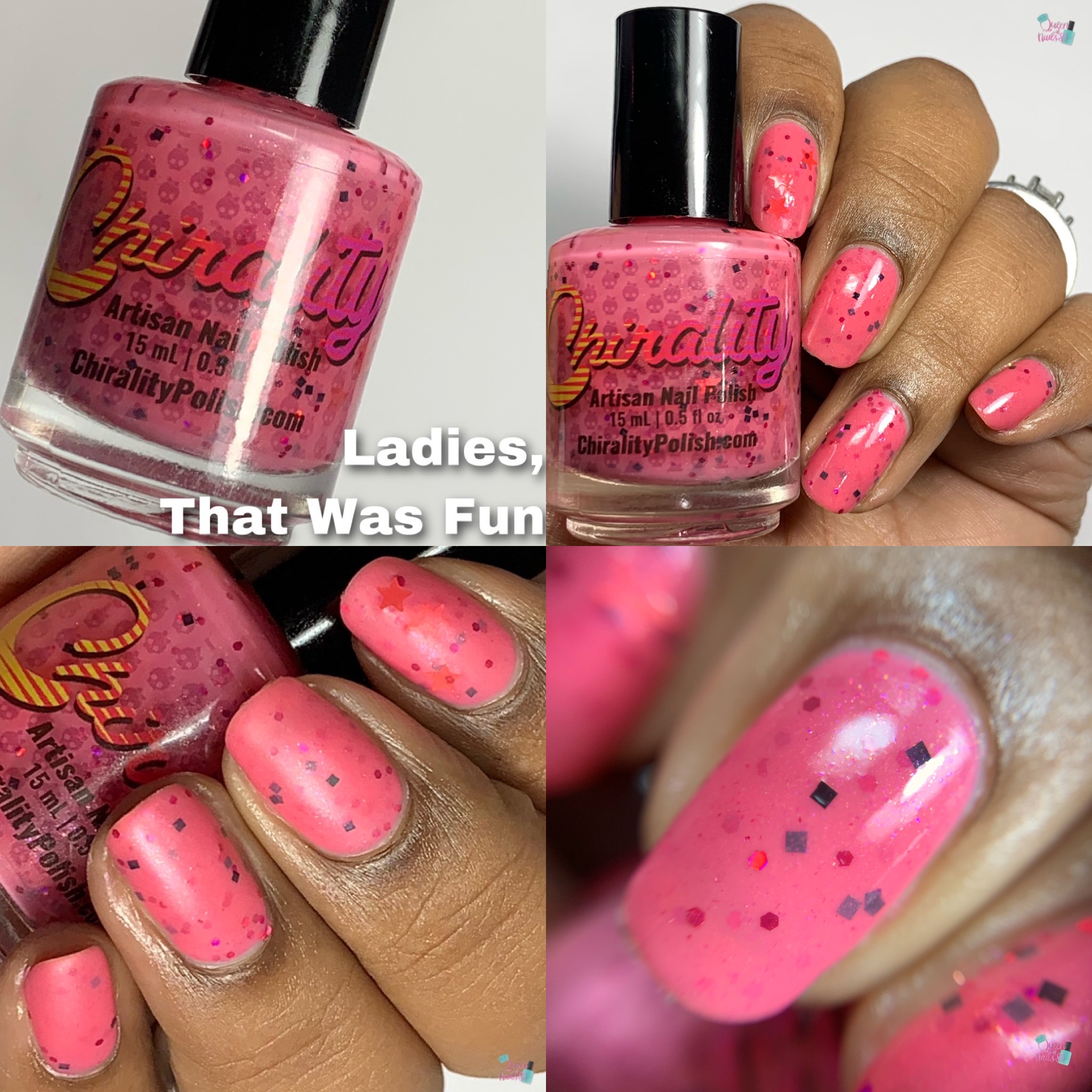 Colors by Llarowe (CbL) – Chariot to Oz
Theme: Wizard of Oz
Description: A blue to purple to red to magenta multi chrome with scattered prismatic holo
Price: $11 / Cap: NONE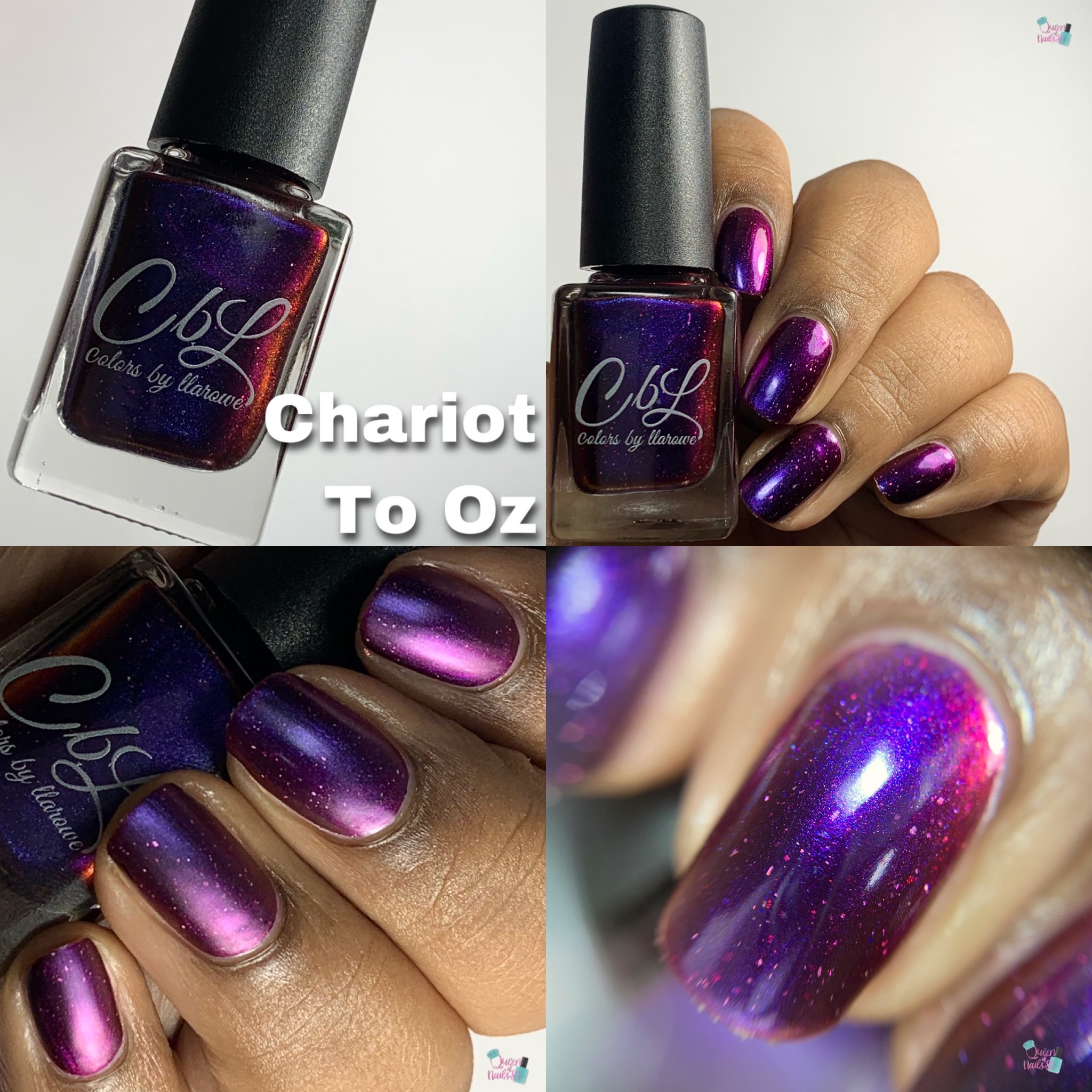 DRK Nails -Lay All Your Flake on Me
Theme: Mamma Mia
Description: A blue jelly base mixed with iridescent blue/purple and pastel turquoise/blue pink flakes
Price: $13 / Cap: 150 bottles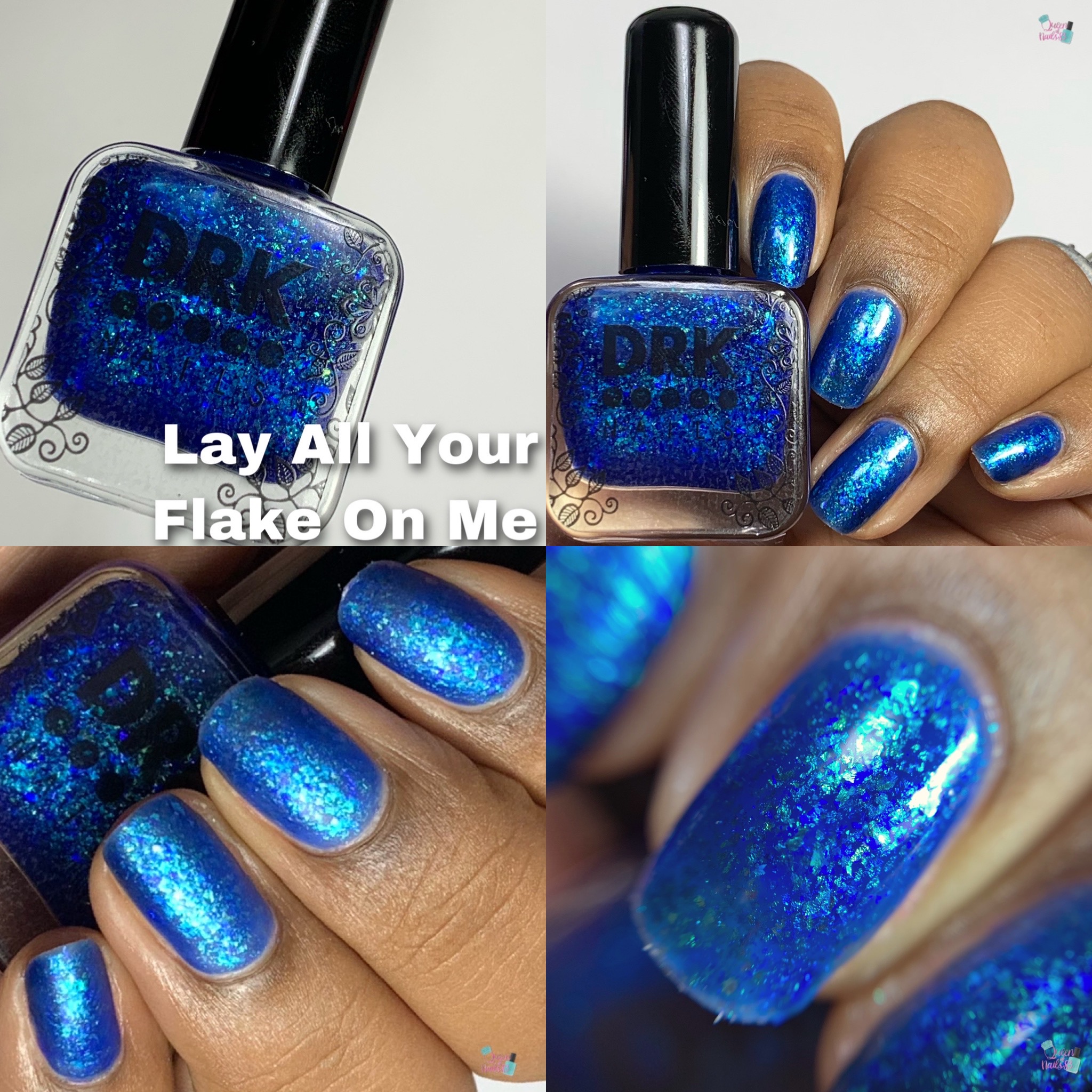 Esmaltes Da Kelly (EdK) – Ocean Indigo Kit
Theme: Rainbow
"Ocean Indigo" kit includes two polishes, Ocean Indigo and Smooth Blue.
Ocean Indigo
Description: A polish with holographic pigments with holographic glitter of navy in various sizes.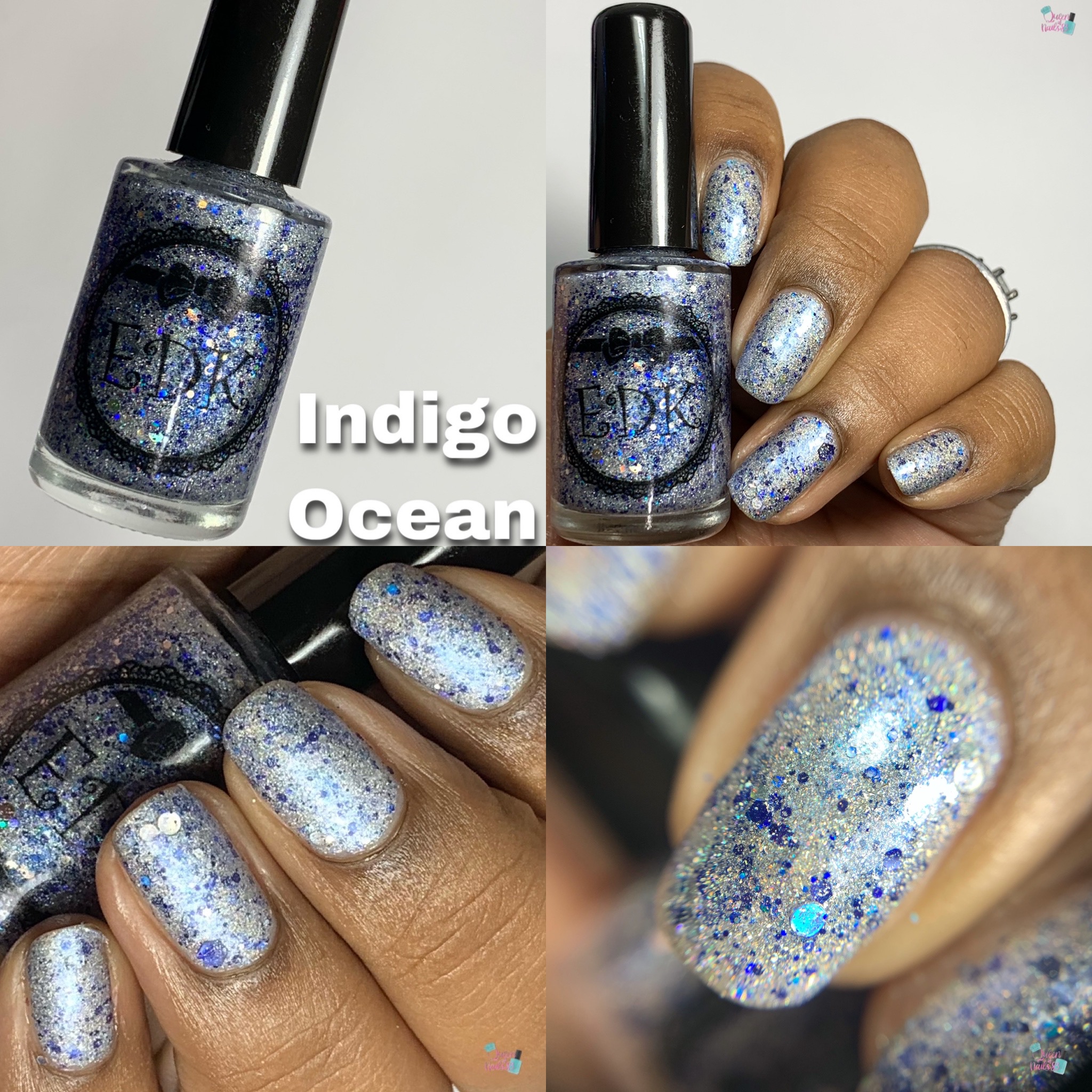 Smooth Blue
Description: A polish that serves to create a layer on the glitter to decrease the texture preventing the glitter from absorbing the top coat.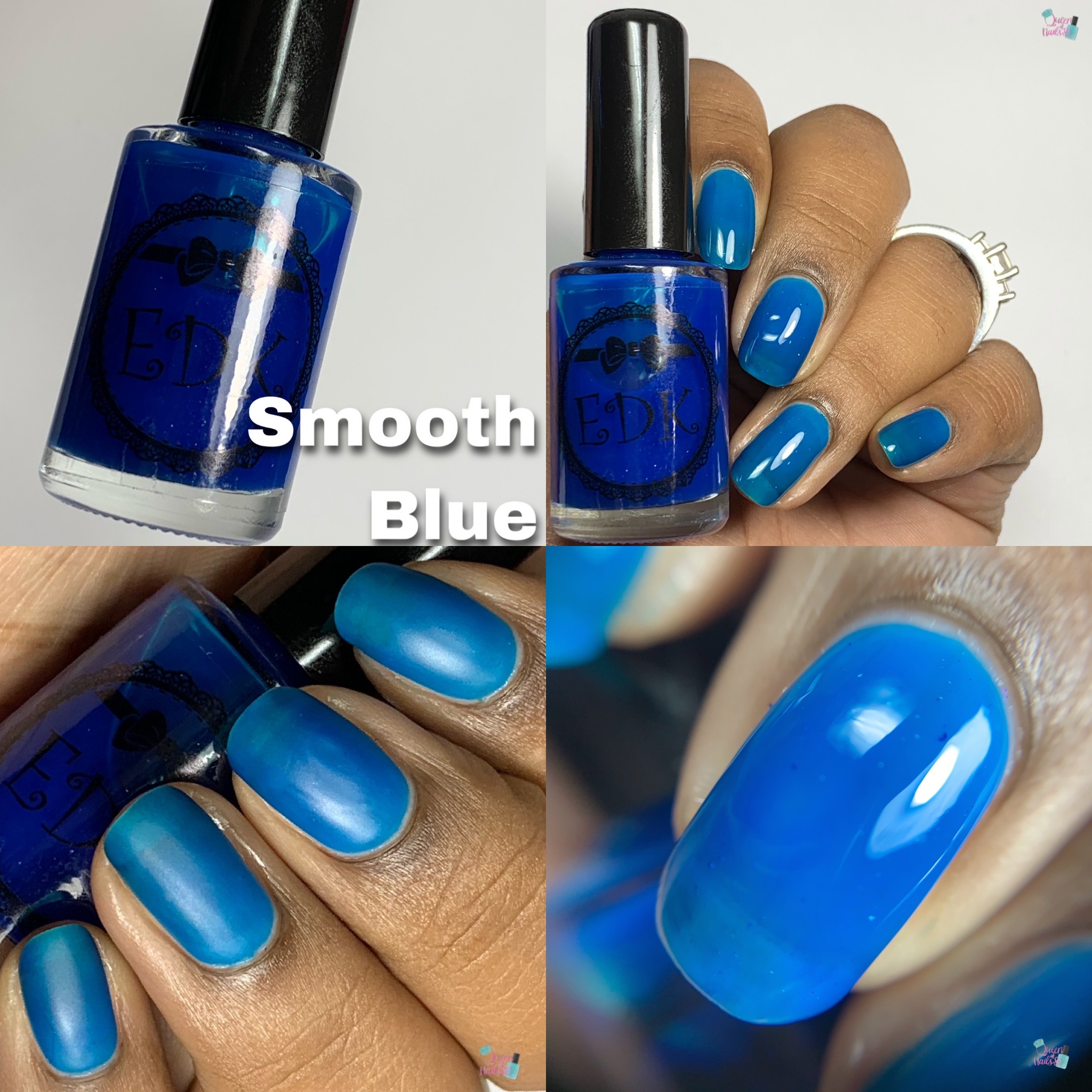 Price: $17.50 / Cap: 100 kits
Ethereal Lacquer – Moirae
Theme: Greek Mythology
Description: A gossamer pale greyed periwinkle base with red to gold shifting shimmer and holo flakies
Price: $12.50 / Cap: NONE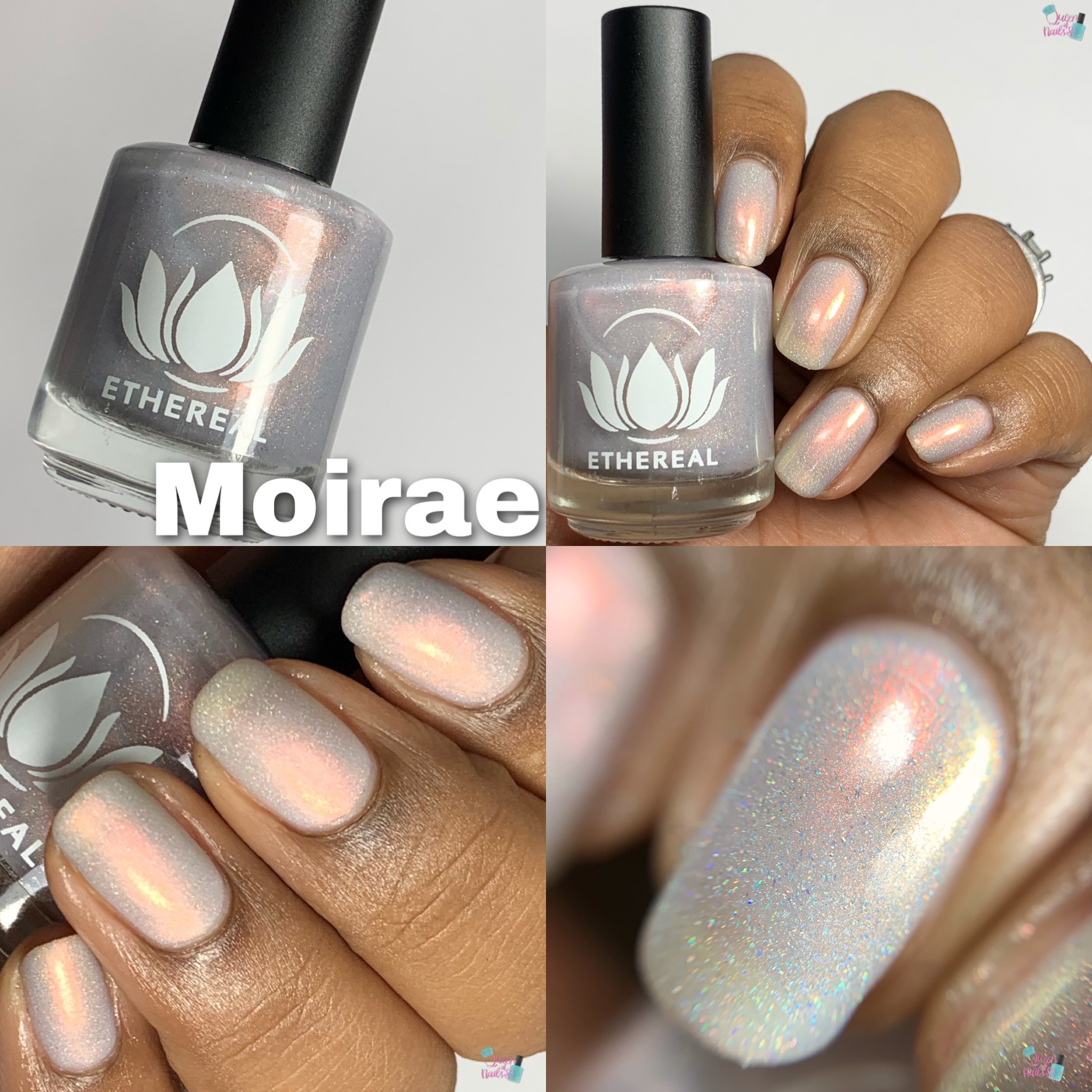 Femme Fatale Cosmetics – Unicorn Bites
Theme: Candy
Description: A soft, grey-toned purple crelly filled with matte glitters in pale blue, yellow, green and neon pink
Price: $13.50 / Cap: NONE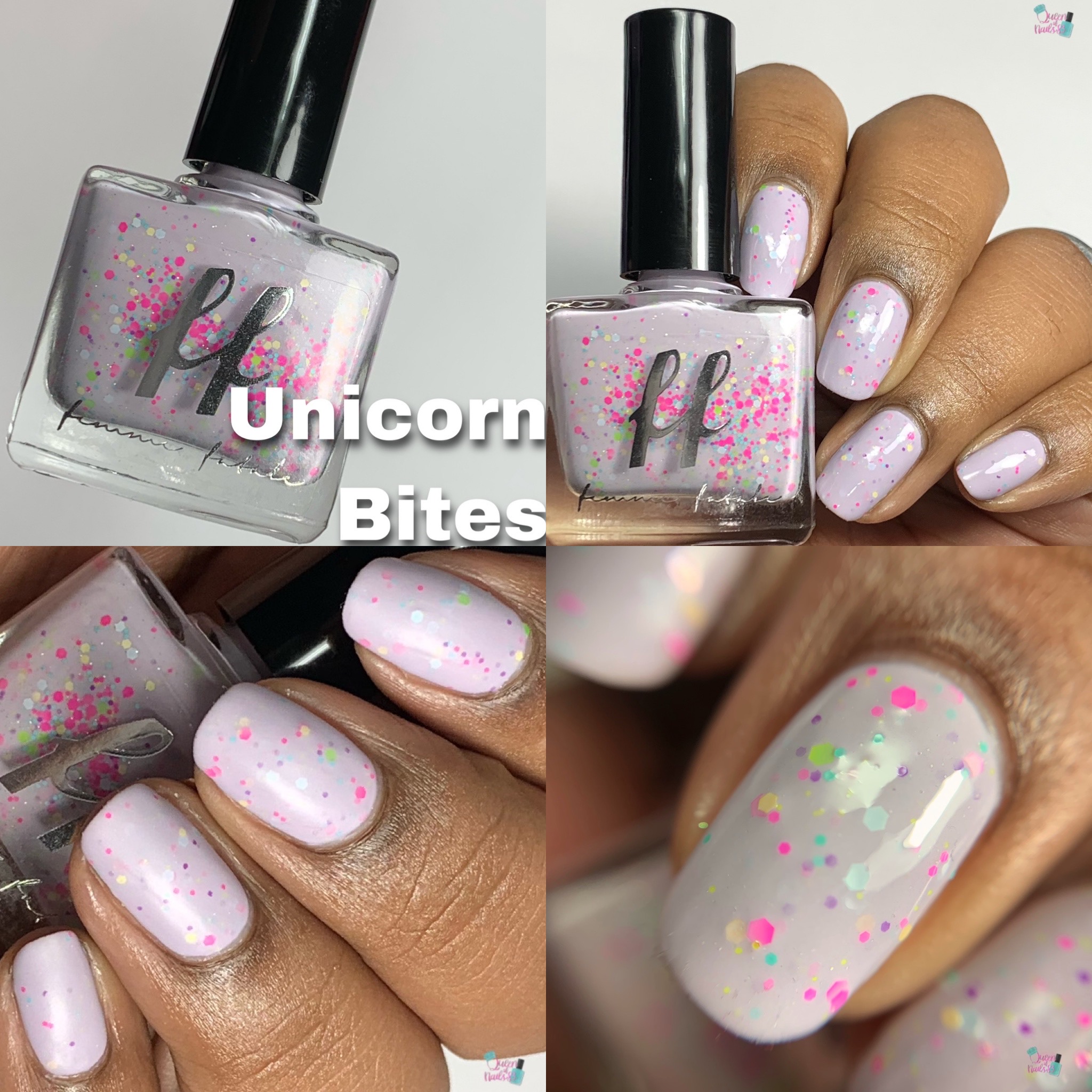 Great Lakes Lacquer – The Avatar State
Theme: 
Description: A deep blurple filled with a striking red to gold to aqua shifting shimmer, finished with a strong scattered holographic.
Price: $13 / Cap: 200 bottles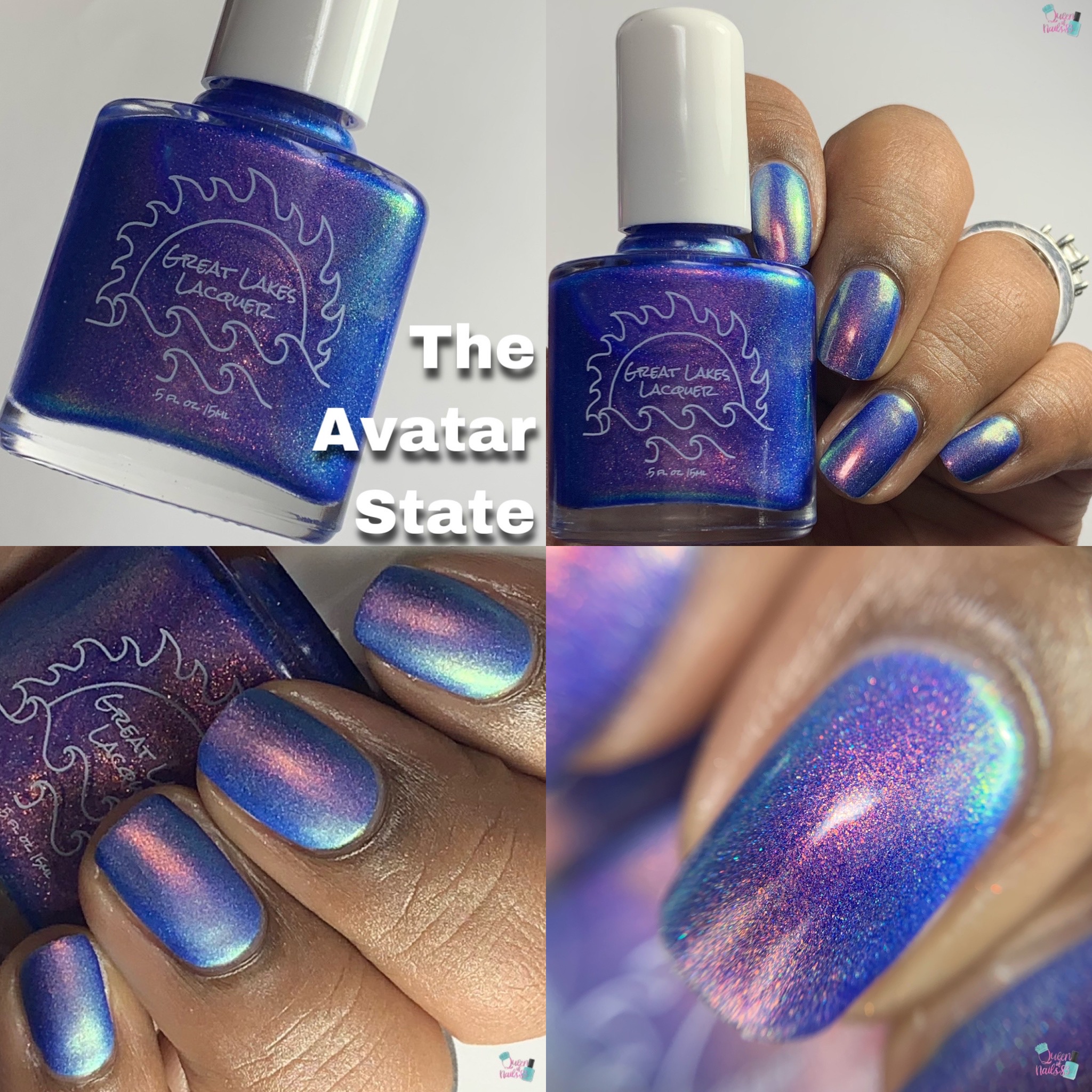 Kathleen & Co – Seashore Seashell
Theme: Nature
Description: A pale lavender to pink to gold shifting shimmer with holo microflakes
Price: $12.50 / Cap: 125 bottles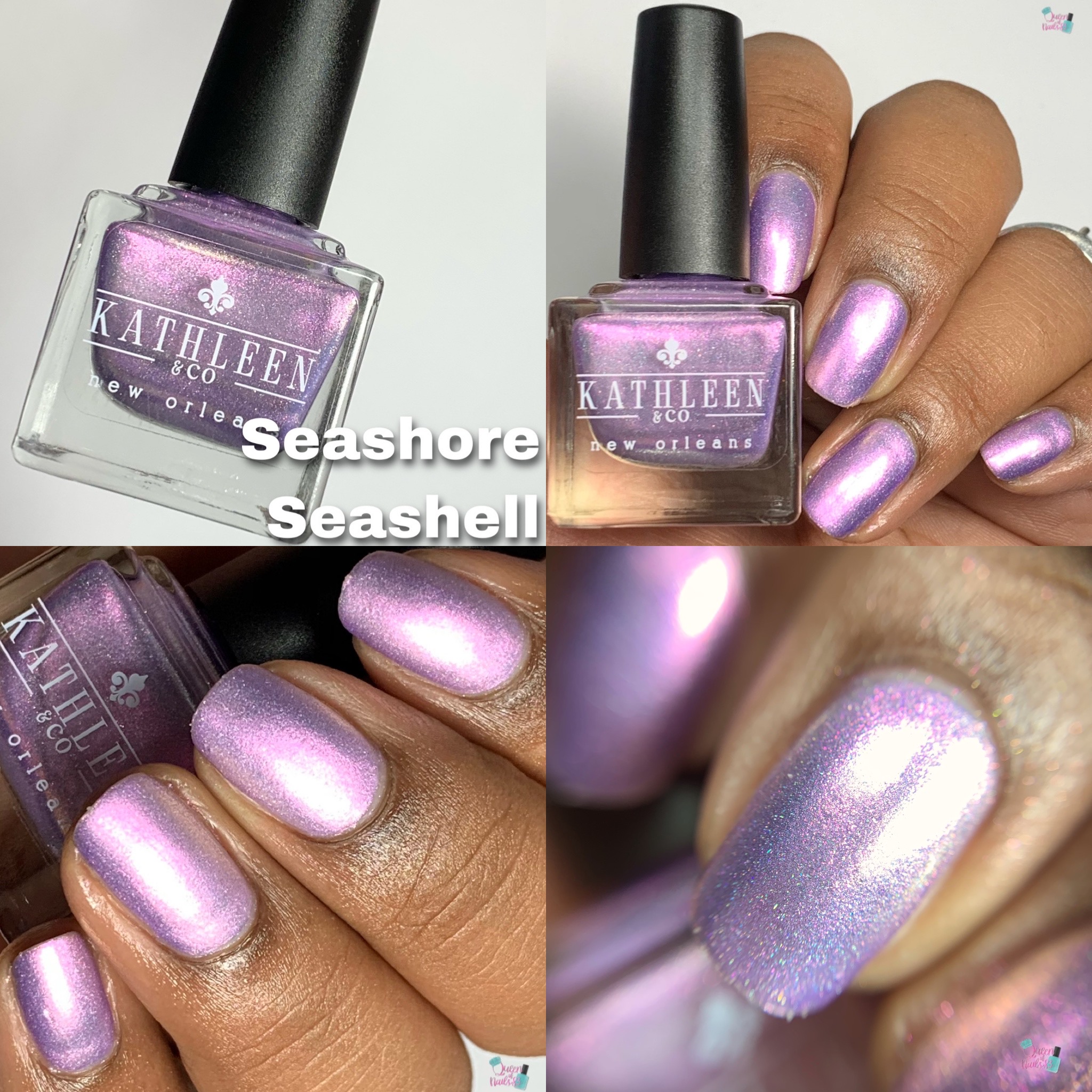 Lollipop Posse Lacquer – Defy Nature
Theme: Adventure Time
Description: A sheer orange crelly filled with red/orange/gold/green shifting Aurora shimmer and iridescent flakes
Price: $13 / Cap: NONE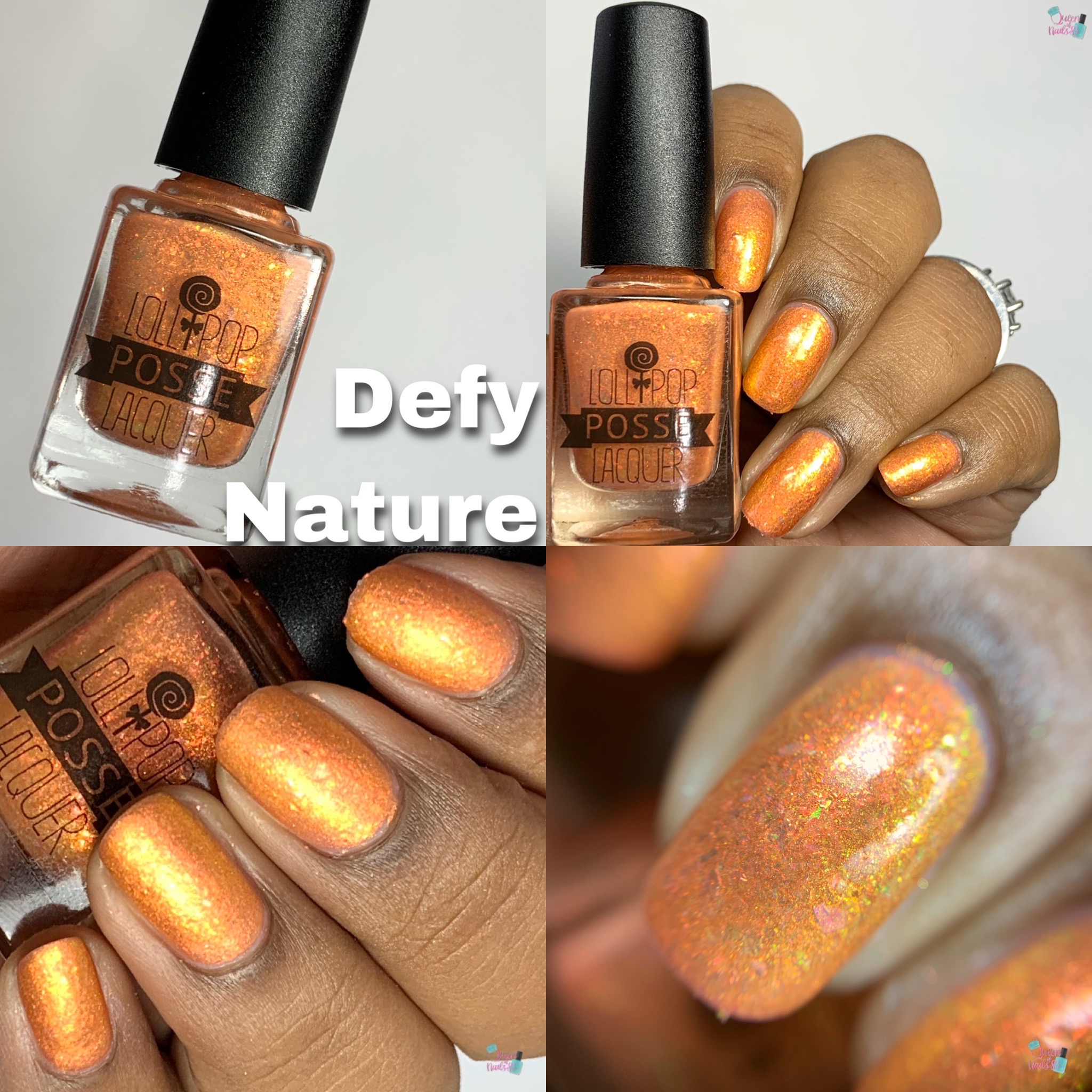 LynB Designs – Smelly Cat (T)
Theme: Friends
Description: A  peach to white thermal with copper to green shifting aurora shimmer and pink to orange to yellow to green UCC shifting flakies and holo micro flakies
Price: $12 / Cap: 90 bottles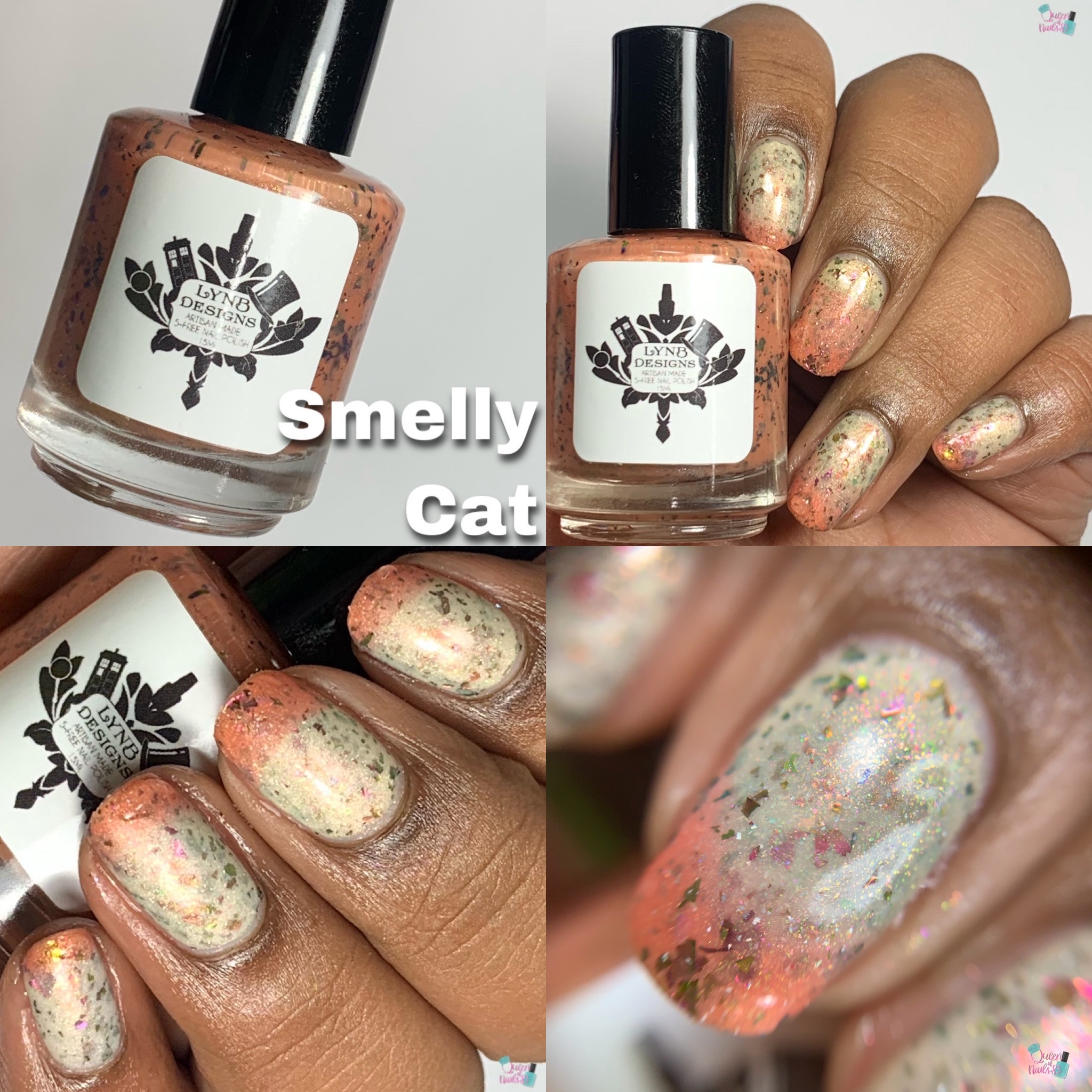 Nail Hoot Indie Lacquer – It's Only Forever… Not Long at All
Theme: David Bowie's song 'Underground'
Description: A charming shade of orchid with coppery shimmer and scattered holographic pigment
Price: $10.99 / Cap: NONE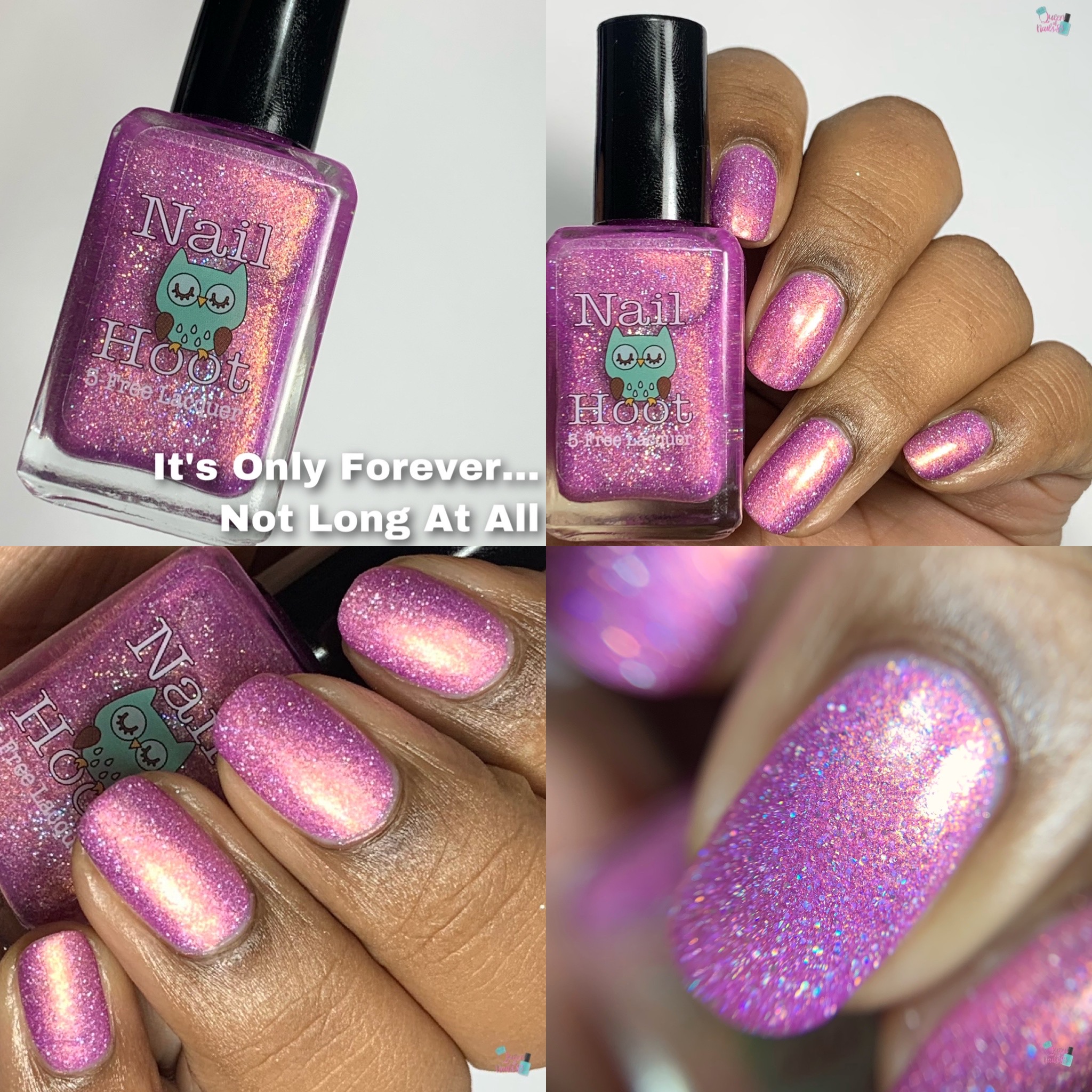 Nailed It! – Turtle-y Awesome
Theme: London
Description: A turquoise base with golden shimmer, gold to green crystal flakies, and a subtle holo
Price: $12.75 / Cap: 120 bottles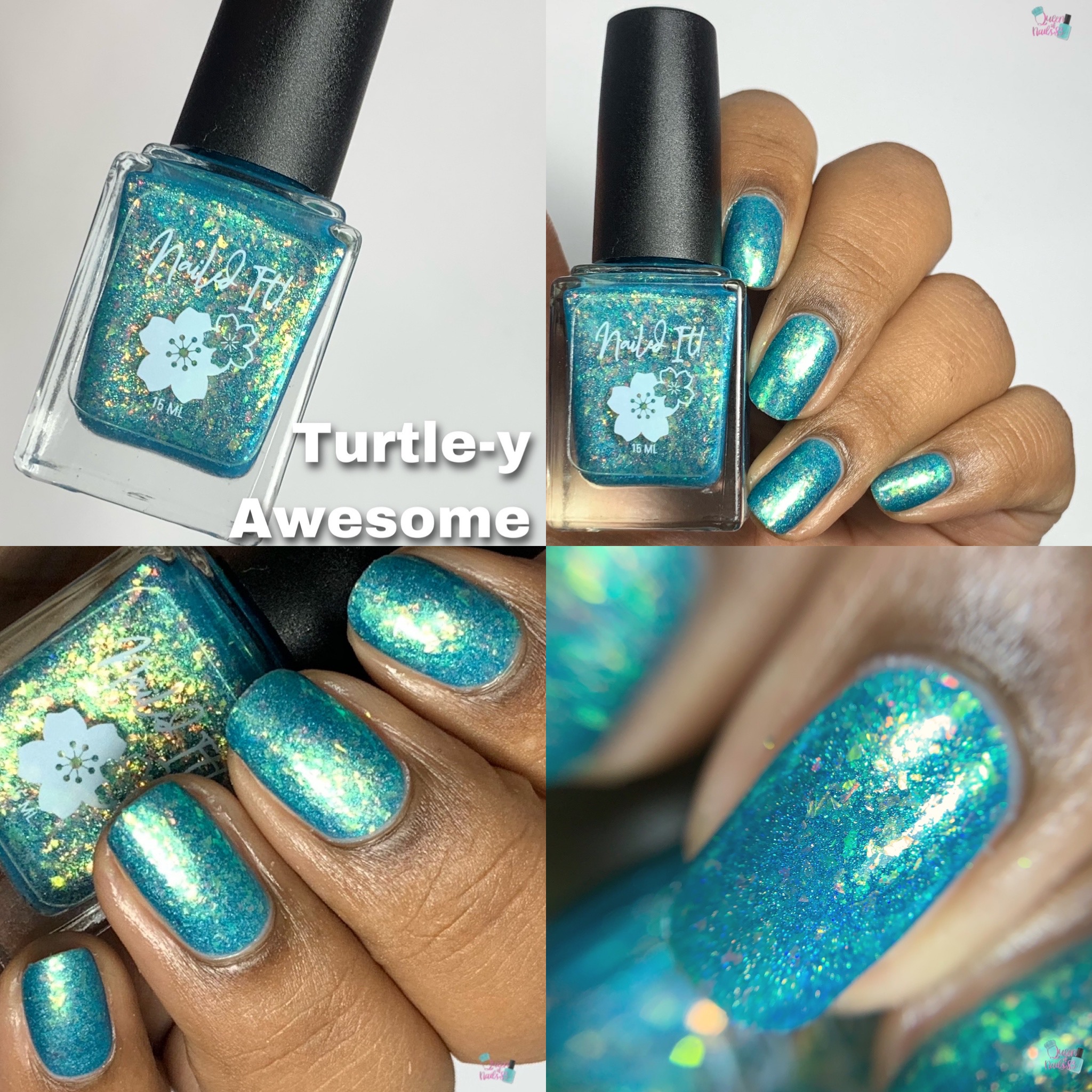 Night Owl Lacquer – Are You Sober?… No, Aquarius
Theme: That 70's Show
Description: A blackened brown based multichrome that shifts green/blue/violet/burgundy with a dusting of holo flecks
Price: $12.50 / Cap: NONE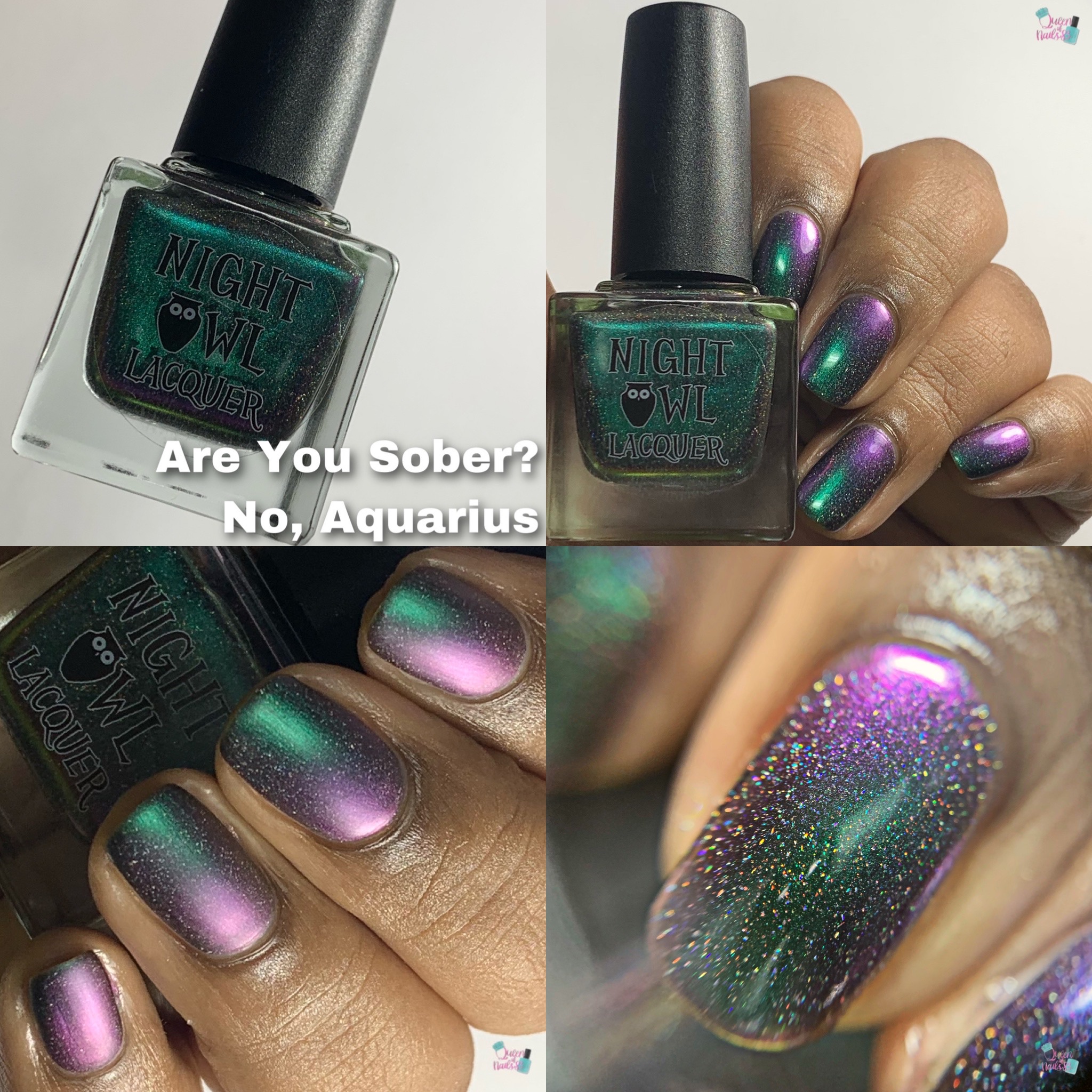 Penelope Luz – Kamelot
Theme: American metal band Kamelot
Description: A crelly lilac base with iridescent pink and orange flakies, multichrome flakies and a little holographic pigment.
Price: $13 / Cap: 200 bottles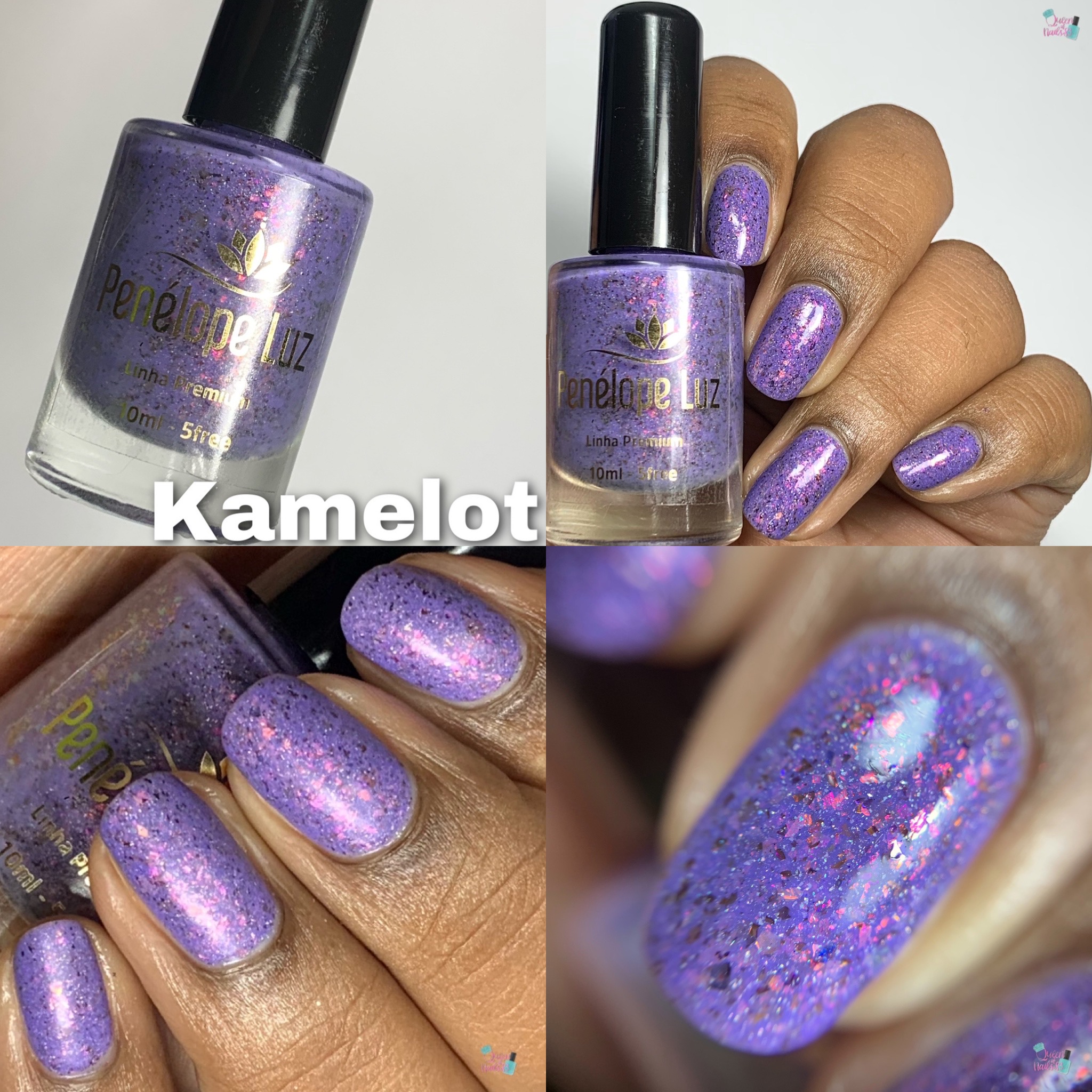 POP Polish – Belle
Theme: Heroines
Description: A yellow base with random cut gold and silver holographic flakes and iridescent flakes that shift from gold to bronze
Price: $14.50 / Cap: NONE
Rogue Lacquer – Wimbledon
Theme: London
Description: A grassy/bright green with purple to green color shifting flakes, scattered holo
Price: $12.50 / Cap: NONE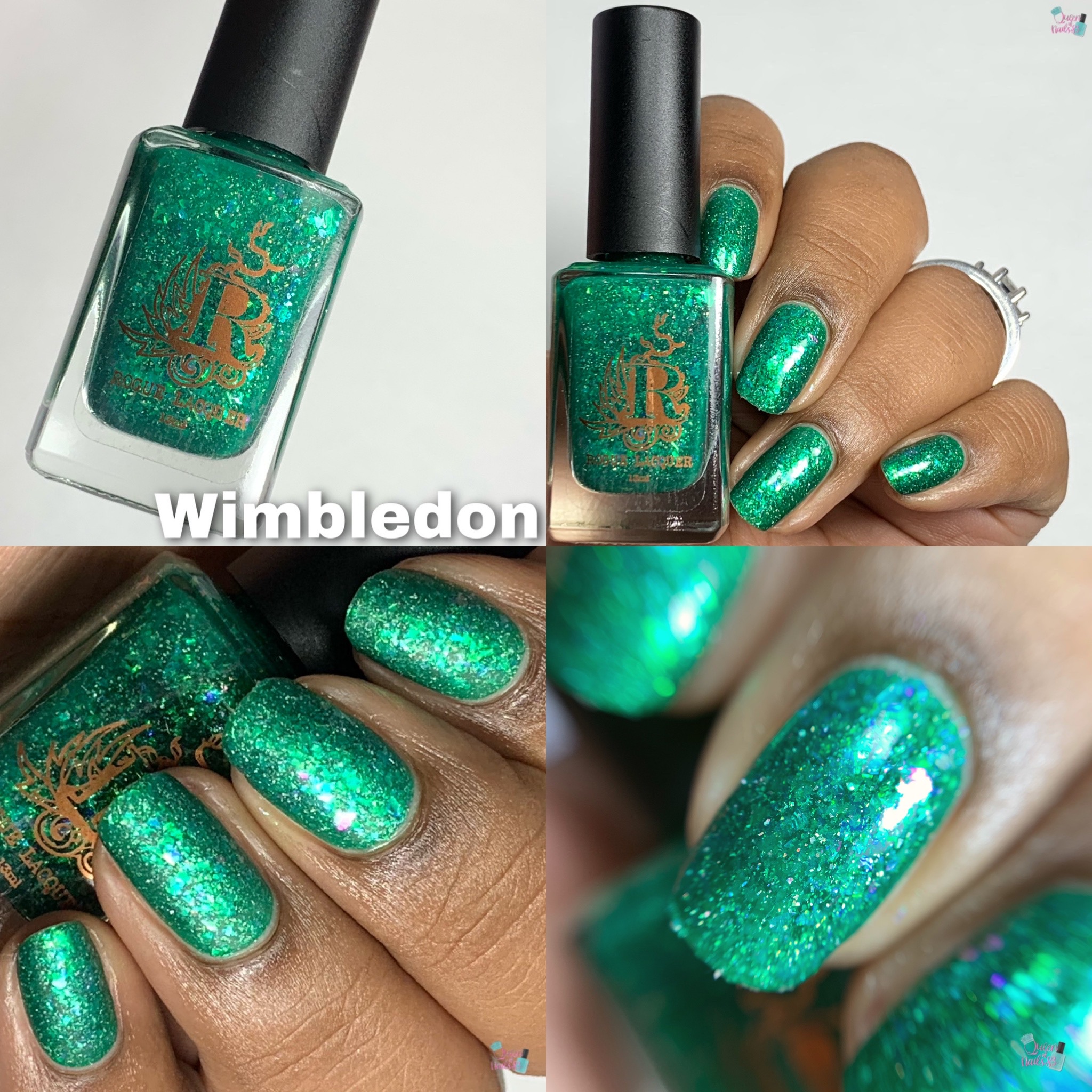 Under A Hula Moon – He's Her Lobster
Wax Melts
Theme: Friends
Description: Represented by notes of delicate Toulouse violets blended with sweet yet tart currants, and the warm aroma of buttery, flaky golden-brown pie crust from the pâtisserie.

Price: $4.50 / Cap: NONE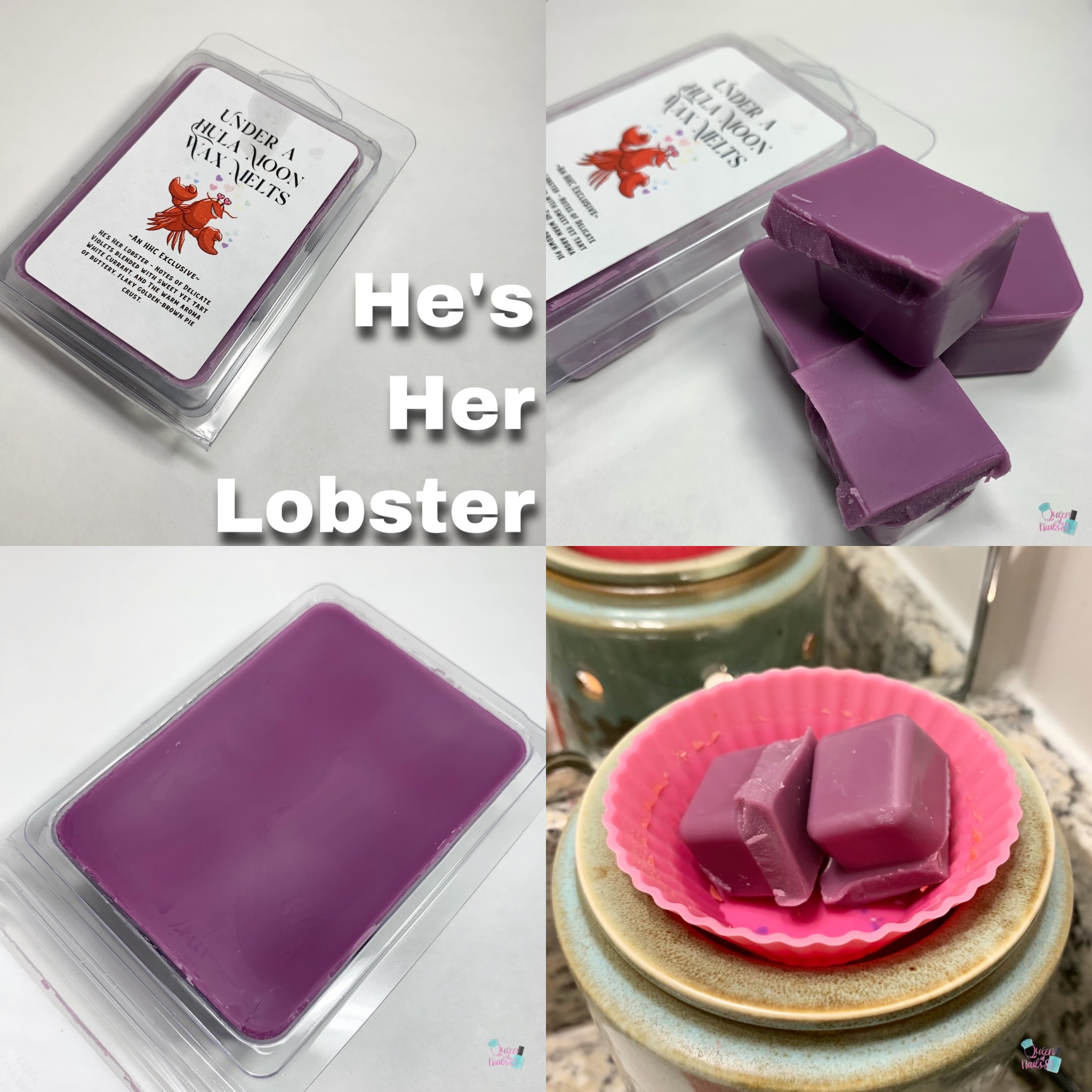 June 2020 Hella Handmade Creations (HHC)
Sunday, June 14th at 12:01am HST to Sunday, June 
21st 11:59pm HST
Hella Handmade Creations
*Like, Comment and Subscribe*
Eat, Laugh, Polish, Repeat
Queen of Nails 83
💕