….and so it was 'written in the stars,' that 2020 would be astounding year for Polish & Indie Pickup (PPU/IPU)! 
Since we are starting a new year, it's probably a great time to go over some house rules:
What is Polish Pickup?
Polish Pickup is a monthly collaboration of indie polish and products based on a chosen theme. 
When can I purchase?
Products are available the first Friday – Monday of each month for pre-order purchase. 
When will my order ship and how much does it cost?
Your order is shipped together, for one low flat rate price of $3 (U.S. orders).  Orders are automatically combined and shipping on multiple orders refunded. 
Now that you've got the lay of the land, let's check out what the makers have in store for us! 
Enjoy…
**All swatches are done using liquid latex Peel-off Base, glossy, QDTC and matte topcoat. Swatch photos are taken using artificial lights.**
Alter Ego – What's Your Sign
Maker: Cynthia
Description: A silver holo topper with different size particles. Swatch shown in 3 coat, no undies.
Price: $9.50 / Cap: NONE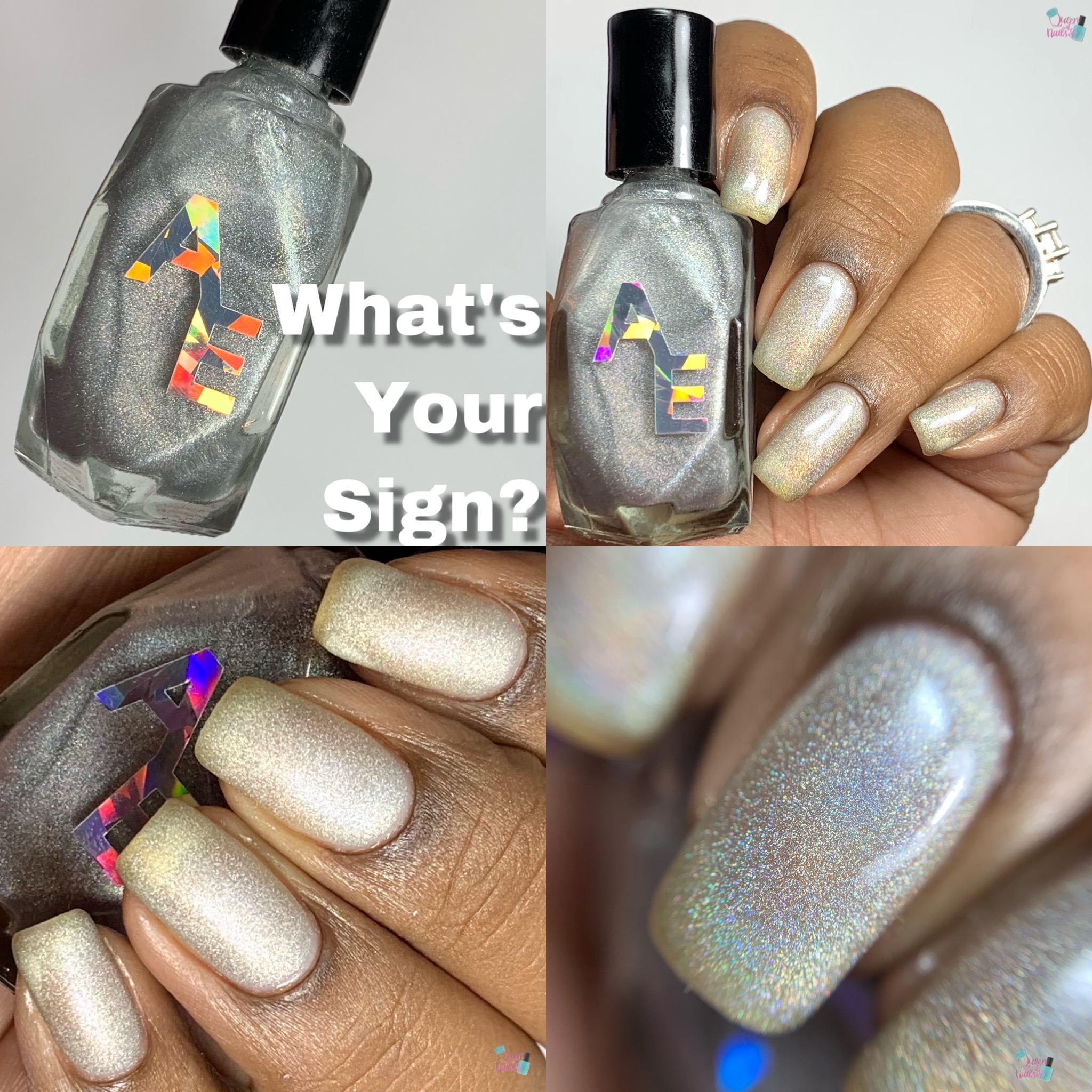 Bee's Knees Lacquer – Mightiest of Signs
Maker: Sarah
Description: A red based multichrome that shifts from gold/green to blue/purple with holo flakes
Price: $12 / Cap: NONE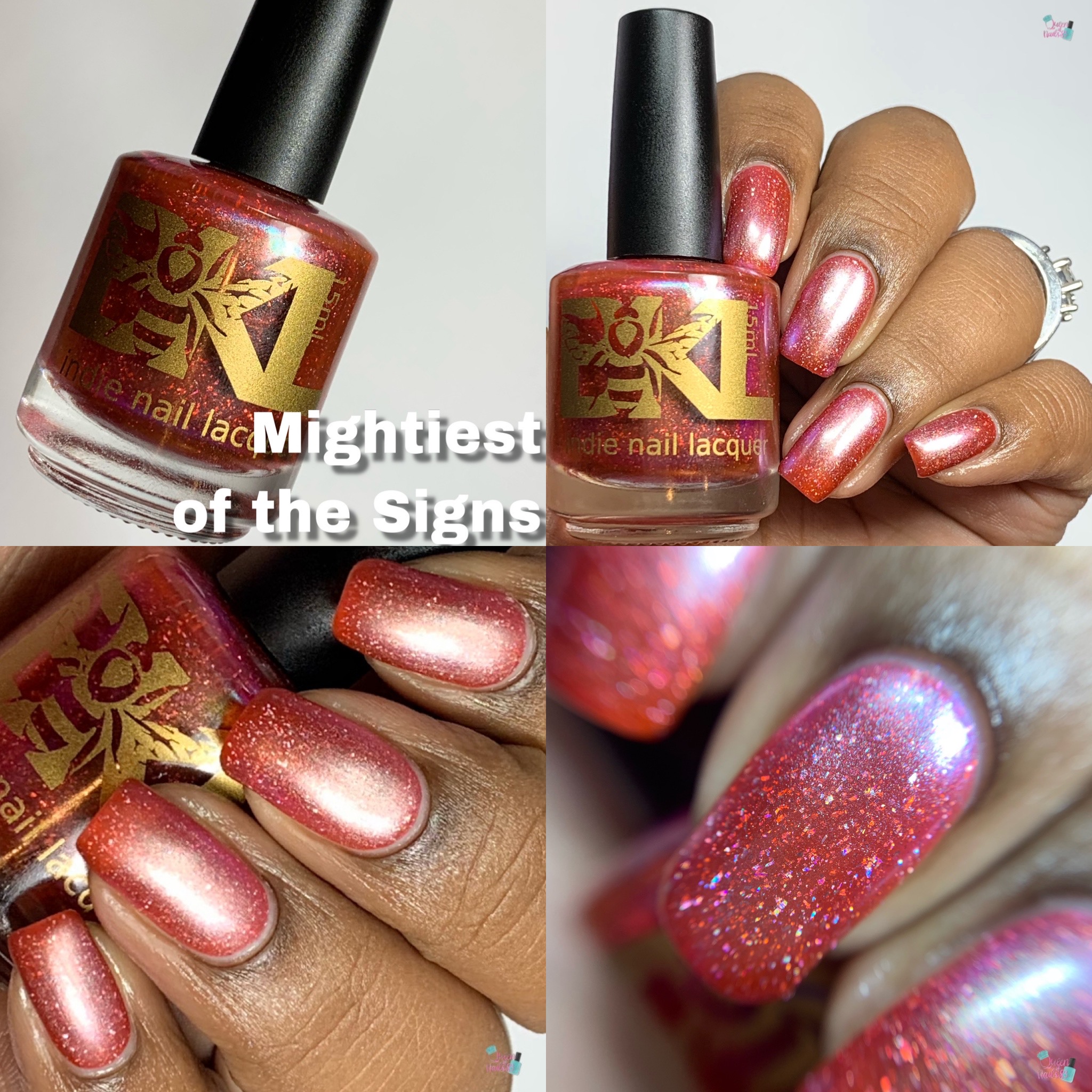 Bluebird Lacquer – Left of Centaur
Maker: Lou
Description: A deep glowy royal purple mega holo 
Price: $11.50 / Cap: 150 US|15 UK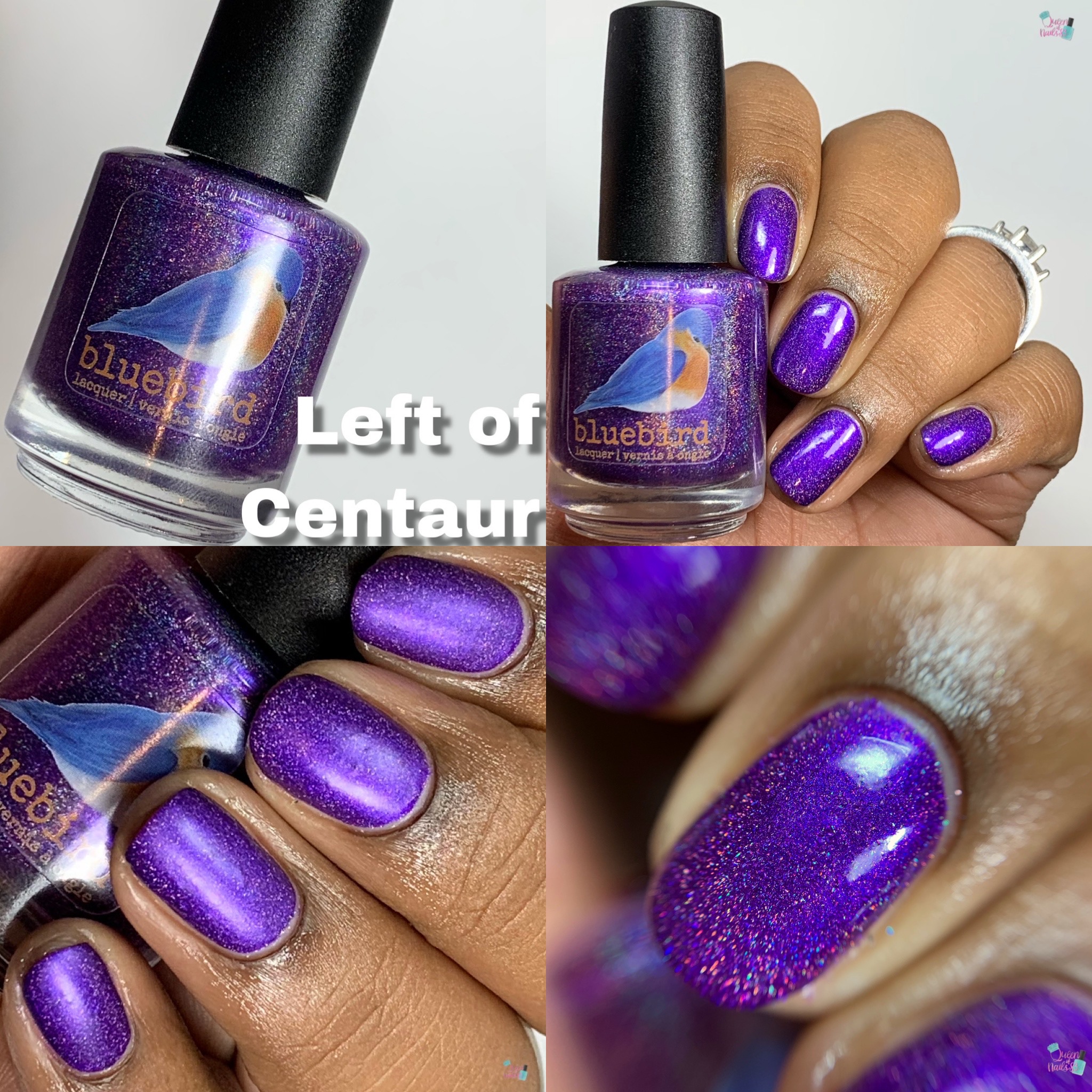 Blush Lacquers – Star-Crosses Lovers
Maker: Victoria
Description: A burnt orange nail polish with a shifting pink-orange-gold shimmer, holographic flakes and gold flakes.
Price: $11 / Cap: NONE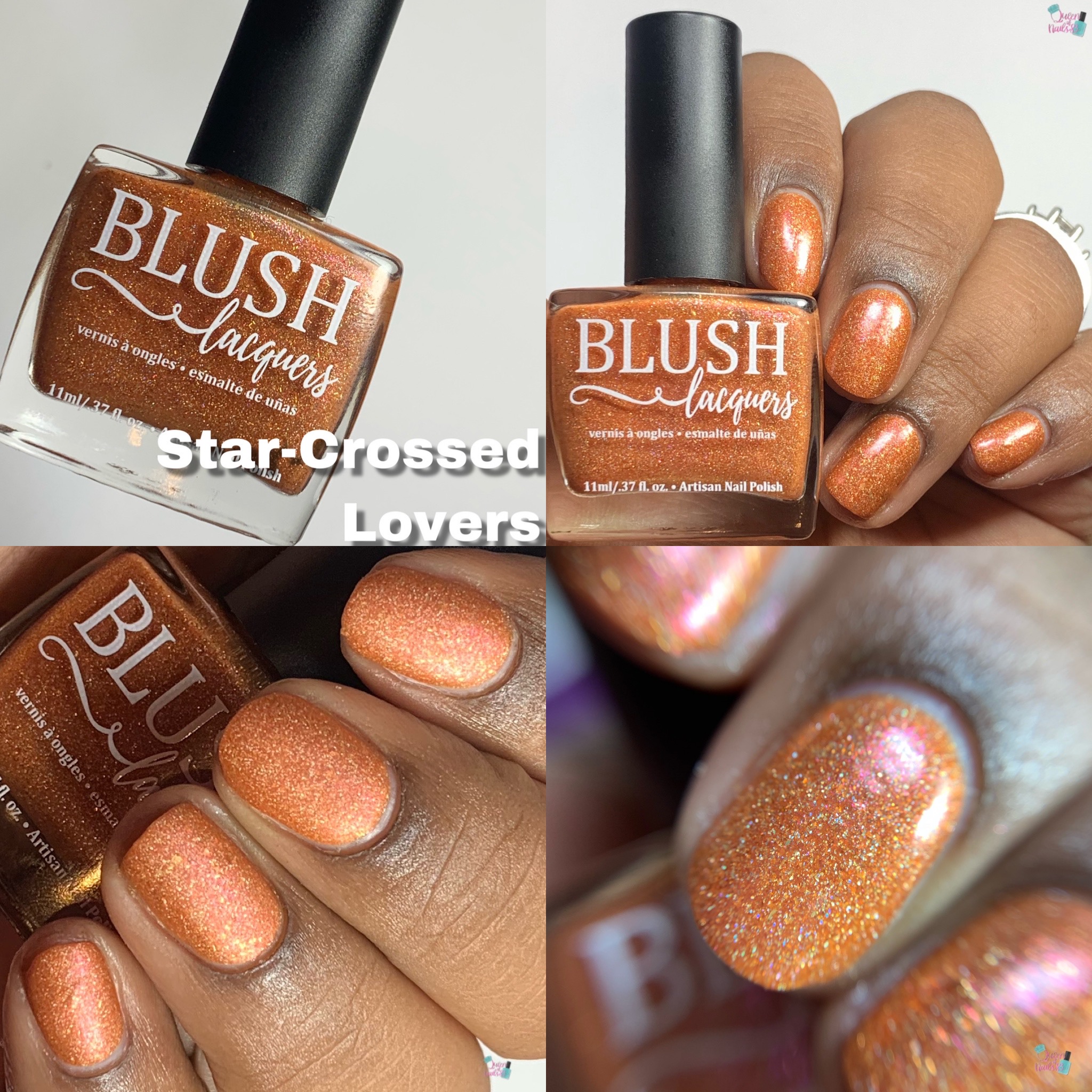 Cupcake Polish – Retrograde
Maker: Sara
Description: A dusty eggplant purple creme based polish with red/pink/bronze/gold/green shifting multichrome shimmer
Price: $13 / Cap: NONE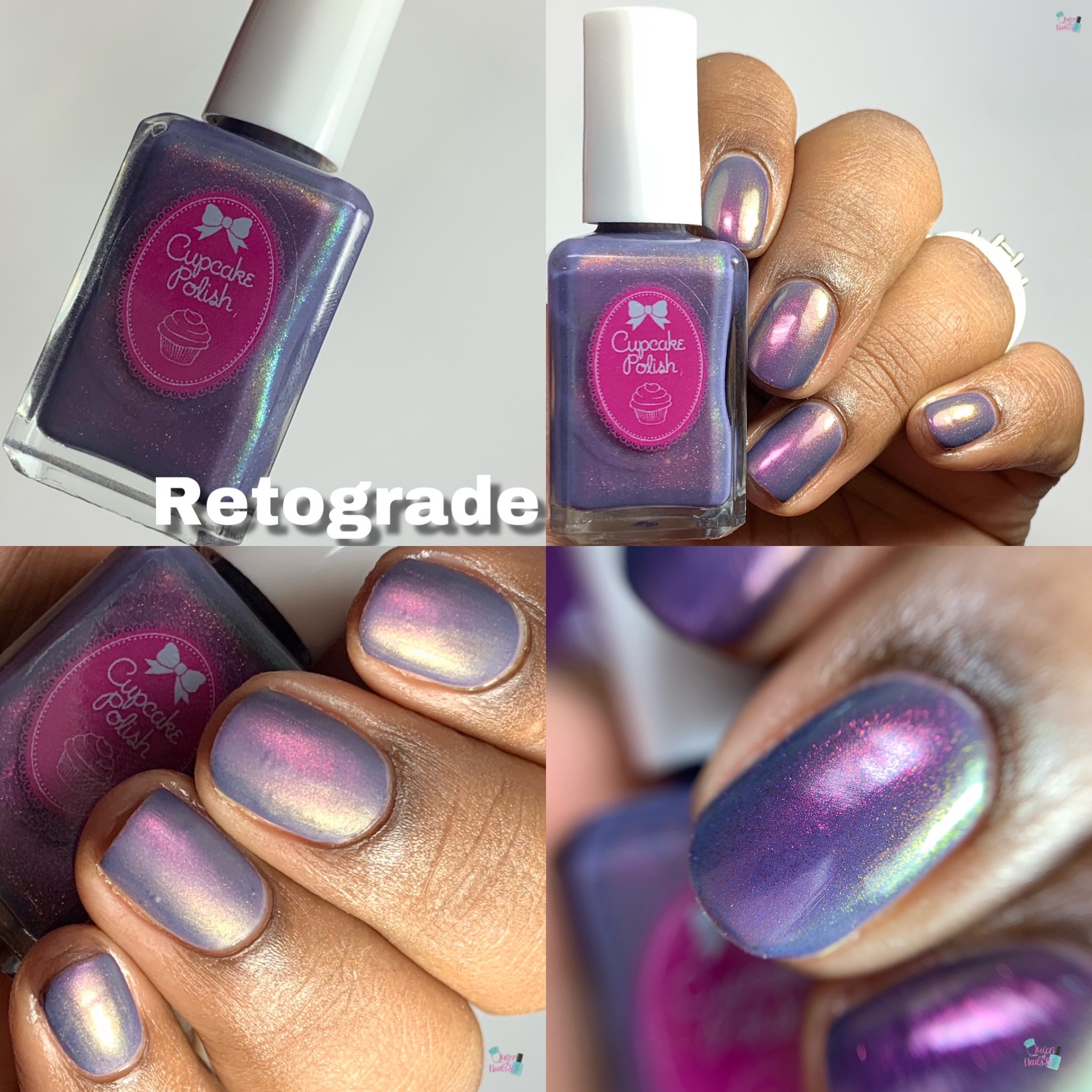 DRK Nails – Zoo-diac
Maker: Katia
Description: An ultramarine jelly base filled with purple/pink shimmer, holographic micro-flakes, and red chrome pigment
Price: $10.70 / Cap: 185 US | 15 UK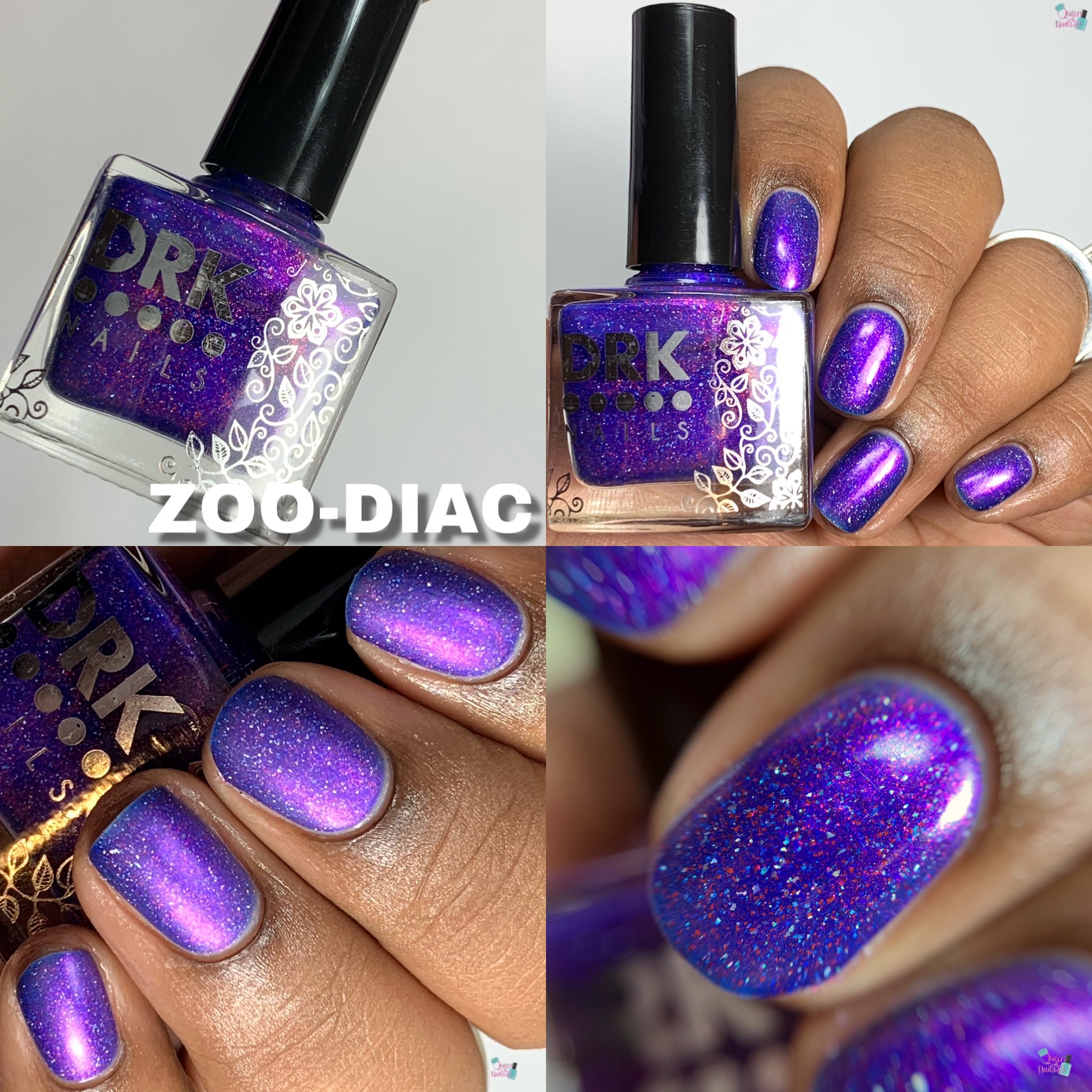 EDK – Neptune
Maker: Kelly
Description:  A blue jelly base mixed with silver, turquoise, pink and blue holo glitters in different sizes, shimmer violet and confetti silver, turquoise and black holo glitter
Price: $10 / Cap: 150 US | 20 UK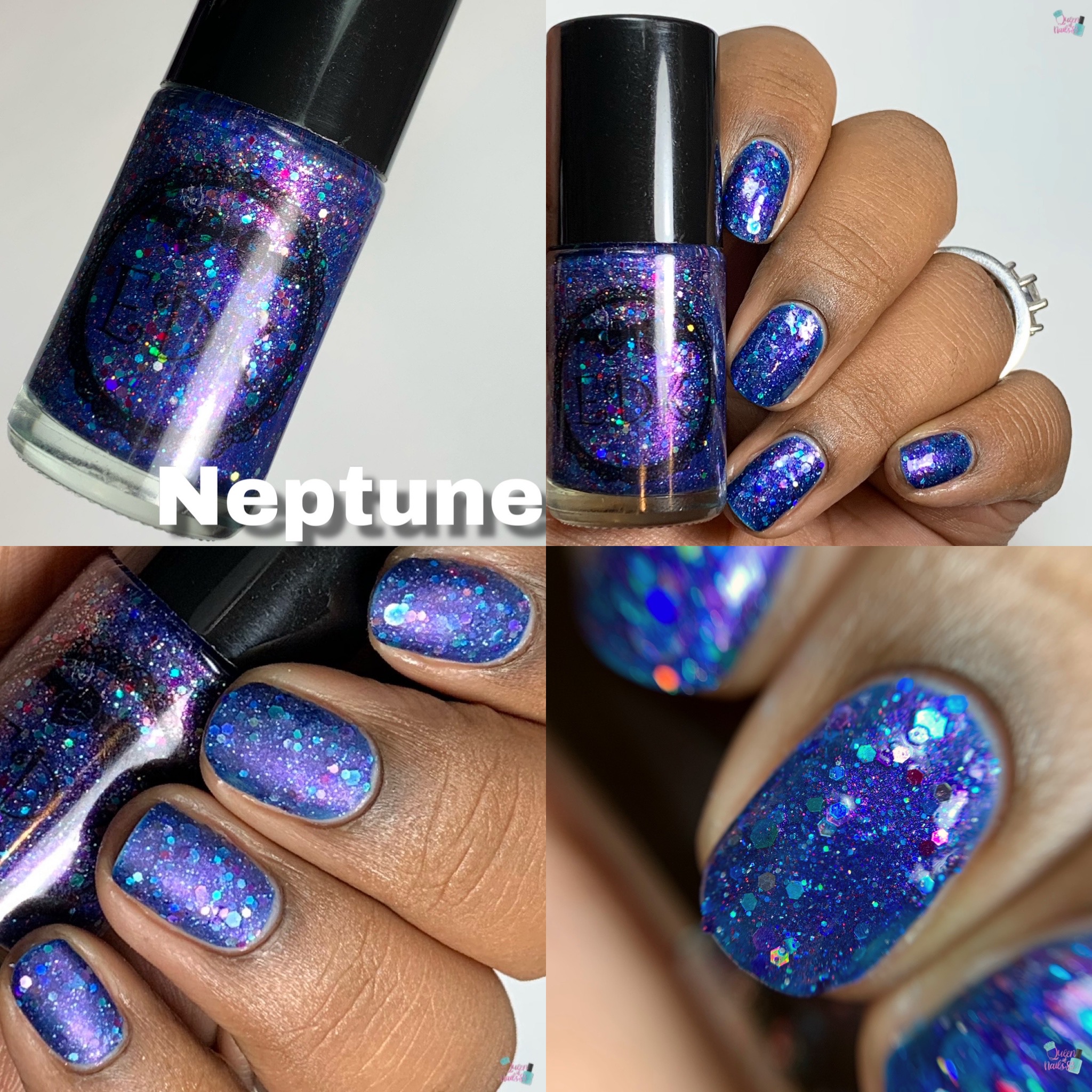 Smooth & Shine Duo
Description: A smooth base and shiny top coat duo
Price: $12 / Cap: 100 US | 20 UK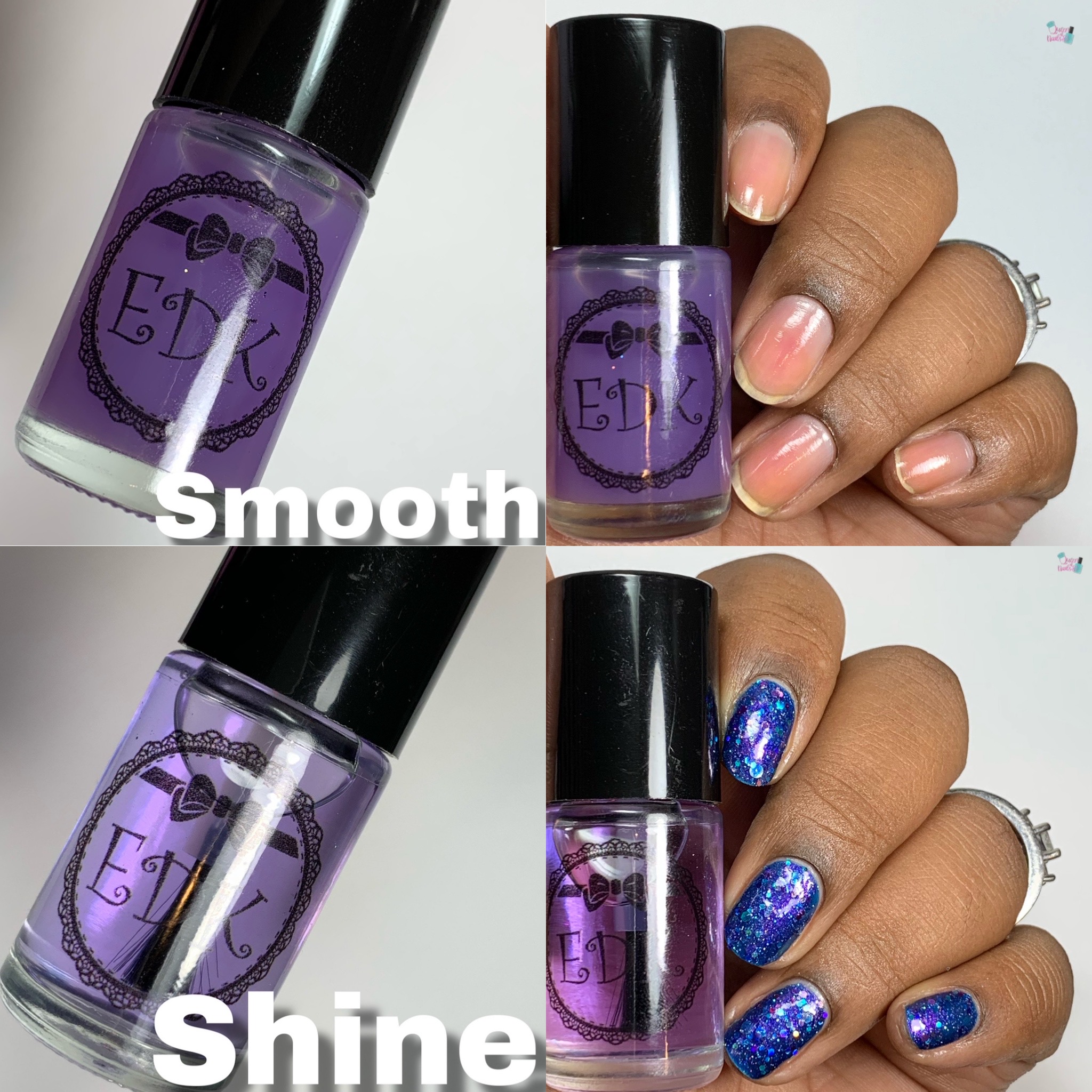 Ethereal Lacquer – Starpath
Maker: Meagan
Description: A deep space navy with a blazing red to gold and green shimmer and scattered holographic flakies
Price: $12.50 / Cap: NONE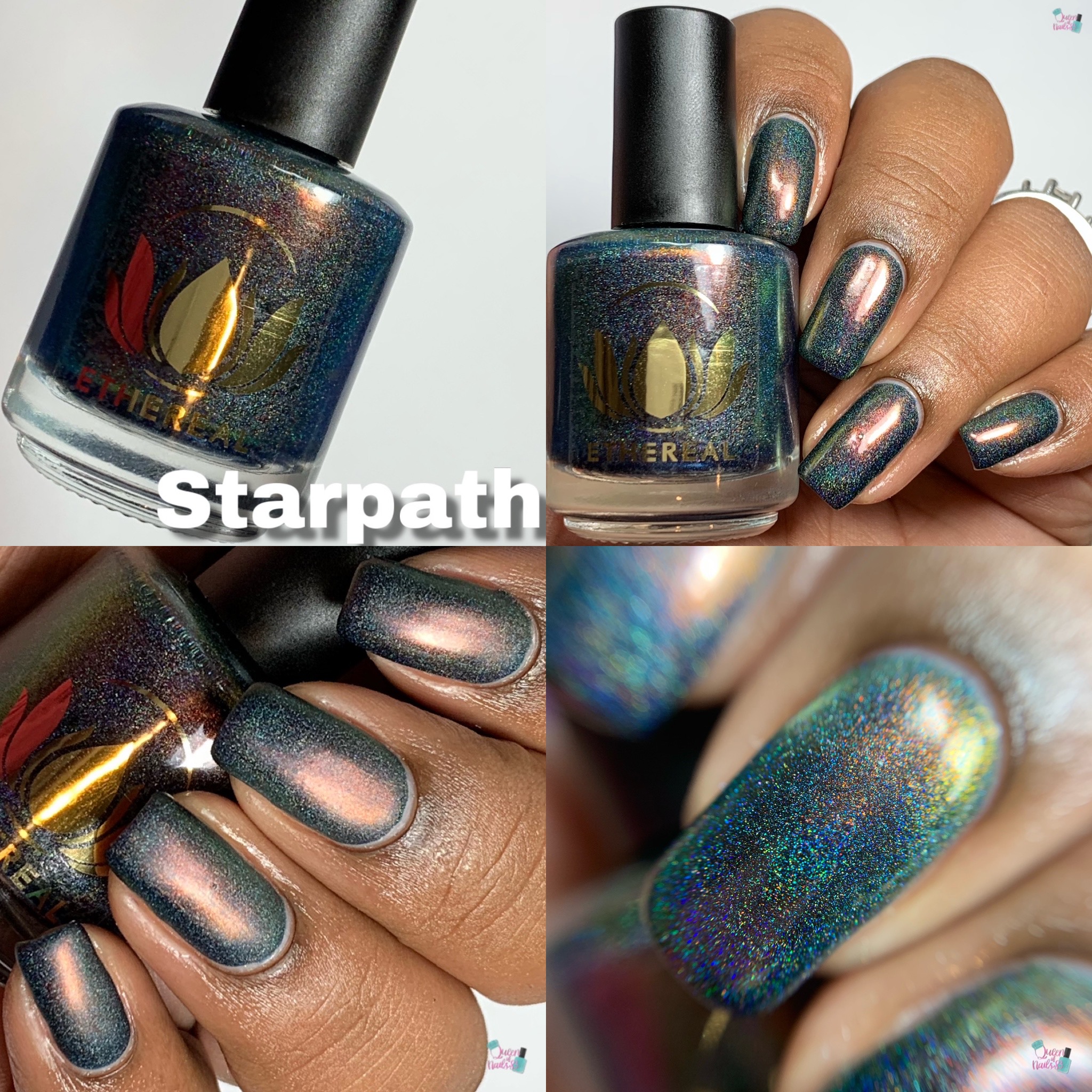 Femme Fatale Cosmetics – Celestial Birth (M)
Maker: Sophie
Description: A dark navy-almost-black base with an antique golden magnetic finish. Scattered within are silver holographic glitters and holographic microflakes
Price: $14 / Cap: NONE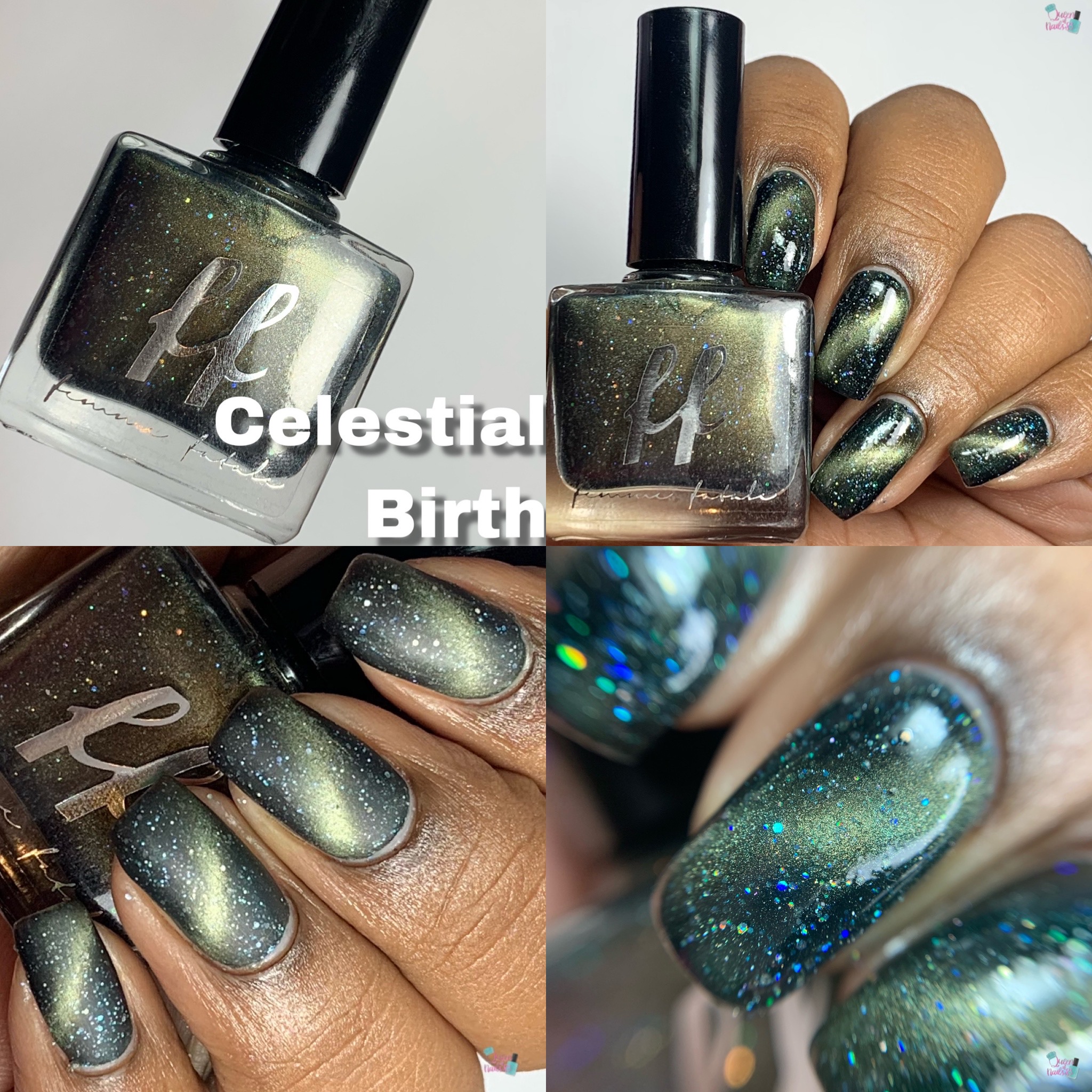 Ginger Fizz Boutique – Pink Galaxy Wax Brittle
Maker: Shelly
Description: A light pink soy wax with blend light turquoise and blue swirls topped with colorful planets and stars. Wax brittle is scented with fruity cereal and hints of marshmallow. Top notes: lemon rinds, lime and grapefruit, middle notes: lemongrass, lily, verbena and base notes: vanilla sugar
Price: $5 / Cap: 75 US | 25 UK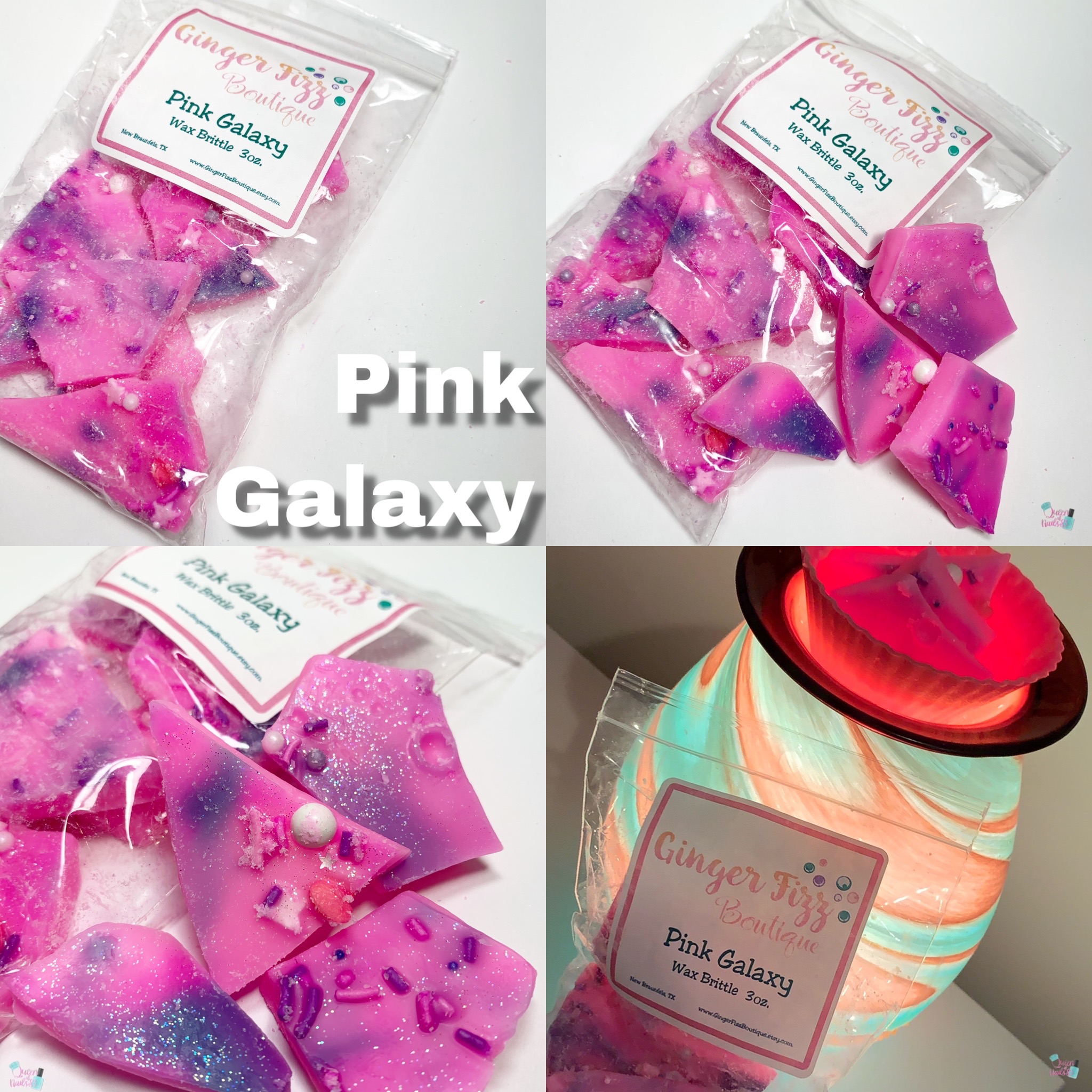 Great Lakes Lacquer – The Scorpion, The Serpent, The Phoenix
Maker: Mariah
Description: A purple based multichrome with shifts of blush, silver, lime, aqua, and fuchsia
Price: $12.50 / Cap: NONE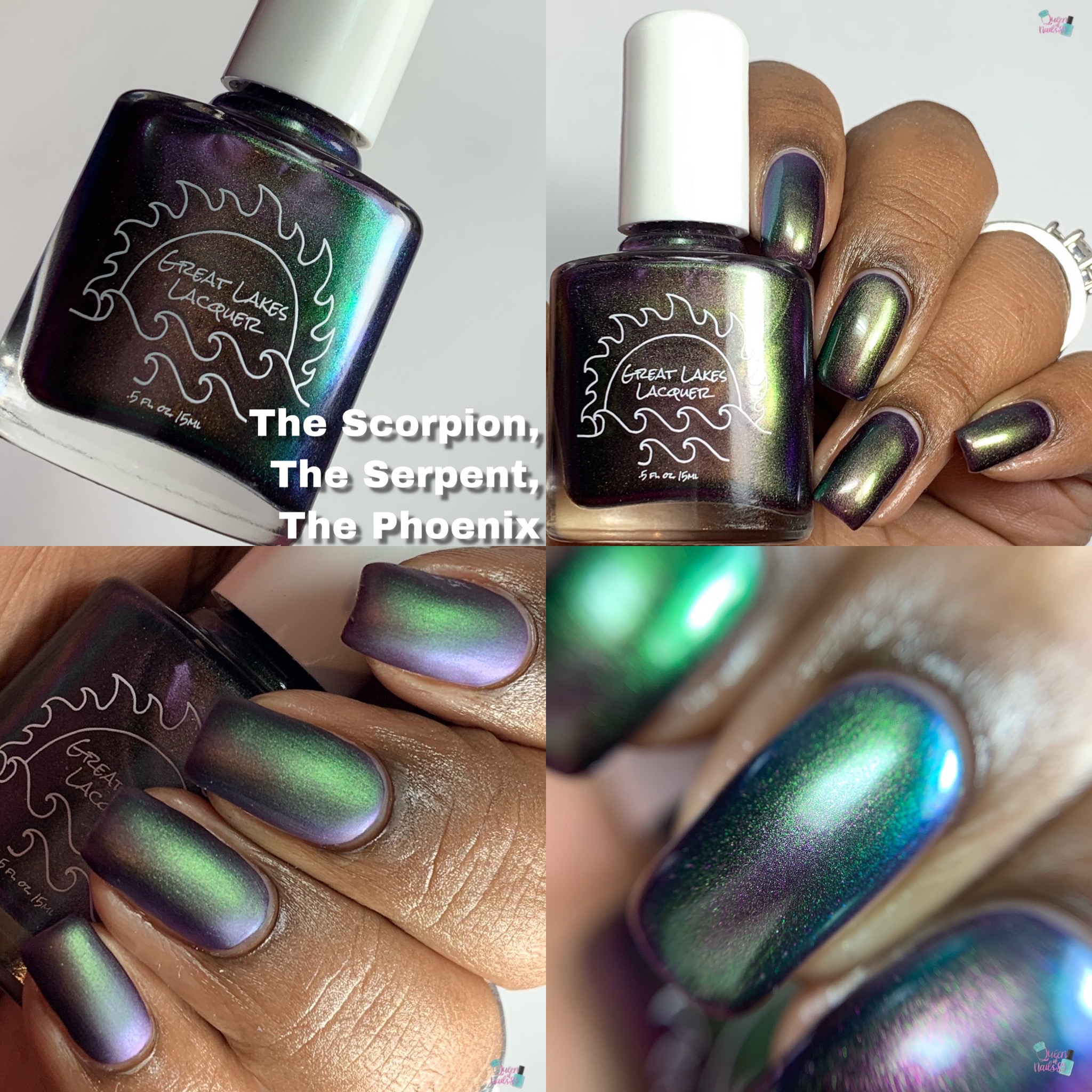 Jior Couture – Written in the Stars (M)
Maker: Sacha
Description: A multichrome  magnetic polish with multichrome magnetic flakes
Price: $12 / Cap: NONE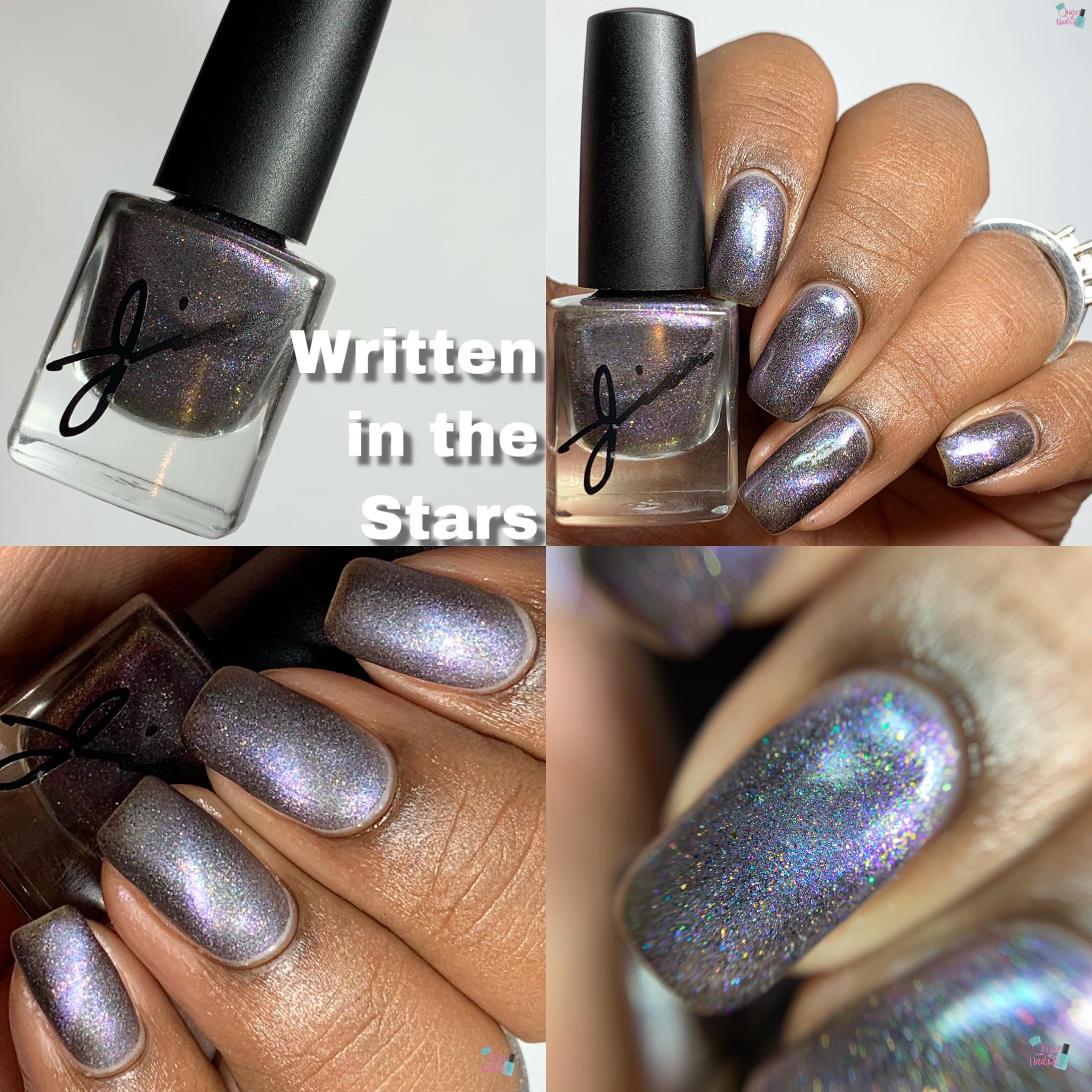 KBShimmer – I Need Space (M)
Maker: Christy
Description: A silver slate with a bright silver magnet line in a  blackened-navy background with micro and small holo glitters sparkle and tiny, shifty blue flakes
Price: $10 / Cap: NONE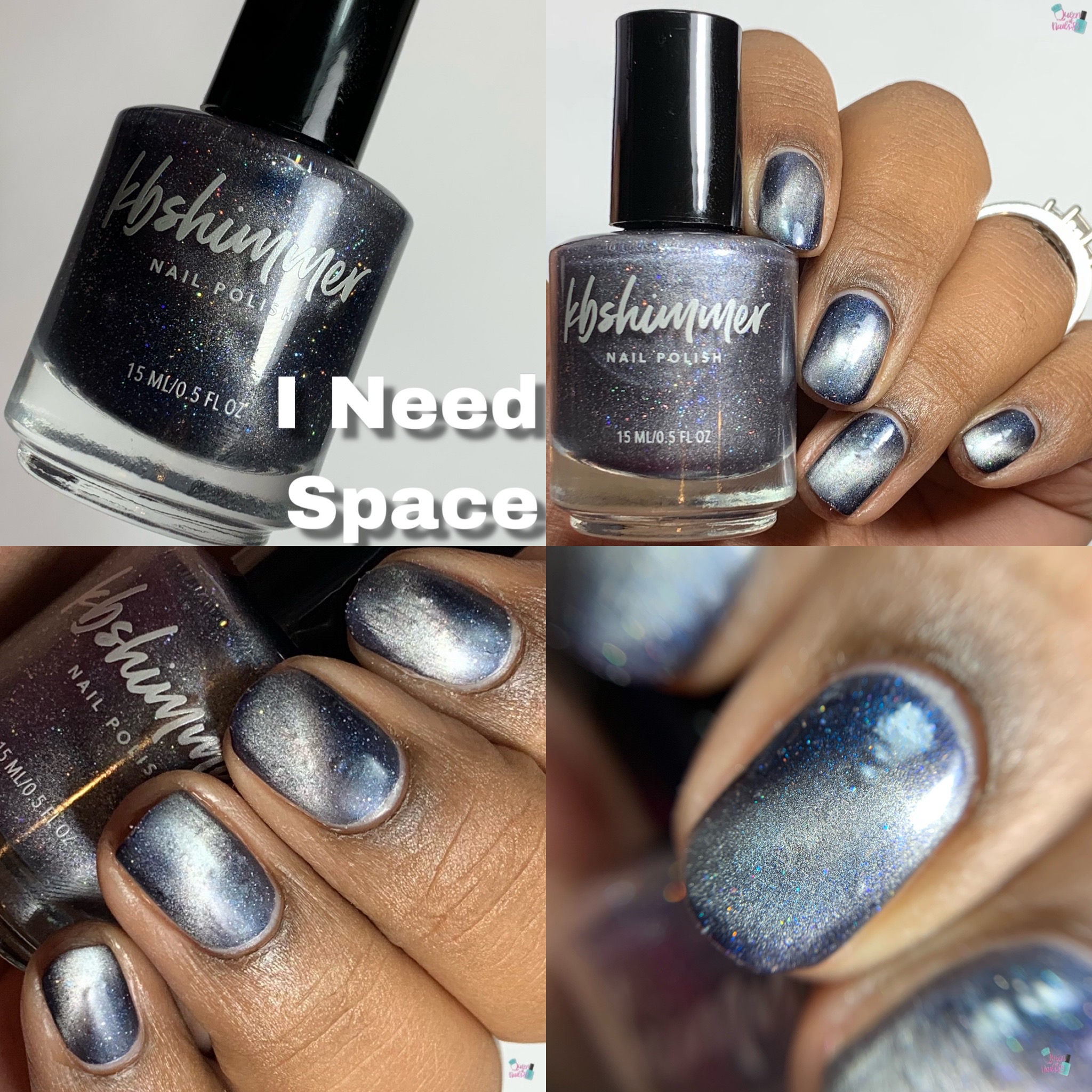 Astronaut Ice Cream
Description: A three layer sugar scrub, each with its own scent.  The classic strawberry, vanilla and chocolate flavors are represented by the pink, cream, and brown-colored layers.  Use each layer individually, or stir them to form a juicy, chocolate-covered berry scent.
Price: $10 / Cap: TBD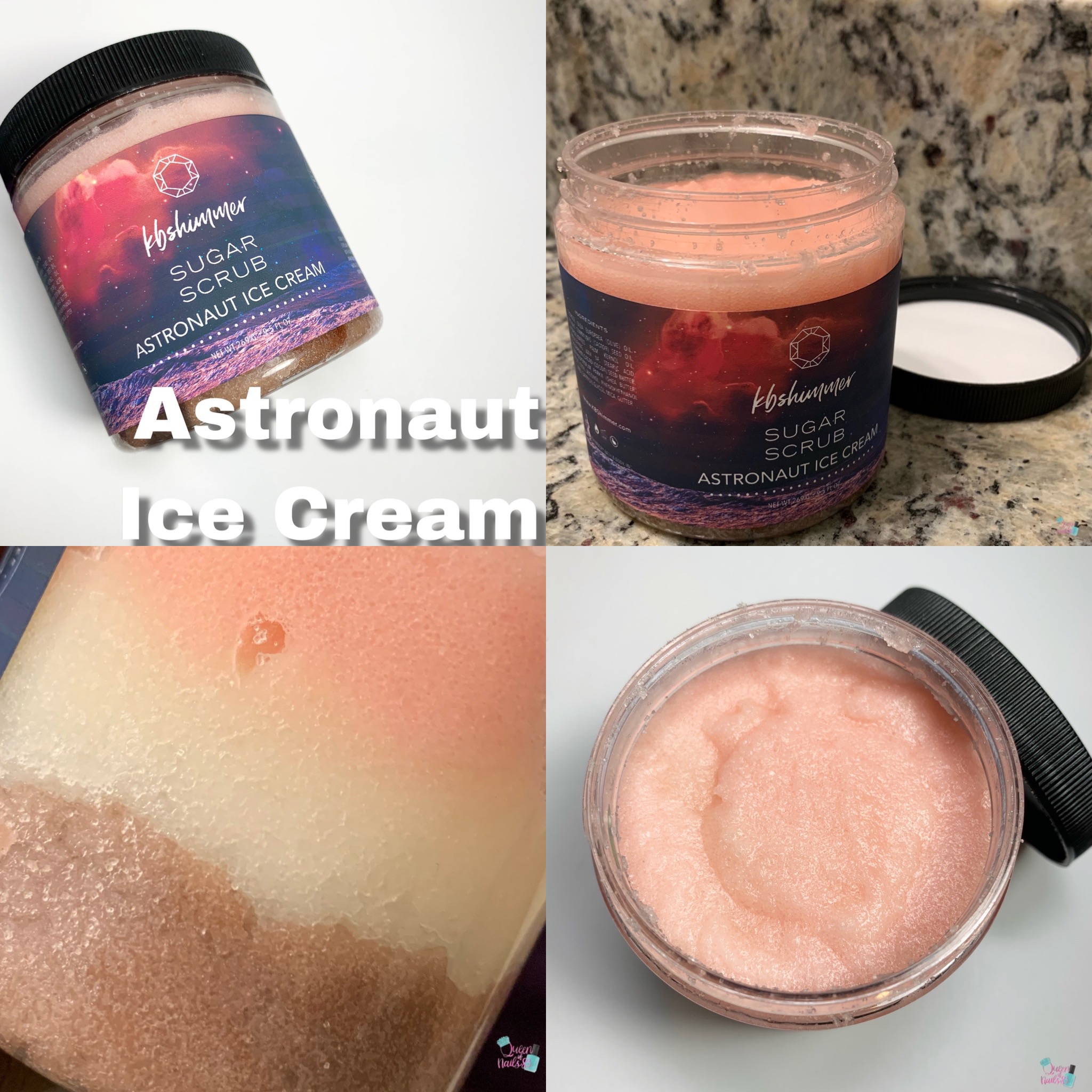 Lemming Lacquer – Aurora Galaxy (M)
Maker: Cassie
Description: A fuchsia/copper/gold/green multichrome in an indigo base with green/ blue/purple multichrome magnetic flakes and scattered holo.
Price: $13 / Cap: 250 US | 25 UK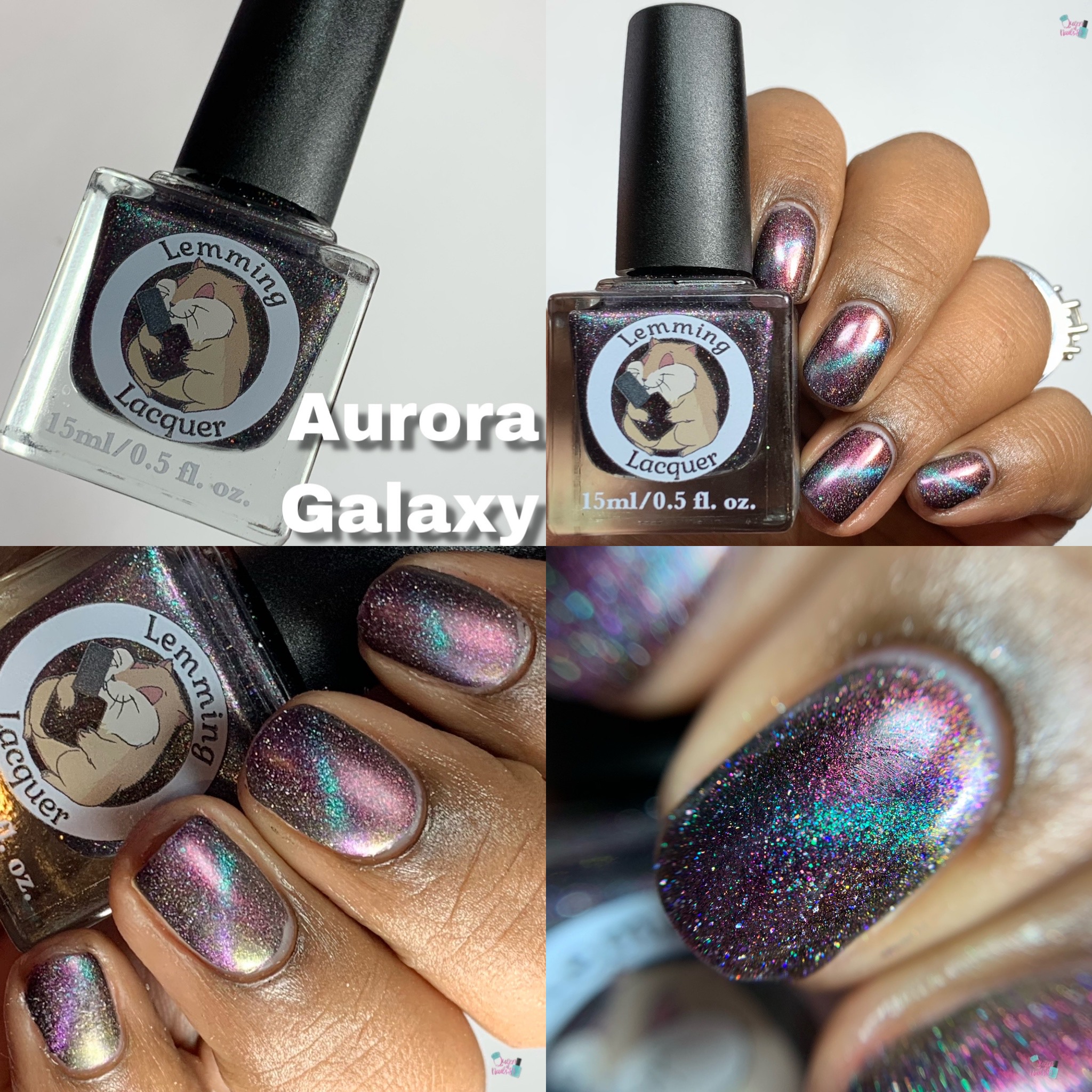 LynB Designs – Age of Asparagus
Maker: Jennalyn
Description: A pale pastel asparagus green based multichromes that shifts from green to teal to blue to pink to purple with holo shimmer and two different UCC flakies
Price: $12 / Cap: 150 bottles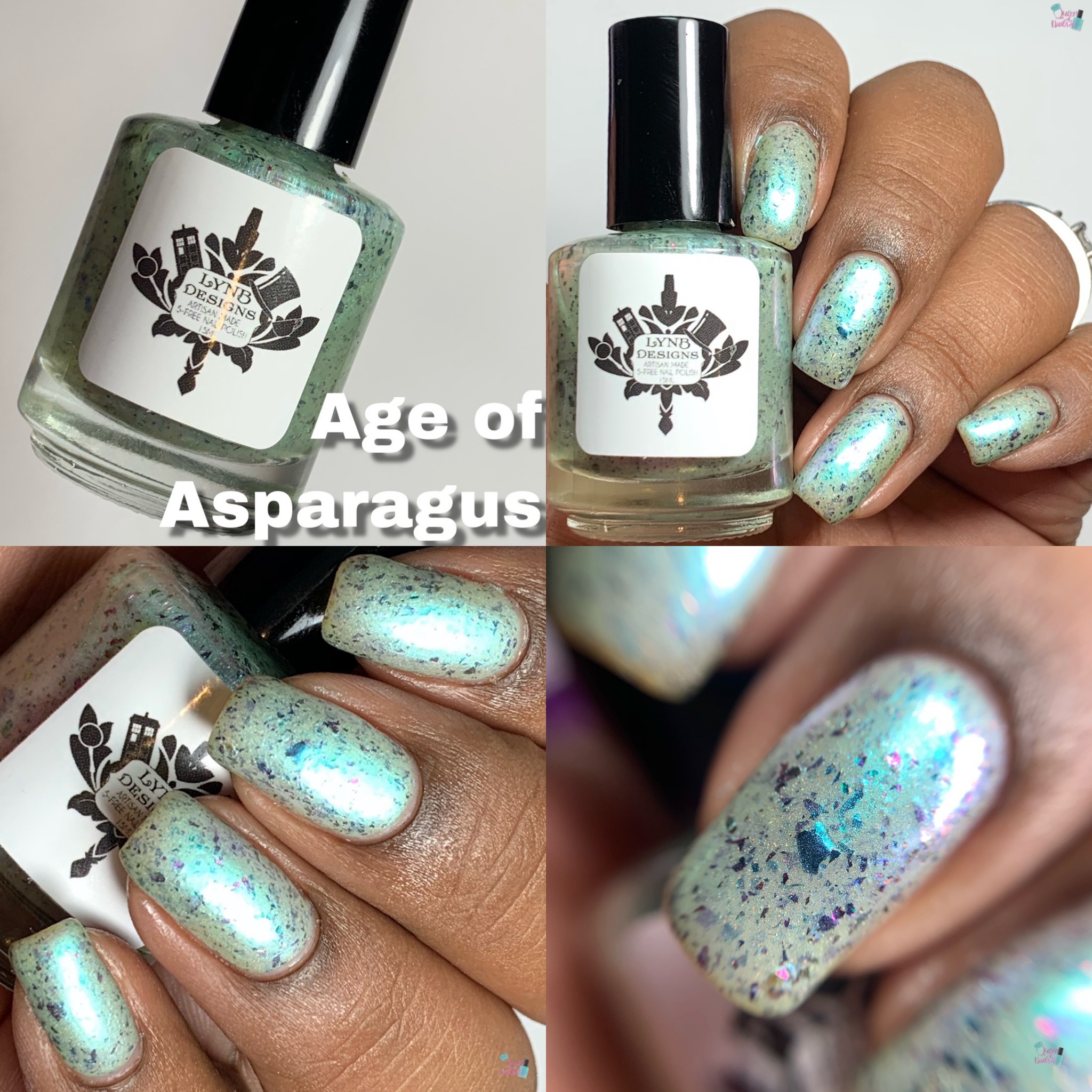 Pretty Beautiful Unlimited – Starry-Eyed
Maker: Virginia
Description: A blurple blue base with scattered holographic, micro silver holographic glitters, aurora shimmer and a blend of crystal chameleon flakies
Price: $12 / Cap: 150US | 15 UK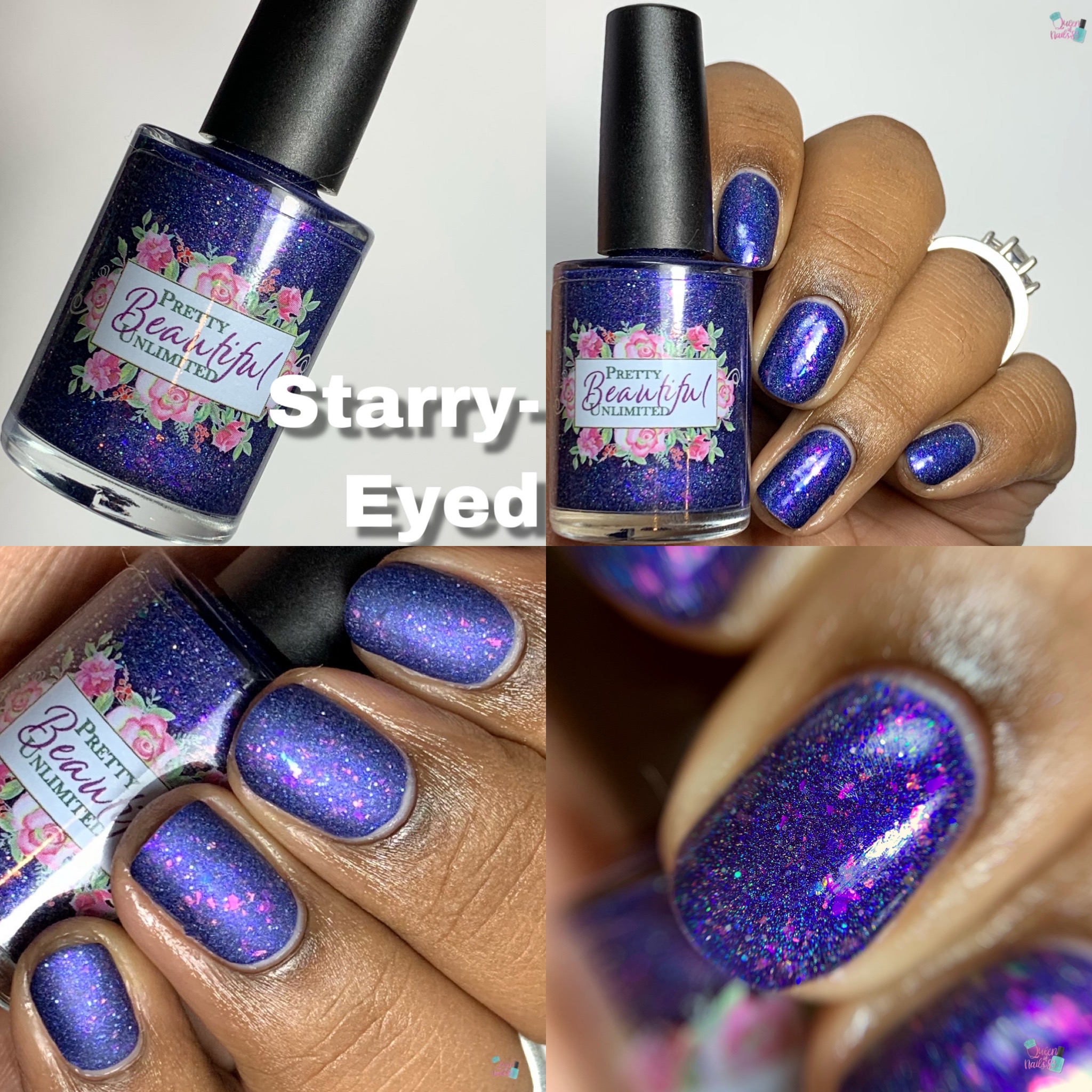 Wishing on a Star Wax Melt
Description: A bright and zesty citrus blend with honeyed ginger, pineapples and tart cherries followed by cinnamon, cloves and nutmeg.
Price: $3.50 / Cap: 55 US | 5 UK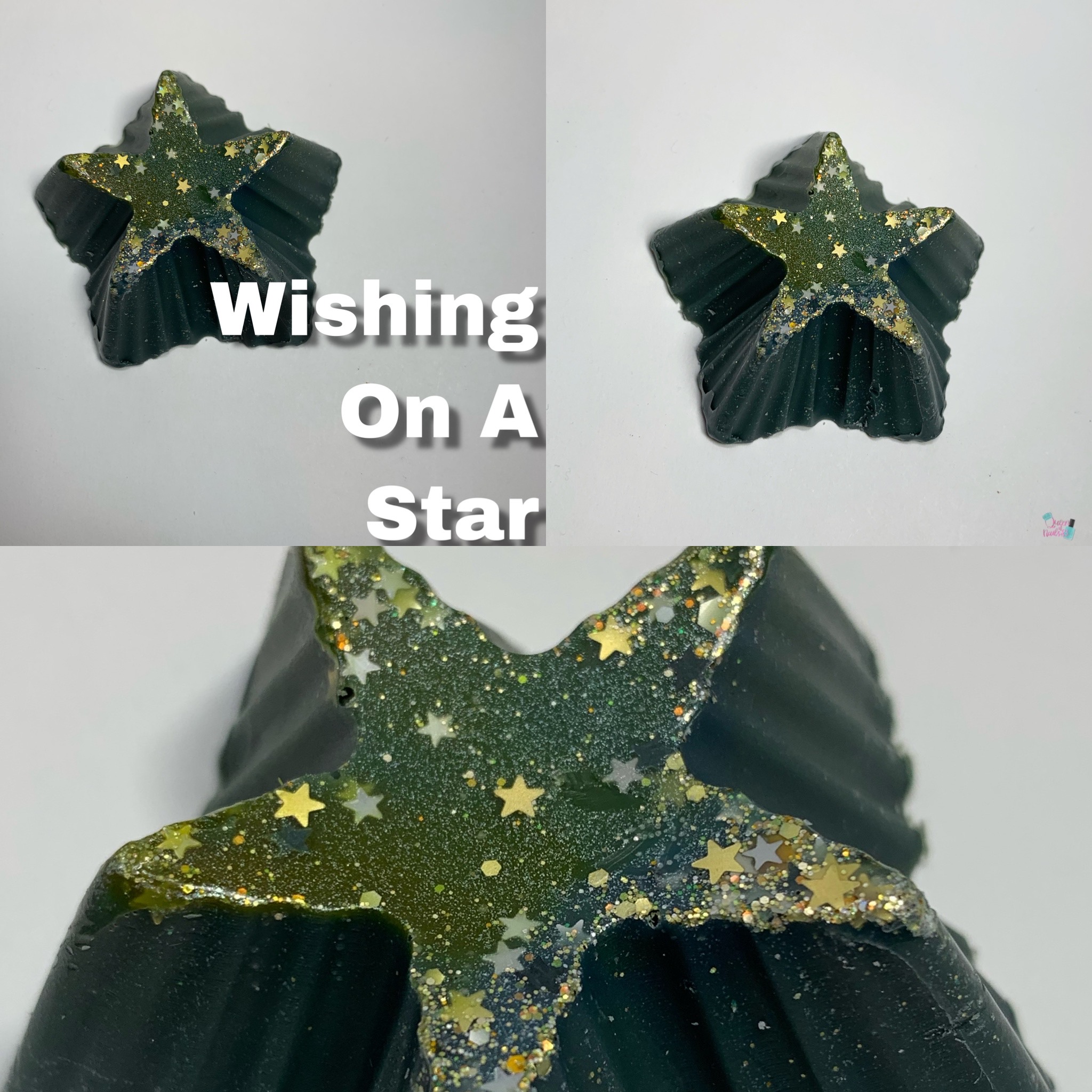 Sassy Pants Polish – Hear Me Roar
Maker: Angie
Description: A vibrant magenta scattered holographic polish with purple, hot pink and royal blue microshreads and holo glitters, blue/teal/purple UCC flakies and royal blue holographic glitters.
Price: $12 / Cap: NONE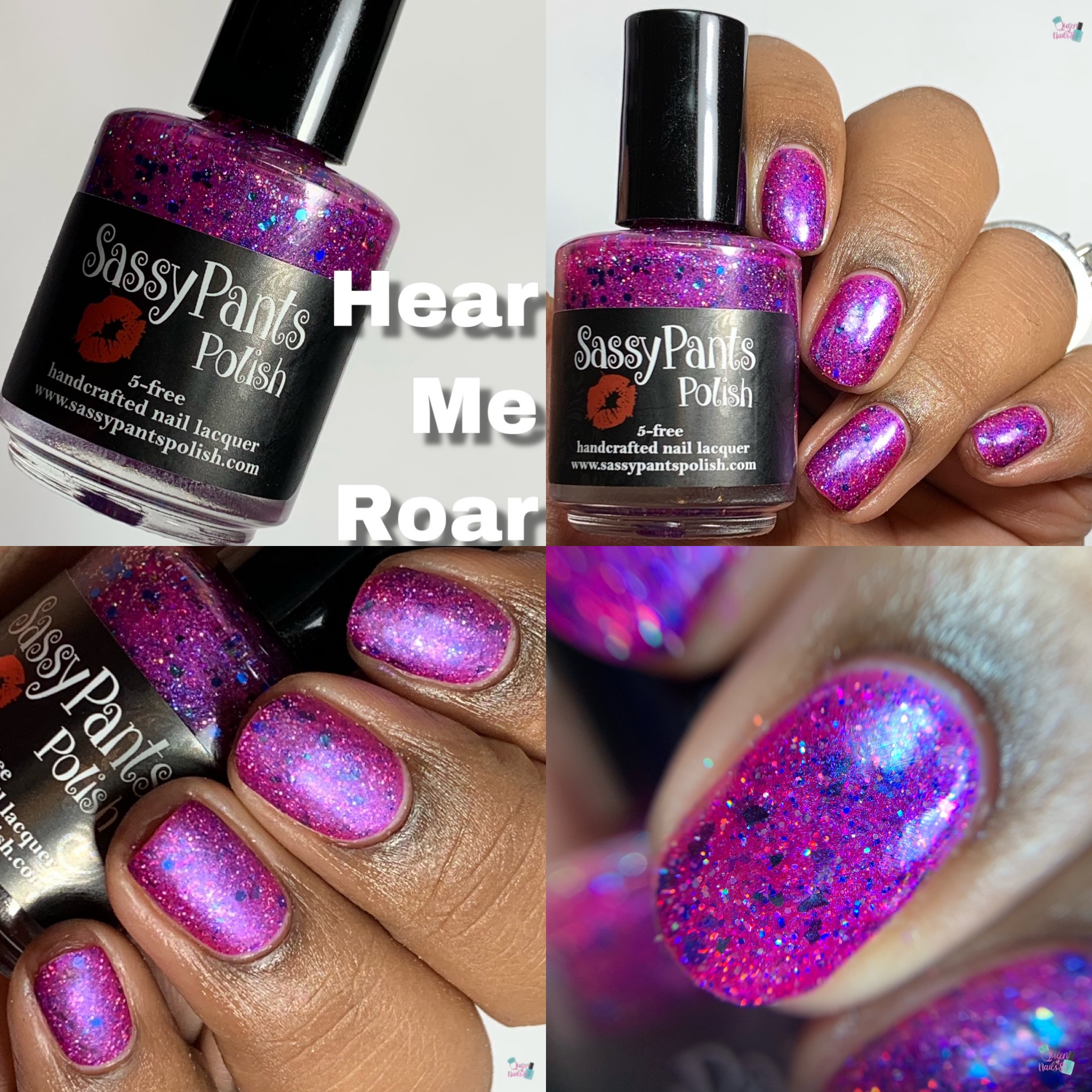 Vanessa Molina – Magic Constellation (T)
Maker: Vanessa
Description: A black to clear thermal mixed with different ucc flakies
Price: $12 / Cap: 150 US | 20 UK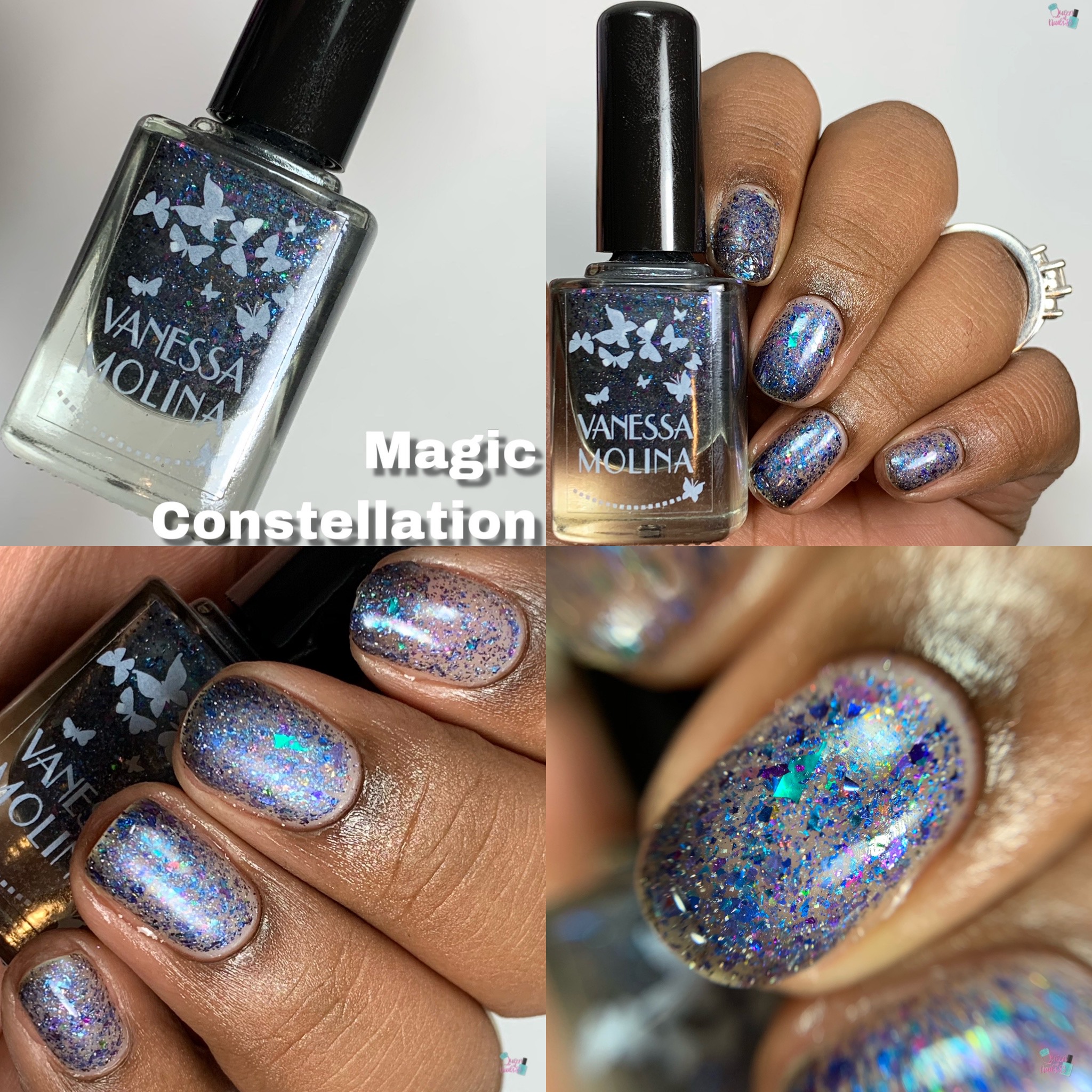 Available: Friday, January 3rd @ 11am et – Monday, January 6th @ 11:59pm et!!!!
**Polish and Indie Pickup**
*Like, Comment and Subscribe*
Eat, Laugh, Polish, Repeat
Queen of Nails 83
💕