Hey Sugas!!! I can not believe tomorrow is Thanksgiving. I spent the day cleaning and prepping to host and entertain family and friends… I'm exhausted. But if I can be honest, I'm already looking forward to the day being over. I love the holidays but dislike the stress it brings. "Is there enough this and that.?" or "Do we have this and that?" I'm over it!!! And as much as I tell myself everything will be ok, I'm still a ball of nerves.
What I do have to look forward to is all the deals and releases for Black Friday, Small Business Saturday and Cyber Monday. My self control will definitely be put to the test this weekend. But as I was cleaning today, I thought about the names for these great shopping days, I wondered….. "what about Sunday?" I mean, Friday, Saturday and Monday have a catchy name but Sunday just sits there…. all alone. So I think It's high time we changed that. What about Still Shopping Sunday…lol! I don't know…. like i said I was cleaning…maybe the fumes were getting to me. 
What I do know, and know for a fact is this year, the Tonic team has created 5 new incredible polishes that just scream "HOLIDAY"!!! From chrome, to shimmer, to linear holo, your bound to cross everyone off your holiday list with this collection. Have you been naughty or nice?!
Let me know in the comments a catchy name for Sunday shopping and let me know what you plan on picking up from Tonic.
Enjoy!
**All swatches are done using liquid latex base coat, glossy, QDTC and matte topcoat. Swatch photos are taken using artificial lights.**
Hard as Nails
A shiny chrome Silver. $11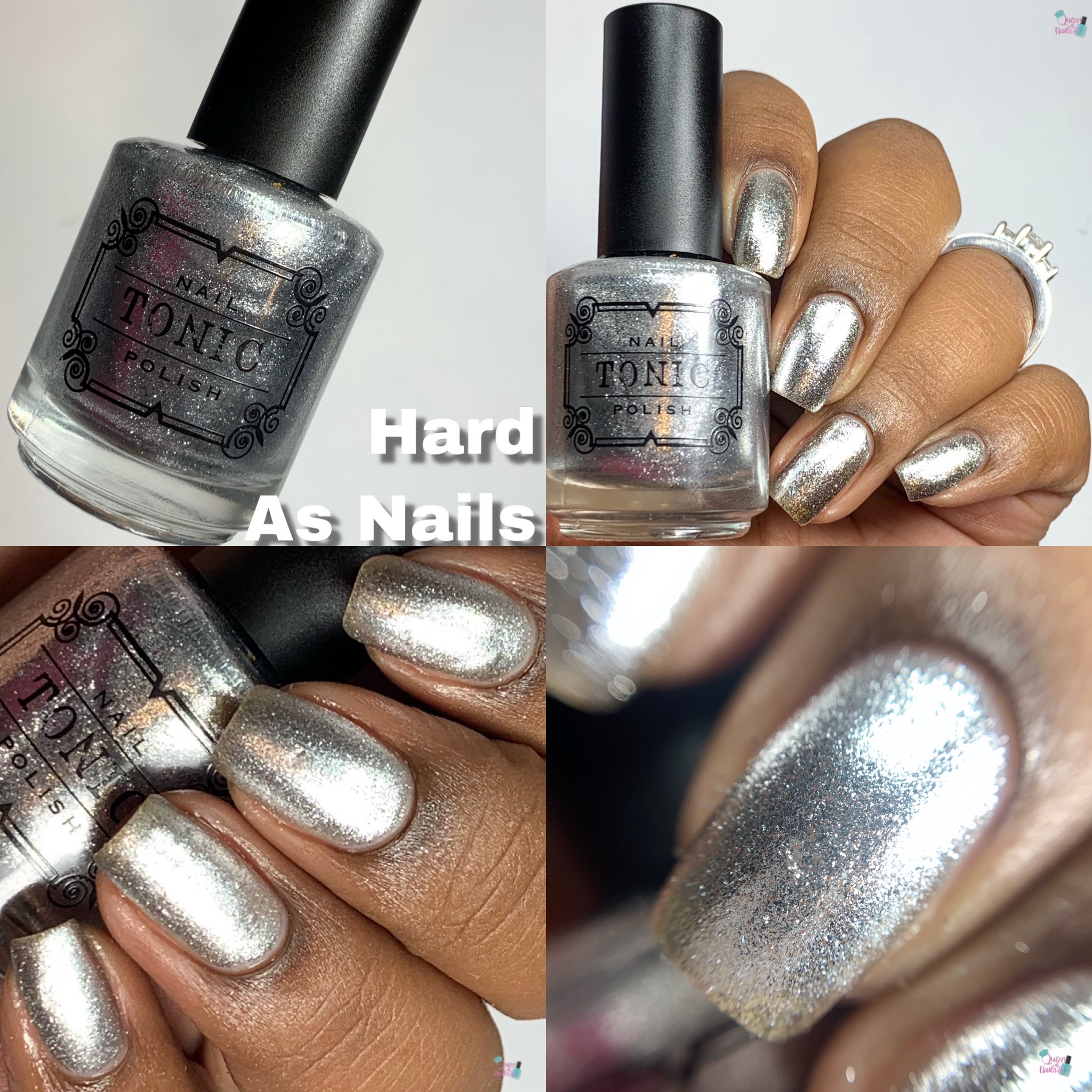 North Star
A navy blue with pink/green shifting shimmer and glowing indigo blue iridescent flakes. $12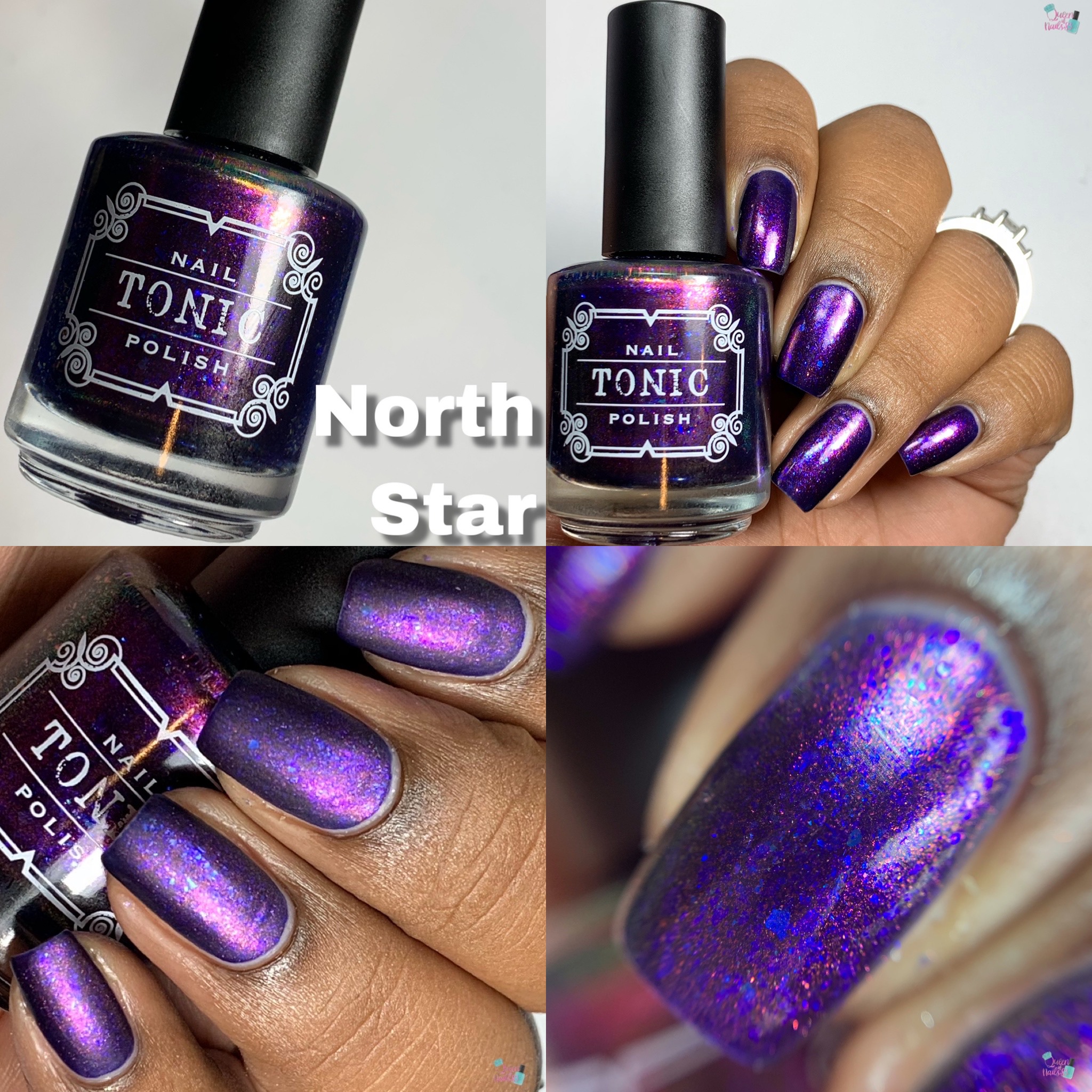 Charlie
A smooth burgundy linear holo with red multichrome shimmer. $12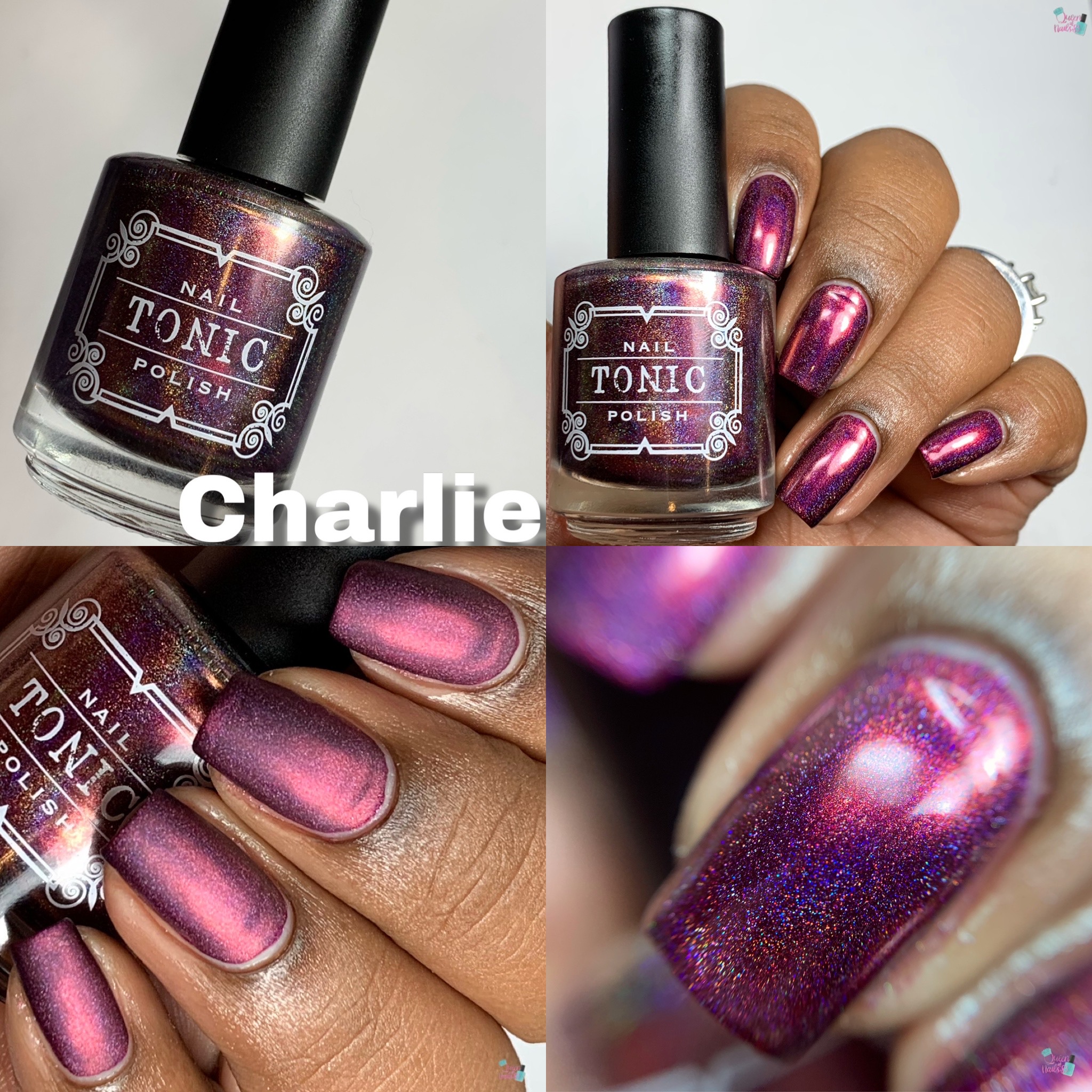 Bringin' On The Bling
A super shiny, sparkly mix of pink/gold/green multichrome flakies, shiny silver flakies, pink iridescent flakies and tiny holo microglitter. $13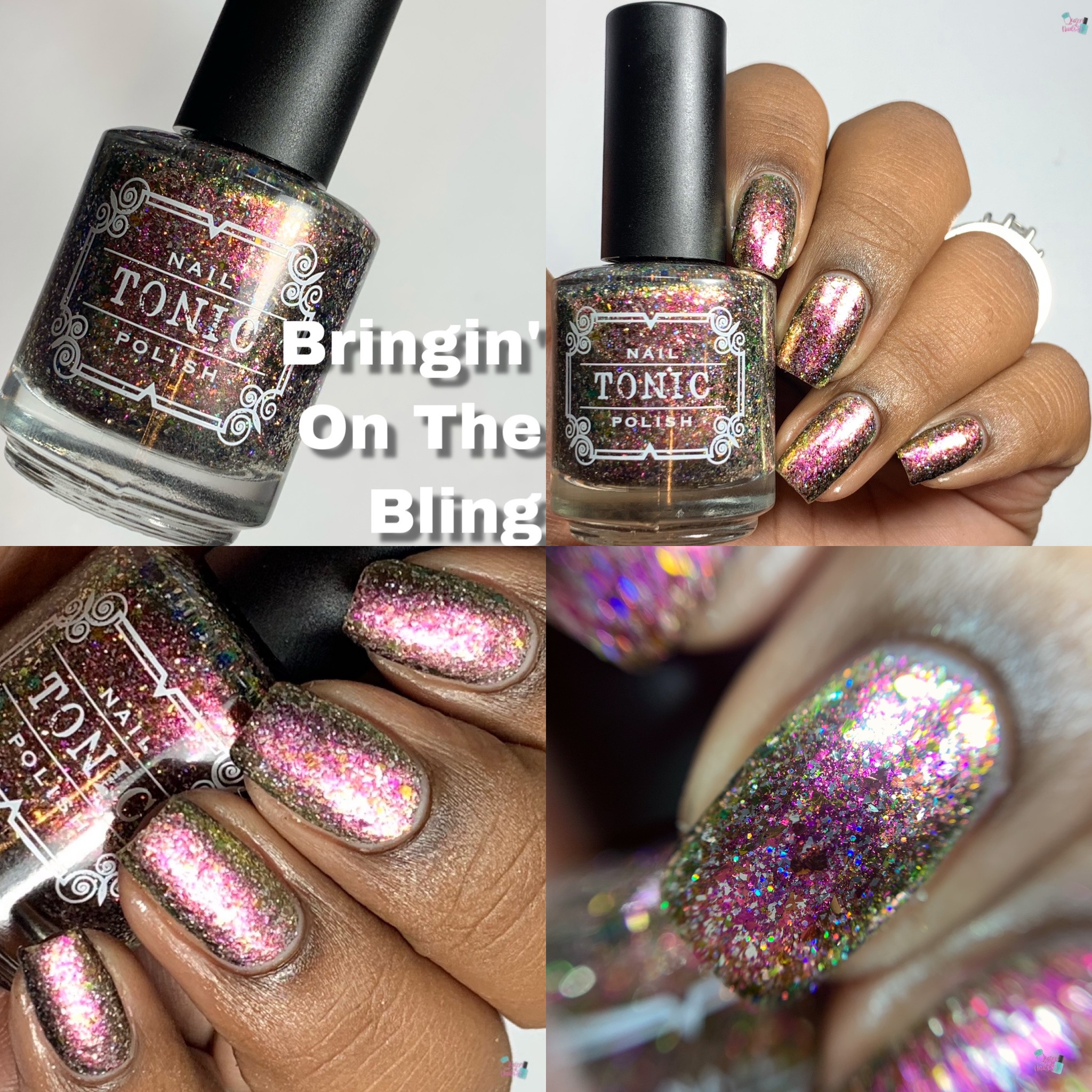 Oh Tannenbaum $13
A super shifty green/blue/purple/gold multichrome with a rainbow of iridescent flakies and tiny holo microglitter. $13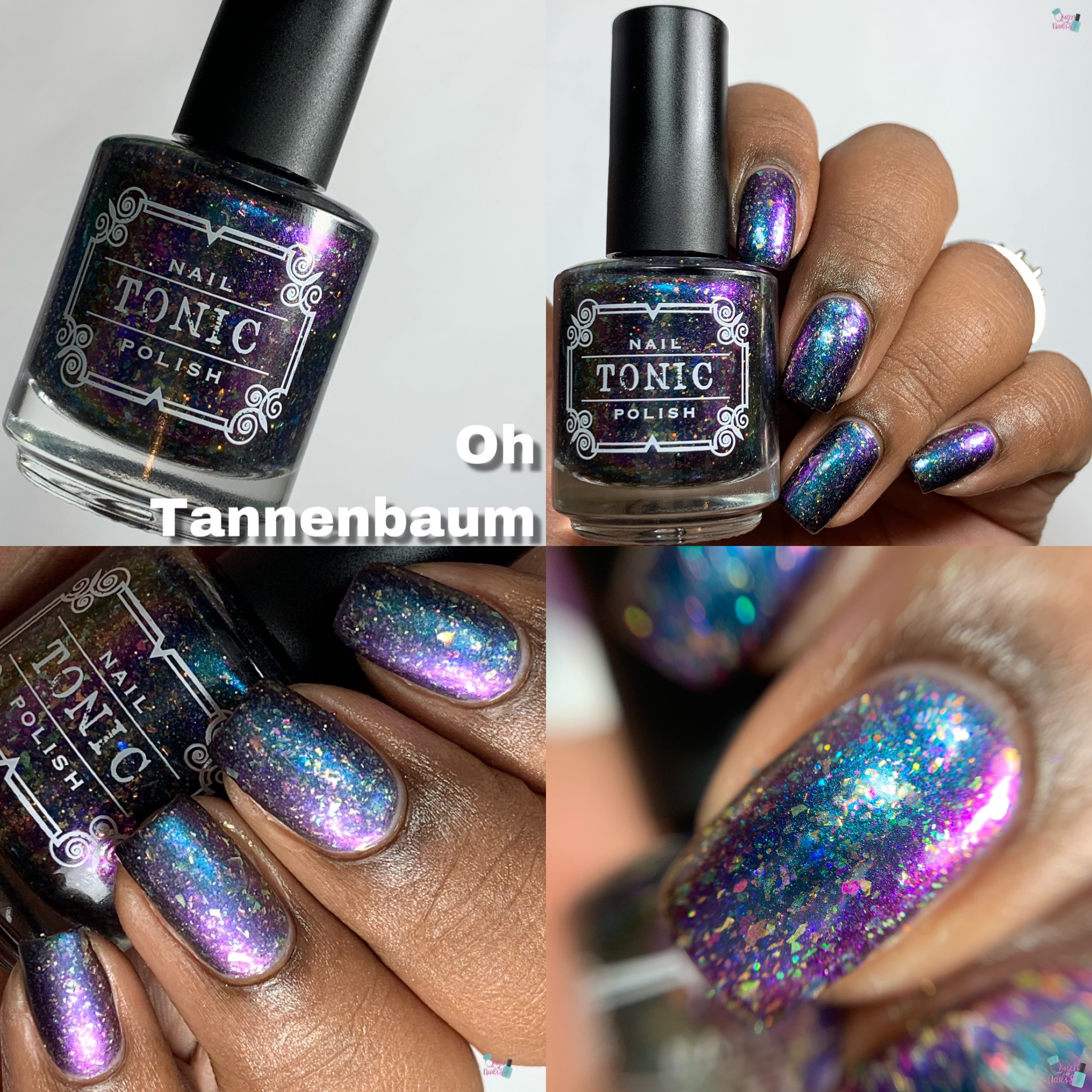 Tonic Nail Polish – Holiday 2019
Opacity: swatch shown in 3 coats.
Price: as stated above
Shipping Codes:
USFREESHIP – free domestic shipping for product totals of $75usd or more!
INTERNATIONAL10 – $10usd off shipping for product totals of $50usd or more!
Availability: Sunday, December 1, 2:00pm CST through January 2020
Tonic Nail Polish
*Like, Comment and Subscribe*
Eat, Laugh, Polish, Repeat
Queen of Nails 83
💕