Hey Sugas!!! Why is a vacation never a vacation??? No, it's not a riddle, it's a real question that I pose to you all. Last week, Jason and I used up some vacation time we had from work for a stay-cation. It was great to sleep in… NOT, but this week, I am dragging. You would've thought that I worked 80 hours last week. I guess I must live in a fairy tale where one would actually get to relax and enjoy time off. HA!
Speaking of fairy tales, boy oh boy do I have a treat for you all!!! I return today to the Queendom with over 20 products including polish, wax, cuticle oil and more available during the upcoming November PPU/IPU. And the theme…. you guessed it, Fairy Tales! 
Full Disclosure: I didn't realize that Alter Ego – Make a Banshee Blush was a glow-in-the-dark (GITD) until I read the description provided by Cynthia upon writing up the post. I will redo swatches and and update ASAP.
Enjoy…
**All swatches are done using liquid latex Peel-off Base, glossy, QDTC and matte topcoat. Swatch photos are taken using artificial lights.**
77 Nail Lacquer – No. 44
Maker: Connie
Description: A black based holo with multicrome pigment that shifts from gold to orange to pink to purple to red with coper sparks
Price: $13 / Cap: 95 bottles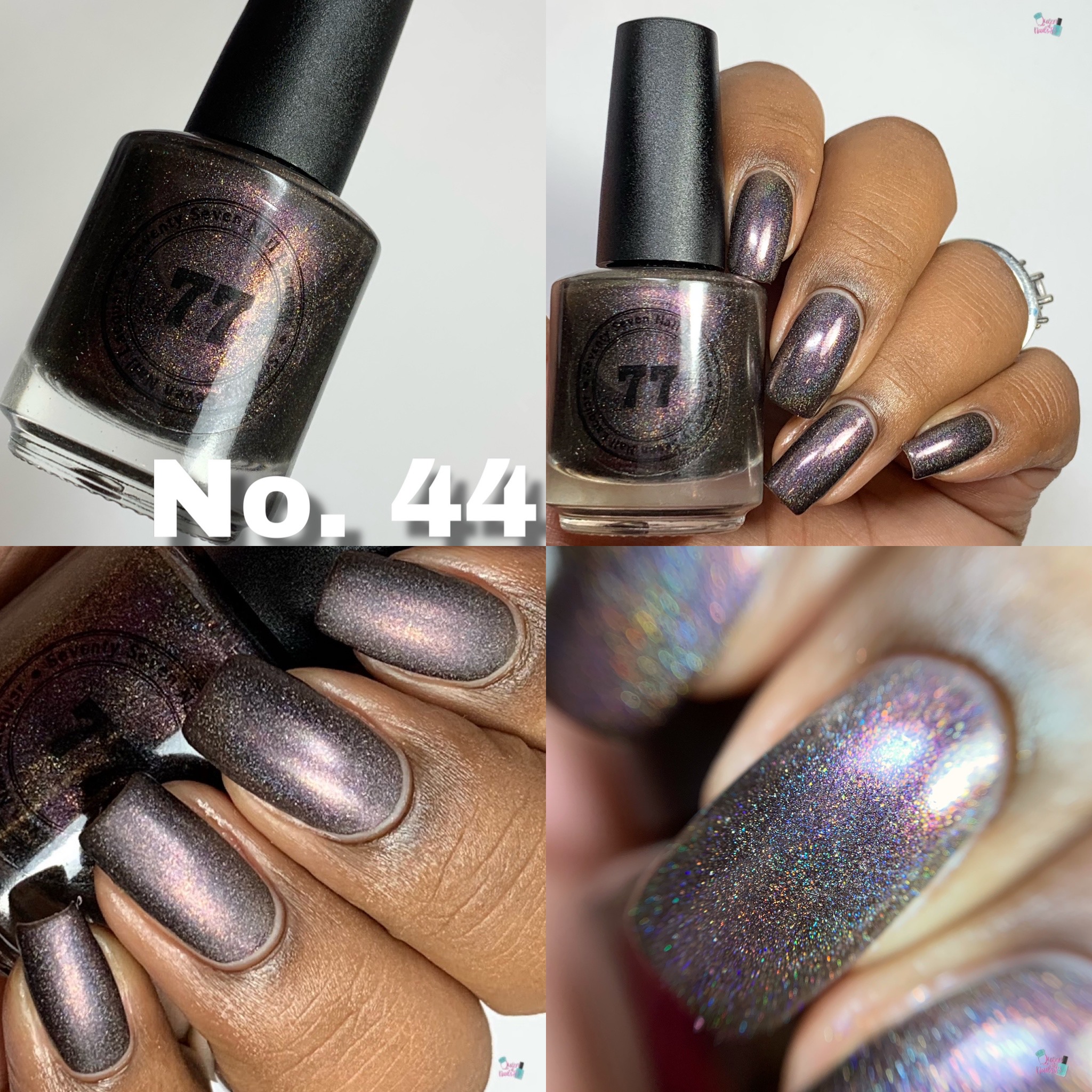 Alter Ego – Make a Banshee Blush (GITD)
Maker: Cynthia
Description: A shimmery silver base with a GITD pink
Price: $9.50 / Cap: NONE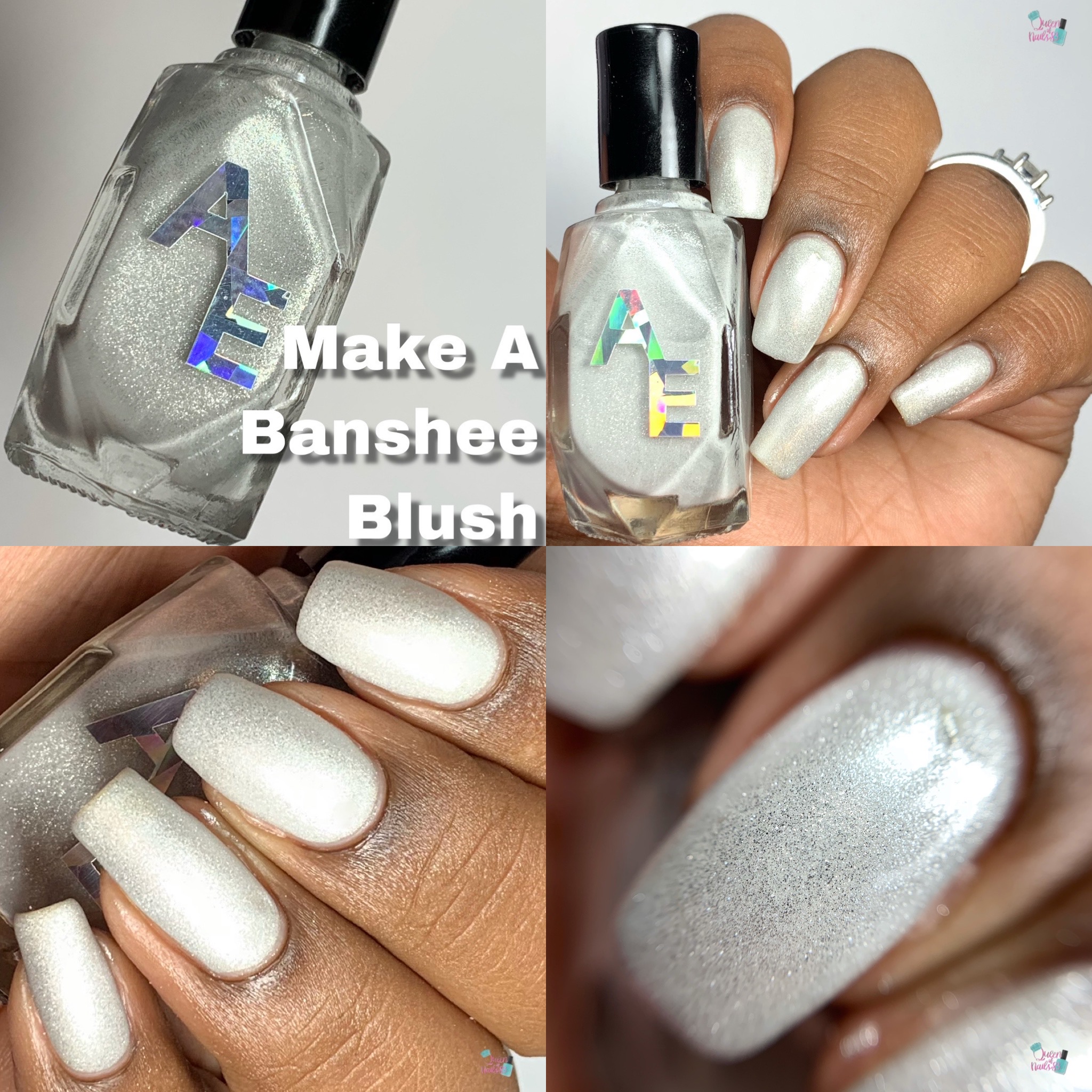 Anchor & Heart Lacquer – Saga
Maker: Taryn
Description: A milky blue toned gray base with a contrasting multichrome shimmer that shifts green/teal/blue/purple.
Price: $12 / Cap: NONE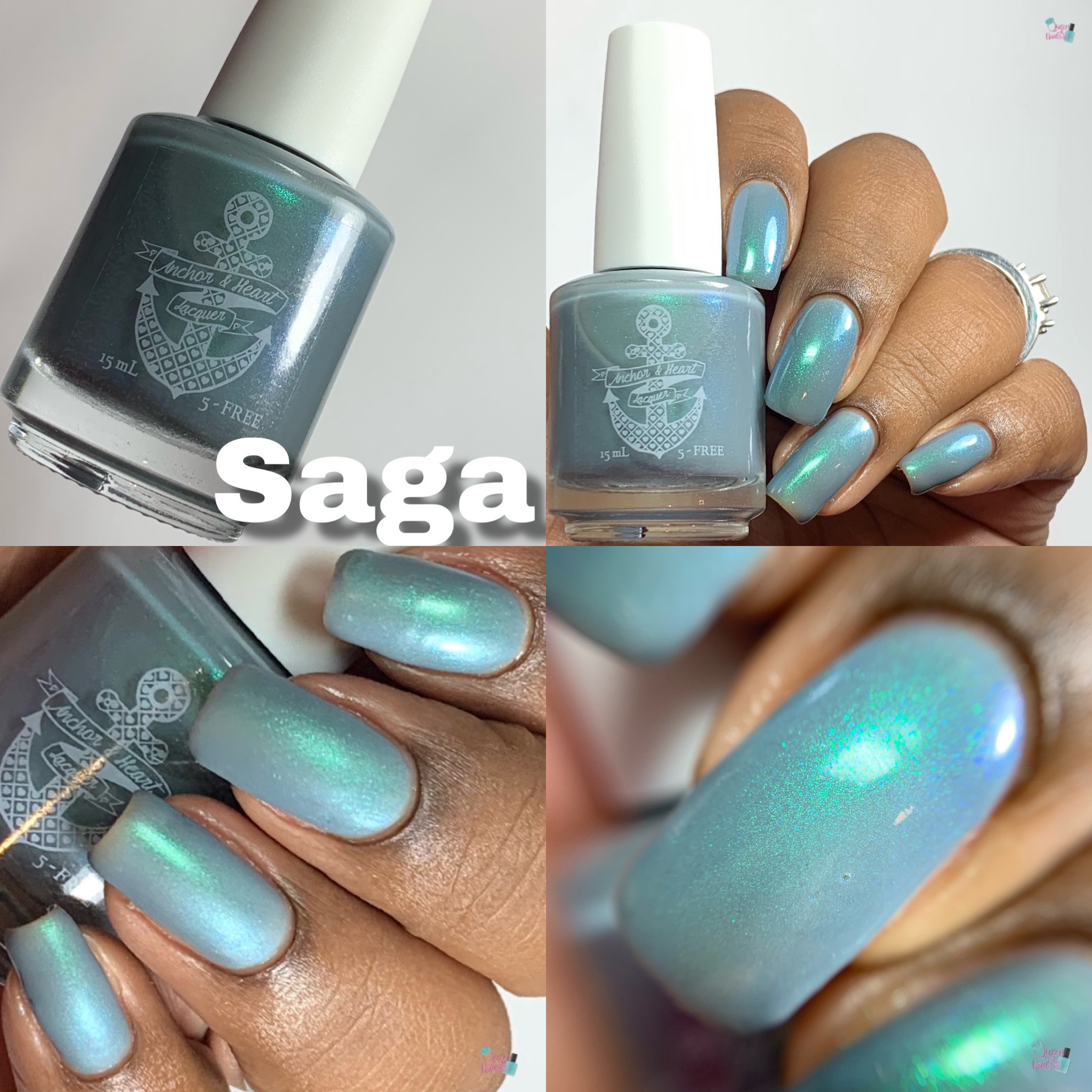 Winter Berry Scented Mermaid Tears Deep Nutrition Base Coat
Description: A frosty raspberry intermingled with orange zest and warm musk in a deep nutrition base coat. Can be in one thin coat under your favorite polish, or on it's own as a 3 week treatment. Perfect for brittle or weak nails, or to help maintain healthy growth! Formulated with  amino acids to stimulate the formation of new Keratin cells while the weak sections grow out. Please note: dry time is slower than typical bases due to nourishing avocado, apricot, and castor oils in formula. Apply in thin coats for best results.
Price: $8.50 / Cap: NONE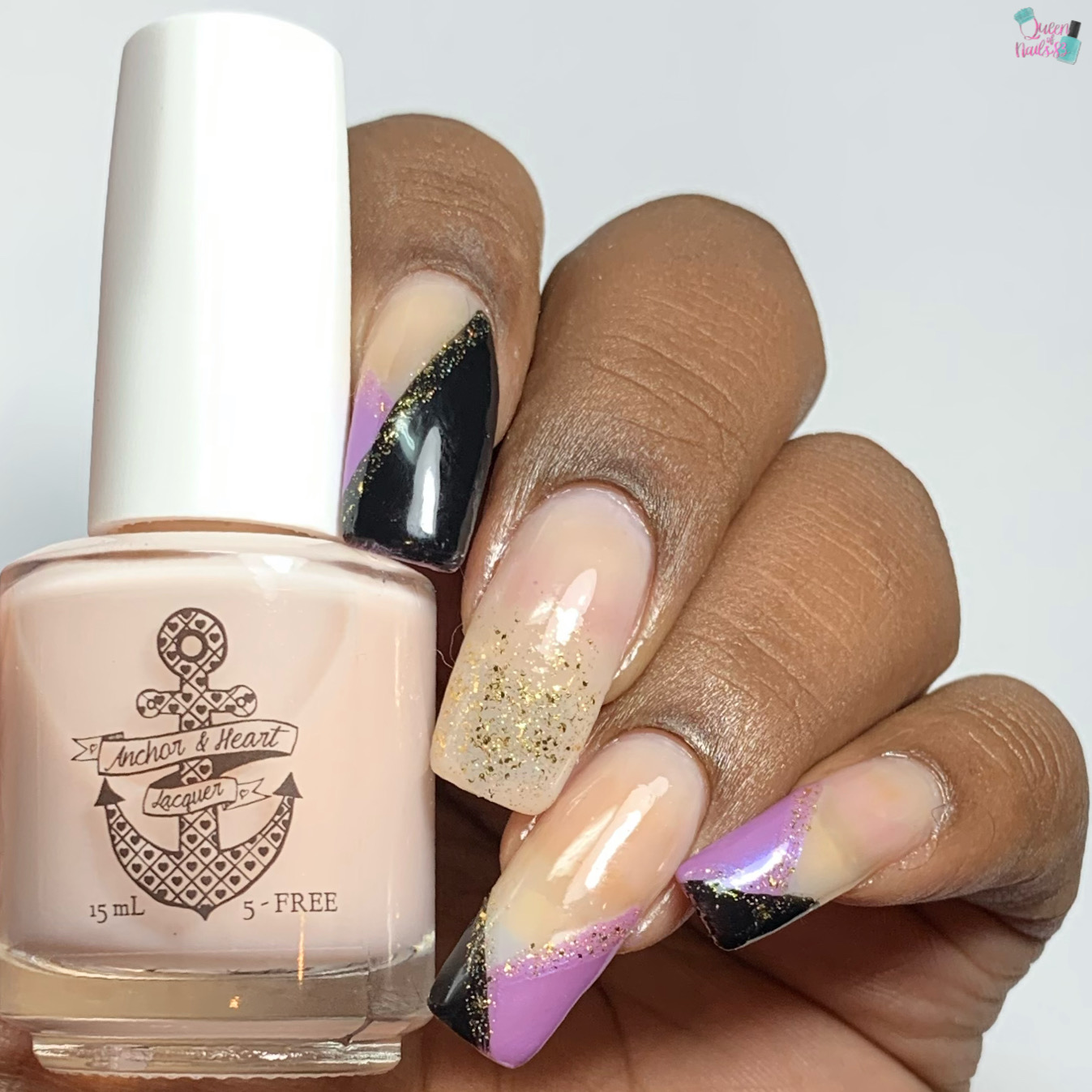 Bee's Knees Lacquer – When Water Sang Fire
Maker: Sarah
Description: A grayed out mint polish with glowing red to green shimmer and holo flakes 
Price: $12 / Cap: NONE 
Blush Lacquers – The Golden Goose
Maker: Victoria
Description: A sA light 24 karat gold linear holographic nail polish with gold flakes and holographic flakes
Price: $12.50 / Cap: NONE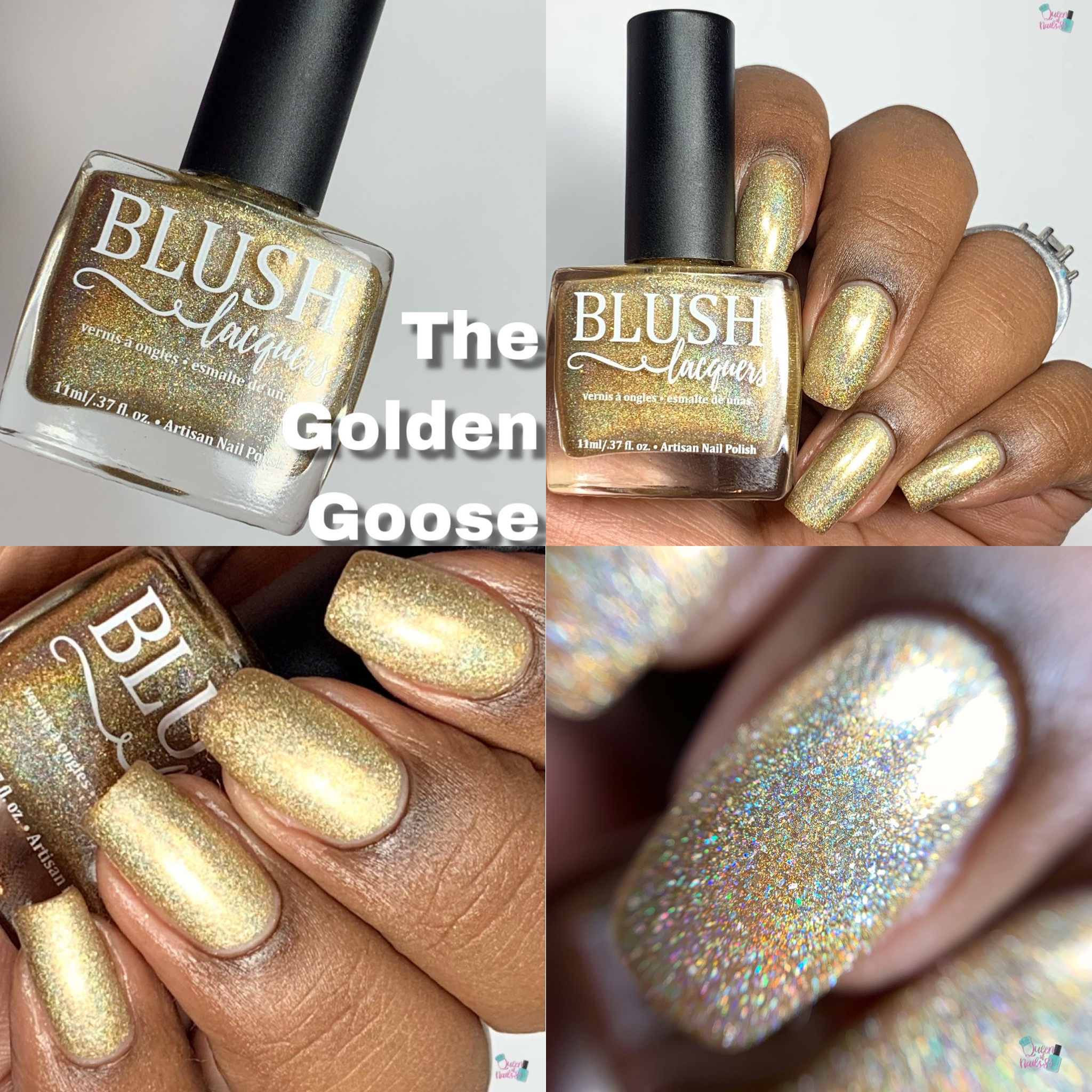 Bluebird Lacquer – Party Ogre Here
Maker: Lou
Description: A grey crelly holo with a moonstone blue shimmer and red, orange, copper and bronze flakies
Price: $12 / Cap: 150 bottles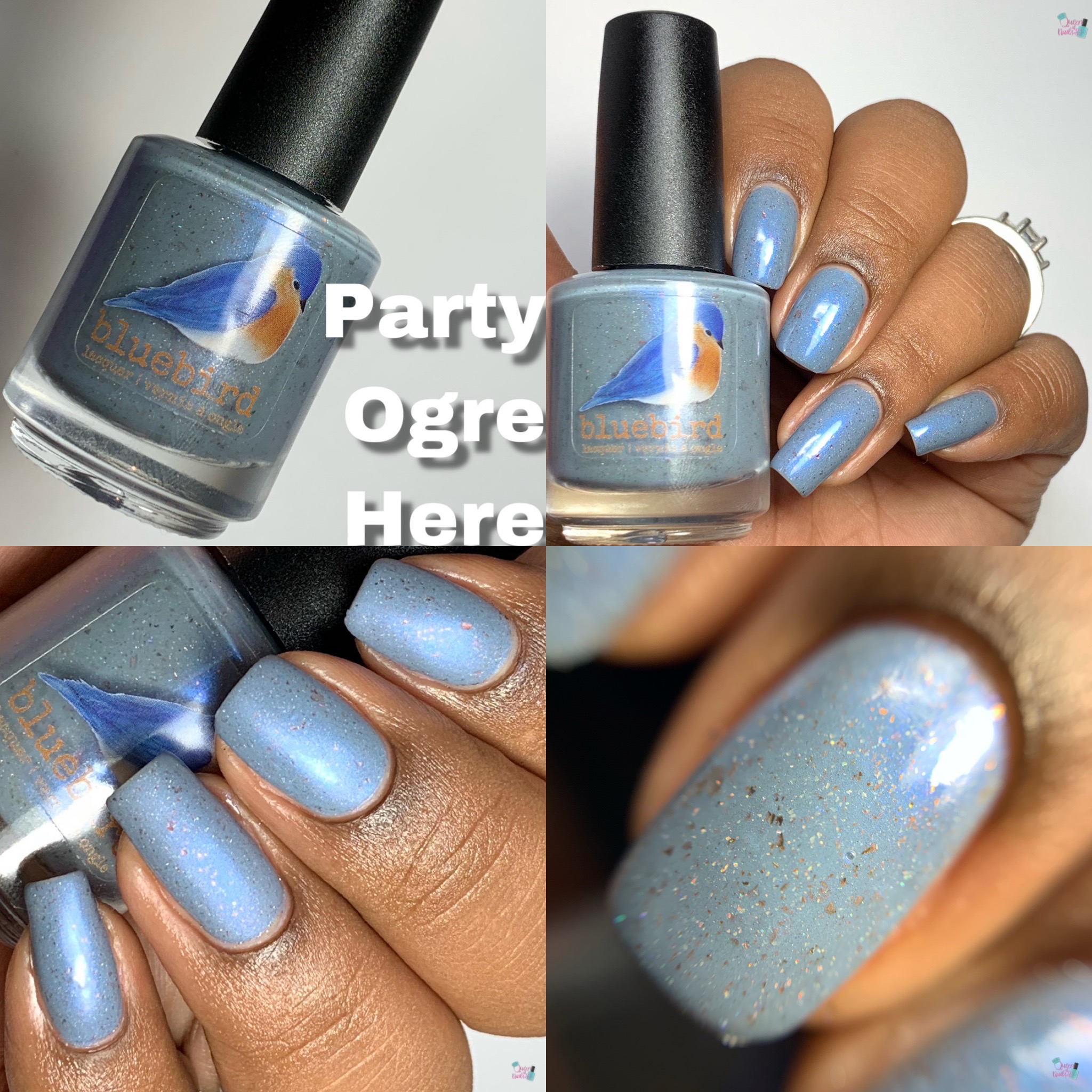 Cupcake Polish – I'll Never Grow Up
Maker: Sara
Description: A medium blue crème nail polish filled with pink/green/gold and blue/gold/green multichrome flakies
Price: $13 / Cap: NONE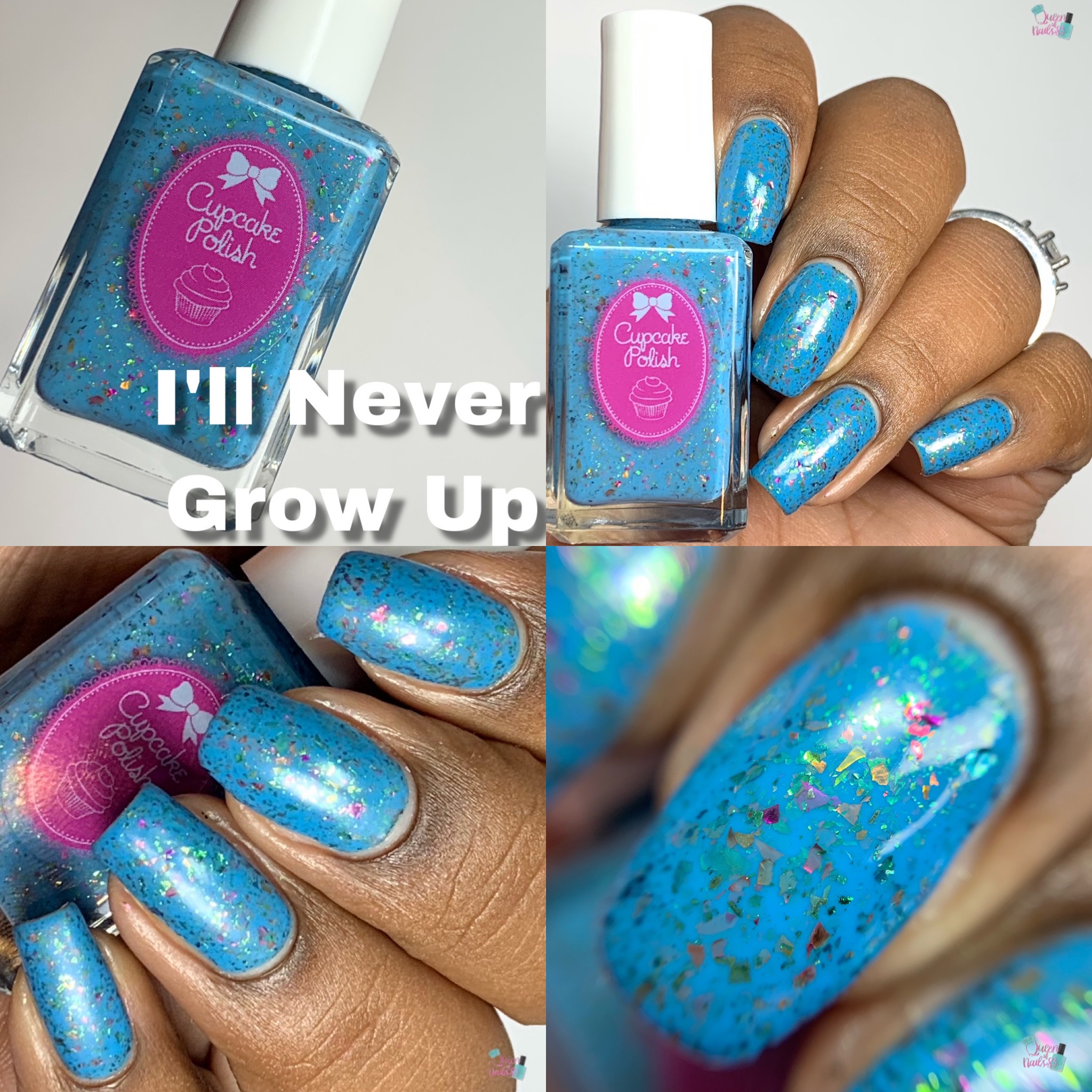 Rainbow Fish
Description: A special effects topper filled with blue/pink/gold shifting iridescent shimmers, blue/pink/gold iridescent flakies, and a bit of silver holographic glitter
Price: $10 / Cap: NONE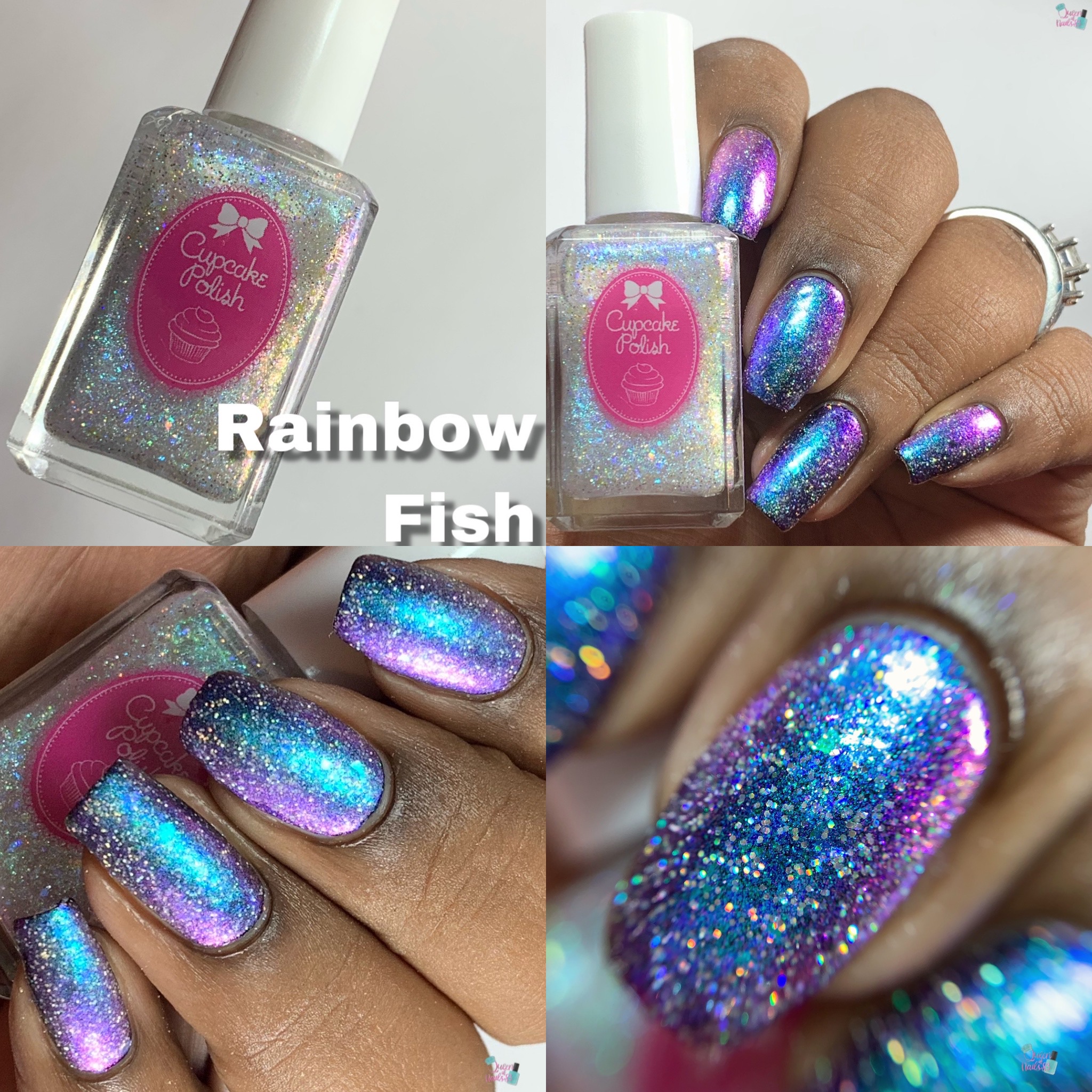 Different Dimensions – There's No Place Like Home
Maker: Missi
Description: A ruby red jelly polish with added gold/green/red color shifting iridescent glitters and holo microglitters 
Price: $11 / Cap: NONE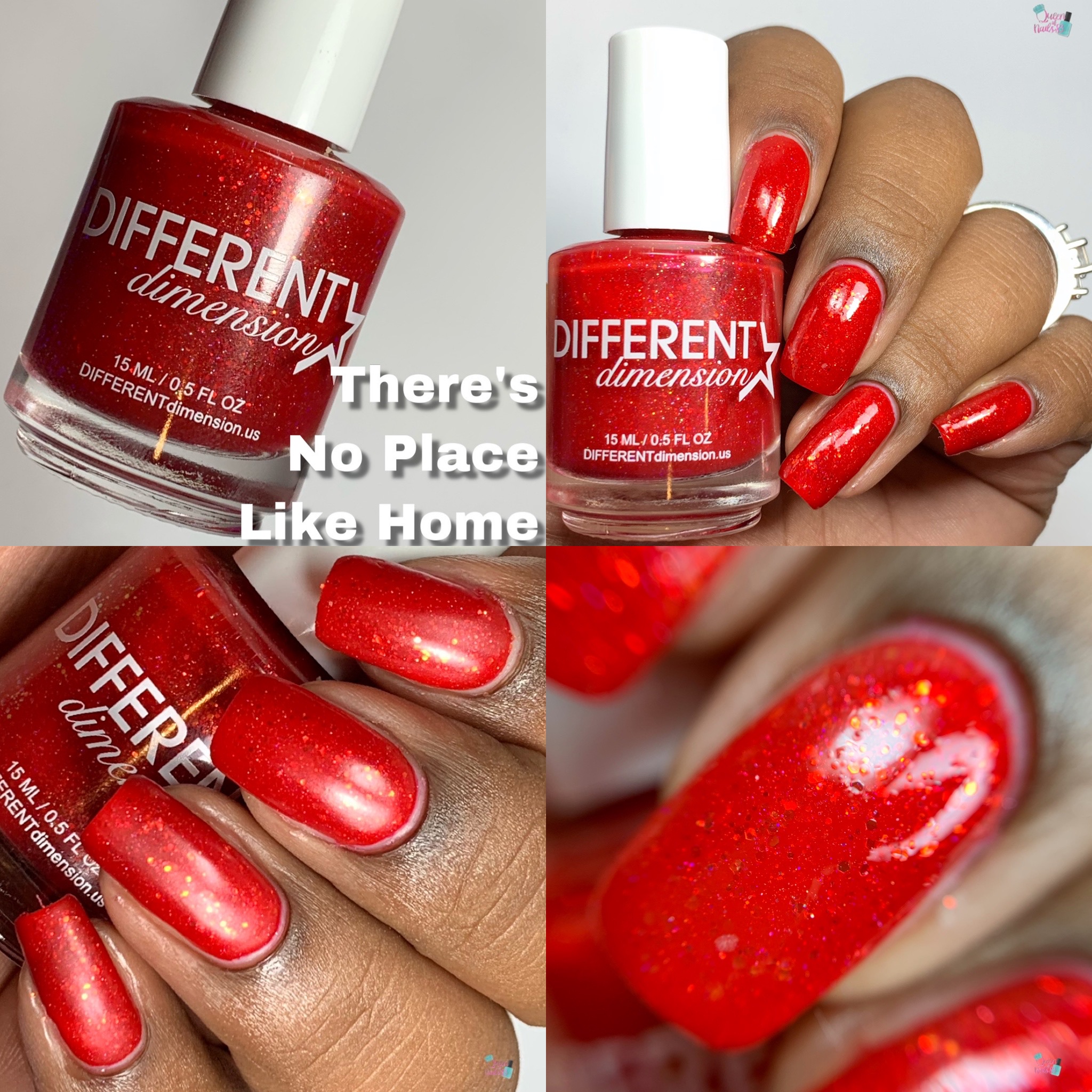 Over the Rainbow Cuticle Oil
Description: lime, lemon, raspberry, grape, orange and apple scented cuticle oil
Price: $5 / Cap: NONE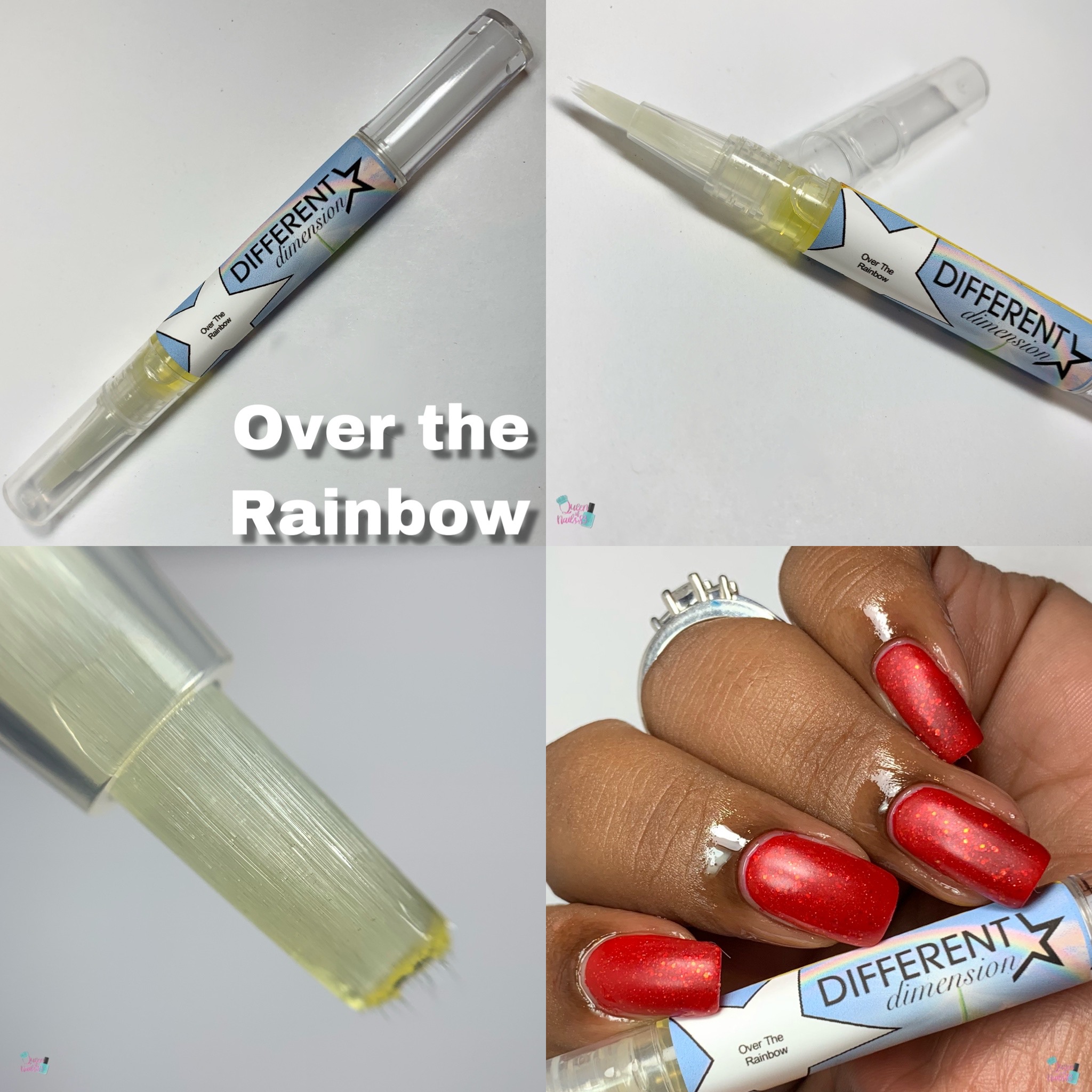 DRK Nails – Dropping Pebbles (M)
Maker: Katia
Description: A purple/pink Magnetic topper in a violet jelly base mixed with iridescent green/gold/red flakies
Price: $10.70 / Cap: 140 bottles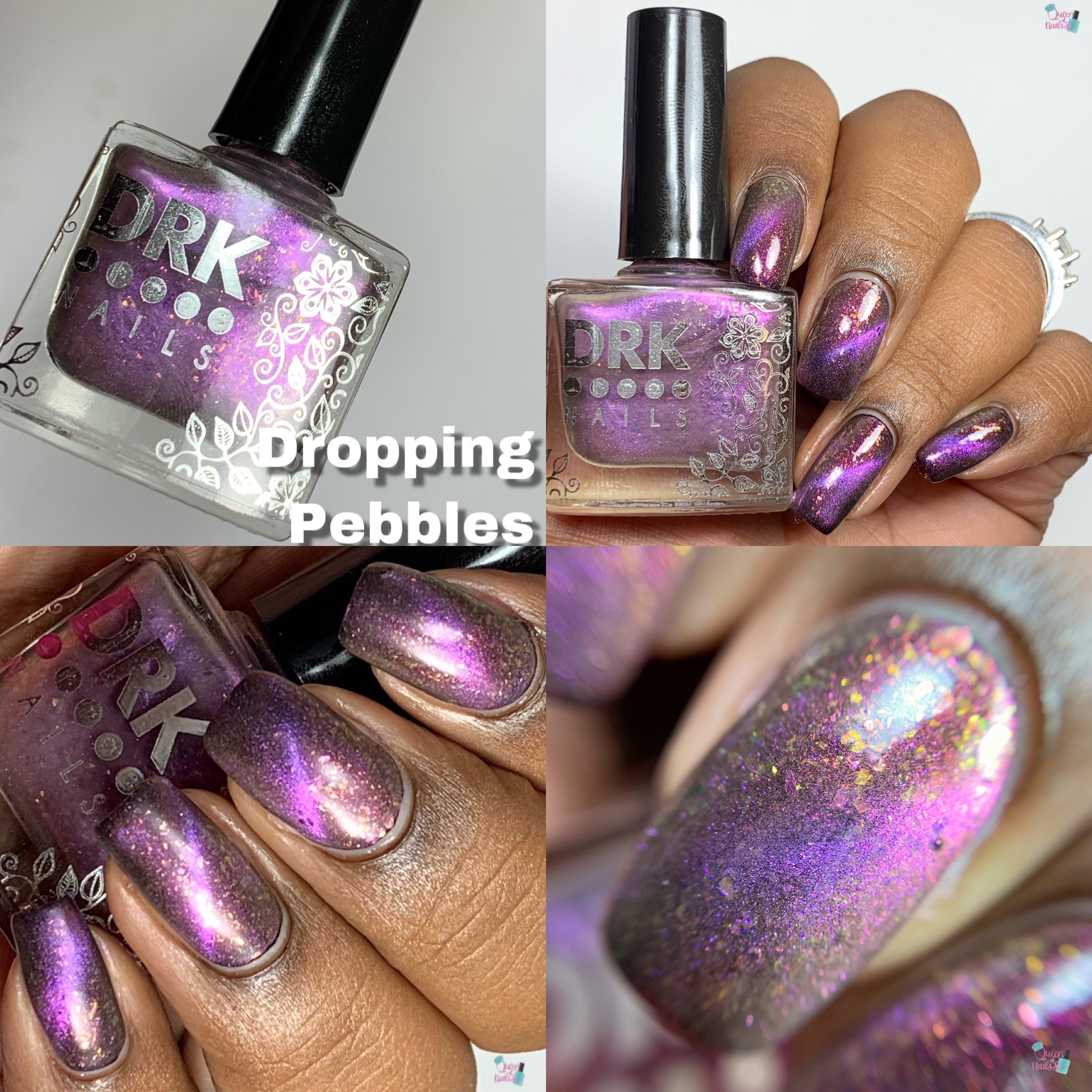 Magnetic Topcoat
Description: Created to facilitate the process of achieving a magnetic effect w/ magnetic polishes. By using this TC you will save time achieving a magnetic effect. You don't need to rush to finish before the polish dries. Apply the magnetic polish as if it were a regular polish and allow it to dry. You don't need to apply the magnet to each coat applied. Just use a generous layer of topcoat and then hold the magnet over the nail. Repeat with each nail. This TC will help you achieve a great magnetic effect even with weaker magnetic polishes.
Price: $7.50 / Cap: 240 bottles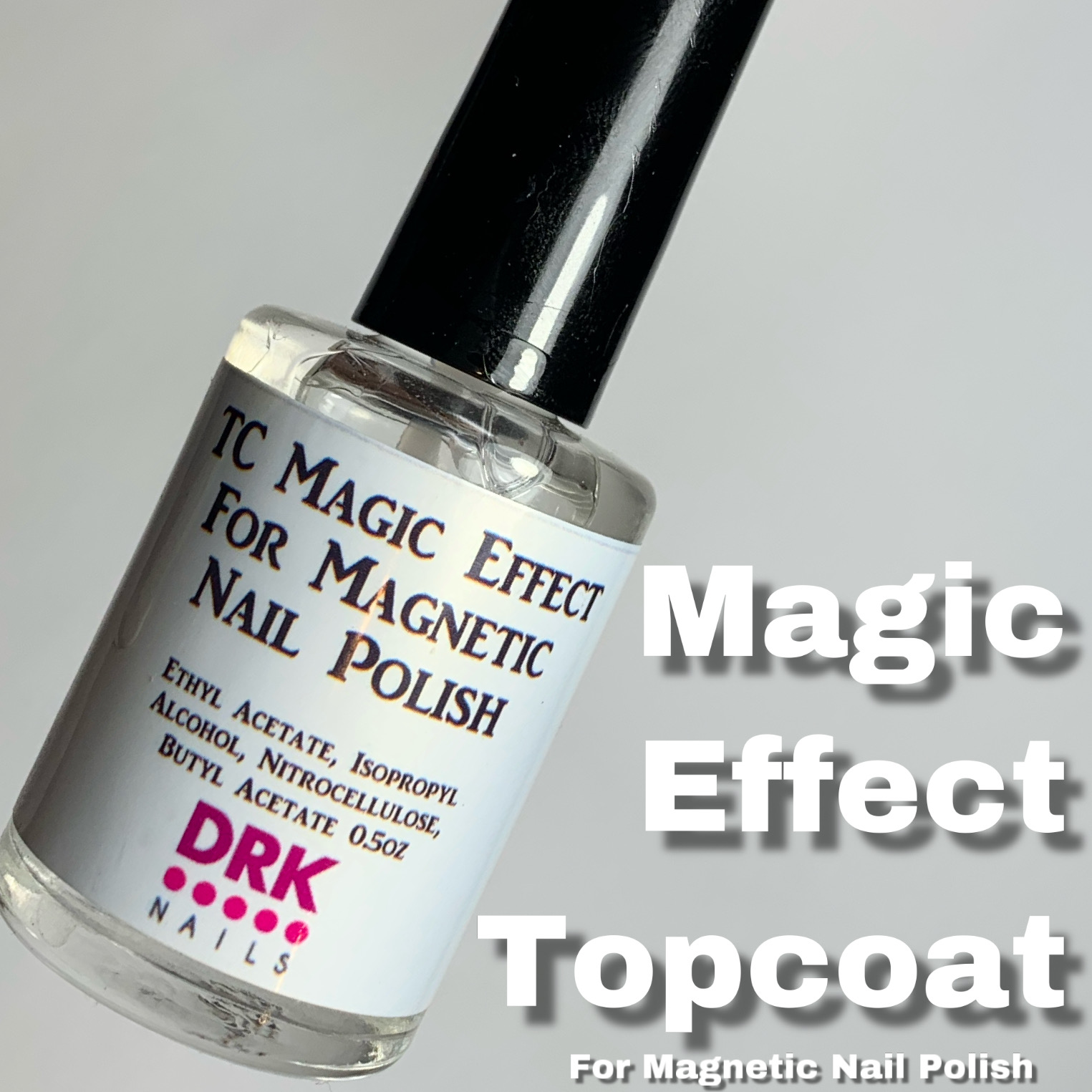 EDK – Enchanted Castles
Maker: Kelly
Description: A white crelly base mixed with pink, blue and gold holographic
Price: $10 / Cap: 150 bottles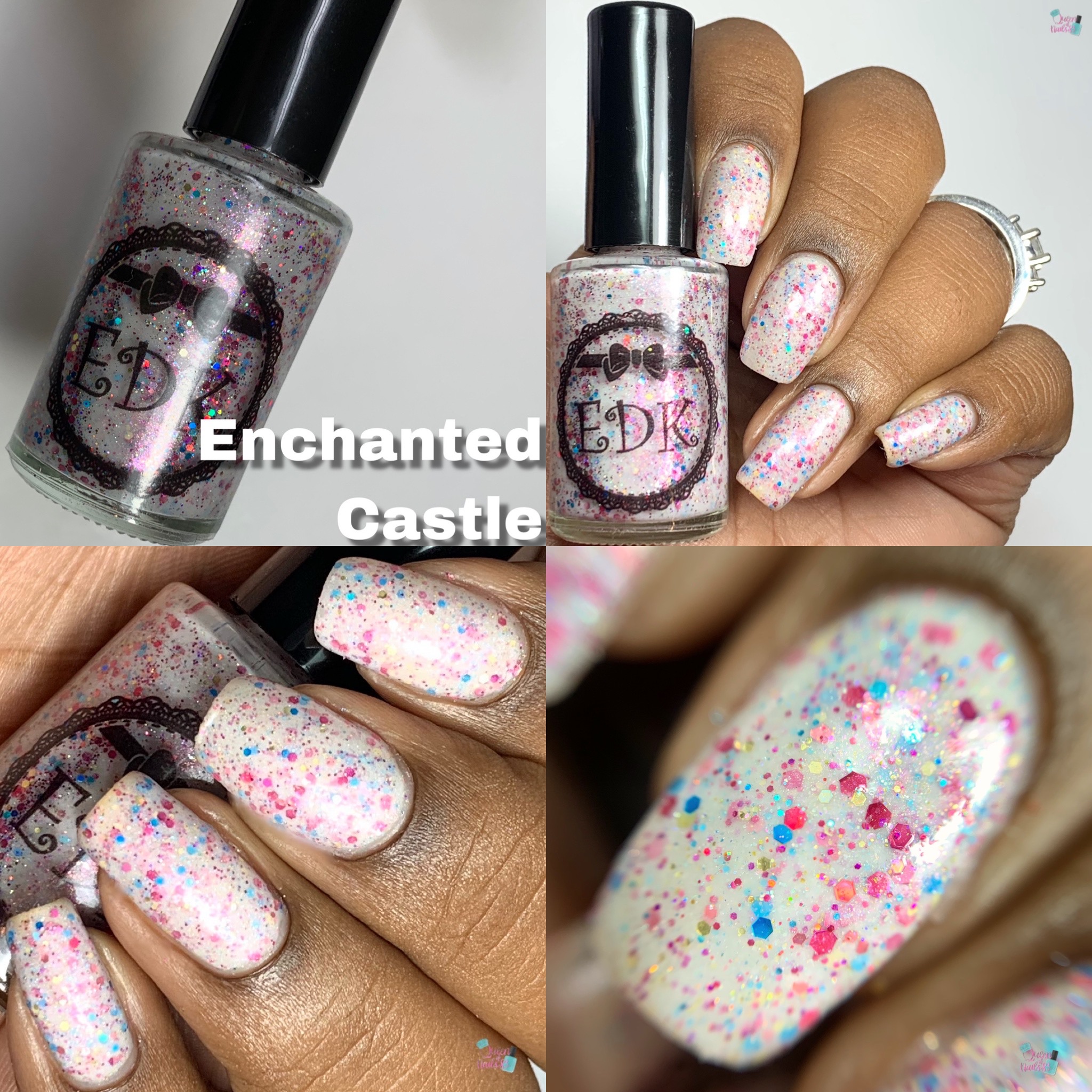 Ethereal Lacquer – Under the Sea
Maker: Meagan
Description: A pale marine blue with a pastel multichrome shimmer
Price: $13.50 / Cap: NONE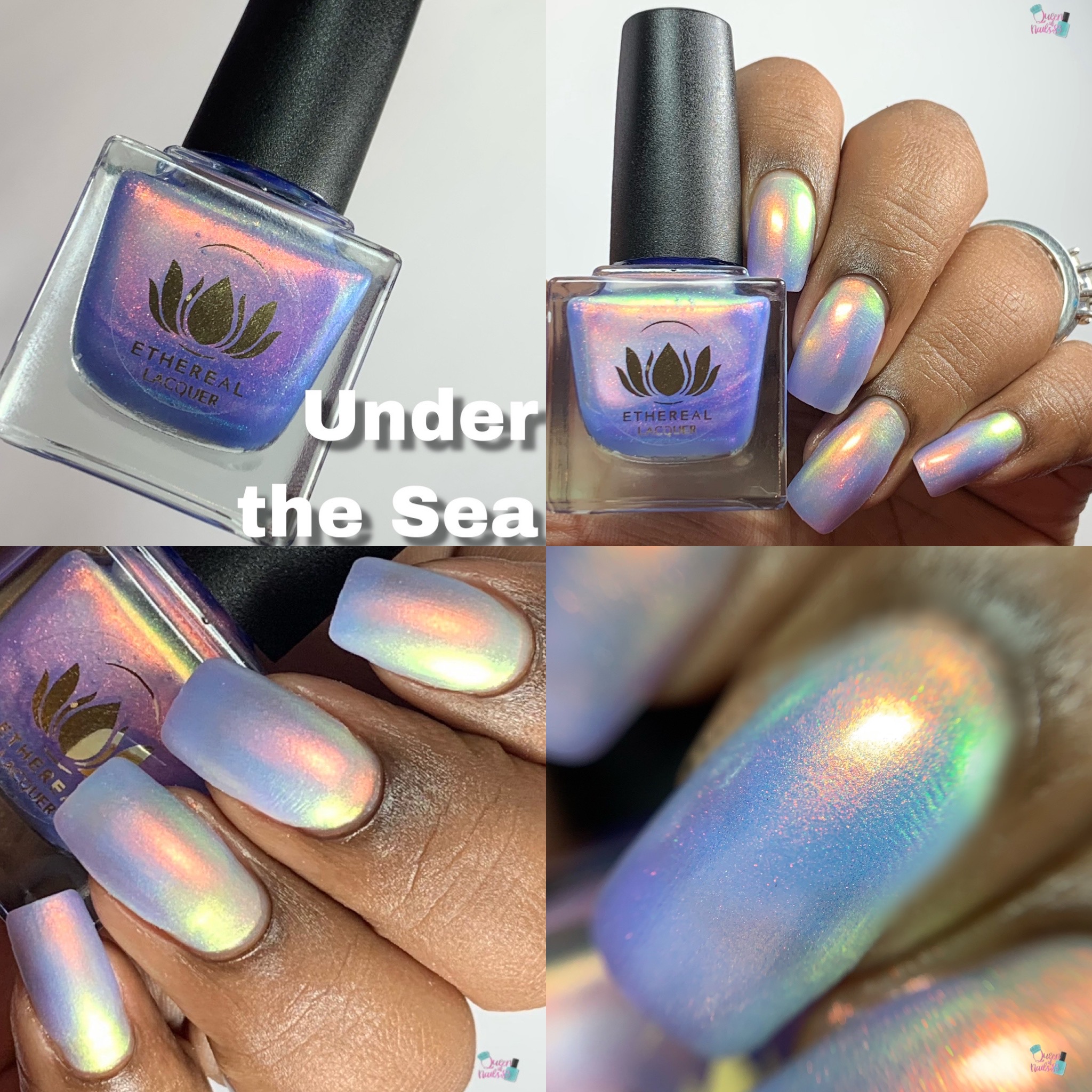 Femme Fatale Cosmetics – Enchated Wreath
Maker: Sophie
Description: A smooth forest green-leaning-teal filled with red-green aurora pigment, micro ruby flakes and blue-green iridescent flakies
Price: $14 / Cap: NONE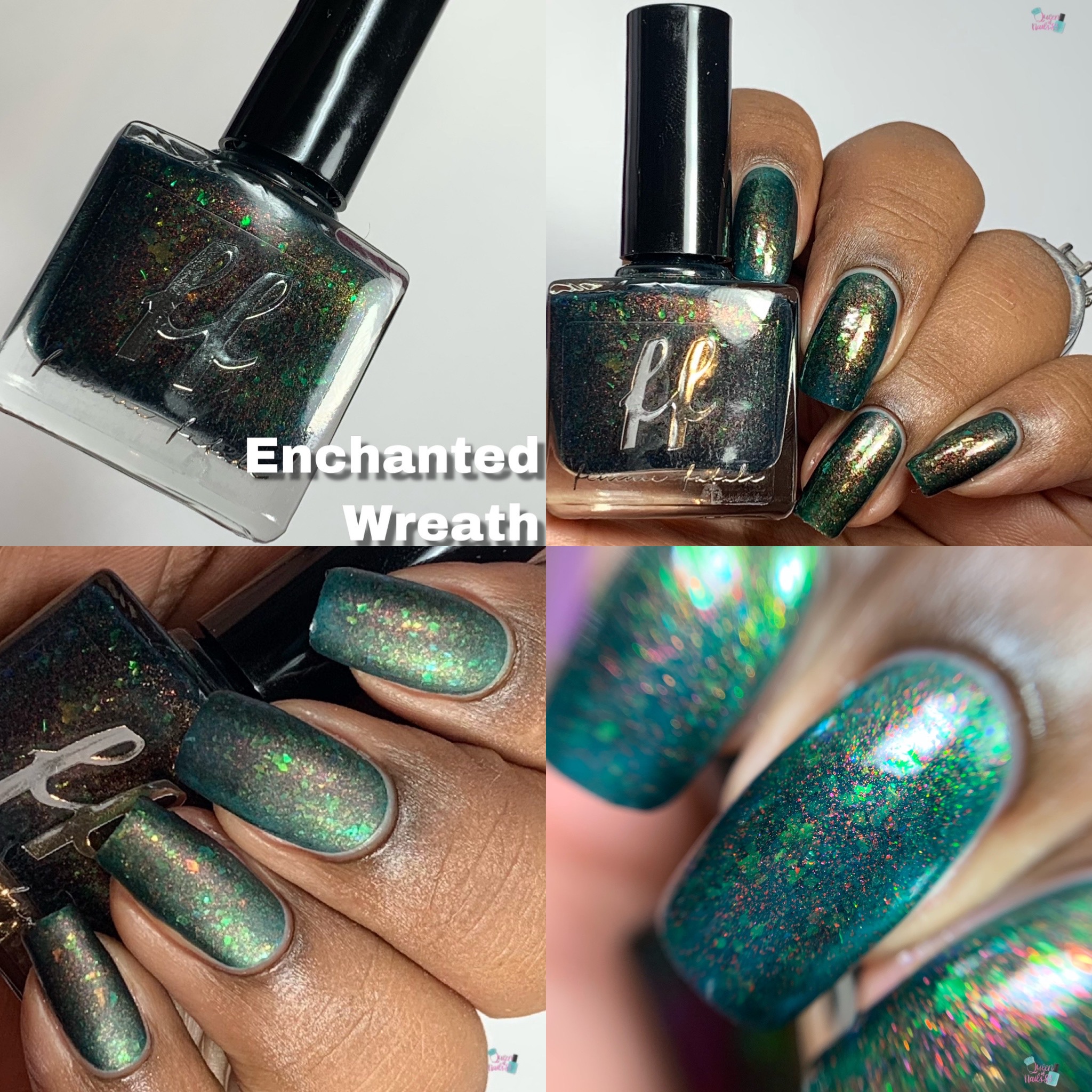 Great Lakes Lacquer – We're All Mad Here
Maker: Mariah
Description: A berry red multichrome with shifts of purple, red, and orange with a soft linear holographic finish
Price: $13 / Cap: NONE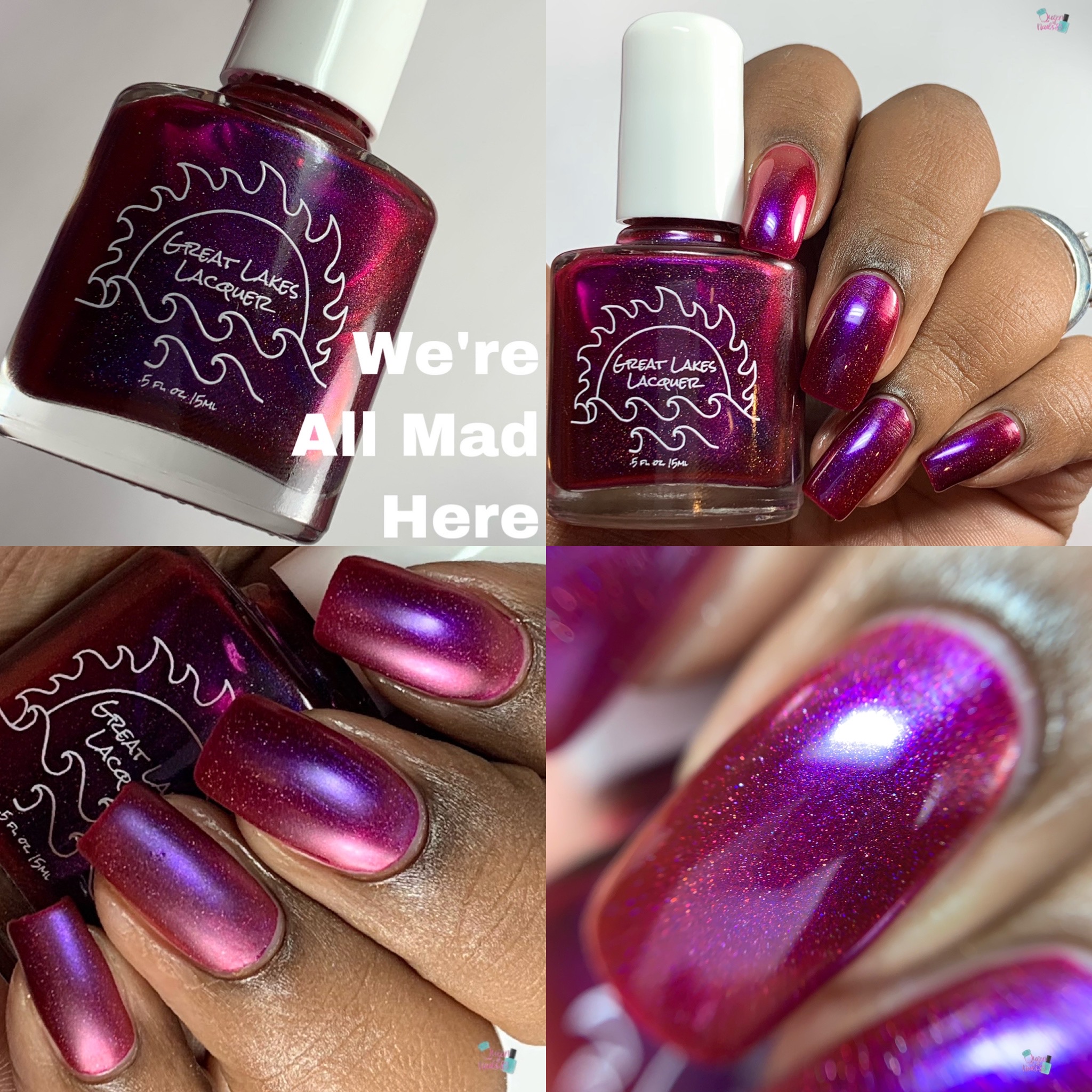 Ginger Fizz Boutique – Catch Me If You Can Wax
Maker: Shelly
Description: A cute one-legged gingerbread mad scented of nutmeg, cinnamon and freshly grated ginger topped with vanilla. Gingy is hand painted and created with a soy wax blend
Price: $5 / Cap: 75 Men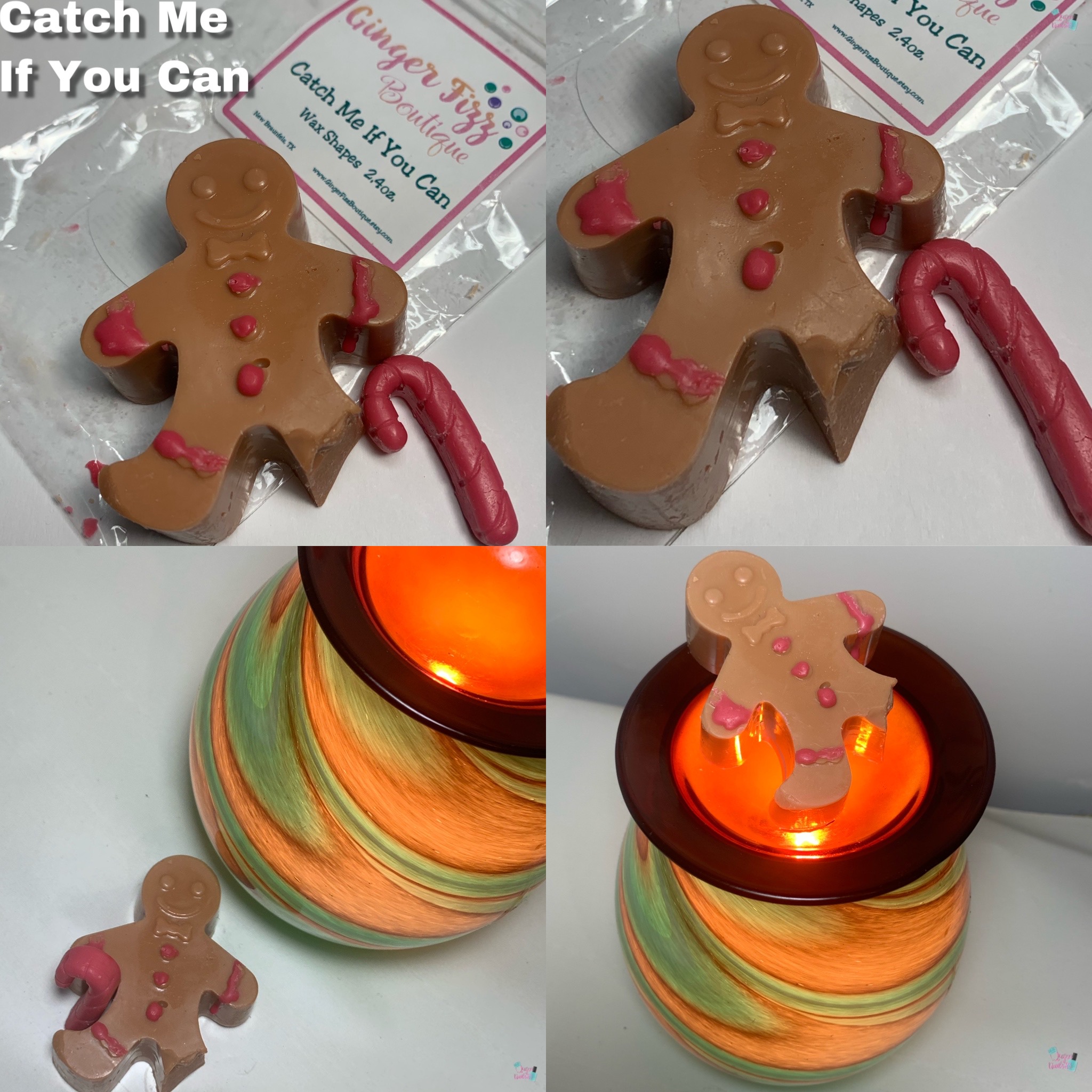 Jior Couture – The Magic Orange Tree (M/T)
Maker: Sacha
Description: A light green to dark green thermal, packed with multichrome magnetic flakes
Price: $11.50 / Cap: NONE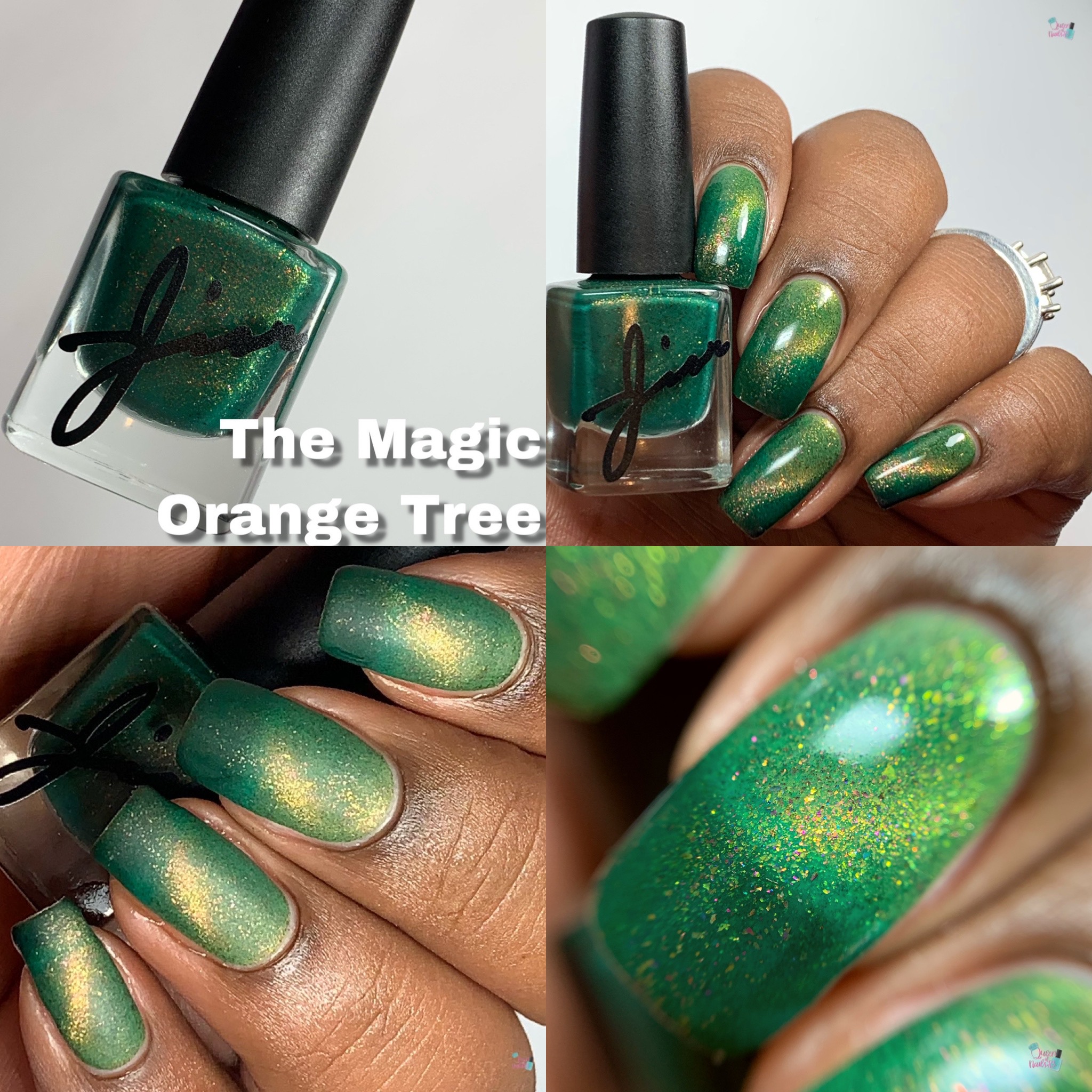 KBShimmer – The Nothing (M)
Maker: Christy
Description: A magnetic polish, this shade starts out as a rich emerald green color that shifts to navy blue. When a magnet is used, the added array of holo glitters and pink-to-blue-shifting micro flakes
Price: $10 / Cap: NONE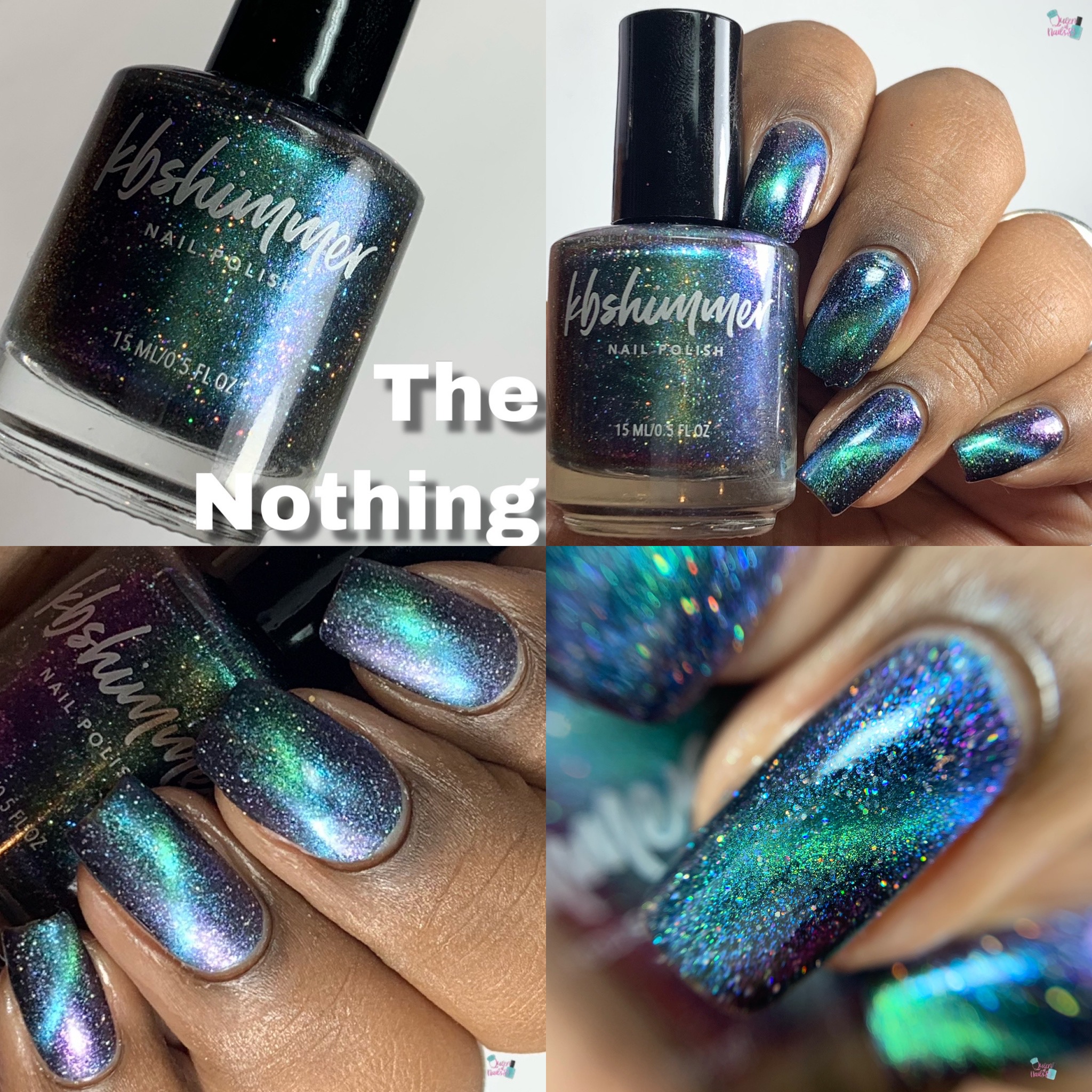 The Dark Crystal Sugar Scrub
Description: Like the crystal from the movie, its rich fuchsia color is warmed by the lush scent of amber.  Sugar and citron combine with juicy plum notes, accented by cashmere musk for a deep and complex scent
Price: $10 / Cap: NONE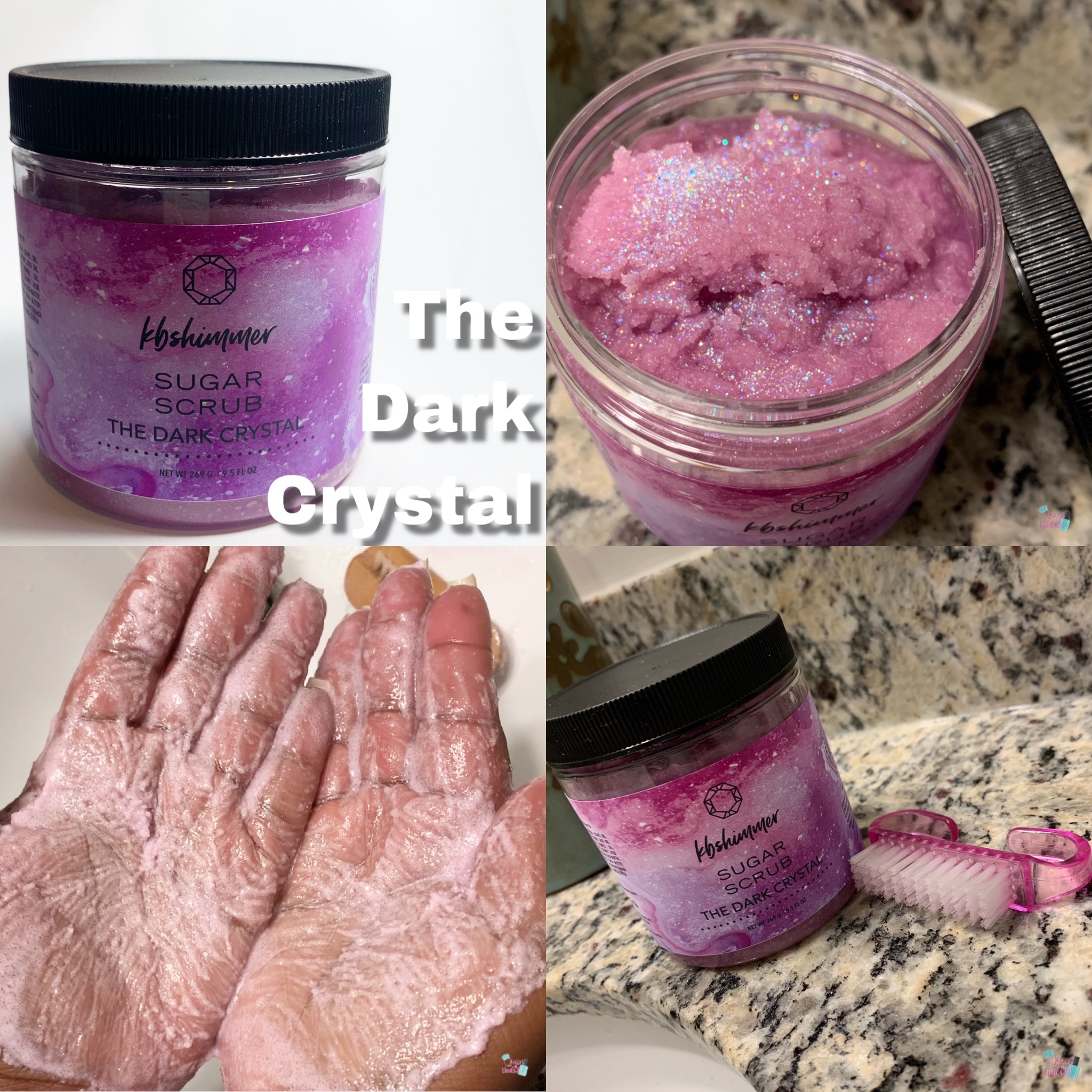 LynB Designs – You Broke My Fairy Tale (T)
Maker: Jennalyn
Description: A blue grey to grey to light peach thermal with copper to green UCC flakies, copper shimmer and magic Holo micro flakies
Price: $12 / Cap: NONE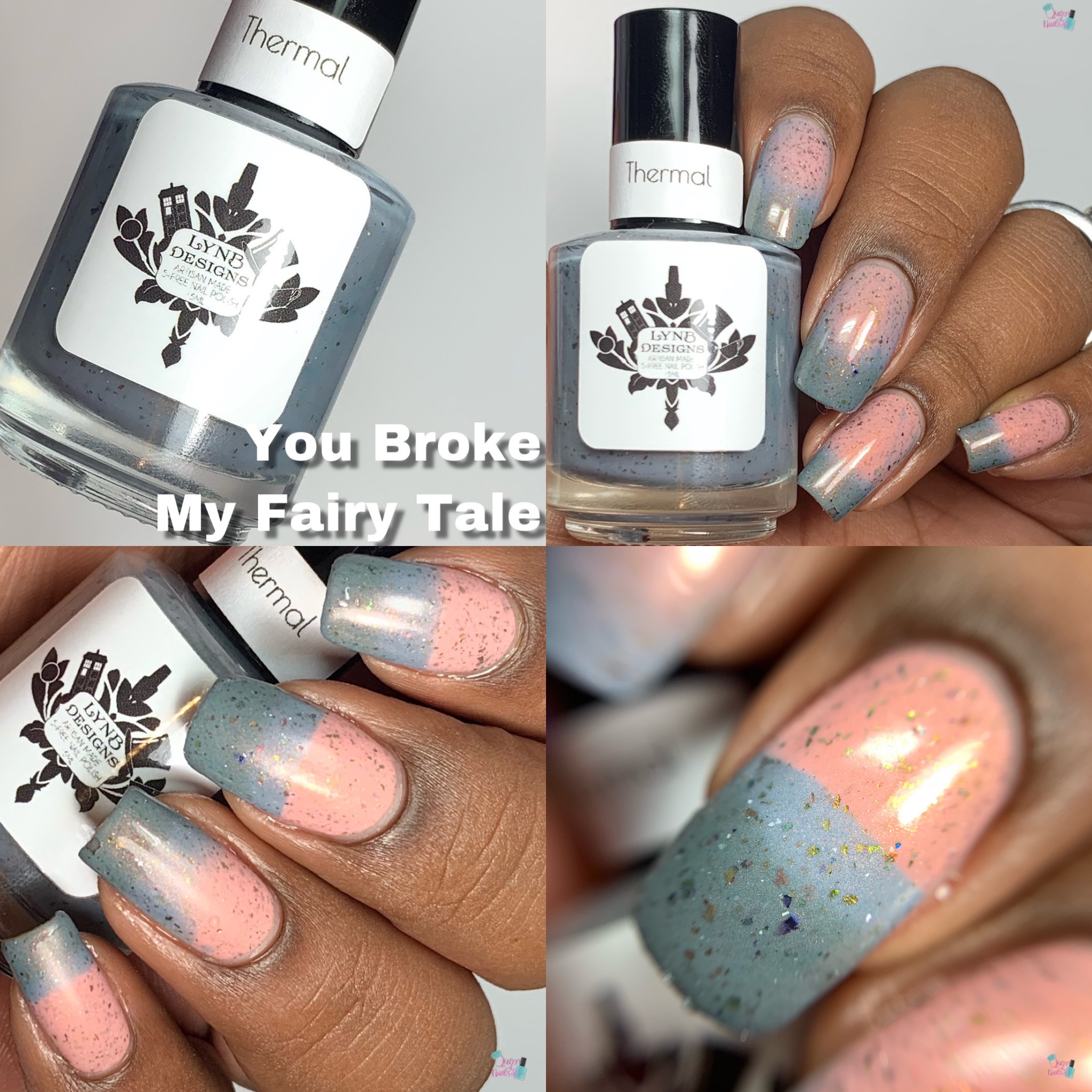 Night Owl Lacquer –
The Buried Moon
Maker: Lindsay
Description: A blackened plum filled with gold/copper/green color shifting crystal chameleon flakes and aqua crystal flakes
Price: $12.50 / Cap: NONE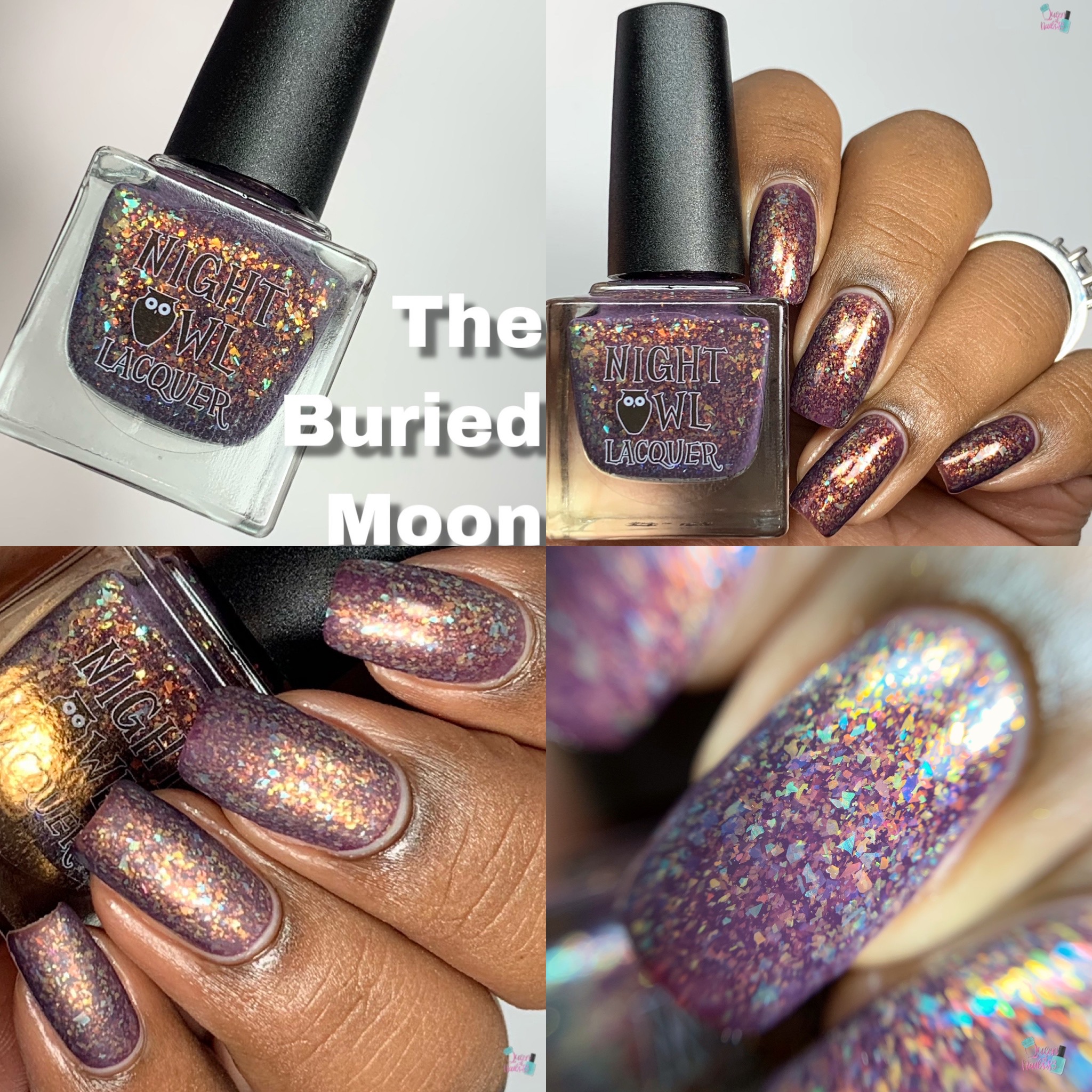 Pretty Beautiful Unlimited – Inconceivable
Maker: Virginia
Description: A black jelly base with a hit of multichrome pigment, silver holographic pigment and micro flakies and glitter, black holographic micro glitters and a mix of 5 UCC flakies.
Price: $12 / Cap:  150 bottles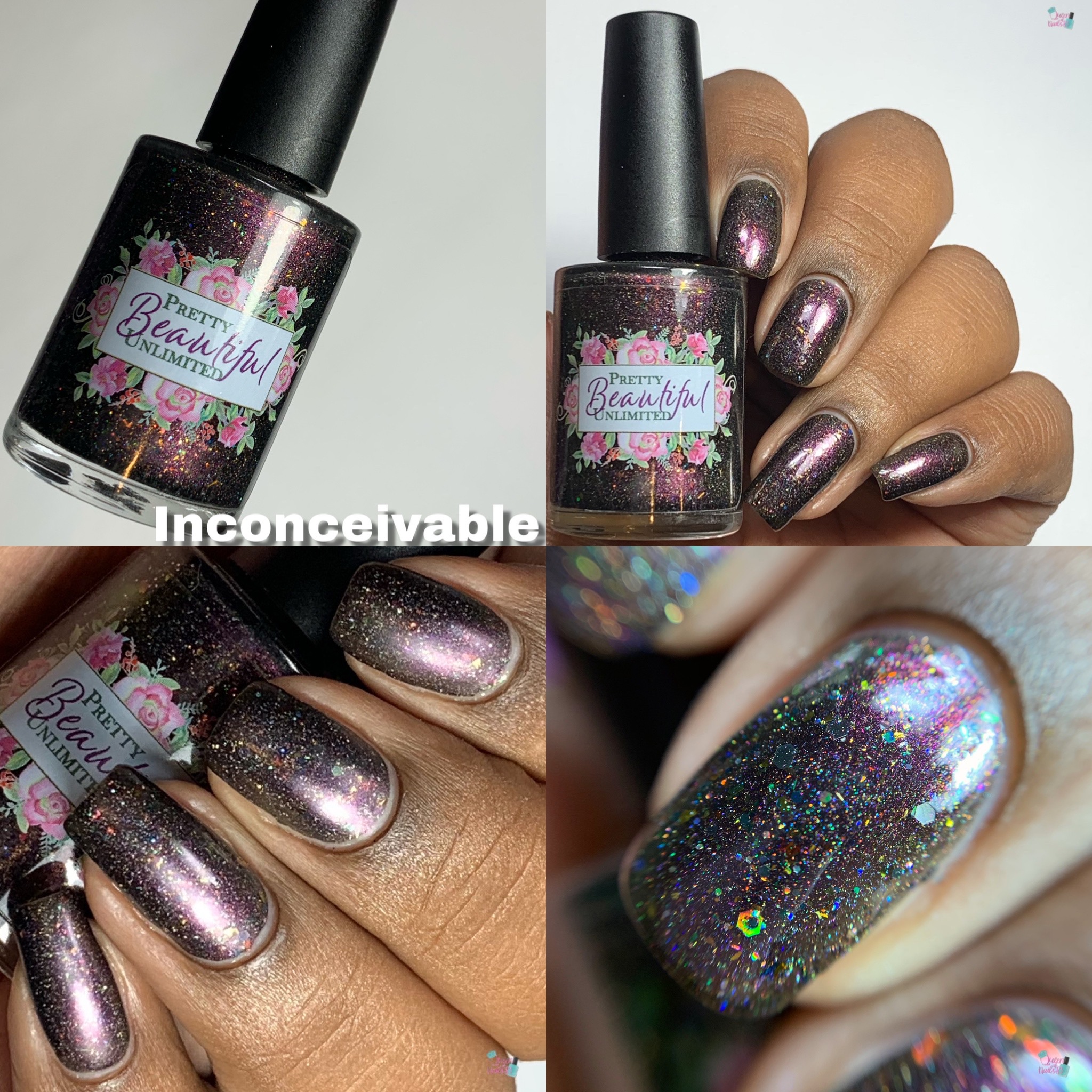 Rogue – Have Courage and Be Kind
Maker: Rachel
Description: A azure blue with turquoise and indigo glow, packed with magenta, turquoise and purple color shifting crystal like flakes and holo micro flakes
Price: $13 / Cap: NONE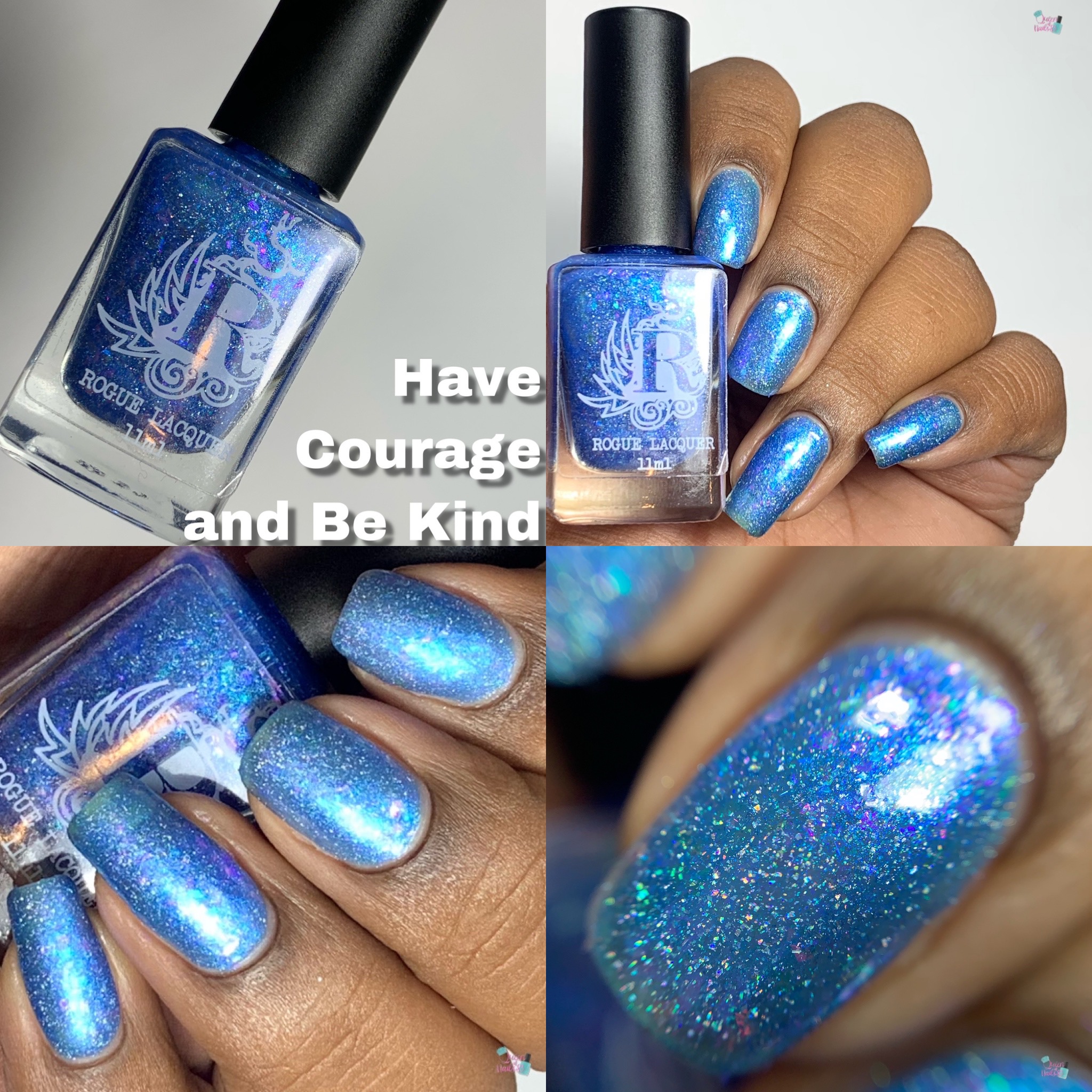 Sassy Sauce Polish – I Am Not Complete (M)
Maker: Carrie
Description: A bronzy raisin magnetic with duo chrome flakes that shift gold, green, pink and purple and crystal flakes that shift blue, gold, pink, purple. When a magnet is applied, it pulls a strong bronze cat eye and leaves behind a multi chrome shift of gold, green, pink and purple. It is gorgeous with and without the magnet, 2 totally different colors
Price: $12.75 / Cap: 200 bottles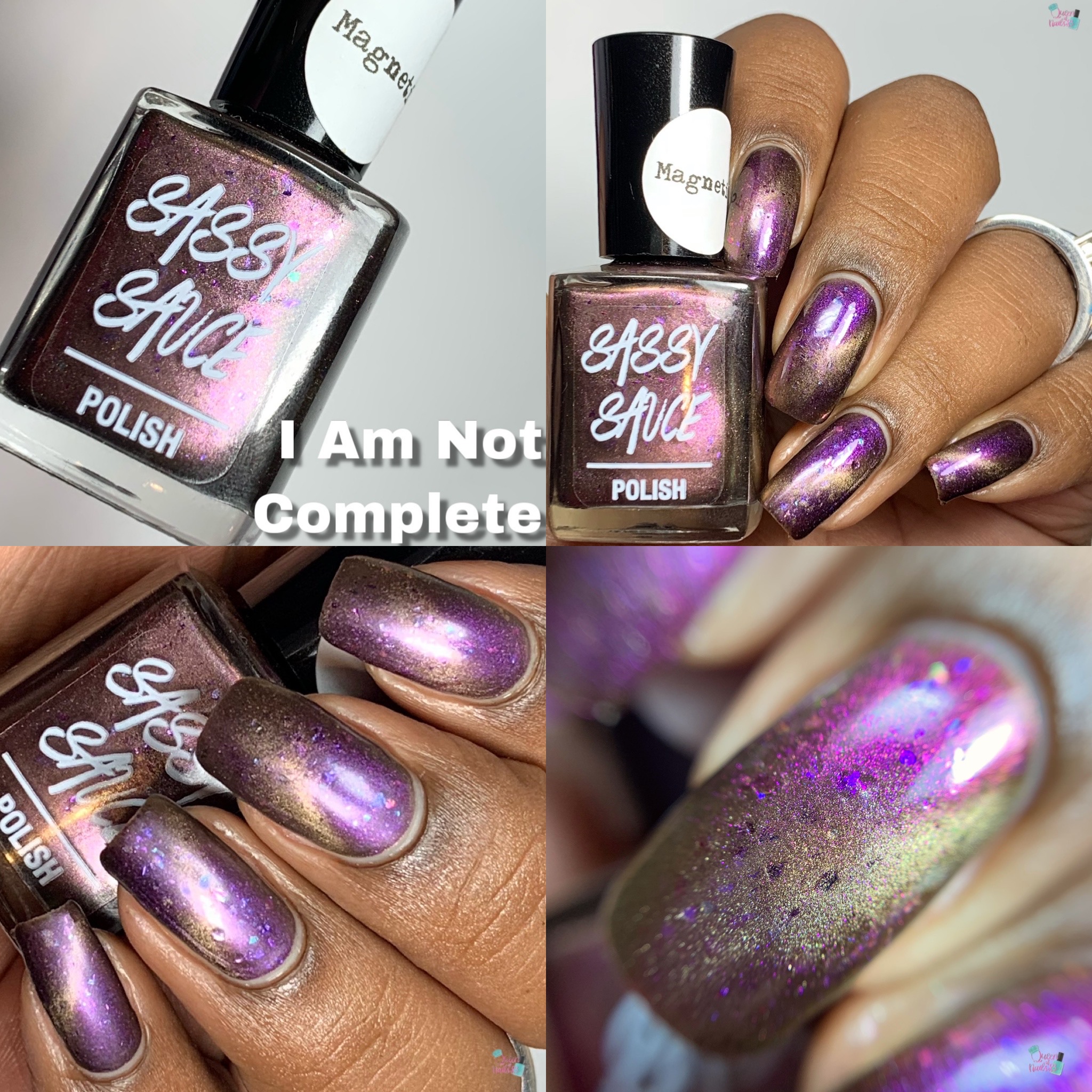 Scofflaw Nail Varnish – Revenge of the Ugly Stepsister
Maker: Finch
Description: A SUPER sparkly lime green base, packed with various glitters of bright pink, bright yellow, lime, turquoise, purple….and finished off with scattered holo and vibrant violet sparkle highlights. 
Price: $10 / Cap: NONE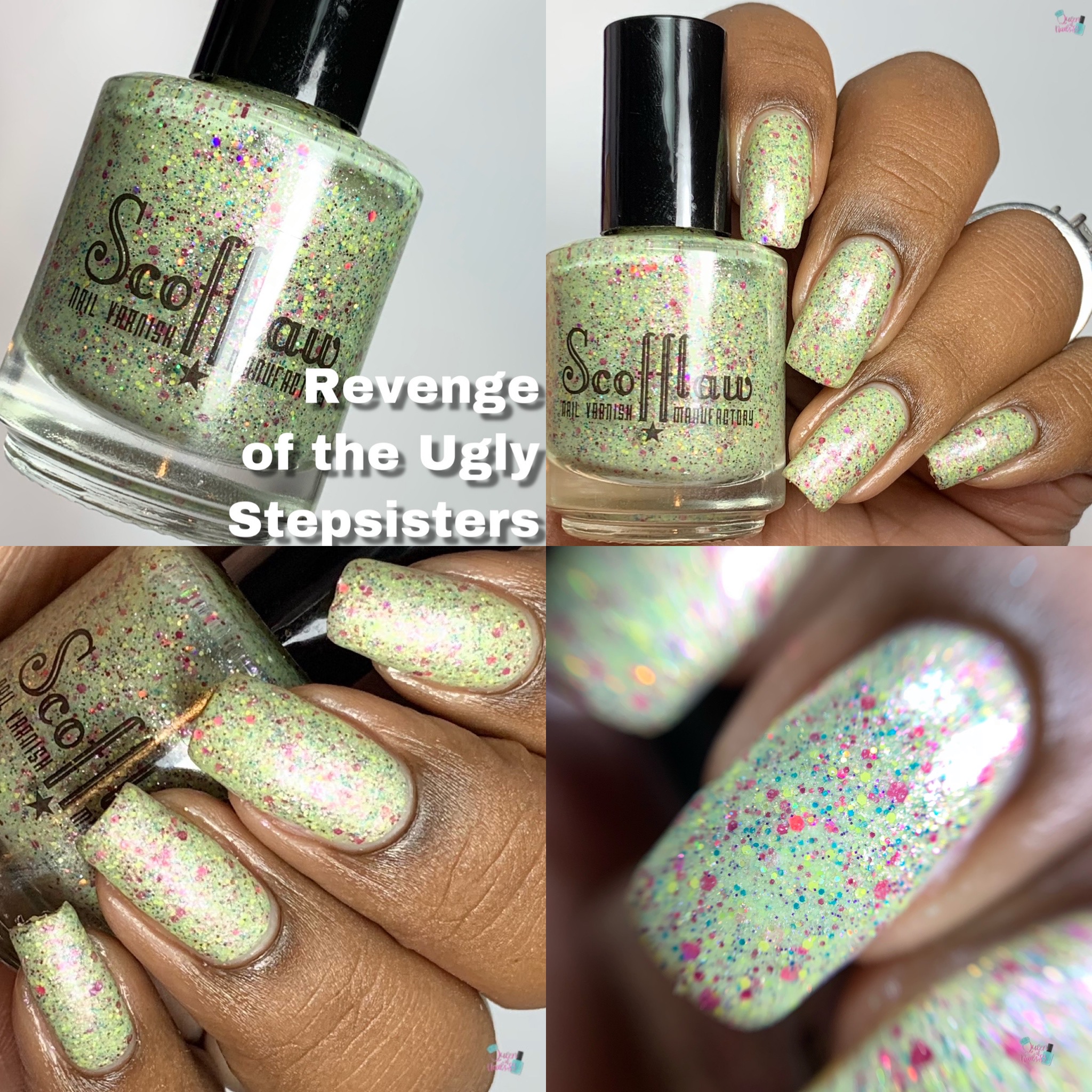 Available: Friday, November 1st @ 11am et – Monday, November 4th @ 11:59pm et!!!!
**Polish and Indie Pickup**
*Like, Comment and Subscribe*
Eat, Laugh, Polish, Repeat
Queen of Nails 83
💕