Hey Sugas!!! While it may not be quite time, weather wise, to break out the boots, scarves and cider, the calendar officially recognizes today as the first day of Fall/Autumn. Although, I am a spring born baby, fall/autumn is my favorite season of the year. I love hoodies/sweatshirts, cool mornings and I look forward to our family day at the pumpkin patch complete with hayride, cider donuts and a bonfire w/ smores!
Today I have the September Release from Sassy Sauce Polish, which while not an official fall/autumn collection, it seems to have drawn inspiration from one of the most sought after and beloved days of the season, Halloween! So bring on the ghouls, gobblins and ghost, because Sassy Sauce has 5 gorgeous new polish just waiting in the winds to combat their scare tactics!
Enjoy….
**All swatches are done using liquid latex peel off base coat, glossy QDTC and matte topcoat. Swatch photos are taken using artificial lights.**
Cellar Door
A multichrome in a brown jelly base with duo chrome micro flakes, micro copper holo glitter, aurora shimmer and gold holo glitter.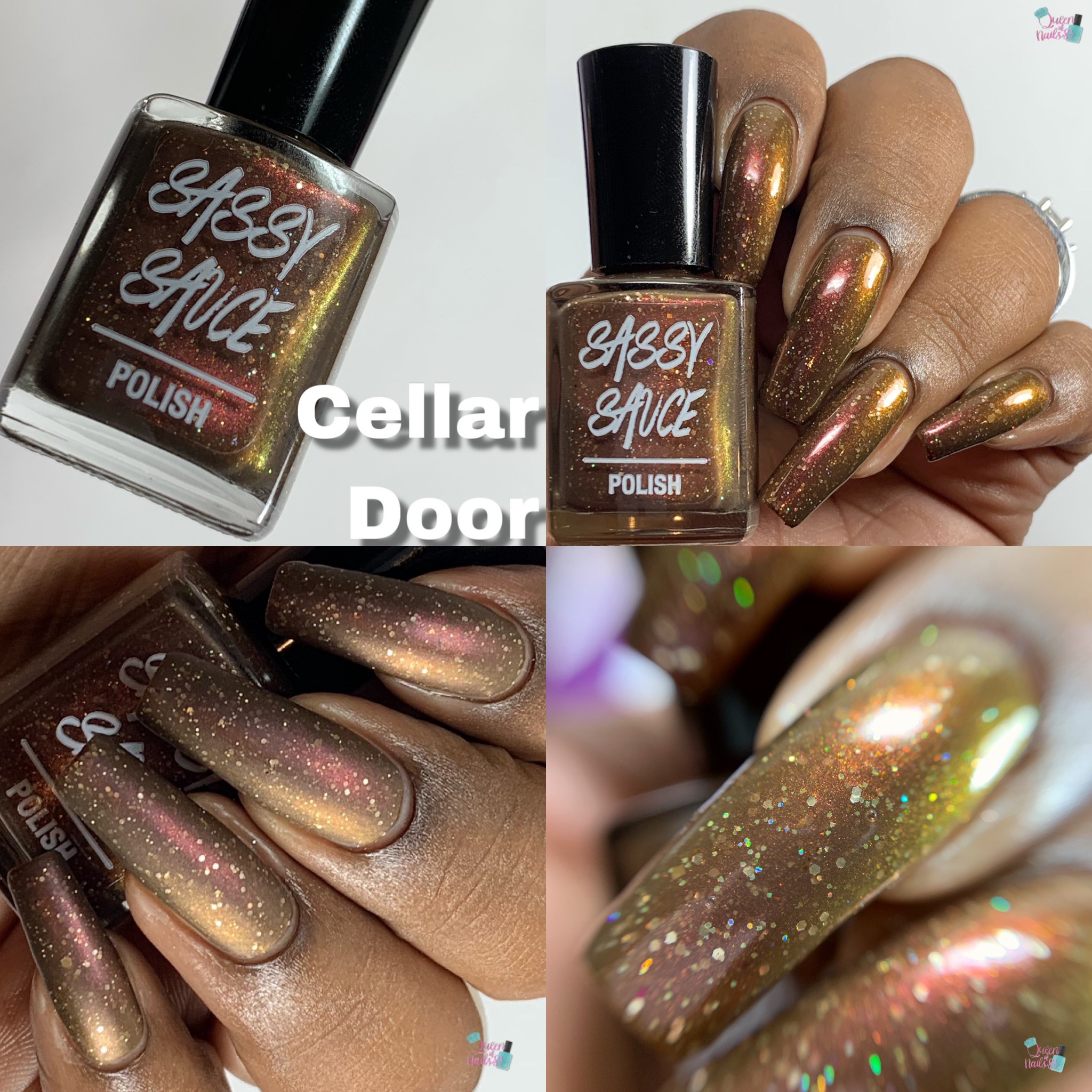 I Crave You (T)
A smokey black thermal that fades to clear and leaves a copper shimmer with scattered holo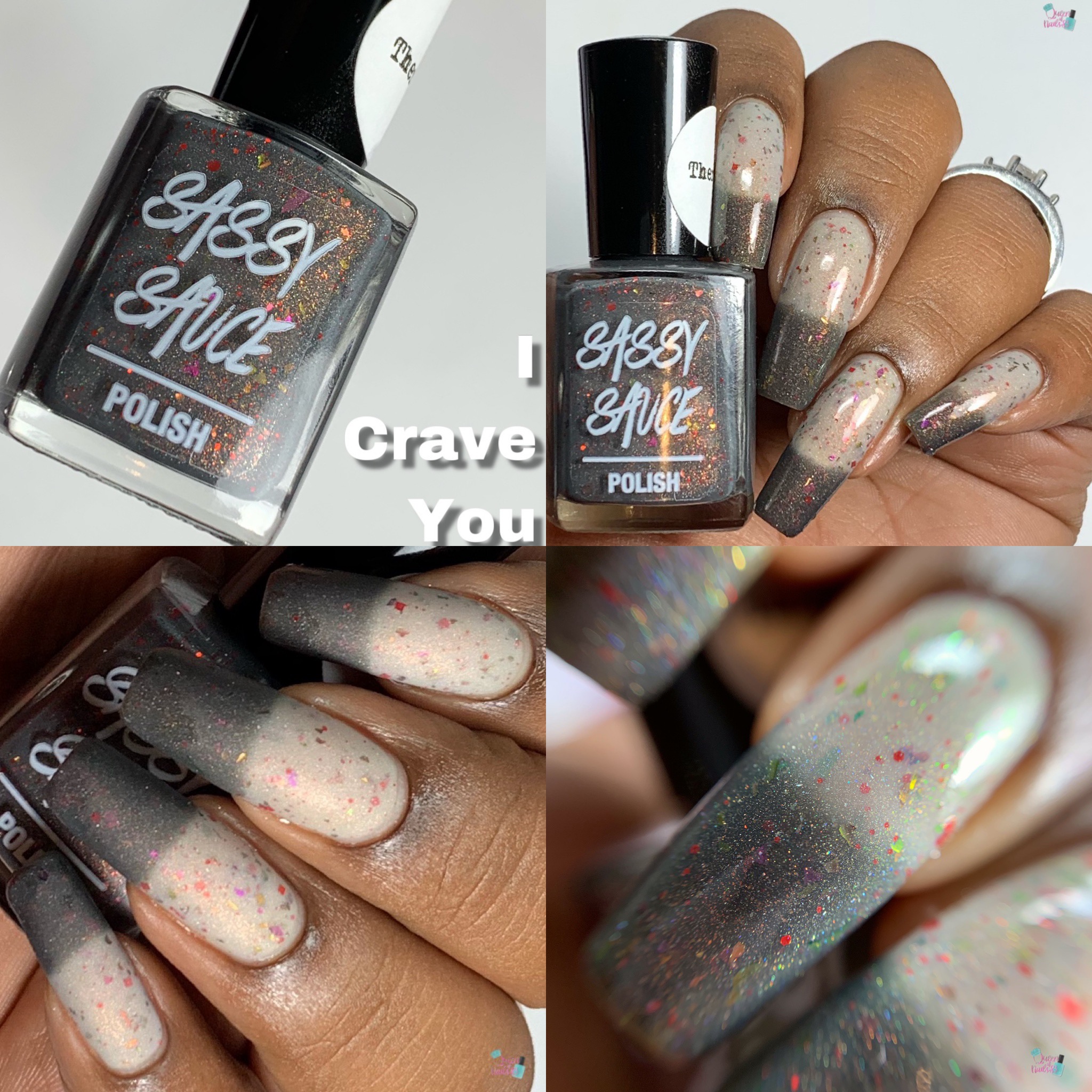 Sweet Corn (T)
An orange thermal that fades to bright yellow with a glowing copper aurora shimmer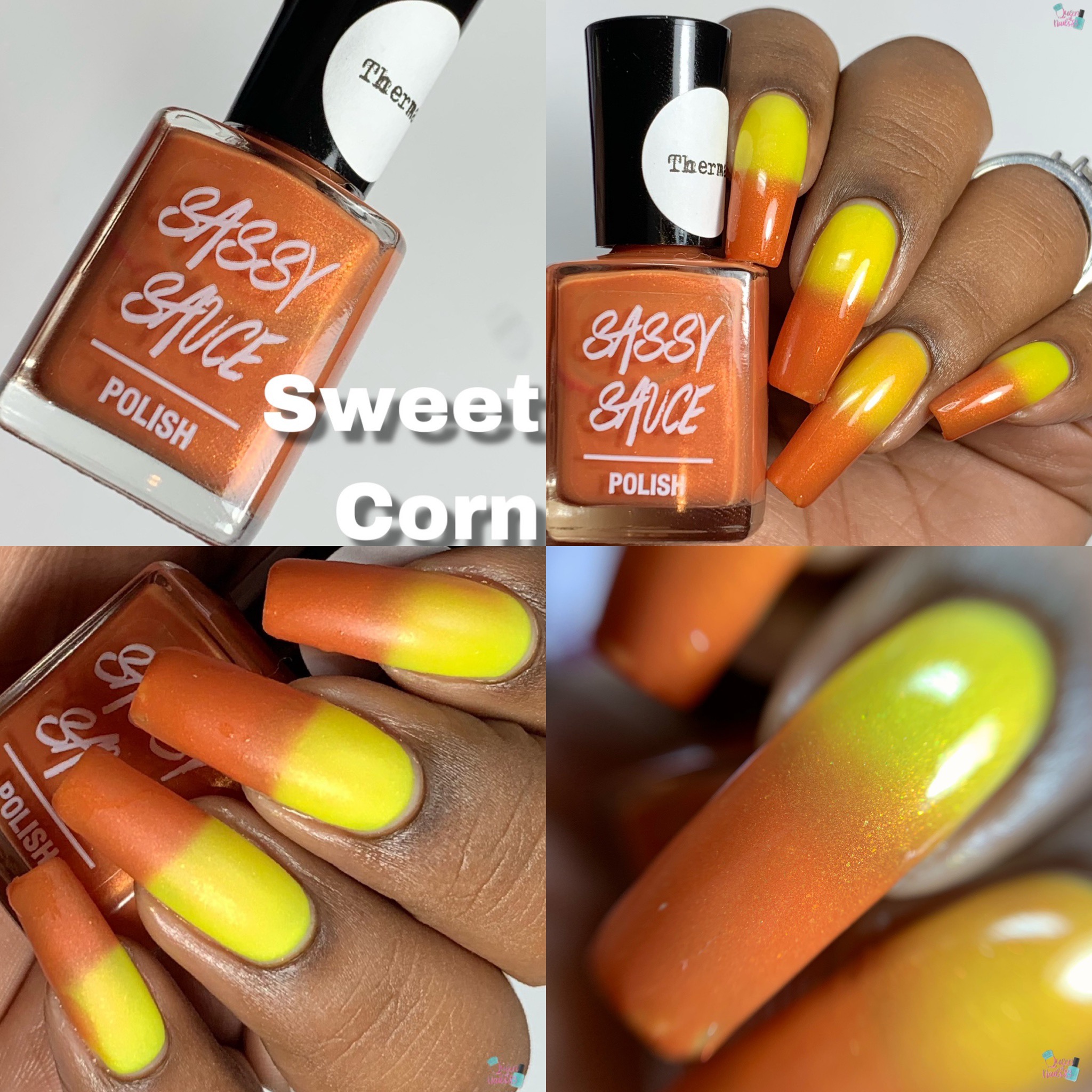 The Color of Magic
A spooky shifty glitter bomb topper that contains a green, blue, purple shifting shimmer and a multitude of shifty glitter. Swatch shown in 2 coats over 'Hello Gorgeous'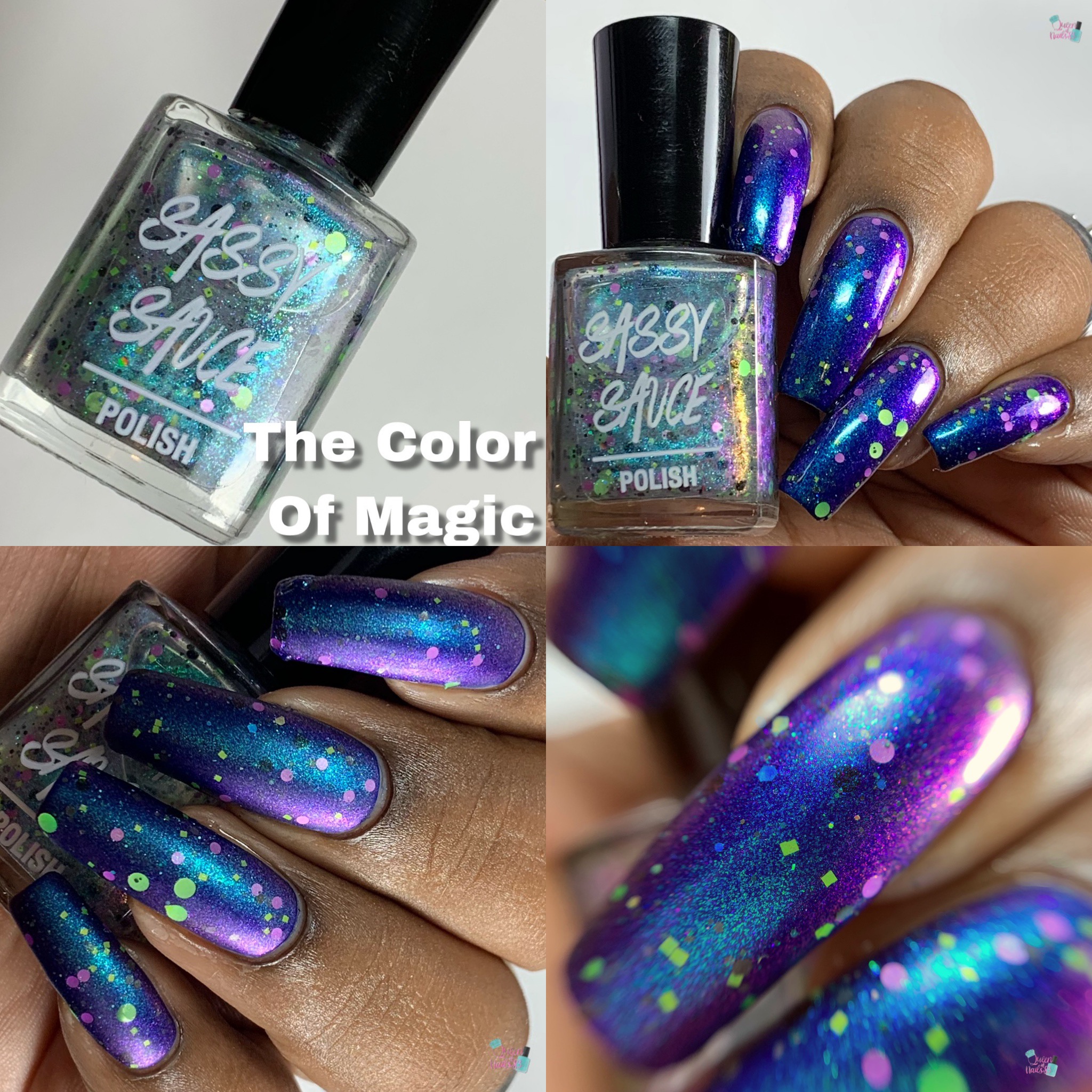 I'm Not A Witch, I'm Your Wife
A bright pink base with a strong blue/violet shimmer and some shifty crystal flakes.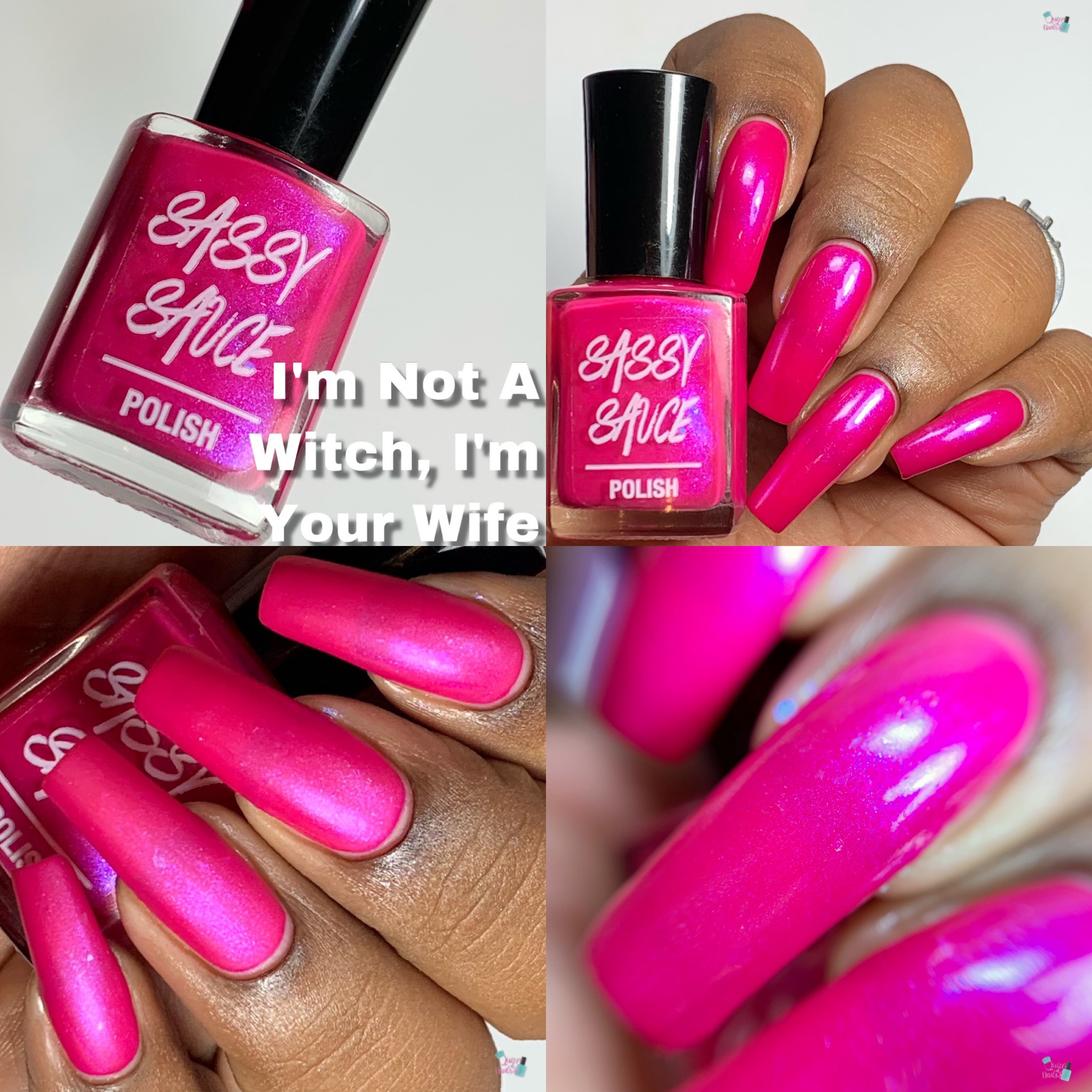 Sassy Sauce Polish – September 2019 Release
The Queens Choice: The Color of Magic and I'm Not A Witch, I'm Your Wife
Opacity: swatches shown in 3 coats
Price: $11 or all 5 for $50
Shipping: $3.50 (US) and $15 (Canada) flat rate
Availability: Saturday, September 28th  at 11 am cst
Sassy Sauce Polish
*Like, Comment and Subscribe*
Eat, Laugh, Polish, Repeat
Queen of Nails 83

💕