Hey Sugas!!! Cancer is never an easy topic if discussion, in fact it can often be taboo; it plagues our world at alarming rates, effect families and can ruin lives. But… it doesn't have to end there. Discussion brings about awareness and support and with awareness and support come HOPE, hope for a brighter tomorrow. And that is the EXACT mindset and heart of the collaborating makers in the 2019 Breast Cancer Awareness (BCA) Hope Box.
As a survivor of breast cancer for more than 5 years, Chrissy Gieringer of Turtle Tootsie Polish decided she would not be a voiceless victim but instead a mouthpiece of hope and compassion. With the use of one of her many talents as a thriving indie maker, Chrissy has combined forces with numerous indie brands to create the 2nd annual BCA Box. 
This year 10% of everything except polish will be donated (Cuticula is 10%) along with a bracelet benefit, with $2 from each bracelet donated to Breast Cancer Research Foundation.
Full Box – $245
Polish Only $205
Single Polishes – $12 each
Wax $5
Lotion – 6.25 / Soap – $8
Cuticula Topper – $9
Mega Lip Balm  – $9
Available: Sunday, September 8th thru Sunday, September 15th
Enjoy…
**All swatches are done using liquid latex Peel-off Base, glossy, QDTC and matte topcoat. Swatch photos are taken using artificial lights.**
6 Harts – There Will Be Time
Maker: Courtney
Description: A deep fuschia pink cream
Cap: 75 bottles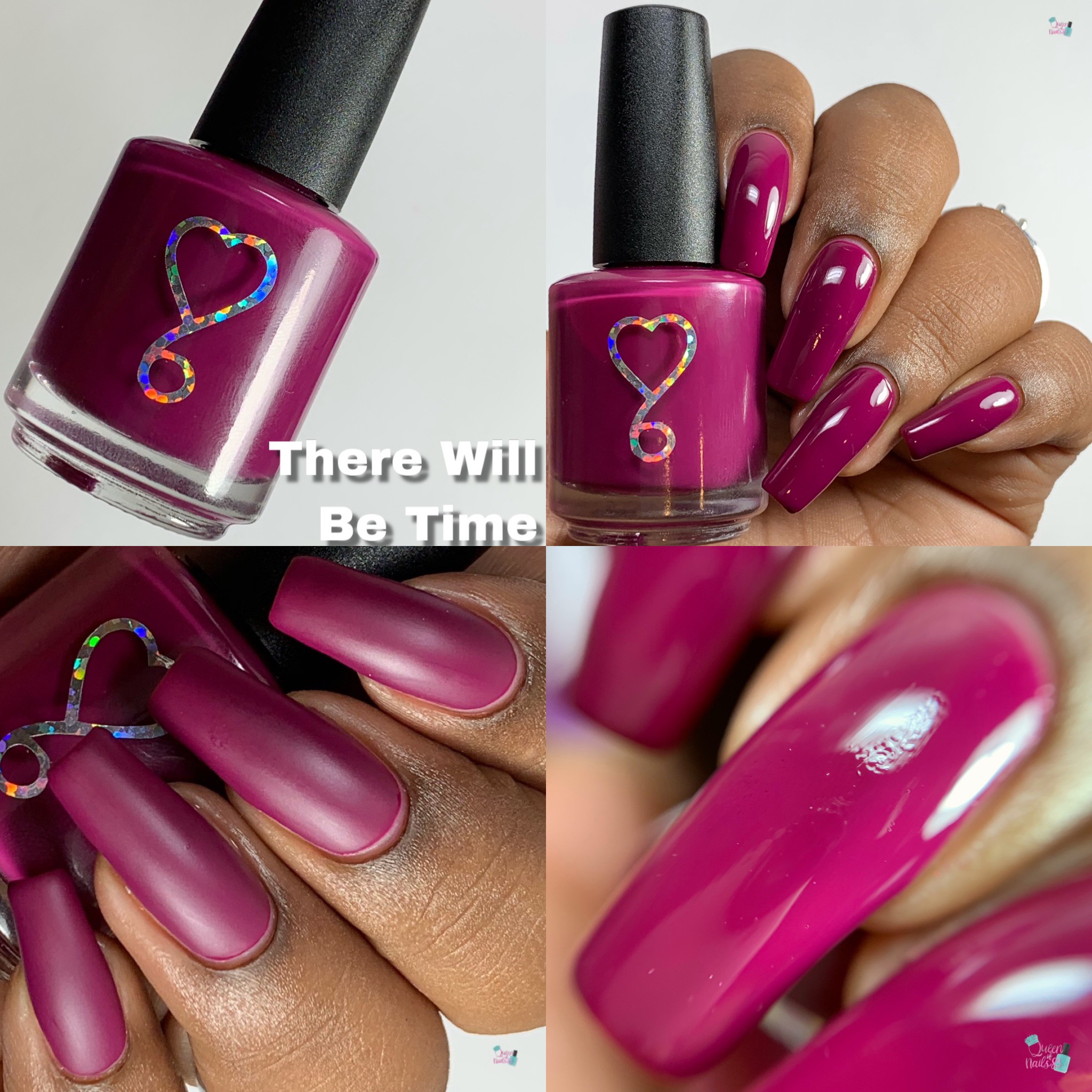 77 Nail Lacquer – Fight Like Hell
Maker: Connie
Description: A fuschia-esque pink base with copper shimmer and crimson large particle shimmer.
Cap: NONE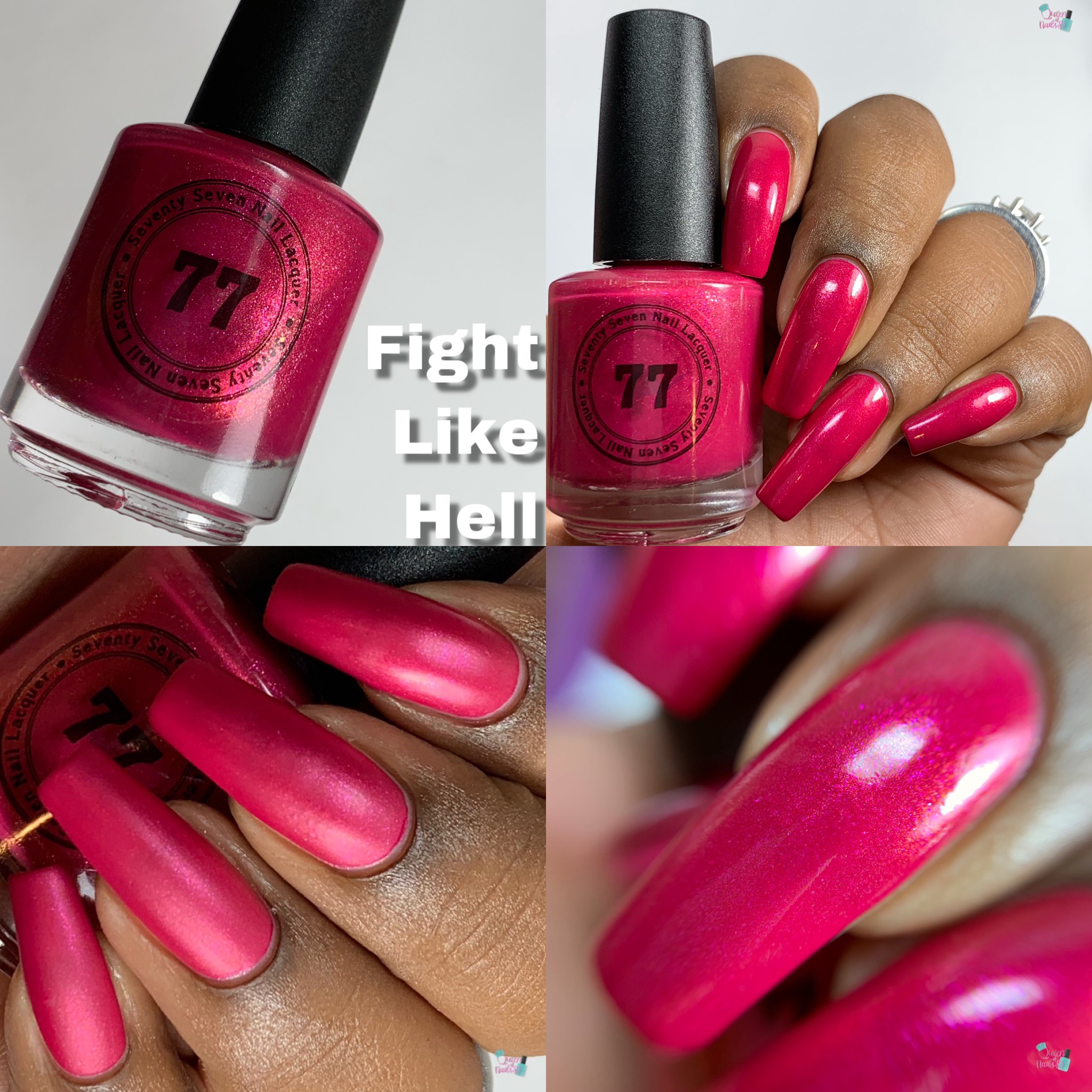 Anchor & Heart – What a Wonderful World
Maker: Taryn
Description: A coral pink crelly with blue/purple aurora shimmer, and various sizes of glitter in pale mint, white, pink, and teal
Cap: NONE 
Bee's Knees Lacquer – Third Time's the Charn
Maker: Sarah
Description: A baby pink polish loaded with red/orange to green shifting Aurora shimmer
Cap: NONE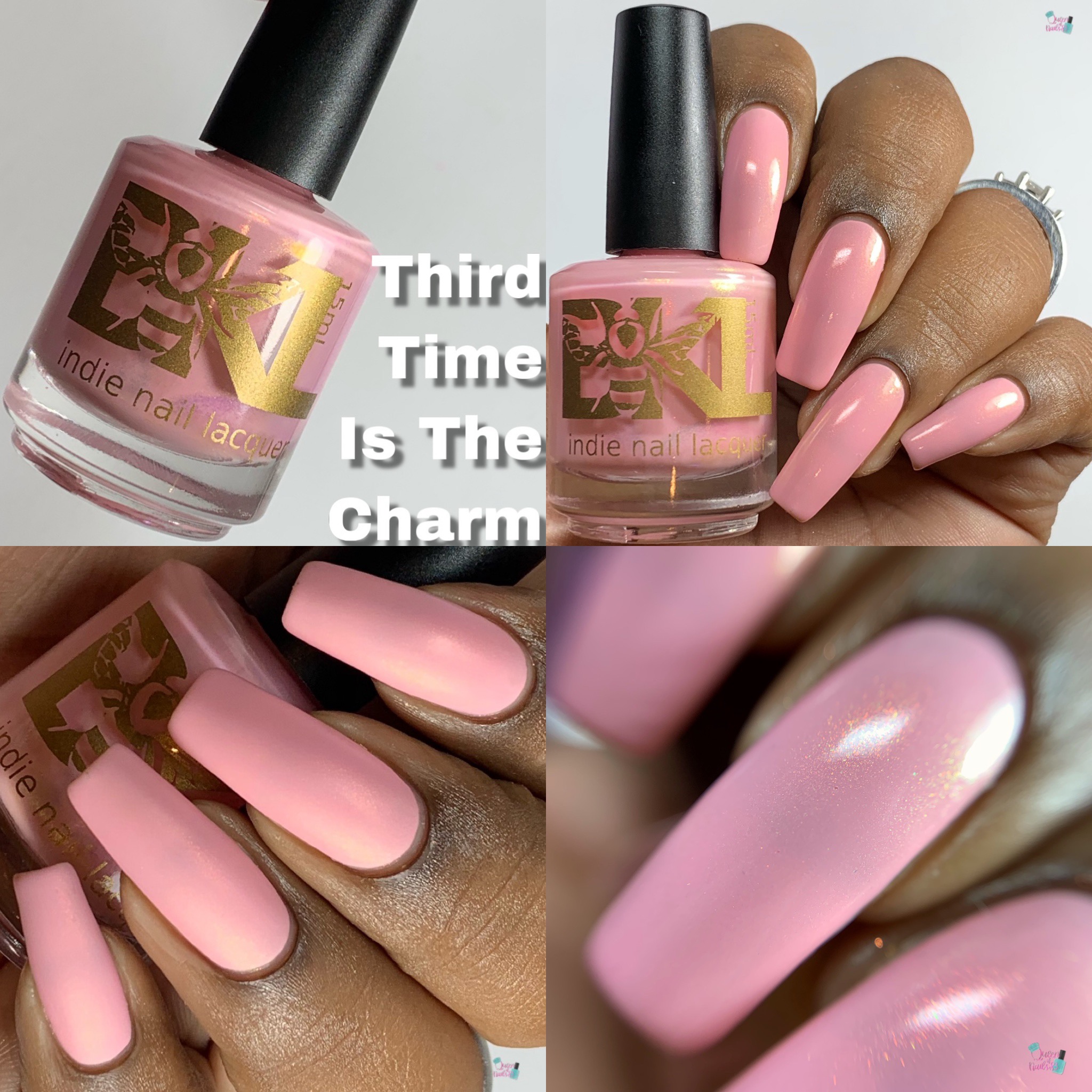 Colores de Carol – Valiente
Maker: Carolina
Description: A sparkly silver linear holographic with pink shimmer and holo flakes.
Cap: NONE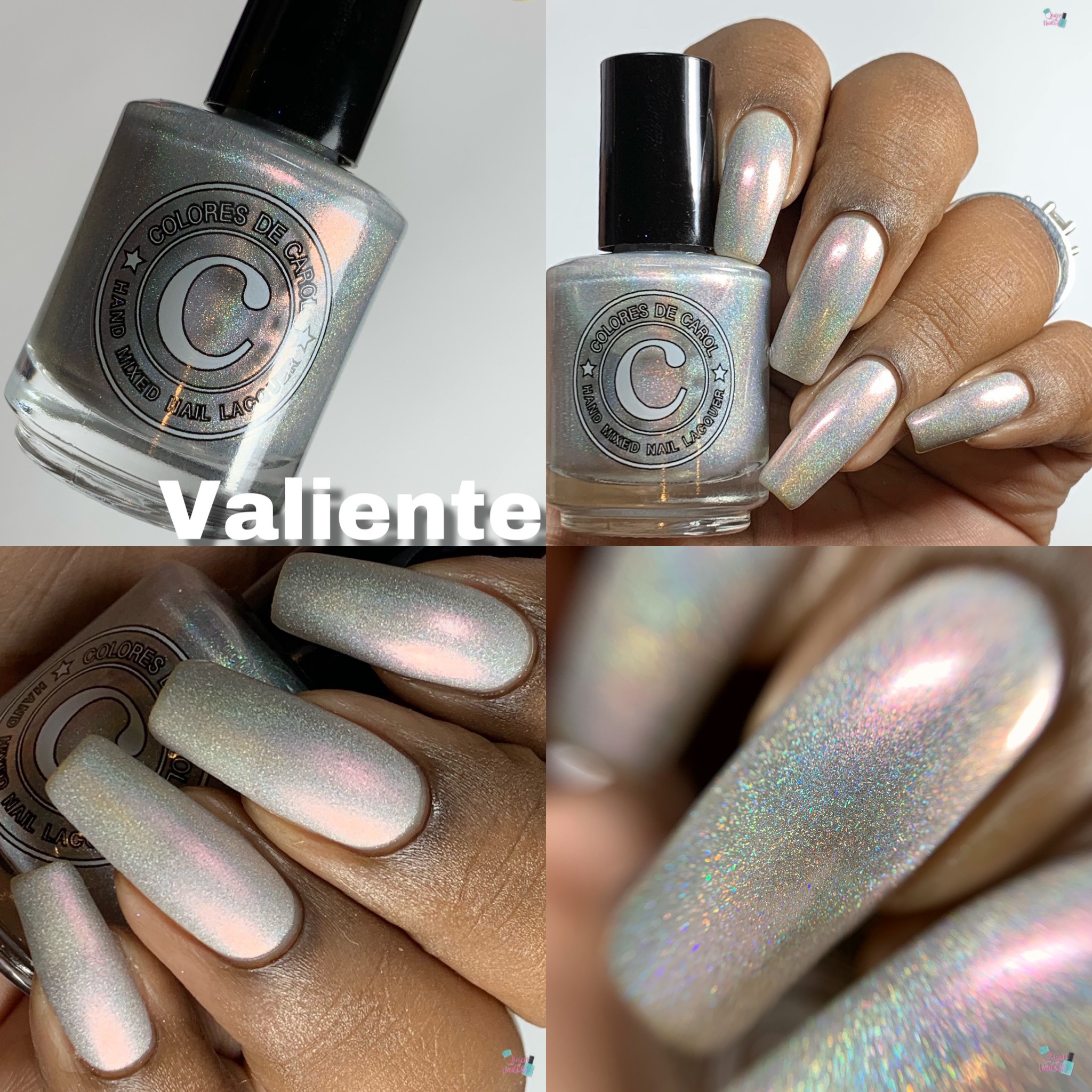 Cuticula – Guavaberry
Maker: Amanda
Description: A rose gold micro flakes scented top coat scented in a delicious tropical fruity blend of juicy guava mixed with sweet berries. Swatcher shown over black creme
Cap: NONE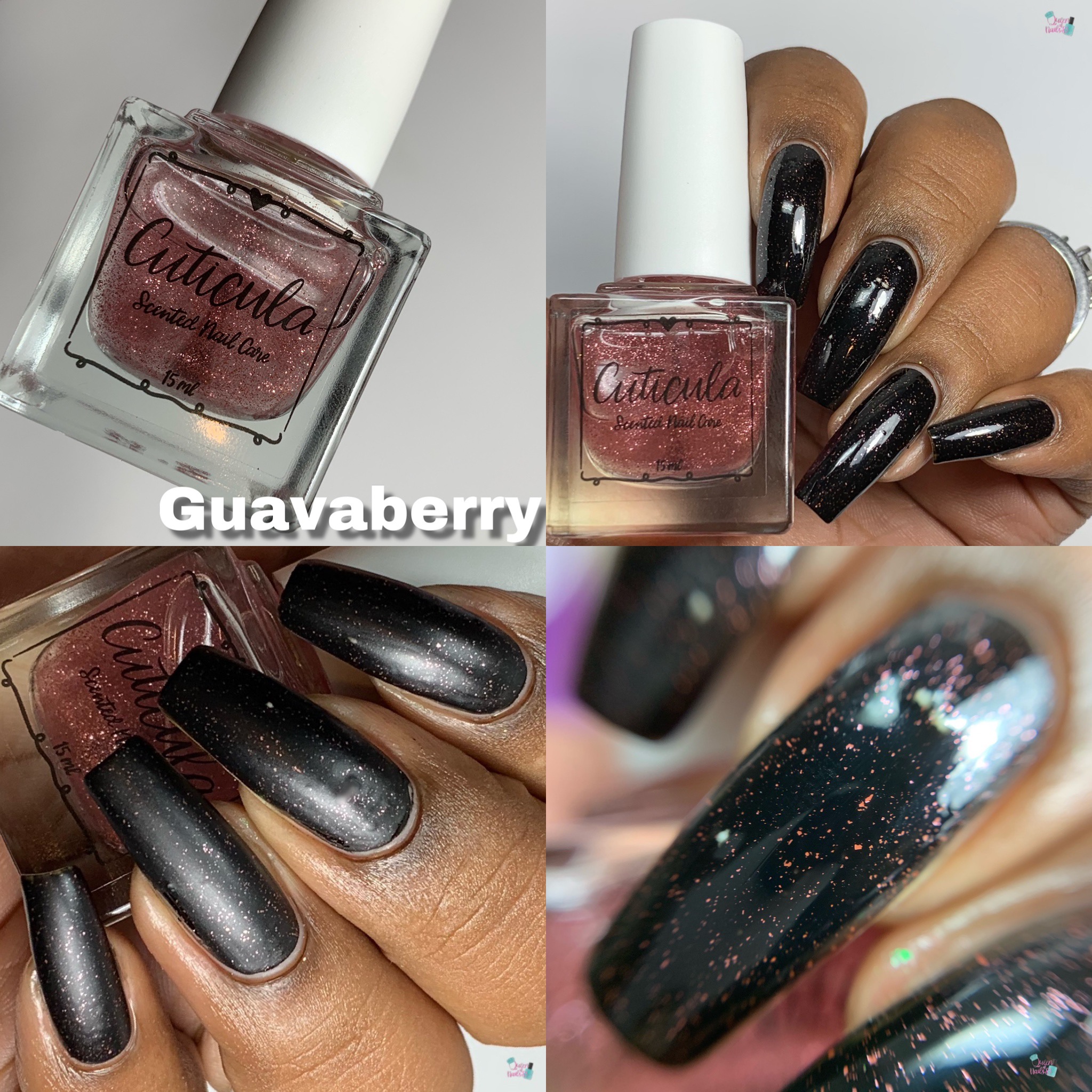 Ethereal Lacquer – Hope
Maker: Meagan
Description: A dusty rose with iridescent chameleon flakies and red to green aurora shimmer.
Cap: NONE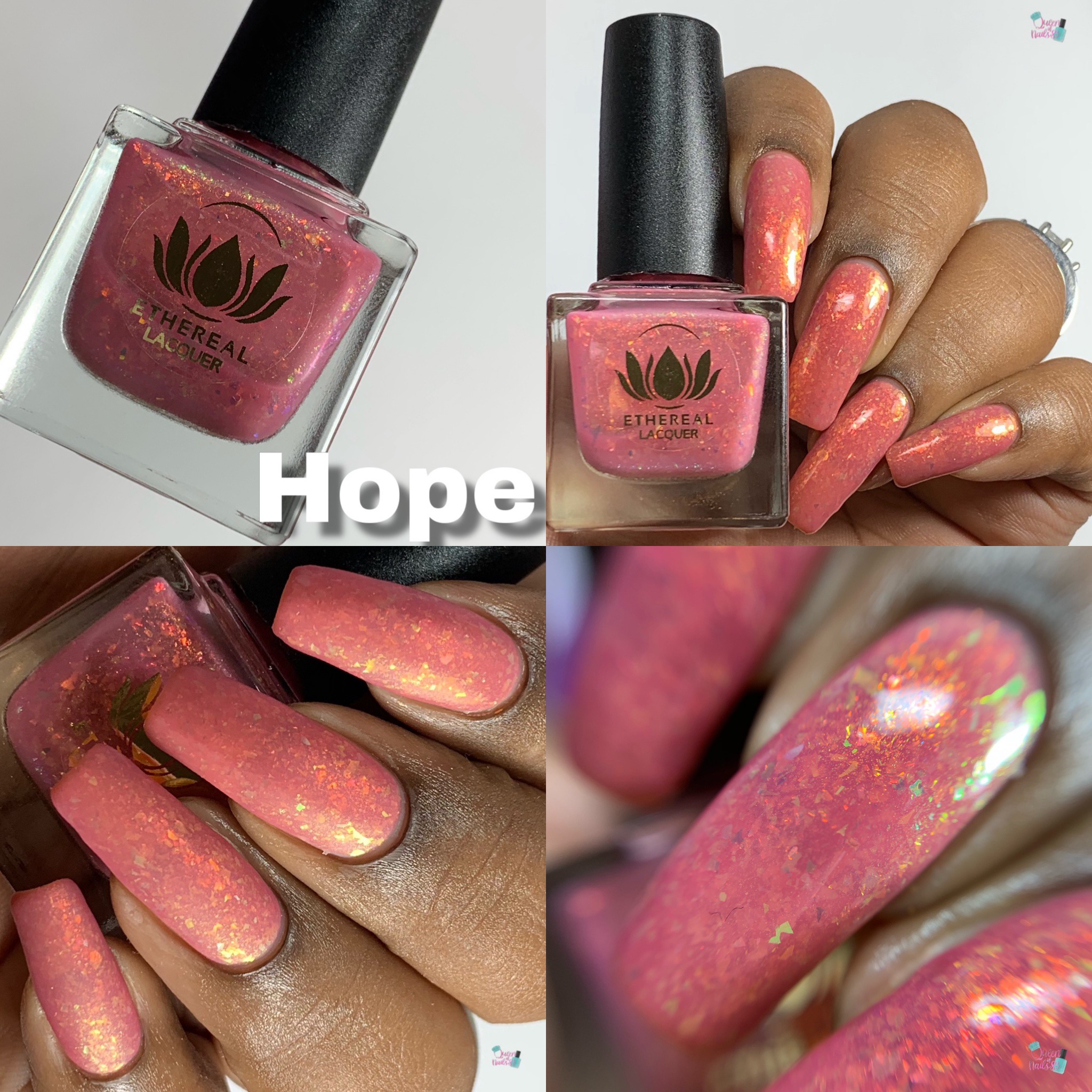 Fair Maiden – Dancing in the Rain
Maker: Adrienne and Sarah
Description: A delicate light pink crelly flake with fiery aurora shimmer
Cap: NONE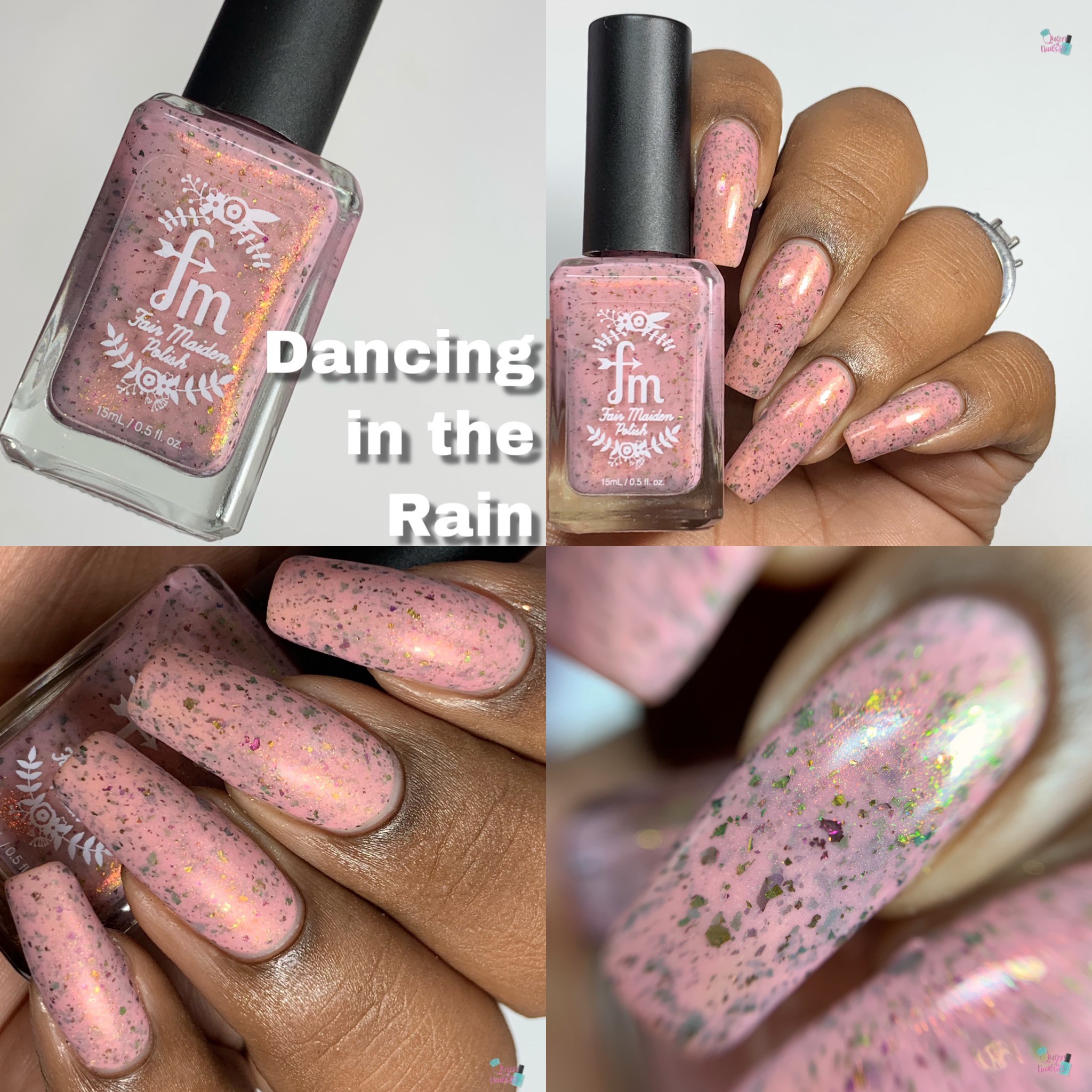 Great Lakes Lacquer – Never, Ever Give Up Hope
Maker: Mariah
Description: A petal pink linear holographic with a strong gold shimmer that shows slight shifts to blue and green
Cap: NONE 
Handmade Natural Beauty – Pink Ribbon Goat Milk Lotion and Hope Soap Goat Milk Soap
Maker: Angie
Description: Lotion – A moisturizing creamy goat milk lotion scented in our signature ʺPink Ribbonʺ scent, Vanilla Almond Berry.
Soap – A gentle and moisturizing goat milk soap with a white base and swirls of pink and gold. Topped with mini pink ribbon glycerin soaps. Fragrance is an intoxicating blend of strawberry, champagne and bright cassis. (NOT PICTURED)
Cap: lotion – NONE and Soap – 48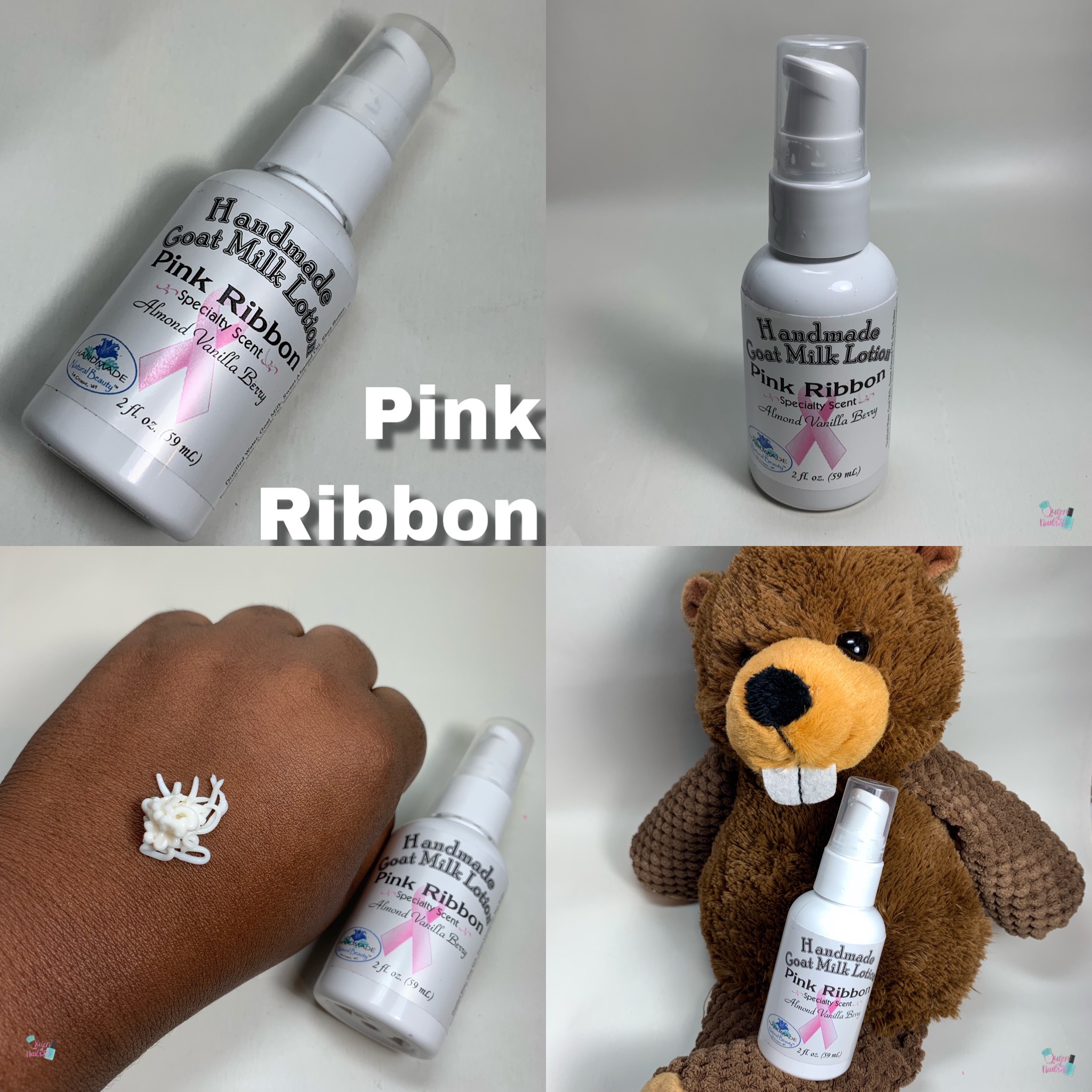 Heather's Hues – Think Pink
Maker: Heather
Description: A ballet slipper pink kissed with holo and a strong iridescent shimmer that shifts from blue to pink to gold
Cap: NONE 
Leesha's Lacquer – Pajaros Del Mismo Plumaje (S)
Maker: Alicia
Description: A silver holo based photochromic that changes to pink in the sun. also has pink flakies
Cap: NONE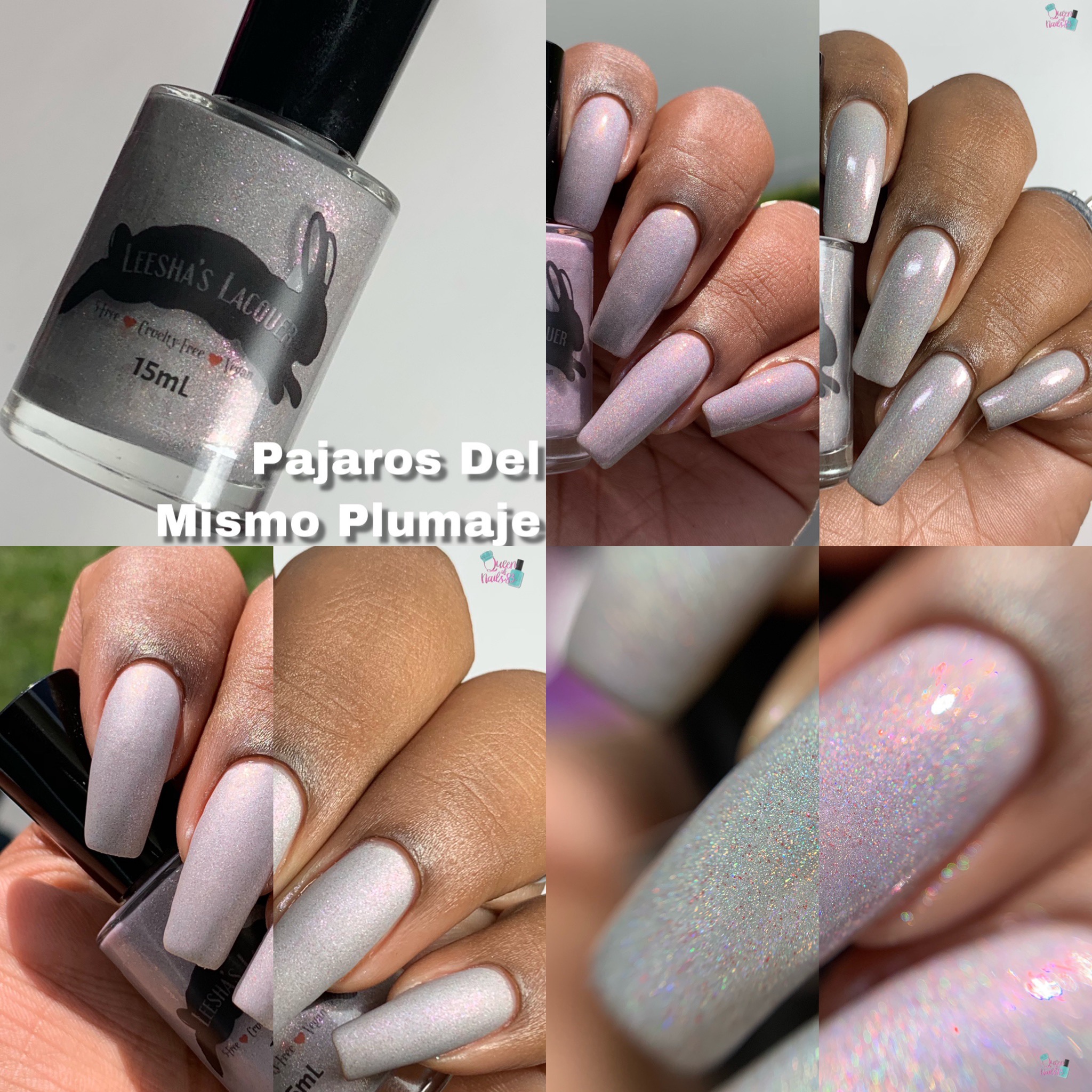 Lollipop Posse Lacquer – Such a Wonderful Thing to Love
Maker: Karen
Description: A rose pink crelly filled with green Aurora shimmer and a combination of iridescent flakes that shift in shades of purple, pink, and green.
Cap: NONE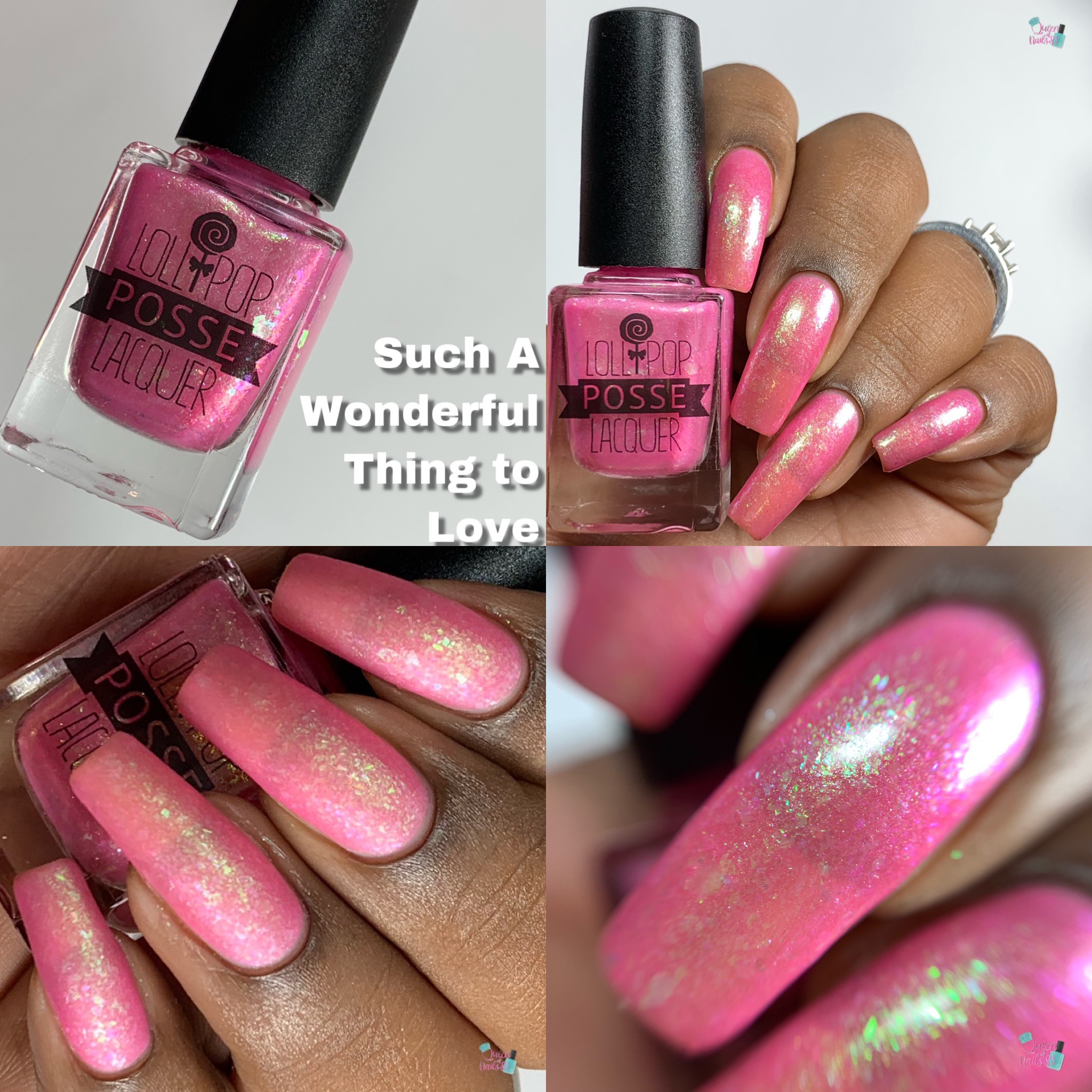 Music City Beauty – Wind Beneath My Wings
Maker: Kim
Description: A magenta holo with fantasy blue flakes
Cap: 75 bottles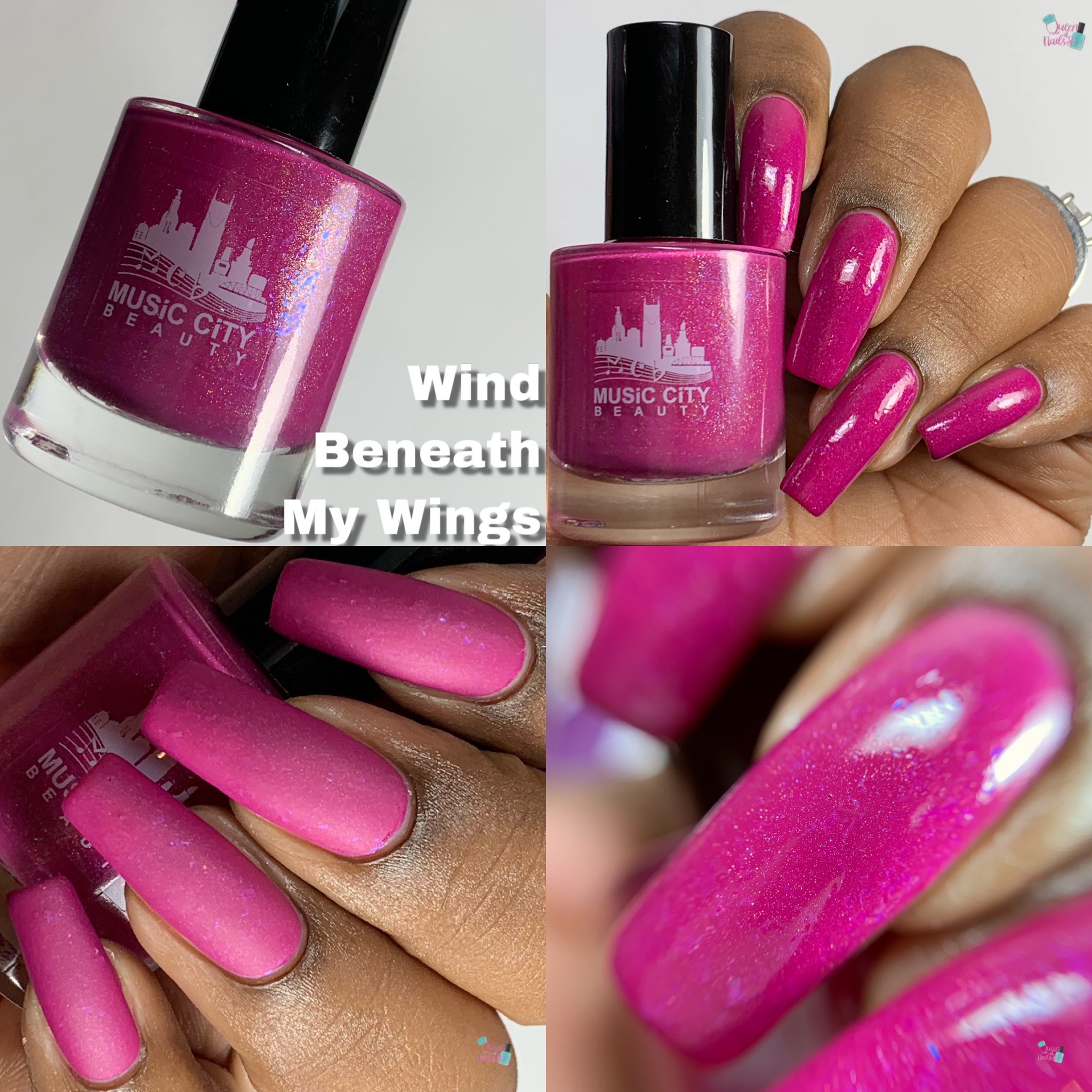 Necessary Evil Polish – This Woman's Work (T)
Maker: Tamara
Description: A thermal that shift from burgundy to pink with shimmer and scattered holo
Cap: NONE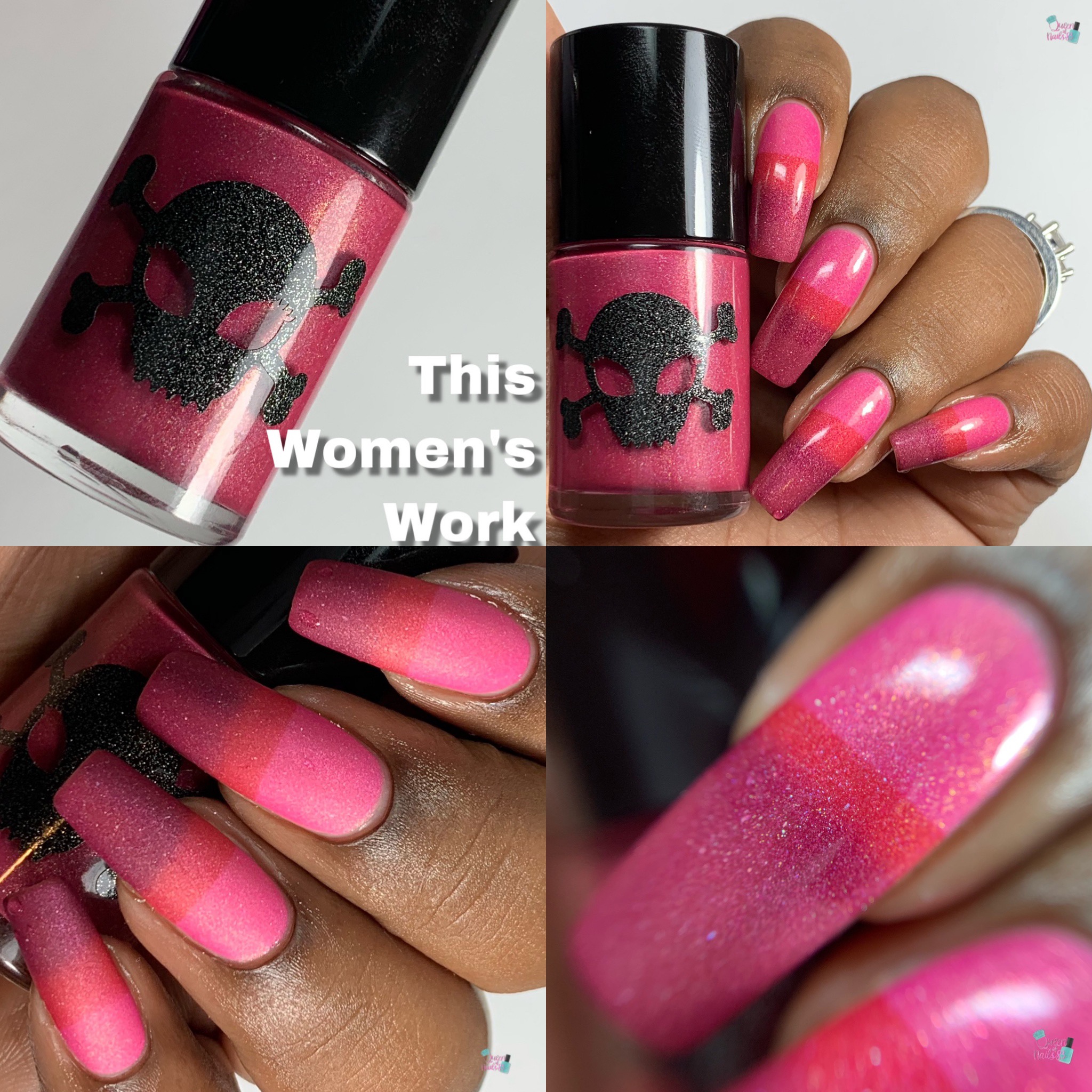 Pepper Pot Polish – BFF: Breast Friends Forever
Maker: Mackenzie
Description: A vibrant raspberry with gold & blue shimmer, rainbow hex & subtle scattered holo
Cap: NONE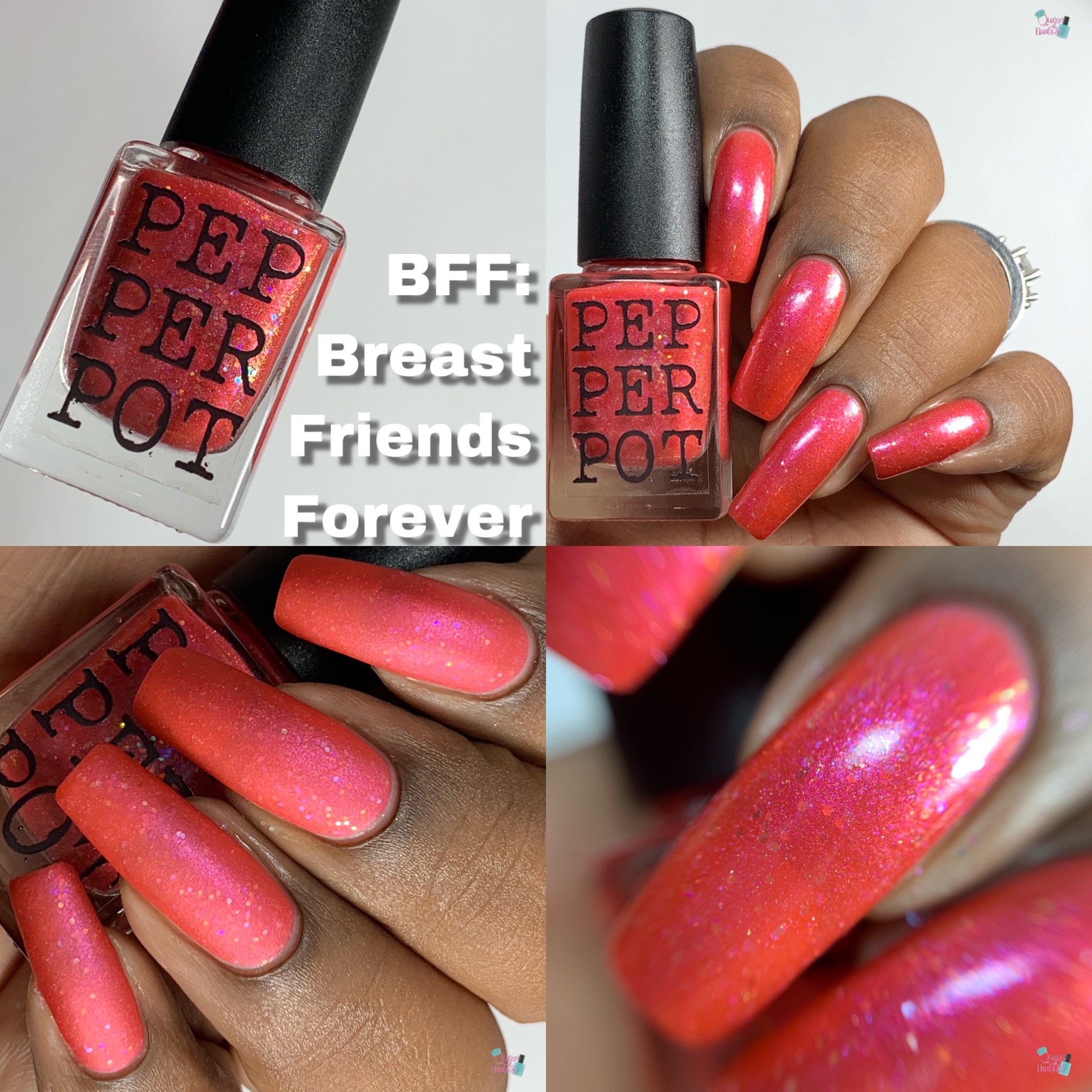 Poetry Cowgirl Nail Polish – Choose Hope
Maker: Kristen
Description: A pale metallic pink-gold-green multichrome with a scattering of turquoise metallic micro flakies
Cap: NONE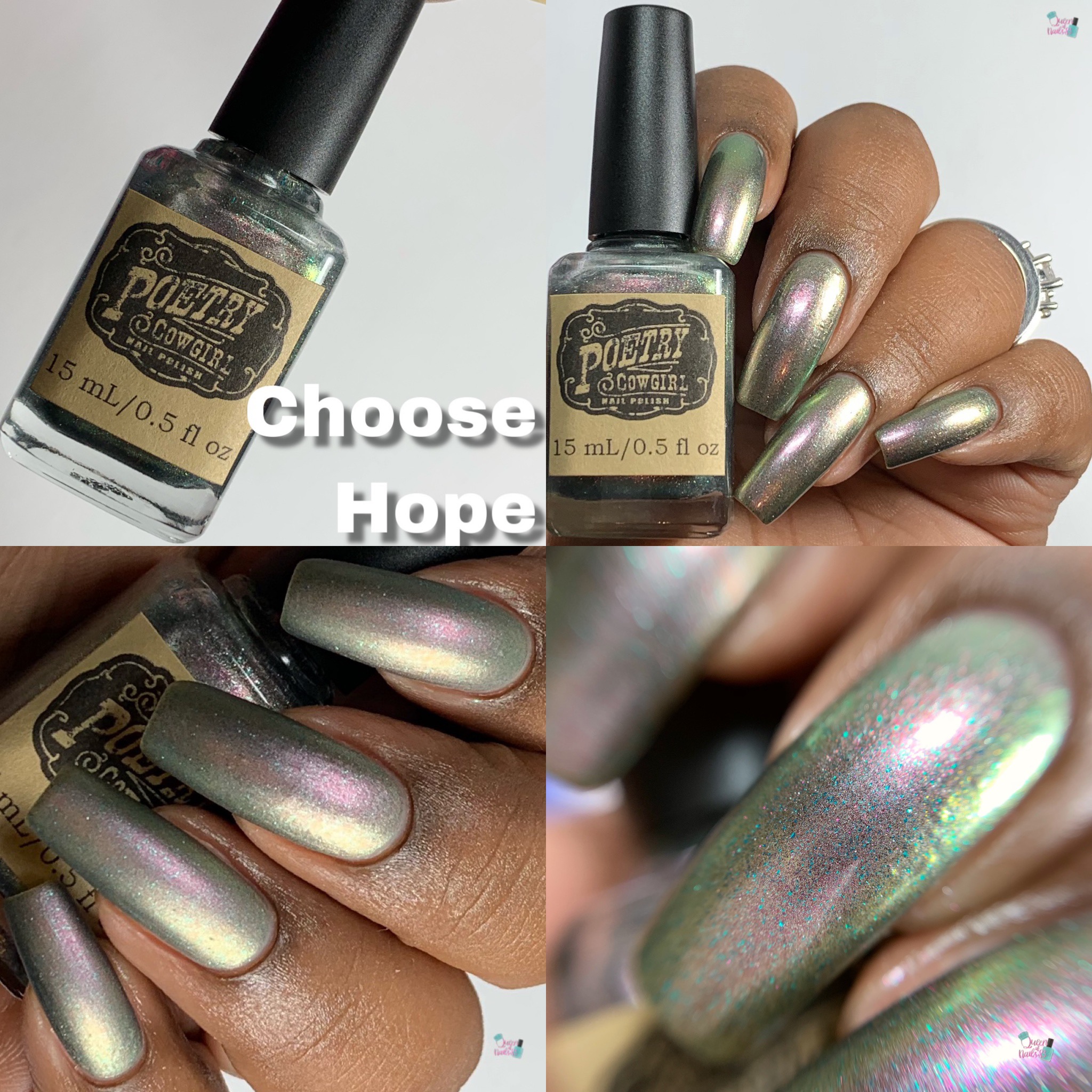 Polish 'M – Don't Stop Thinking About Tomorrow
Maker: Michelle
Description: A deep fuchsia with shifting iridescent flakes, gold flakes, red holo glitter and a slight auqa flash
Cap: 75 bottles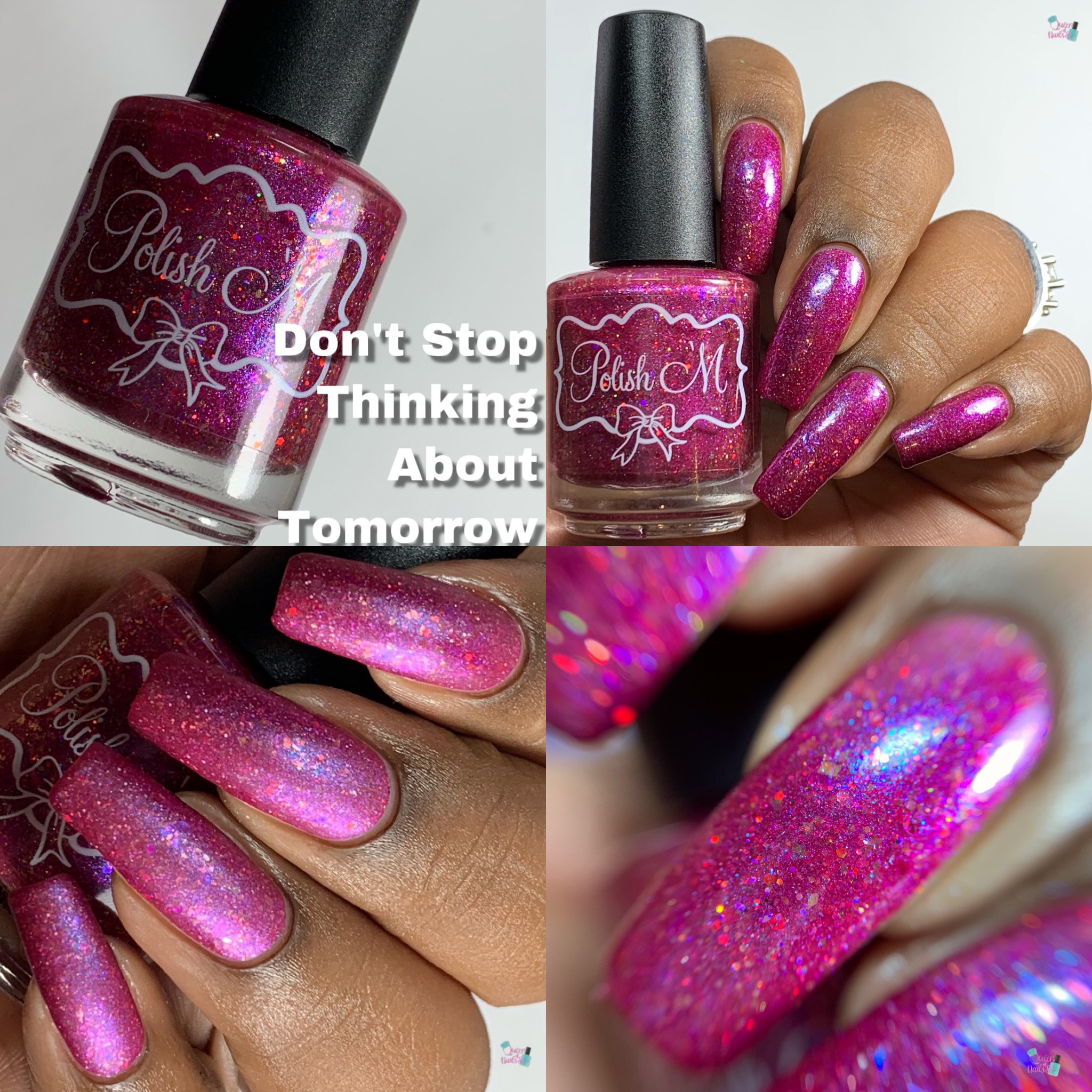 Quixotic Polish – Unbreakable
Maker: Mary
Description: A vibrant strawberry pink crelly with orange to pink shifting shimmer and holo sparkles
Cap: NONE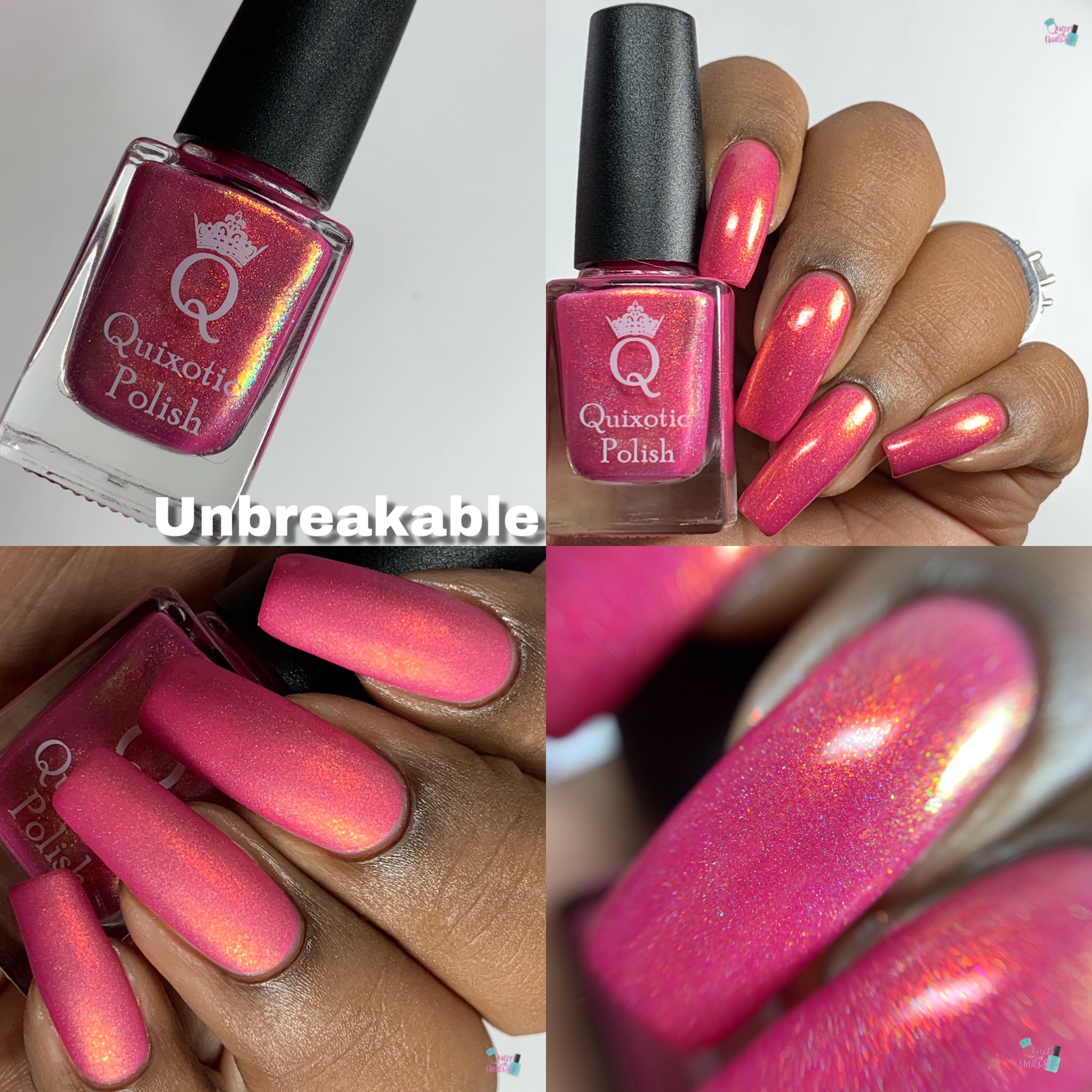 Rogue Lacquer – Pink Strong
Maker: Rachel
Description: A bright neon Barbie pink with crushed gold flakes
Cap: NONE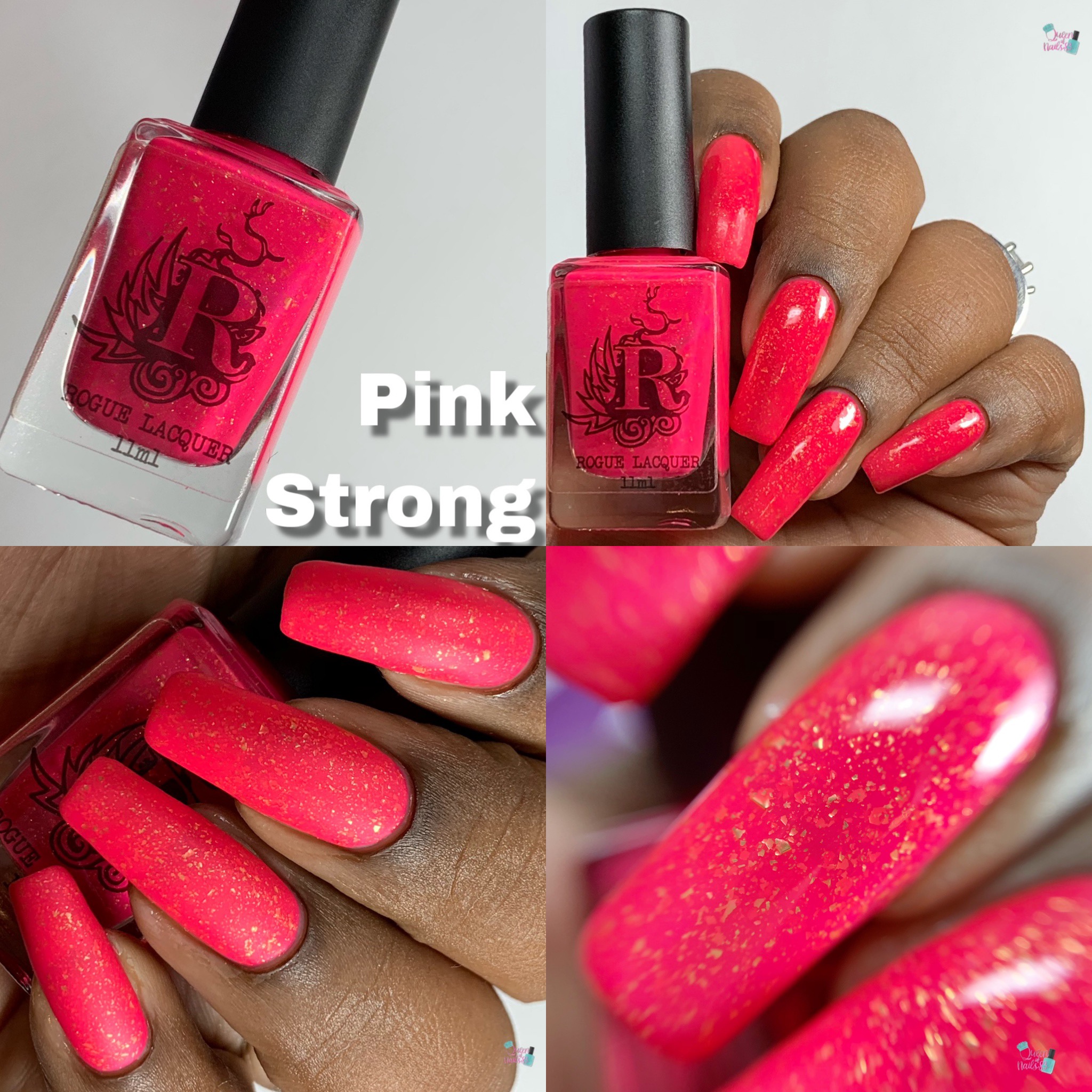 Supernatural Lacquer – Keep Calm & Fight Cancer
Maker: Stefanie
Description: A blackened magenta with semi-linear holo, holo micro flakes and a purple/red/gold multichrome shift
Cap: NONE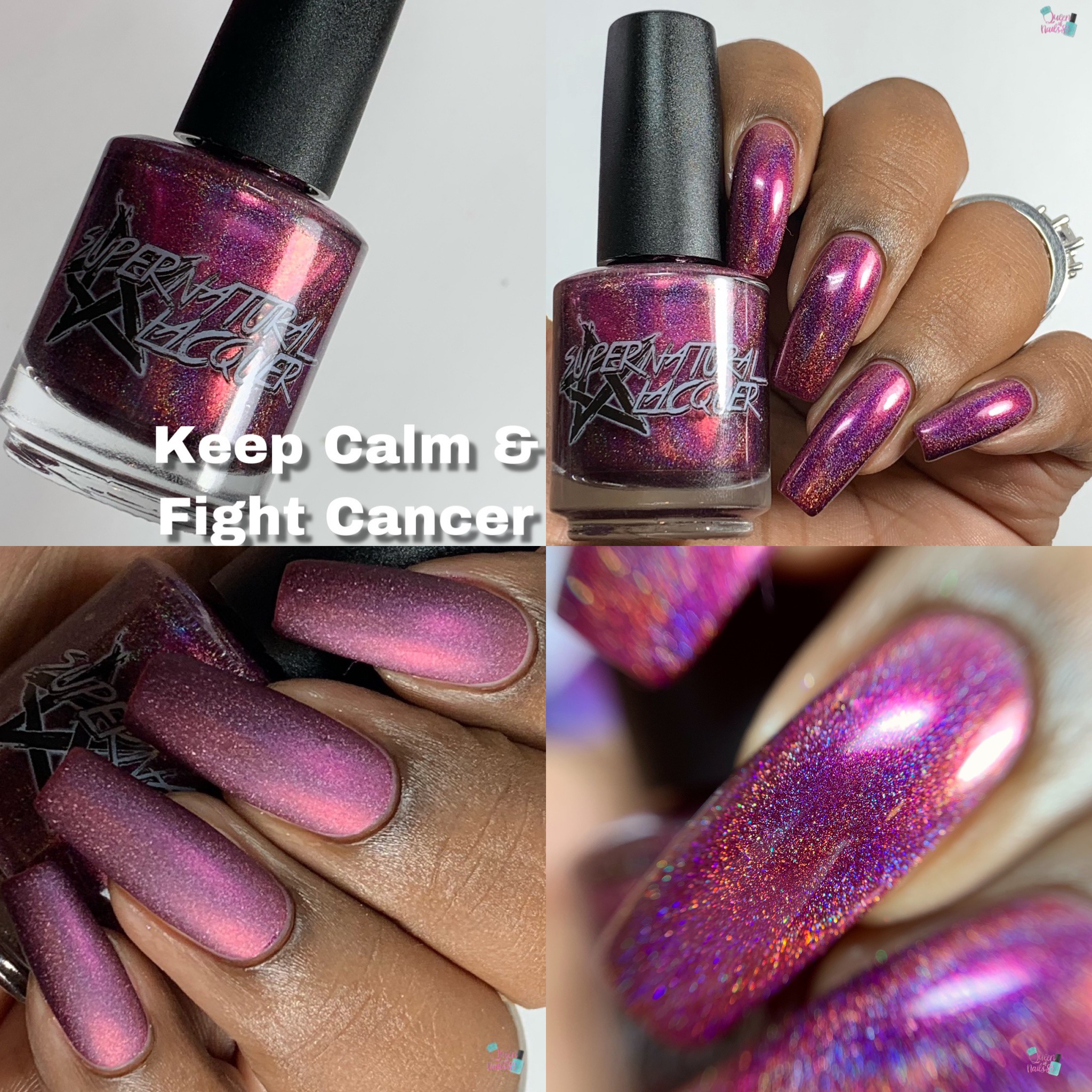 Turtle Tootsie Polish – Save The Woman Not The Boobies
Maker: Chrissy
Description: A white crelly with pink shimmer, pink flakies and assorted pink micro glitters
Cap: NONE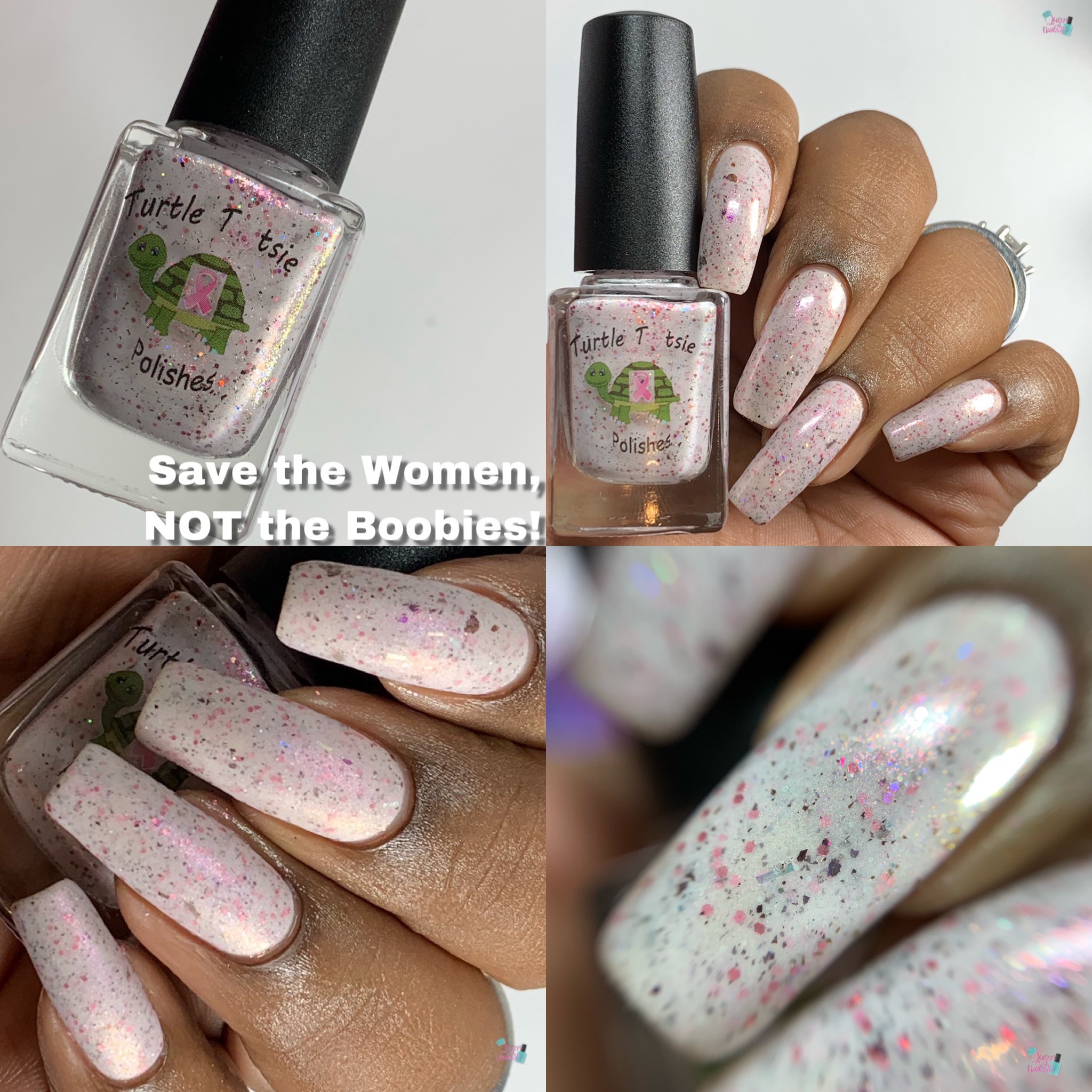 Strawberry Cheesecake Mega Lip Balm
Description: Triple the size of our normal lip balms, this is a luscious strawberry cheesecake mix lip balm
Cap: NONE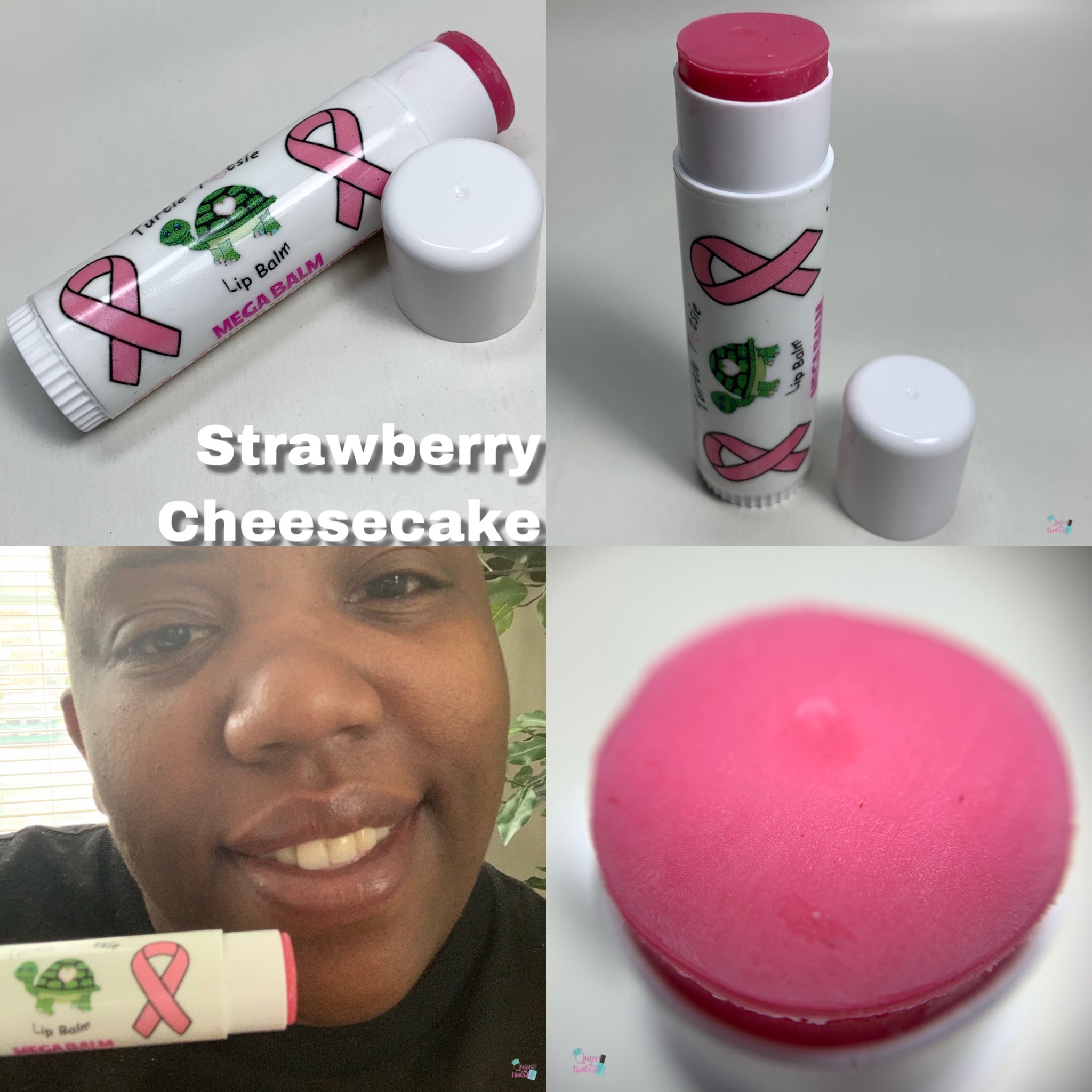 Under A Hula Moon Wax – I'm Gonna Love You Through It
Maker: Dawn & Aubrey
Description: An exclusive wax blend of combined soft notes of new fallen rain with the juiciest, ripest peaches and a little musk to form the base of our love scent with dragonfruit
Cap: NONE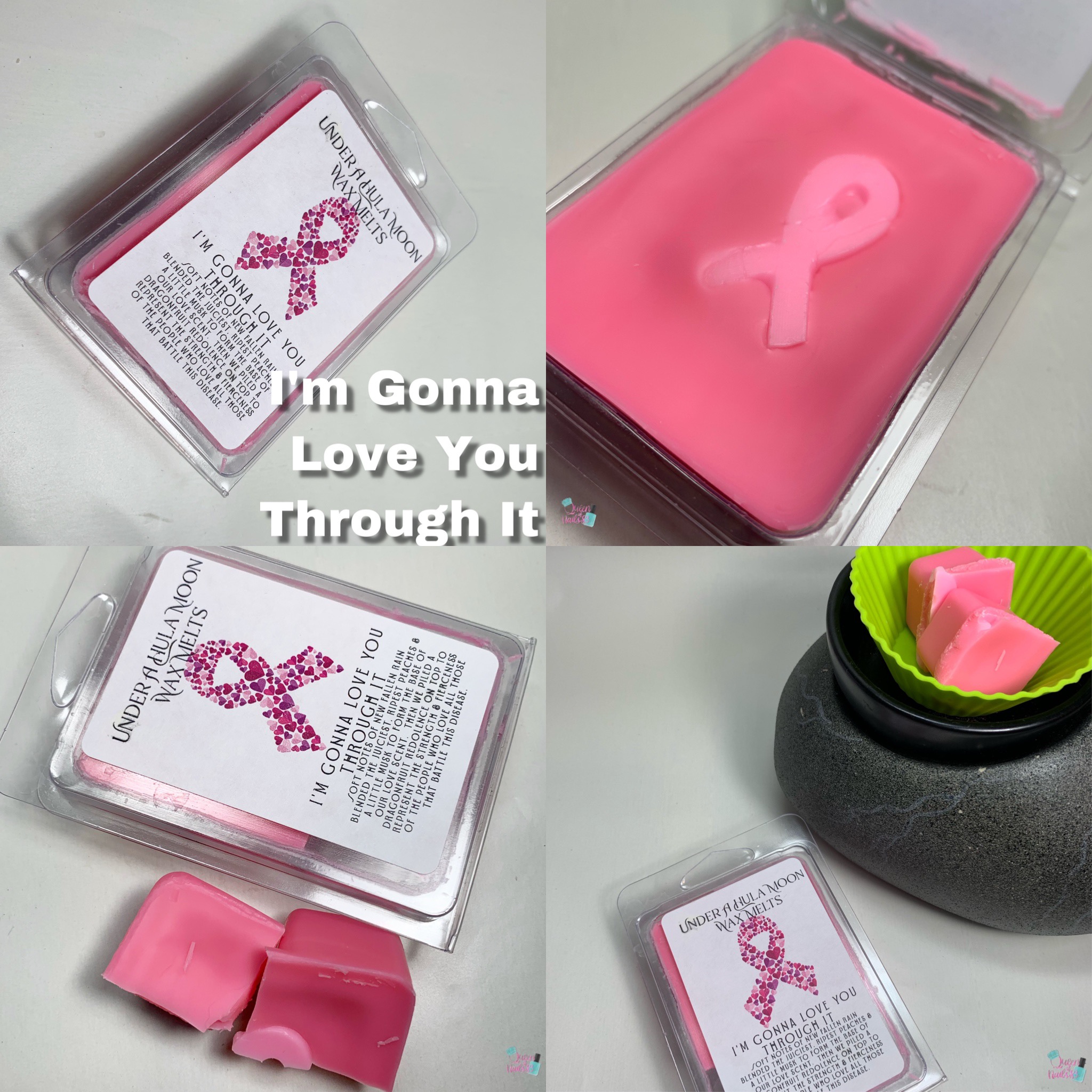 Braclets and Lanyards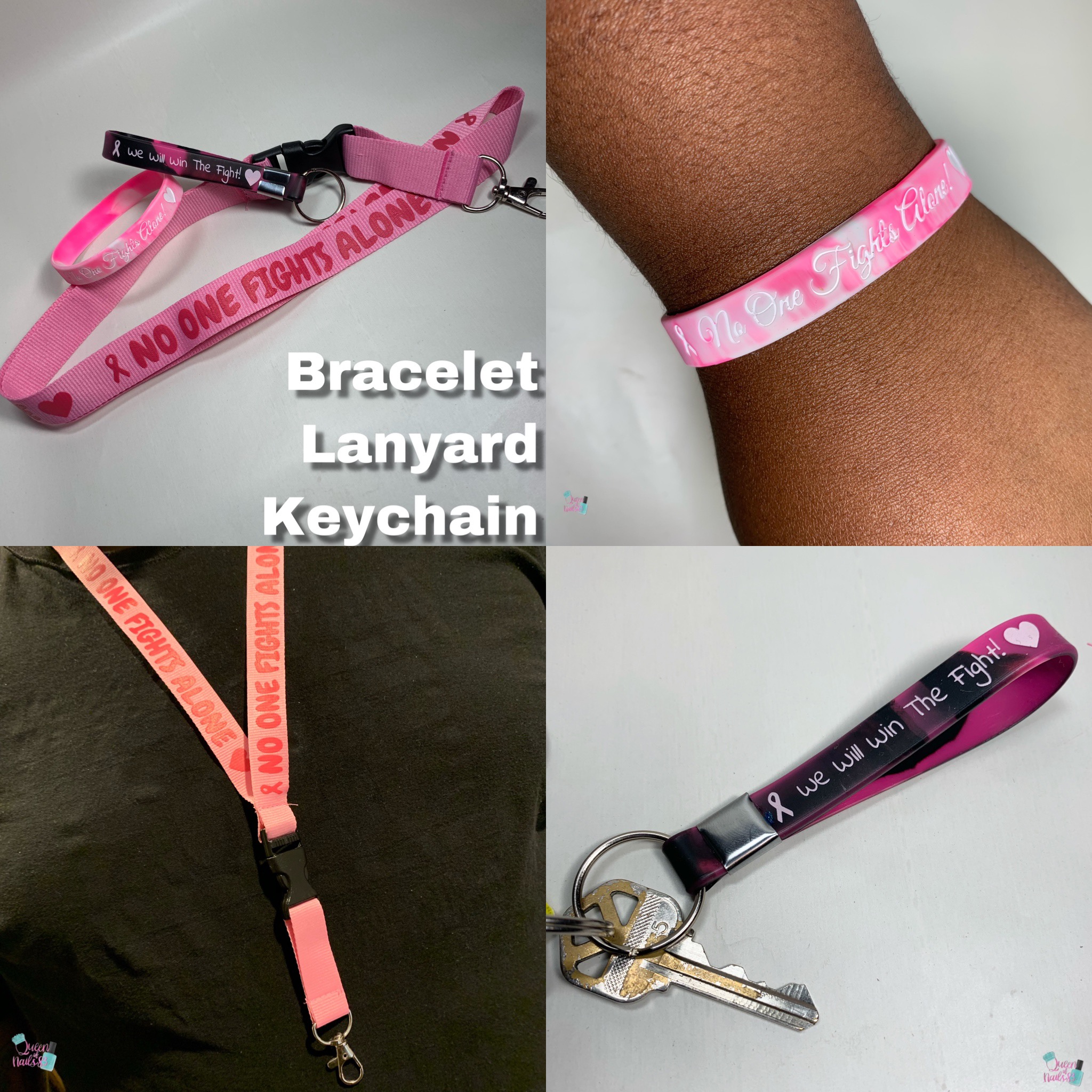 **2019 Breast Cancer Awareness Hope Box**
*Like, Comment and Subscribe*
Eat, Laugh, Polish, Repeat
Queen of Nails 83
💕