Hey Sugas!!! From the brand that brought you Oil Slick 360 and Oil Slick 360 Pastel, now brings you 2 new oil slick collection to join the family. 
Featuring…. the Hybrid Oil Slick and Pastel Oil Slick Collections!!!! Currently, the "oil slick" family has 20+ polishes and with the addition of these TWO, yes 2, 6 piece collections, that will skyrocket the current number to over 40 oil slicks. Watch out cause things are getting slickery. And fun fact… July is the birth month of Bianca, the fearless maker-extraordinaire of POP Polish!!! So all wish her a Happy birthday and go out and buy oil slicks!
The Hybrid Oil Slicks is the brainchild of the Original Oil Slick and the Pastel collection and just a heads up, these MAY BE limited edition, so don't delay! The Pastel Oil Slicks are DYNAMITE!!! They are super shifty and the pop of colors is unexpected.
Enjoy….
 **All swatches are done using liquid latex Peel-off Base Coat, Liquid Glass (glossy, QDTC) by POP Polish and Matte Topcoat. Swatch photos are taken using indirect artificial lights.**
Hybrid Oil Slick Collection
Slick on This
A pink to rose gold to green to gold multichome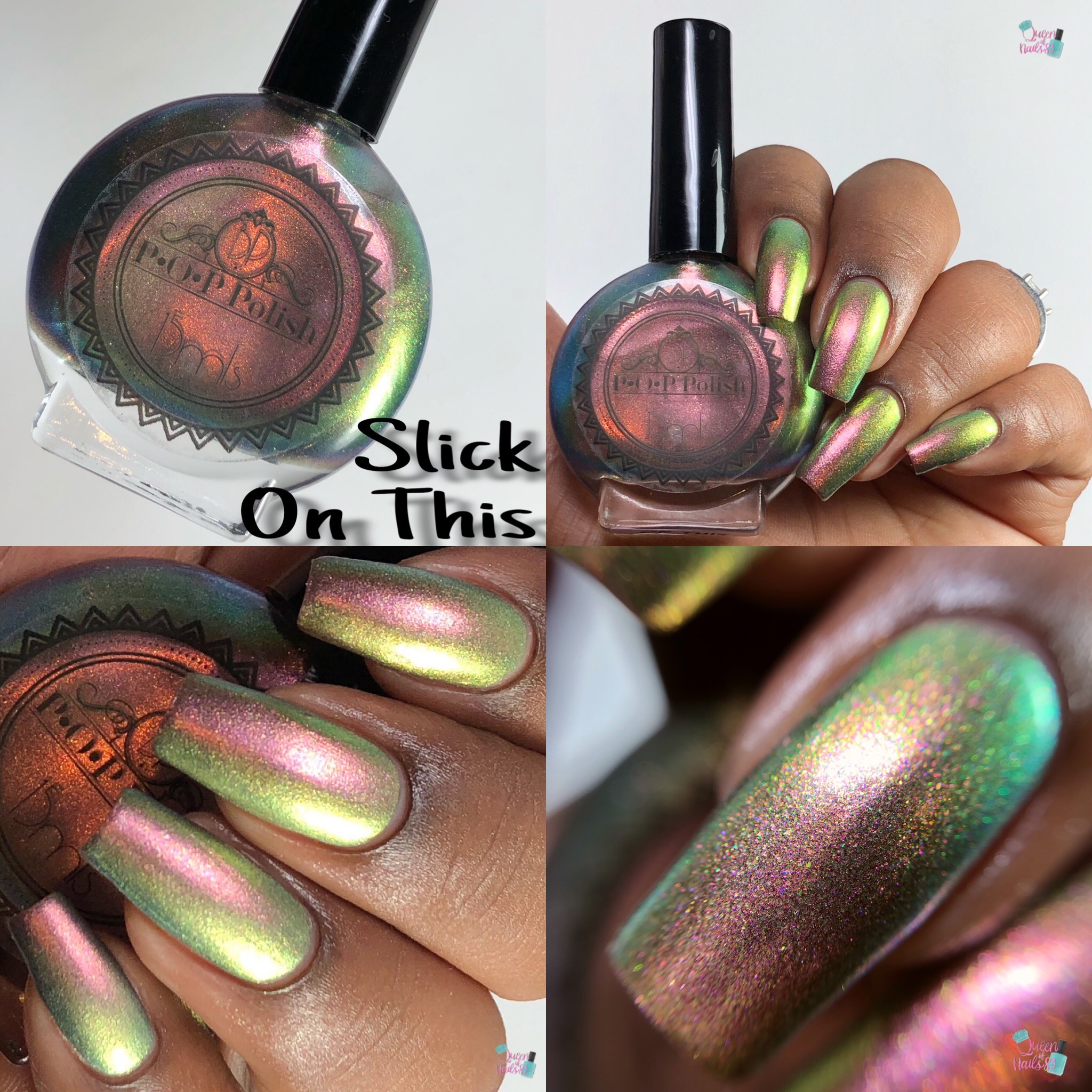 Walk on the Slick Side
A orange to bronze to gold to green multichome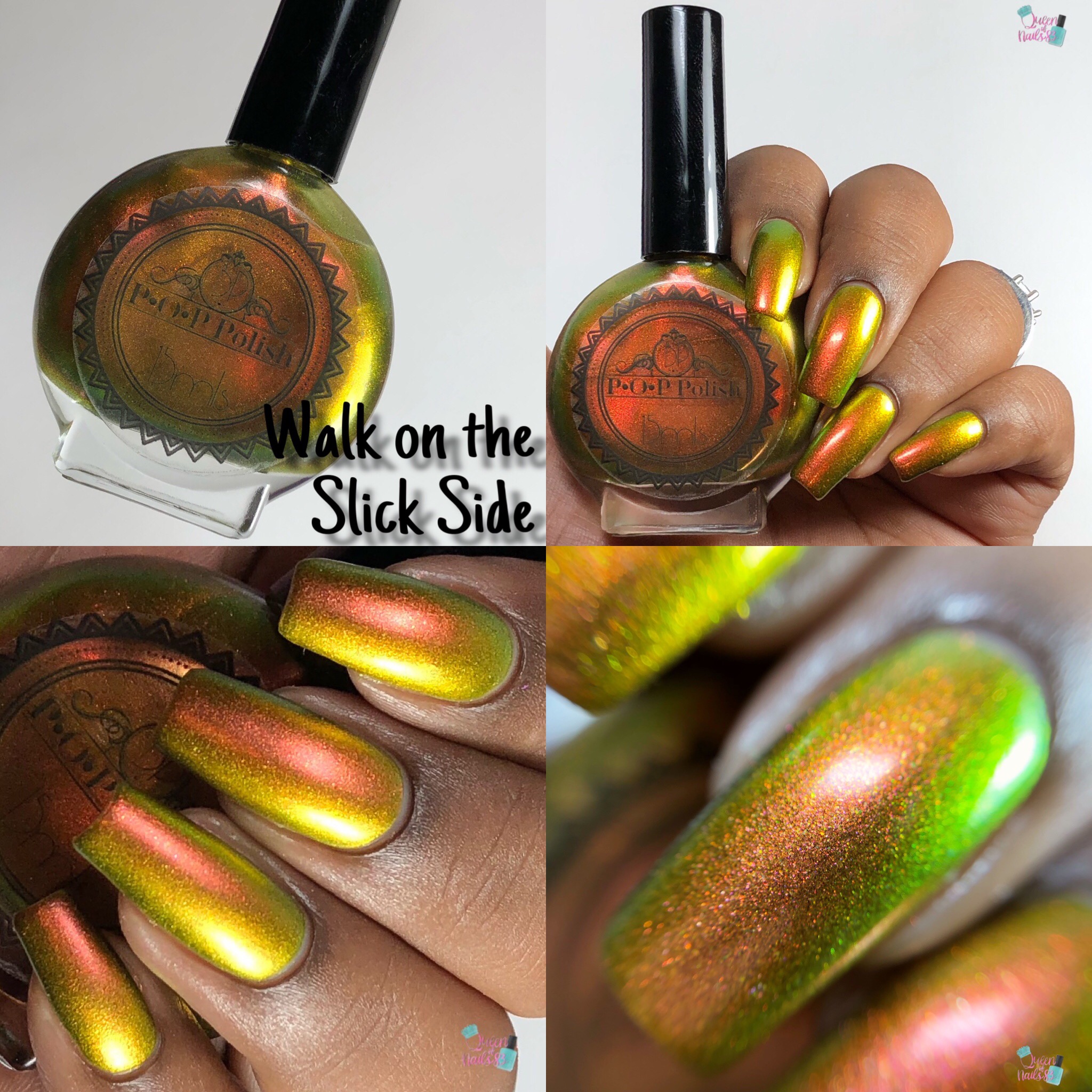 Slickening
A green to blue to purple multichome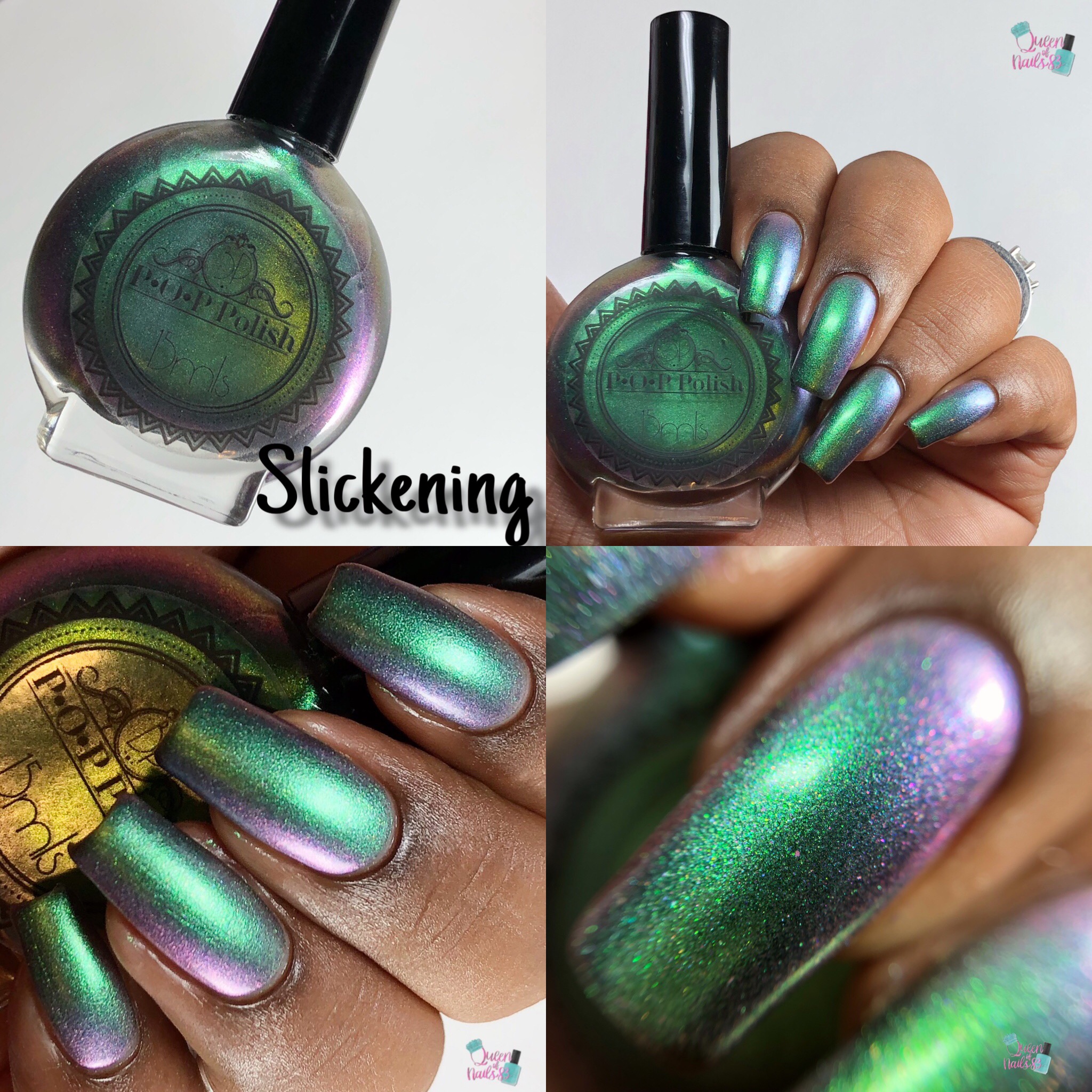 Drop Slick Gorgeous
A blue to turquoise to indigo to purple multichome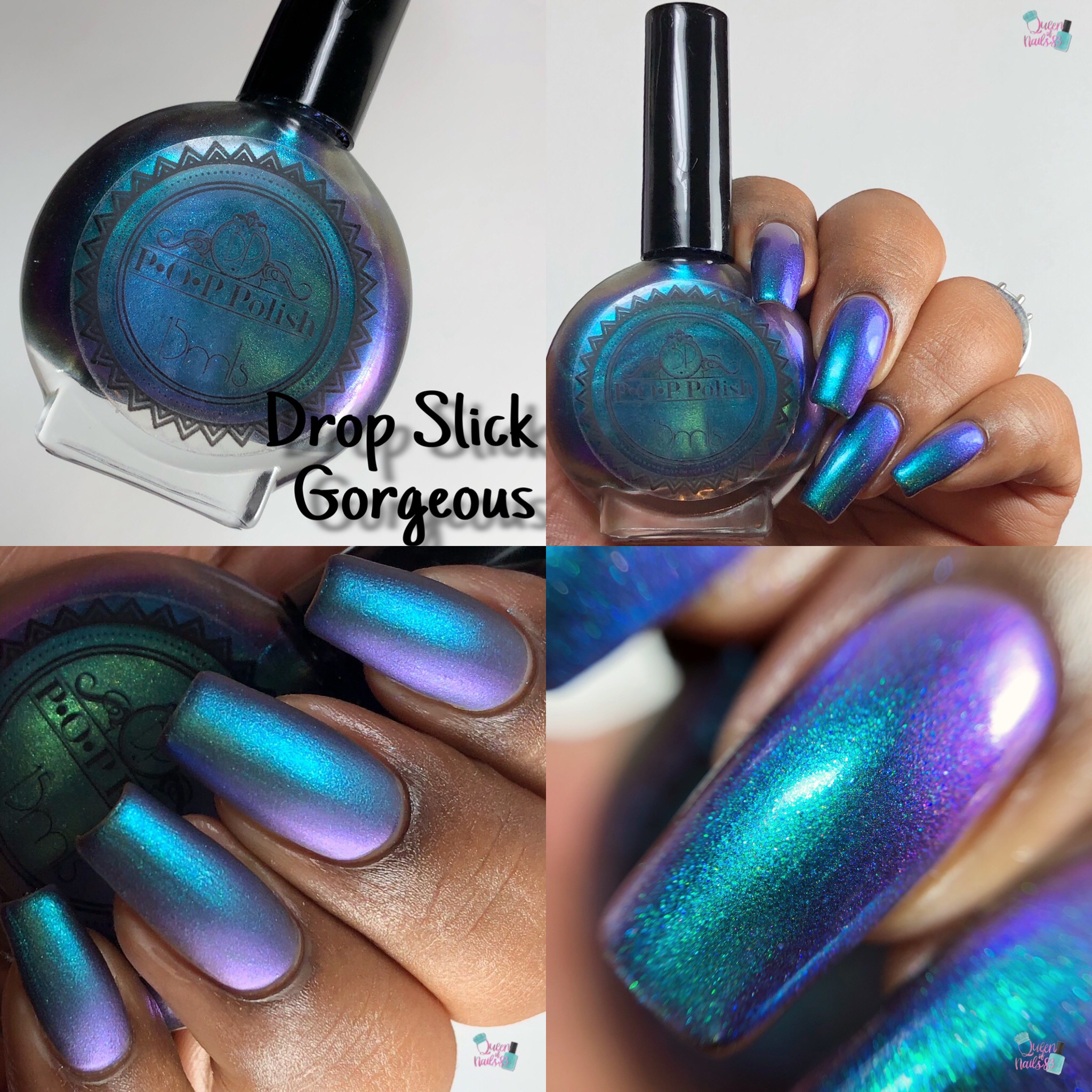 City Slicker
A navy to purple to fuchsia to gold multichome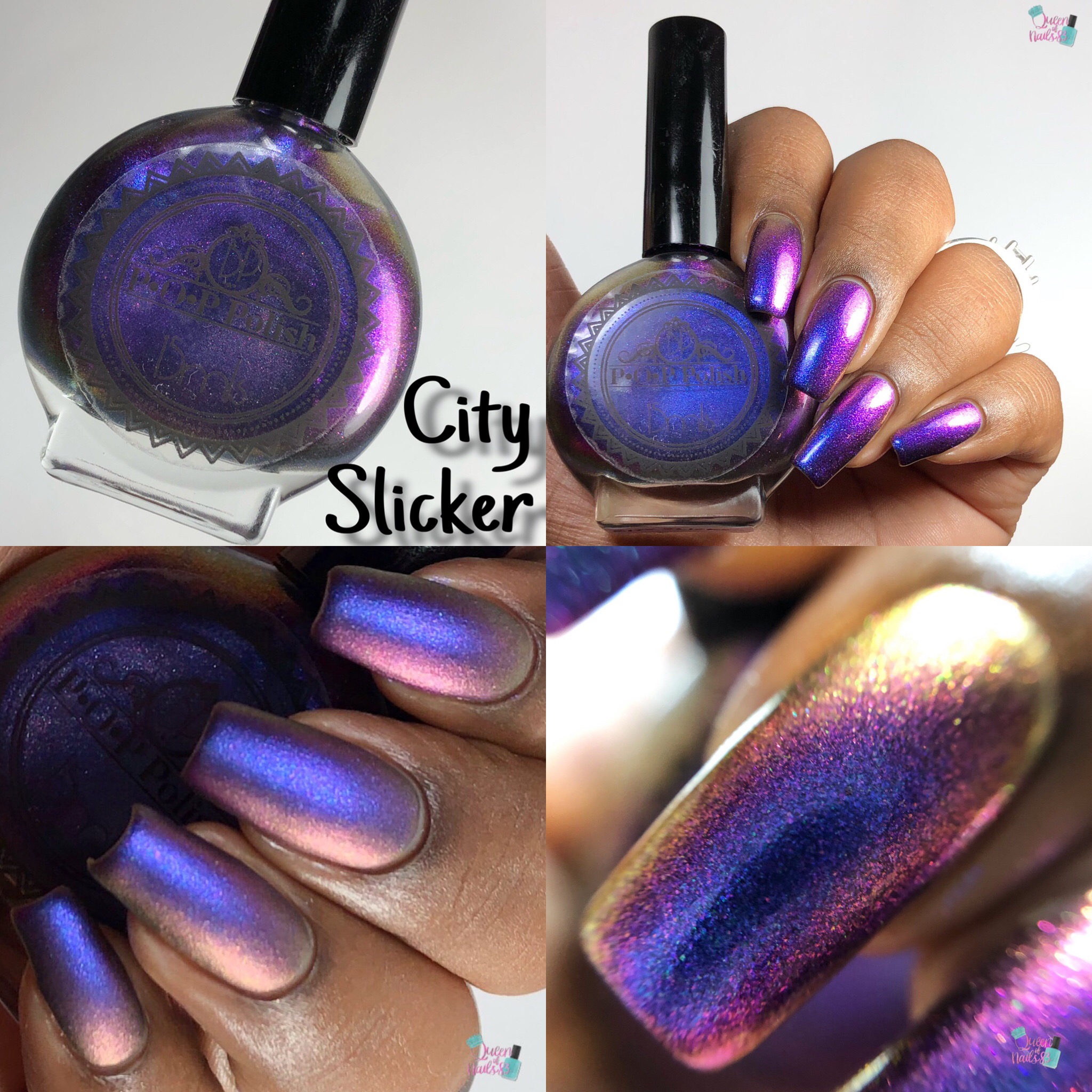 Same Slick, Different Day
A blue to purple to pink multichome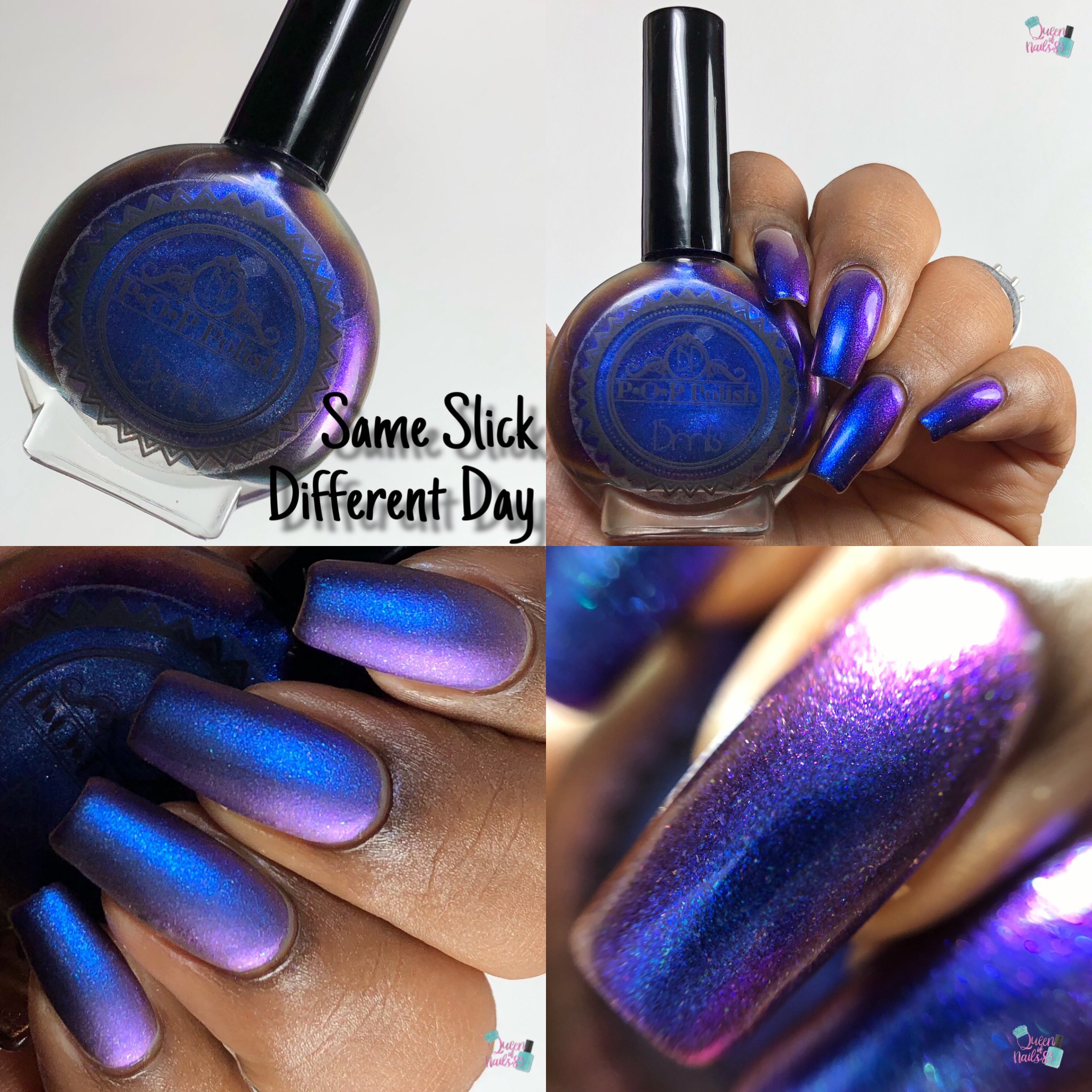 Pastel Oil Slick Collection
Tickle Me Slick
A pink to cantaloupe to gold multichome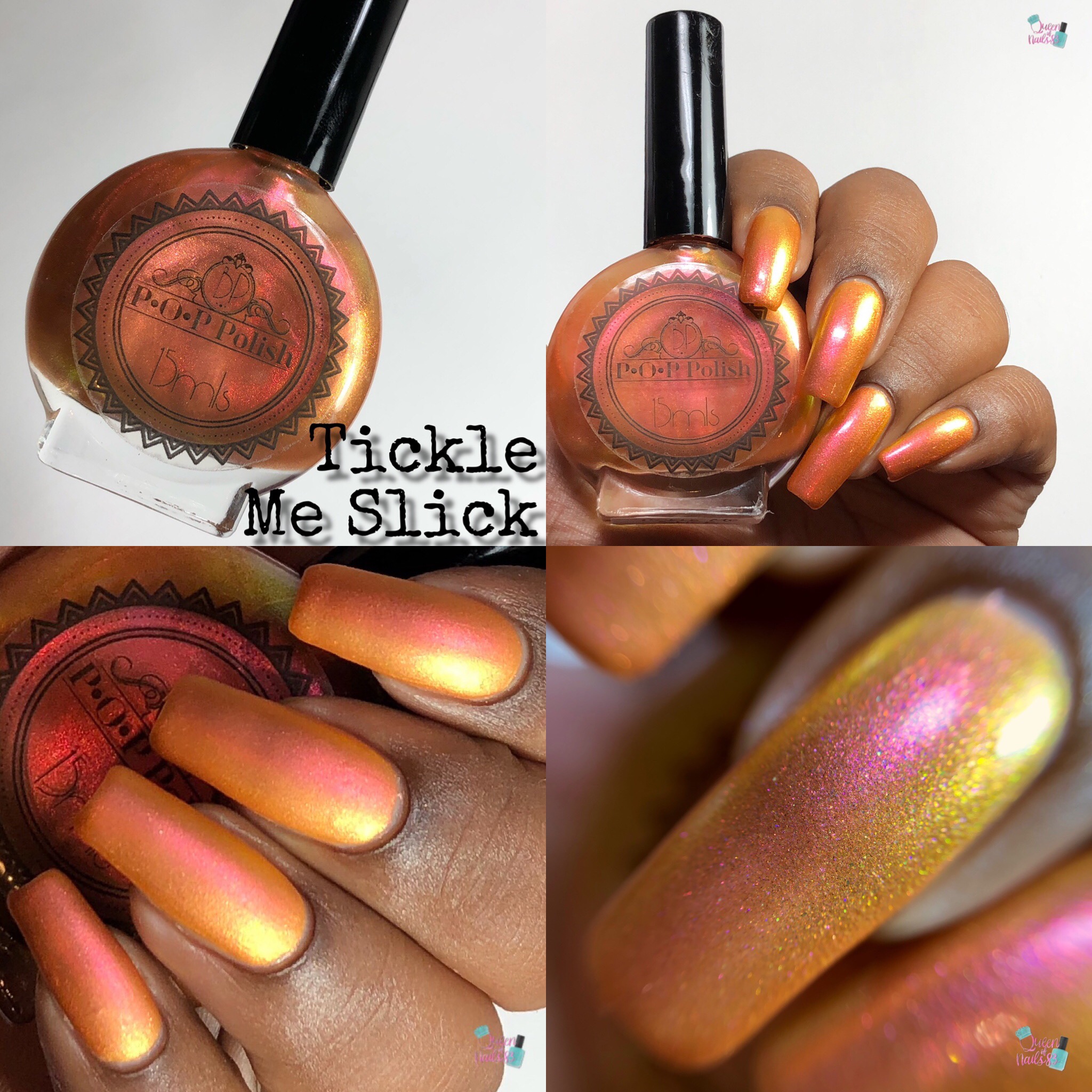 Slicksicle
A orange to gold to greenmultichome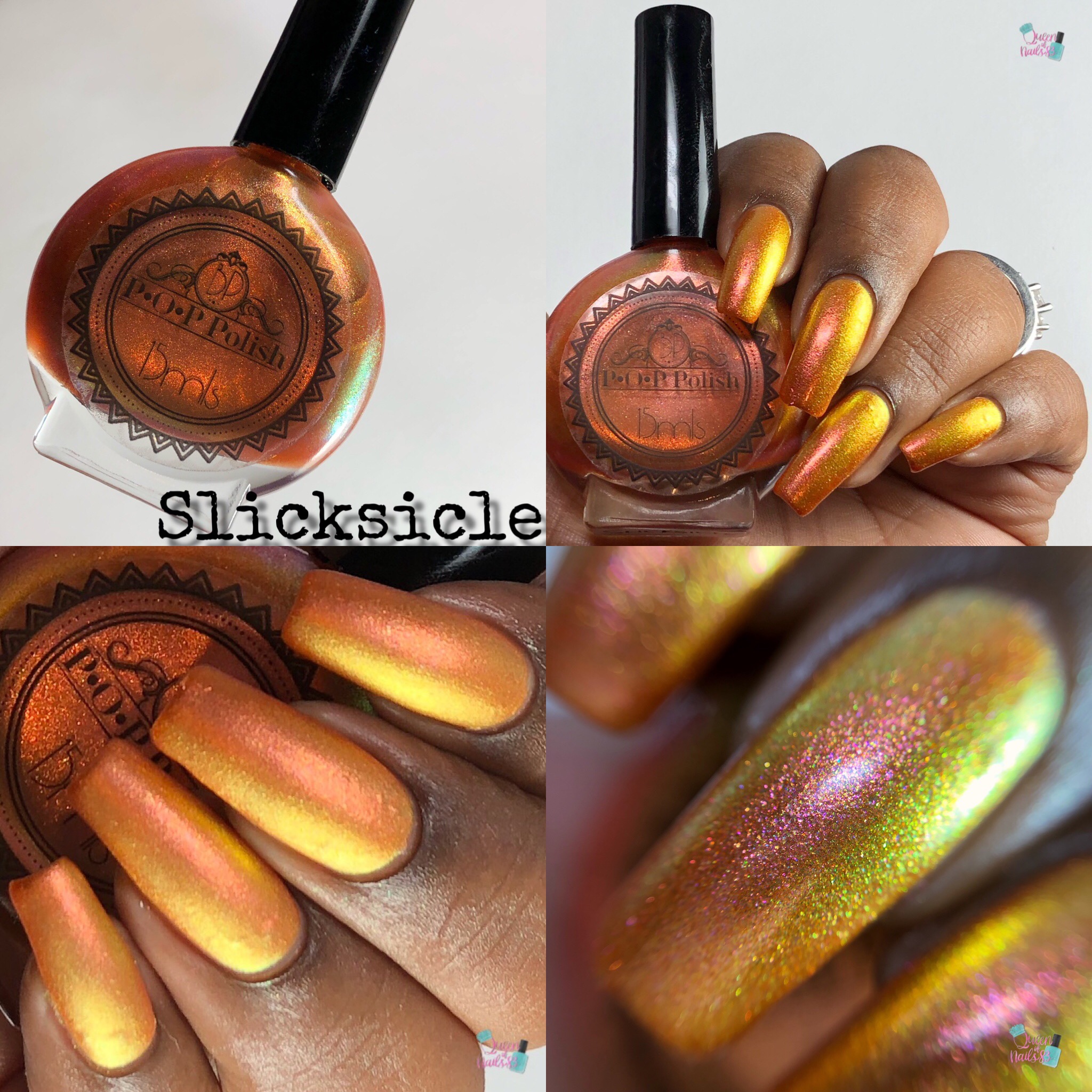 Yellow Brick Slick
A blush to yellow to gold multichome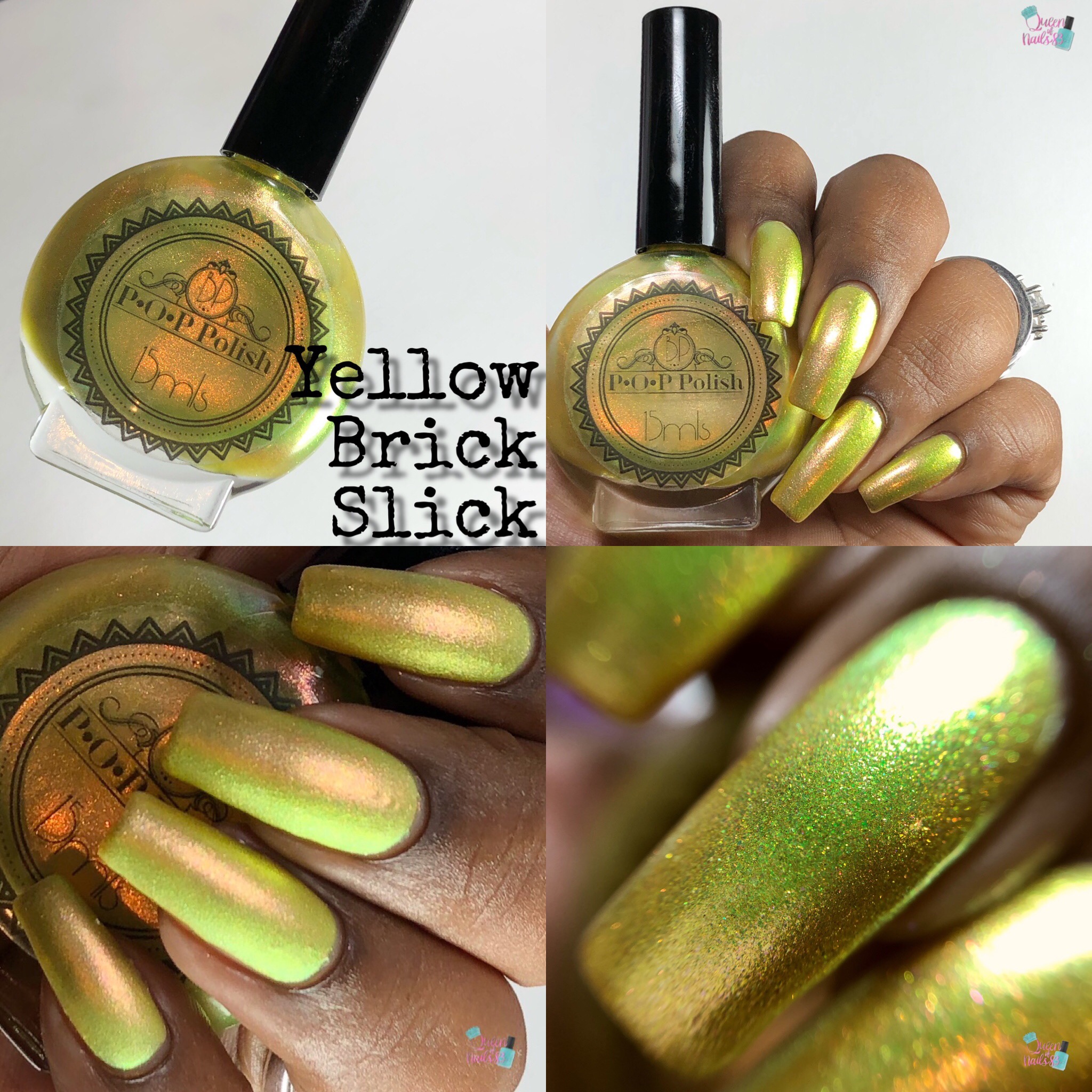 Lickity Slick
A peach to green to gold multichome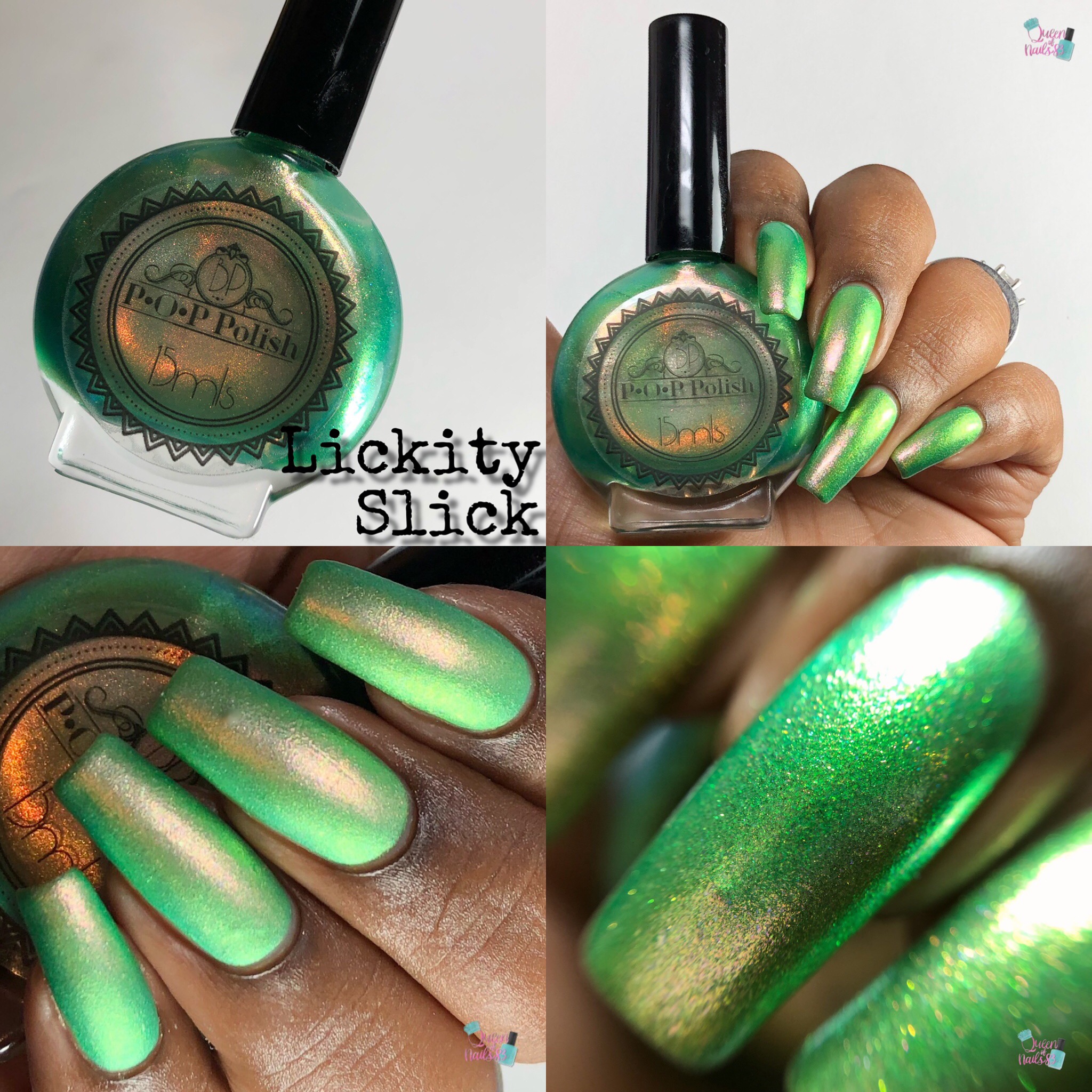 Slick & Juicy
A aqua to blue to green multichome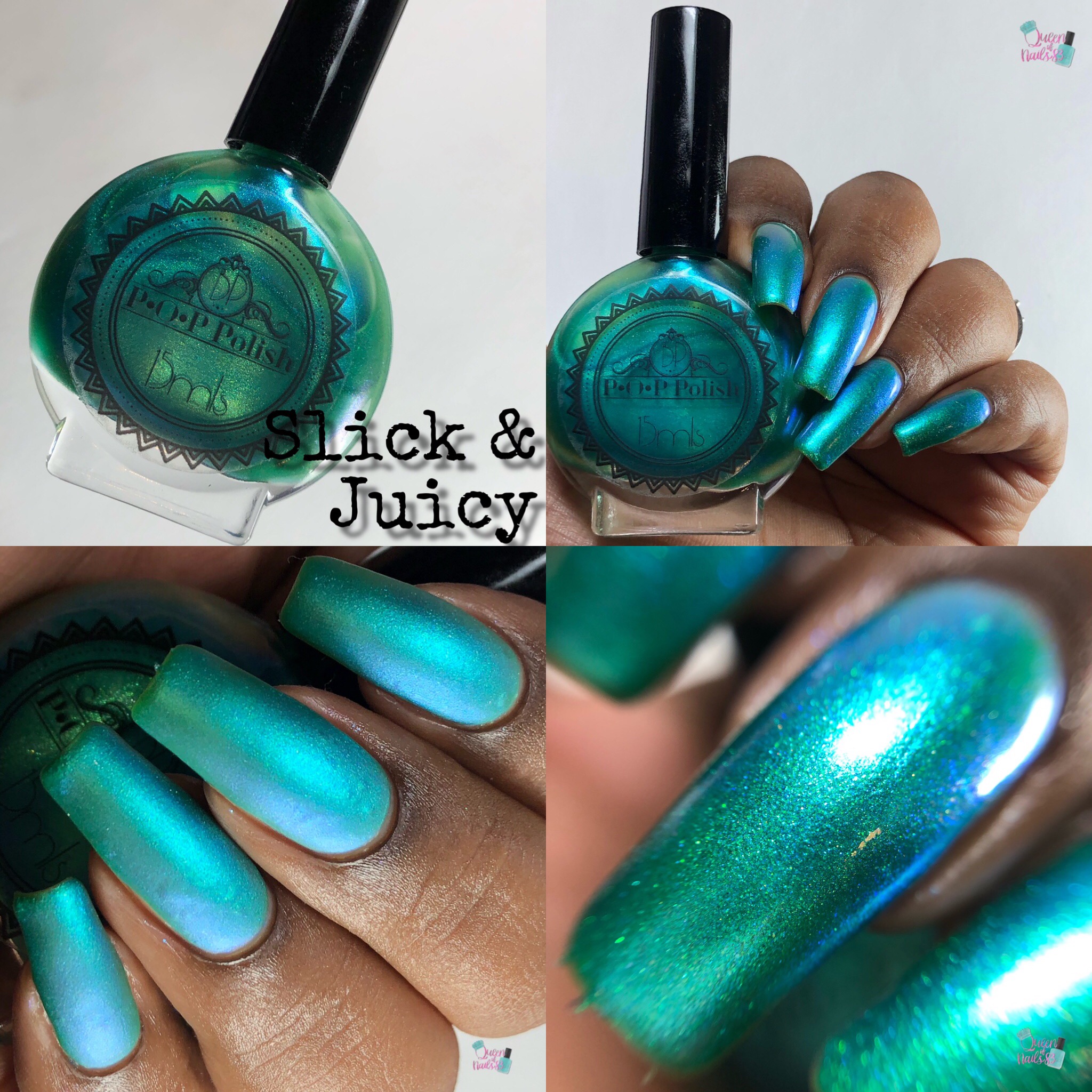 Truly Madly Slick
A lavender to purple/pink to gold multichome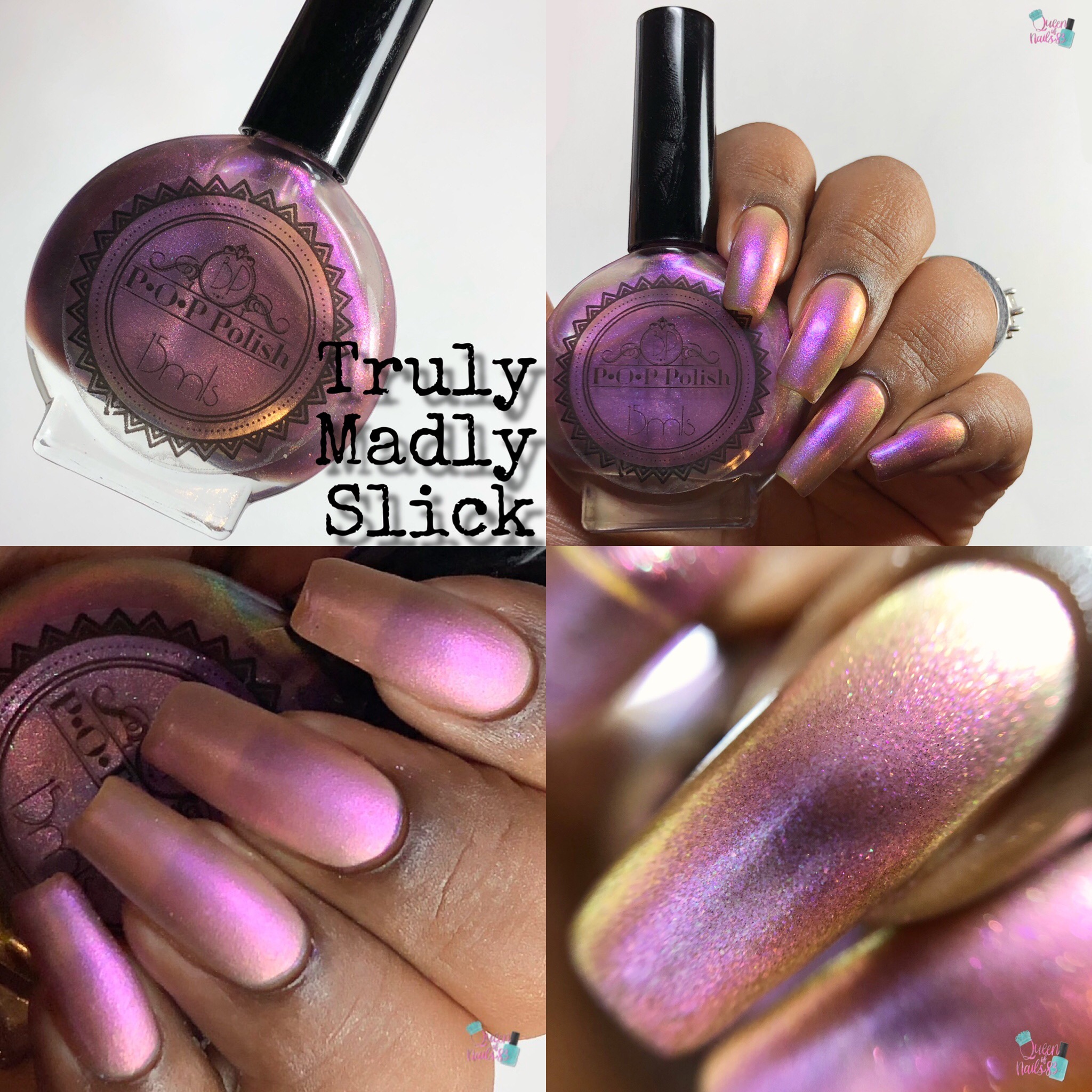 POP Polish – Hybrid Oil Slick Collection and Pastel Oil Slick Collection
Overall: Flawless!!!
The Queens Choice: Walk on the Slick Side and Tickle Me Slick
Opacity: swatches shown with 2-3 coats
Price: $16/ea or $86 per set
Availability: Friday, July 26th
POP Polish
*Like, Comment and Subscribe*
Eat, Laugh, Polish, Repeat
Queen of Nails 83
💕