Hey Sugas!! Today I have the Jumanji Collection, June COTM and June FOTM from Femme Fatale Cosmetics. 
The Jumanji Collection was inspired by the 1995 movie of the same name. While exploring an old mansion, youngsters find a curious, jungle-themed game called Jumanji in the attic. When they start playing, they free Alan Parrish, who's been stuck in the game's inner world for decades. If they win Jumanji, the kids can free Alan for good — but that means braving giant bugs, ill-mannered monkeys and even stampeding rhinos! This was another childhood favorite for Sophie, brand owner and creator, and she  really enjoyed creating this collection to mirror the palette from this movie. The shades envoke dry desert plains, tumbleweeds, creeping vines; the dense, wet jungle and a dusty attic.
The COTM was inspired by the winter feastival, Dark Mofo, an awesome dark arts festival in Tasmania each year!
And finally, the FOTM was inspired by a dark opal image. 
Enjoy!
**All swatches are done using liquid latex base coat, glossy, QDTC and matte topcoat. Swatch photos are taken using artificial lights.**
Jumanji Collection
Adventurer's Beware (T) 
A charming woodland brown thermal. Clear when warm, brown when cold. Filled within is a ruddy red-gold glow, red-shifting-green iridescent flakes, and brown hex glitters in assorted sizes. $15.50 AUD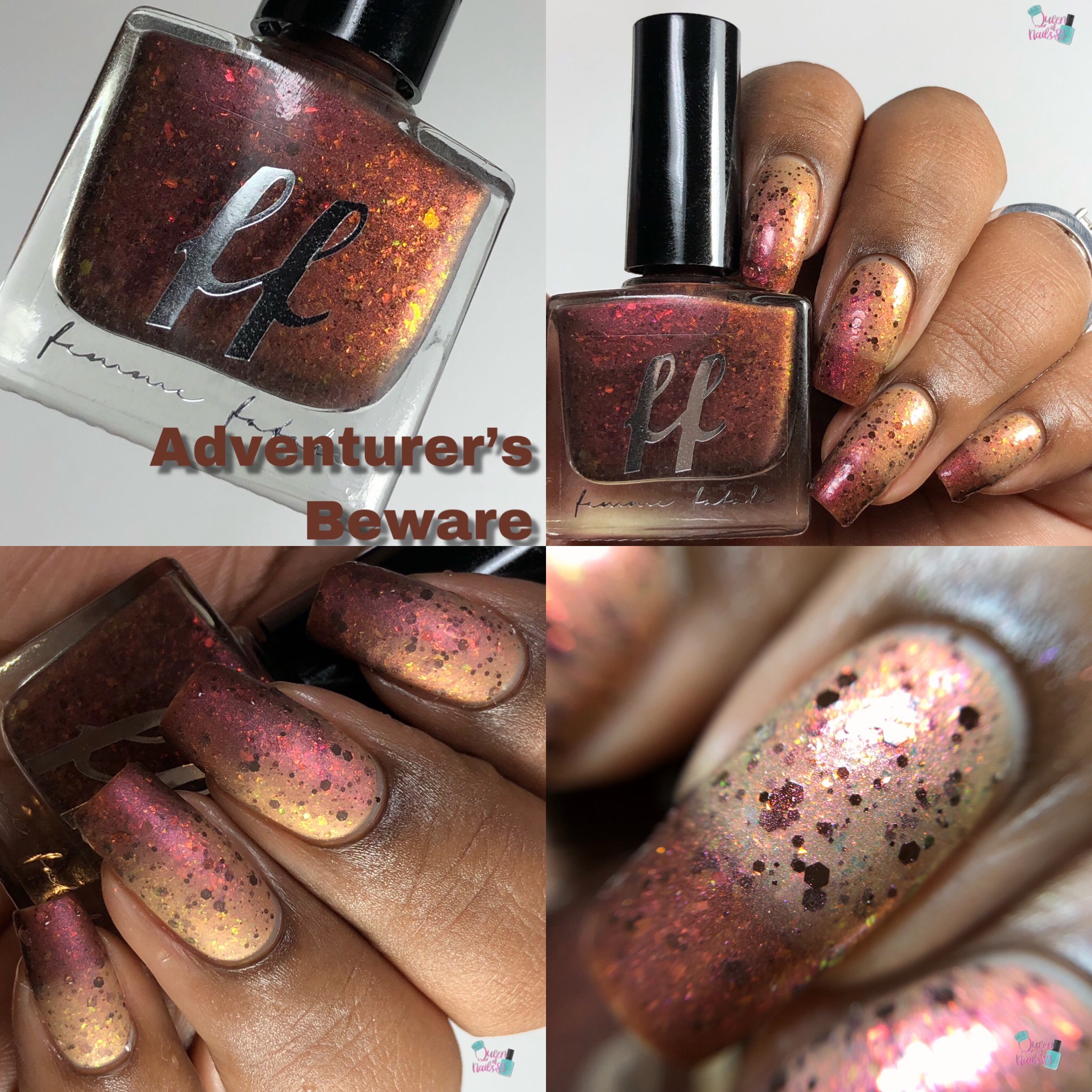 Five or Eight 
A warm, sun-touched terracotta orange crelly with holographic accents, and golden shimmers and micro-flakes. $12.50 AUD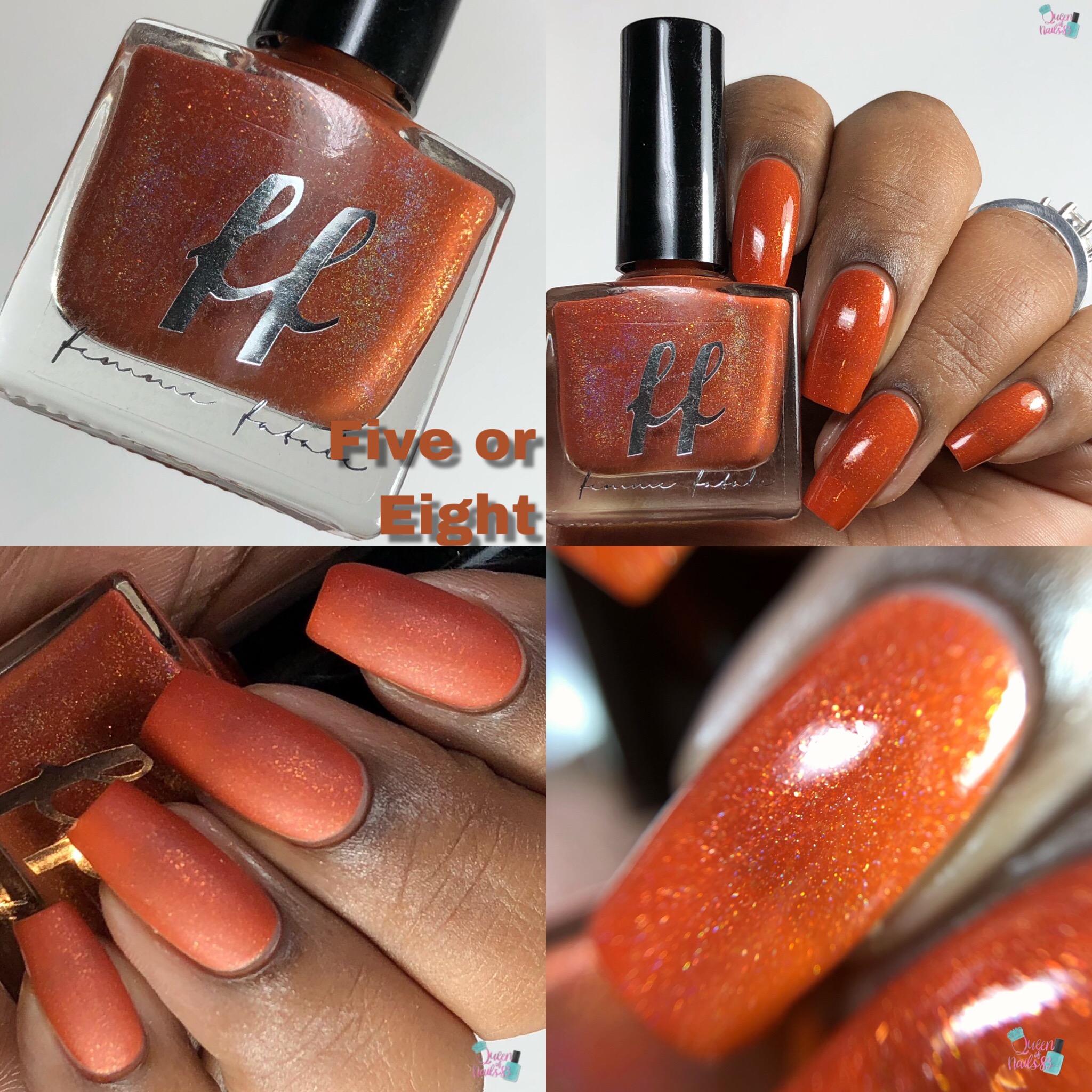 His Fangs Are Sharp 
A noxious jelly olive with yellow undertones. Packed with red-gold-green aurora pigment. $14.50 AUD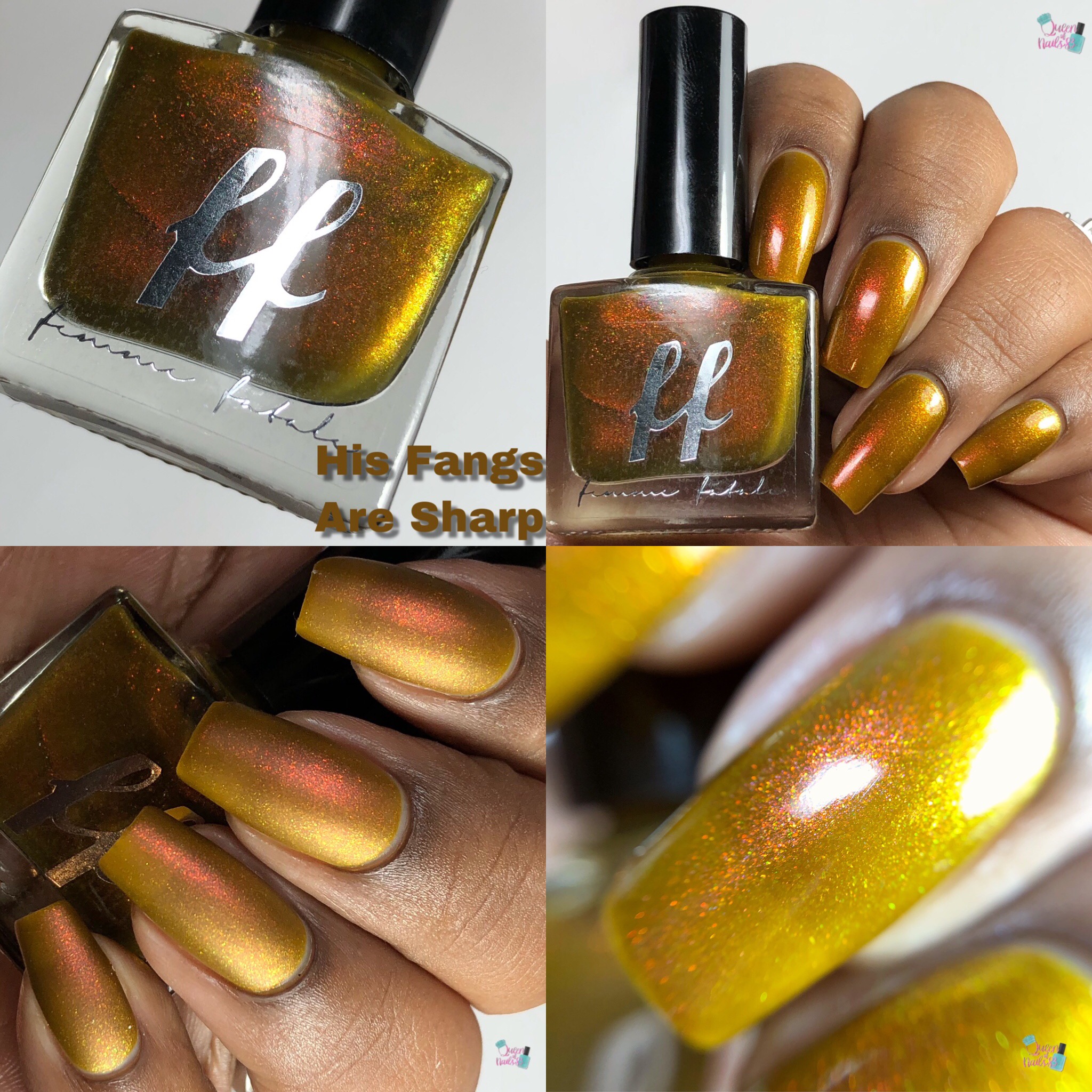 In the Jungle You Must Wait 
A mysterious cool toned mauve base with a green-red shifting duochrome. $12.00 AUD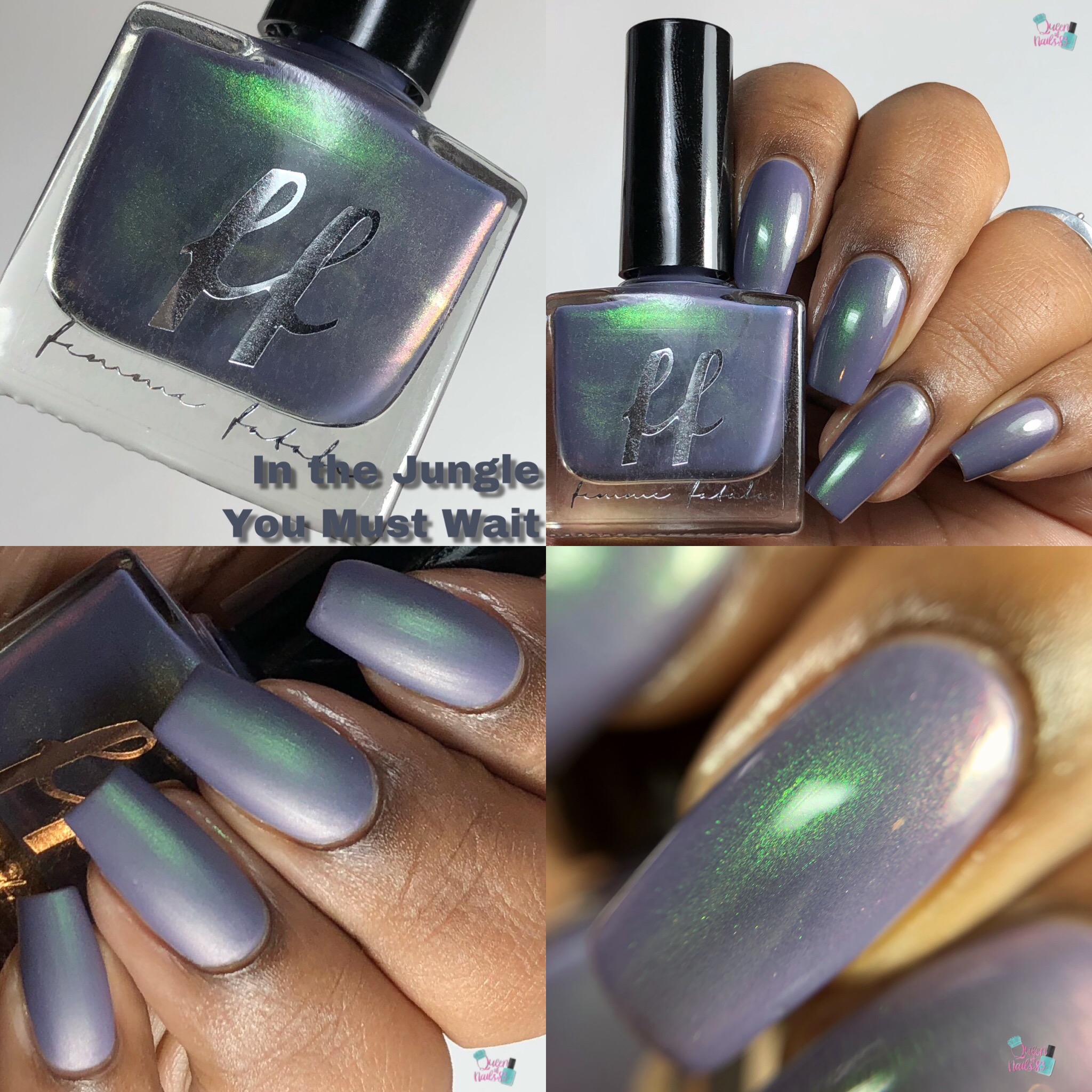 It Isn't Thunder
A poisonous chartreuse green crelly with assorted glitters in white, silver holographic and black, with holographic accent. $12.00 AUD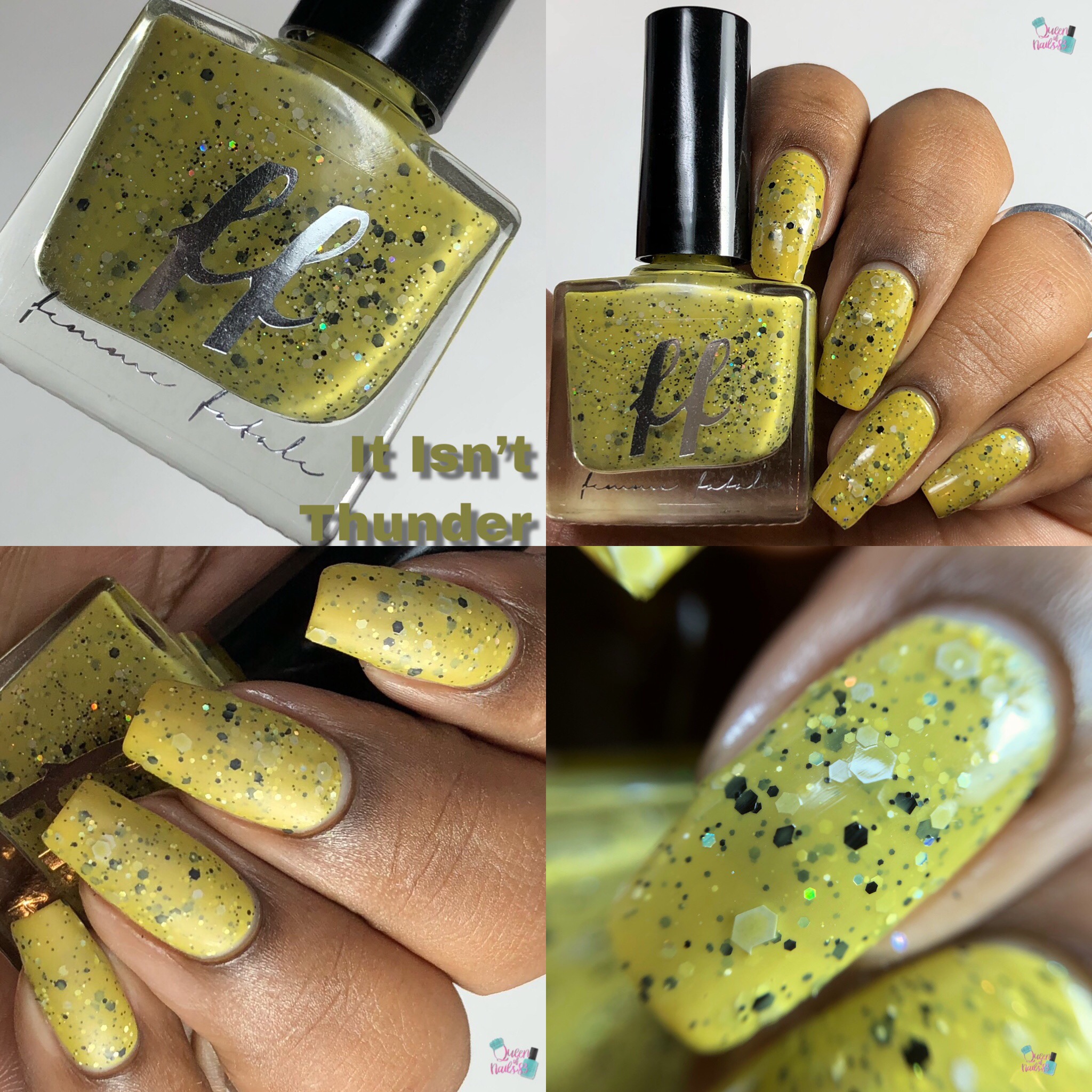 The Darkest Wild
A midnight blue base gives way to a very bold satin green glow, accented with holographic flakes and reflects. $14.00 AUD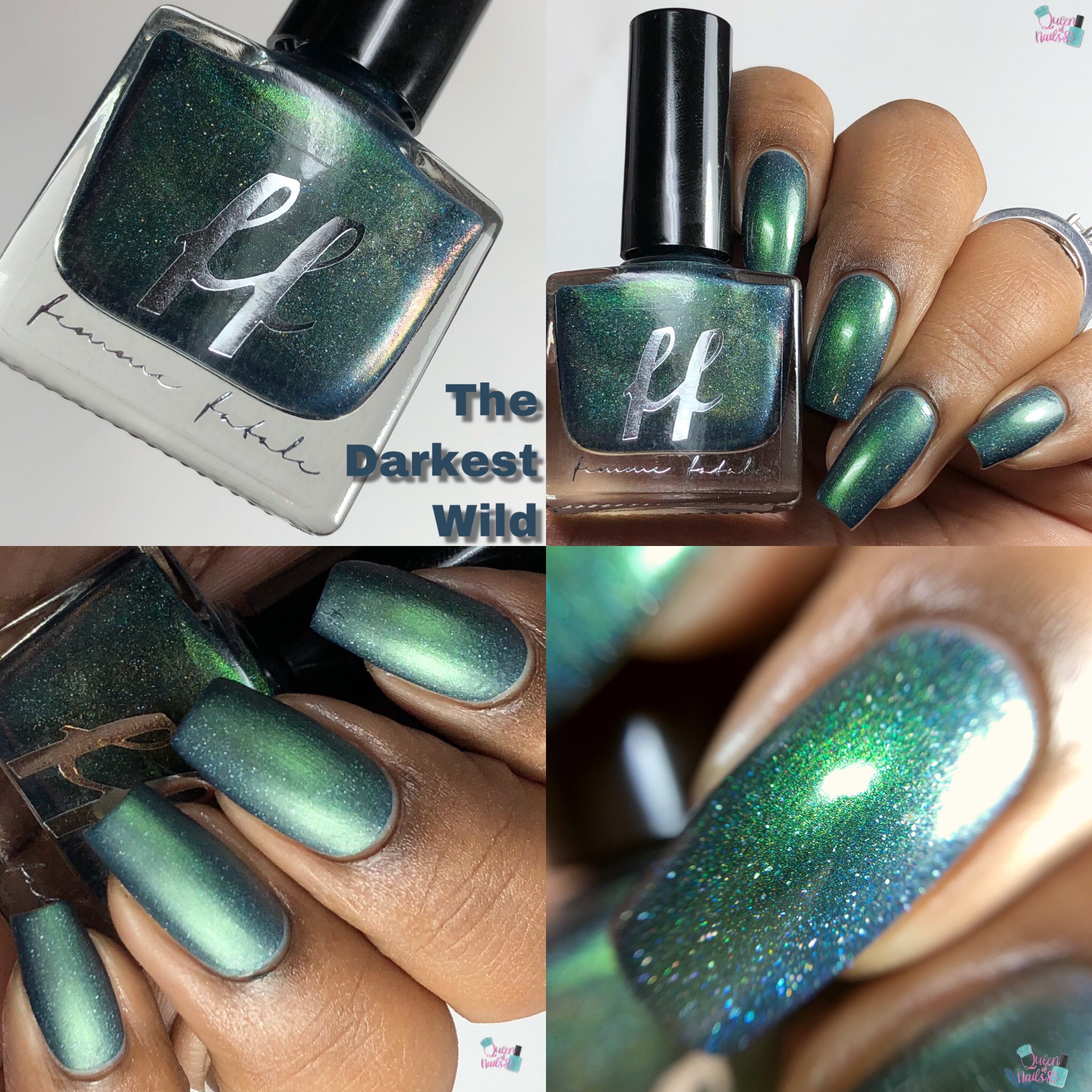 June 

COTM
Dark Mass (T)
A rich pink (cold) to clear (warm) thermal with assorted glitter hexes in pink, purple, neon pink, and iridescent red. 
$13.50 AUD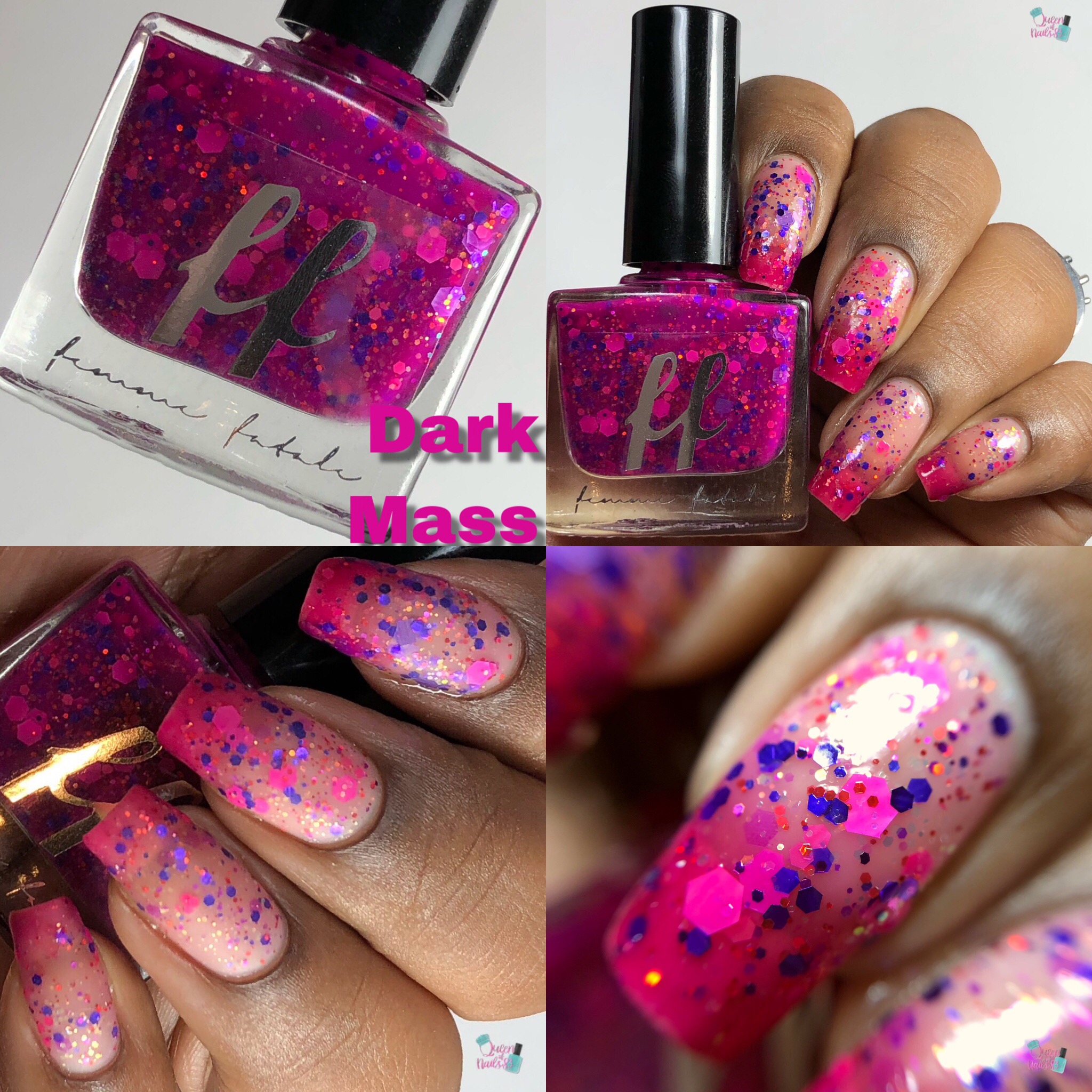 June 

FOTM (FB Fan Group Exclusive)
Stone of Flame
A smoky purple jelly with fiery iridescent flakes and iridescent glitters, purple and pink glitters. Opaque in 3 coats, just be cautious because it can get thick very fast due to the flakes.
 $14 AUD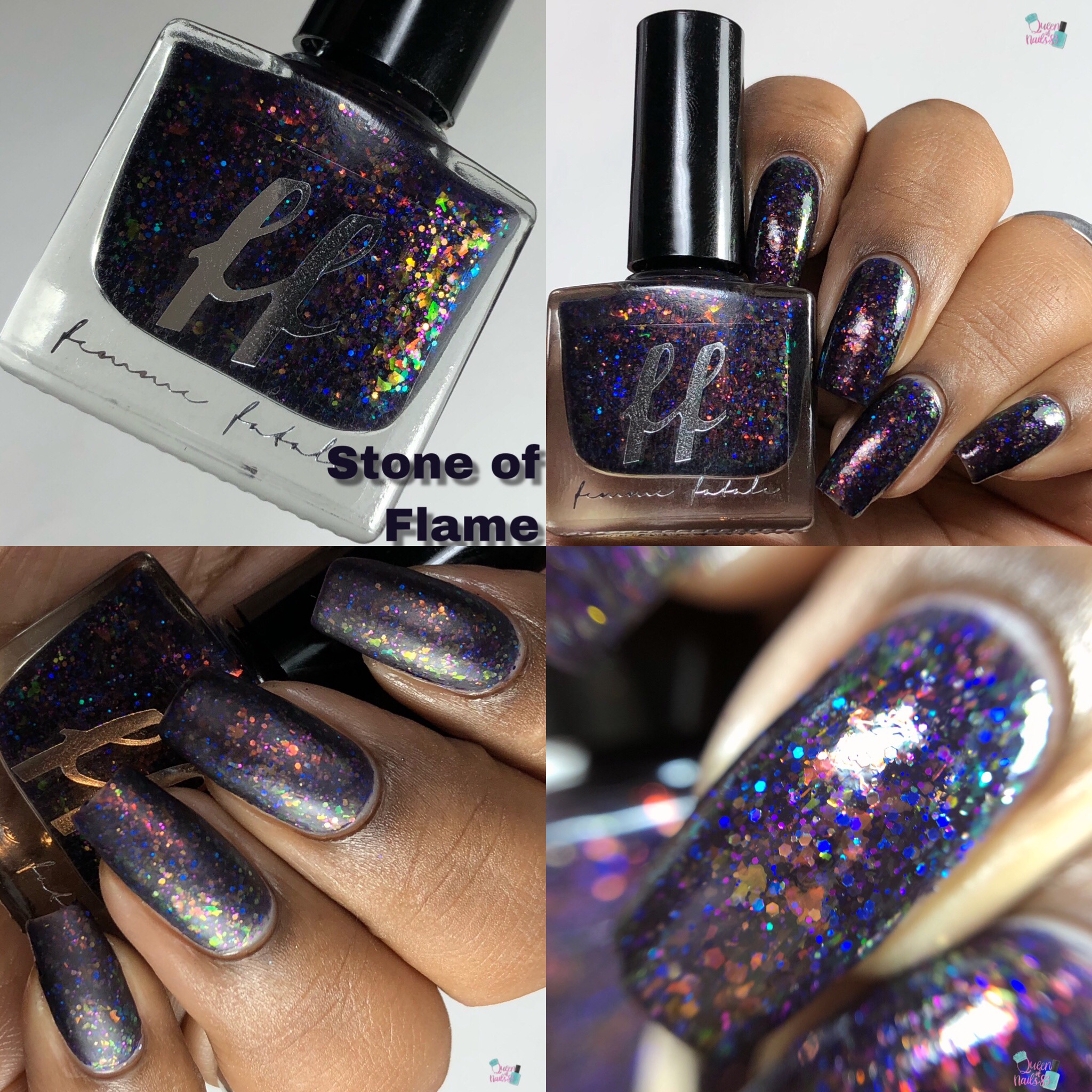 Femme Fatale Cosmetics – Jumanji Collection, June COTM and June FOTM
Overall: Opaque in 3 coats but VNL may be apparent in a few shades due to it a) being clear when warm or b) the desire for the aurora pigment to be strong and not overwhelmed by the base. Also, polishes will dry textured or matte, so top coat is a must. 
Opacity: swatch shown in 3 coats.
Price: As stated above or Jumanji Collection full set $75.50 AUD
Availability: June 1st – 5th 2019
Femme Fatale Cosmetics
*Like, Comment and Subscribe*
Eat, Laugh, Polish, Repeat
Queen of Nails 83
💕