Hey Sugas!!! Anyone who knows me, knows that I have a passion for candles and wax melts. I believe this is because I have a strong sense of smell. Jason and the kids tease me about being able to smell things that are miles away…lol! I can't help it, I was born this way.
Nevertheless, candles and wax melts are my thing. I use to spend hours in the candle/wax isle smelling all the candles and those high-end shops…. forget about it. Jason and the kids would just leave me in the mall, run their errands and come back for me. To me smell invokes memories and memories, good or bad, are life lessons. For instance, the scent of warm apple pie reminds of me being in my grandfather's late wife's diner. She made the best homemade pies. Vanilla will always be a classic and reminds me of the warm vanilla sugar scent I used to wear all throughout high school.
I love that I can support indie brands and purchase wax melts, a cleaner and safer alternative to the traditional candle. Wax melts are totally on trend right now and are budget-friendly. Today I have 3 scents from Wildflower Lacquer, Celebrate Good Times, Creaming For You and Spa Day, all of which are currently available online.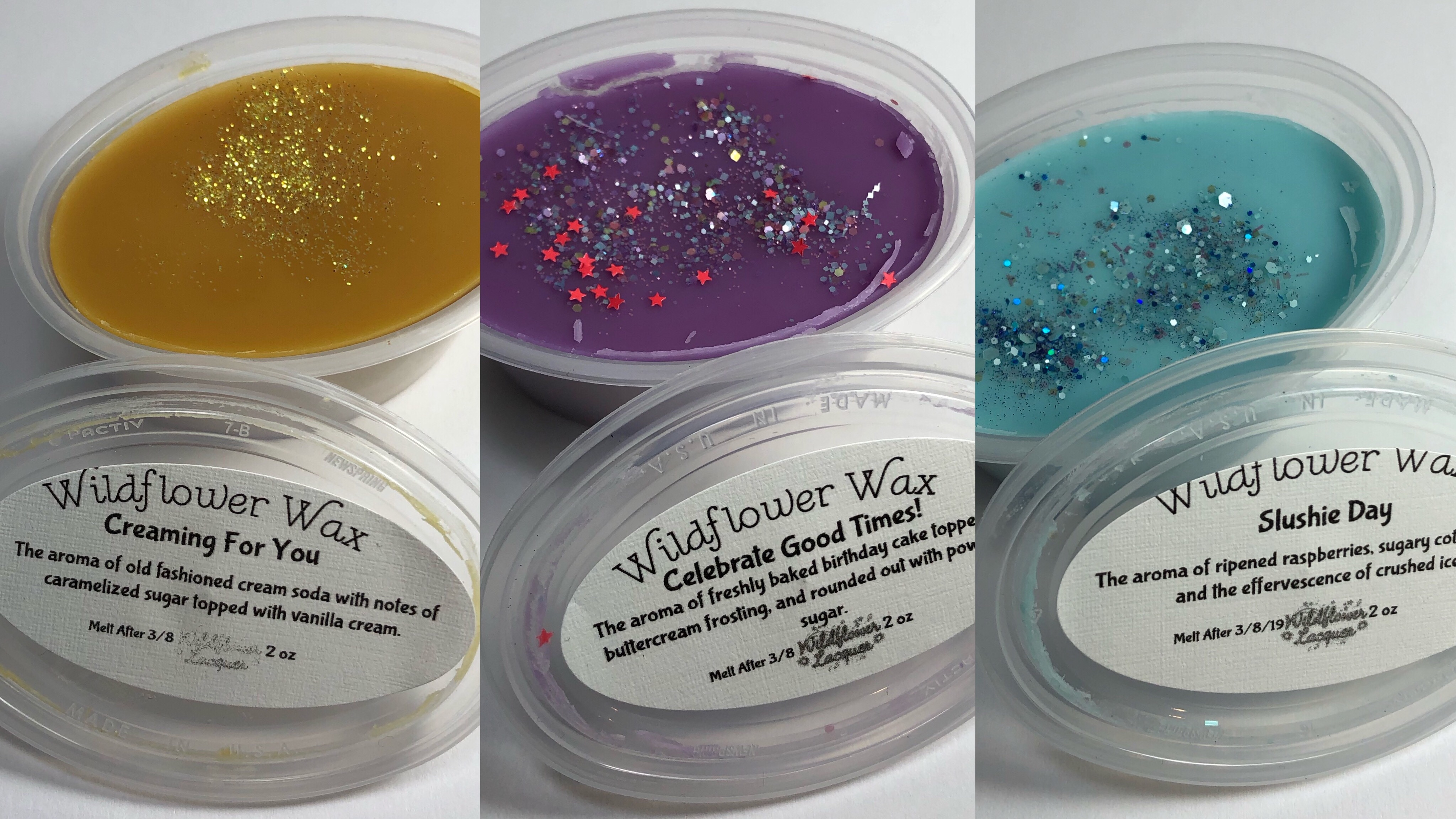 Enjoy…
**All swatches are done using Commitment Issue Peel-off Base Coat by Vapid and Top Coat by Glisten & Glow (shiny). Swatch photos are taken using artificial lights.**
Celebrate Good Times!
The aroma of freshly baked birthday cake topped with buttercream frosting, and rounded out with powdered sugar.
https://www.dropbox.com/s/uzhbk9u1wpuf4mf/Photo%20May%2015%2C%206%2029%2046%20PM.jpg?dl=0
Creaming For You
The aroma of old fashioned cream soda with notes of caramelized sugar topped with vanilla cream
https://www.dropbox.com/s/0jqonxkdz1k3ro2/Photo%20May%2014%2C%2012%2038%2053%20PM.jpg?dl=0
Spa Day
The aroma of fresh cucumbers, guava, and passionfruit, blended with fresh grapefruit, and cilantro
https://www.dropbox.com/s/33gm3h8vteq3v46/Photo%20May%2017%2C%208%2015%2008%20AM.jpg?dl=0
Other Scents include:
Slushie Day – ripened raspberries, sugary cotton candy, and the effervescence of crushed ice
Carnival Candy – freshly spun cotton candy with notes of strawberry, and vanilla.
Cherry Lickin' Good – ripened sweet black cherries
Strawberry Shake Shack – vine ripened strawberries combined with juicy orange and peach nectar, and topped off with vanilla ice cream
Caramel-by-the-Sea – sweetened creamed butter and sea salt with middle notes of caramel topped with vanilla, maple, and sweetened condensed milk.
Wildflower Lacquer – Wax Melts
Overall: I really enjoyed these scents and was able to get a weeks worth of fragrance out of them. I have warmer positioned all throughout my home including bathroom, basement, living room, office, bedroom and kitchen. I used 1/2 of each scent in each warmer and while you may think it was overwhelming…. it wasn't! The scent is noticeable without being overpowering. It was nice to enjoy the scent from a few feet away and not having to be right up on the warmer.
Wax melts come in a cup with a lid which is great for storing and preserving the scent.
All waxes are hand mixed and poured which may cause slight imperfections. This does not change that quality of the wax. The wax melts are made of a paraffin and soy blend, and contain mica colorant, glitter, and fragrance oil.
Warning: Wax is not edible! Please do not eat! Only melt wax in warmer specifically for wax tarts.
Prices: $3 (2 oz of wax)
Availability: Current
Wildflower Lacquer
*Like, Comment and Subscribe*
Eat, Laugh, Polish, Repeat
Queen of Nails 83

💕