Hey Sugas!!! We all know that every great outfits starts with the essentials, right? You remember mom saying "make sure you have one clean underwear when you go out!", it's because it's important. When you hop out of the shower and get dressed, what's the first piece of clothing you put on? I'm 99% sure its some sort of under garment. Now…. if you don't put anything on, that's a conversation for another day, so let's assume you do. Underclothing is the base.
Your manicure should be no different. The essentials are extremely important. #basecoatsmatter!!! To me, the base is just as, if not more important than the top coat. The base gives the polish an anchor, something to hold on to. It will help reduce chipping and wear AND if you apply one that has nourishing ingredients, you can even start to see an improvement in growth and overall appearance. For me, I NEED a fast drying top coat because as a busy woman, I'm always on the go and don't have time to sit for 30 mins while my polish dries. Who does???
Introducing the complete, new Nail Care Essentials line from Anchor & Heart Lacquer. Now while you're shopping for great polish, you can purchase everything you need in one order to take your mani over the top. The Nail Care Essential line includes, a matte topcoat, strengthening base coat, cuticle oil, fast drying top coat and a conditioning base coat. 
Enjoy…
**All swatches are done using Commitment Issue Peel-off Base Coat by Vapid and Top Coat by Glisten & Glow (shiny). Swatch photos are taken using artificial lights.**
Ferry Fast Top Coat
A fast dry top coat that is free of toluene and camphor – yet is dry to the touch in less than 3 minutes, and fully cured within 30 minutes.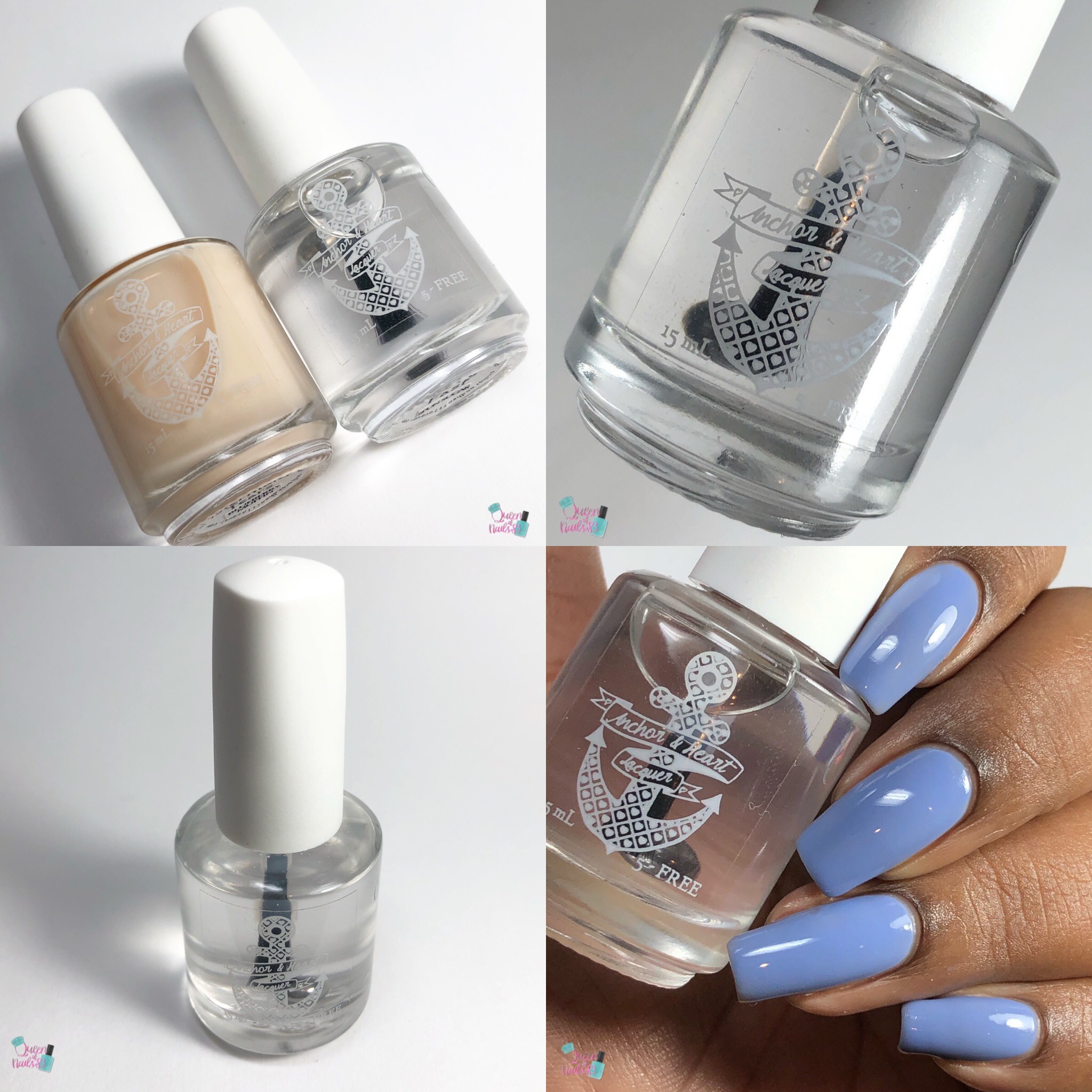 Mermaid Tears
A deep conditioning treatment for dry, weak or brittle nails that can be used as a daily base coat, or as 3 week rehab treatment!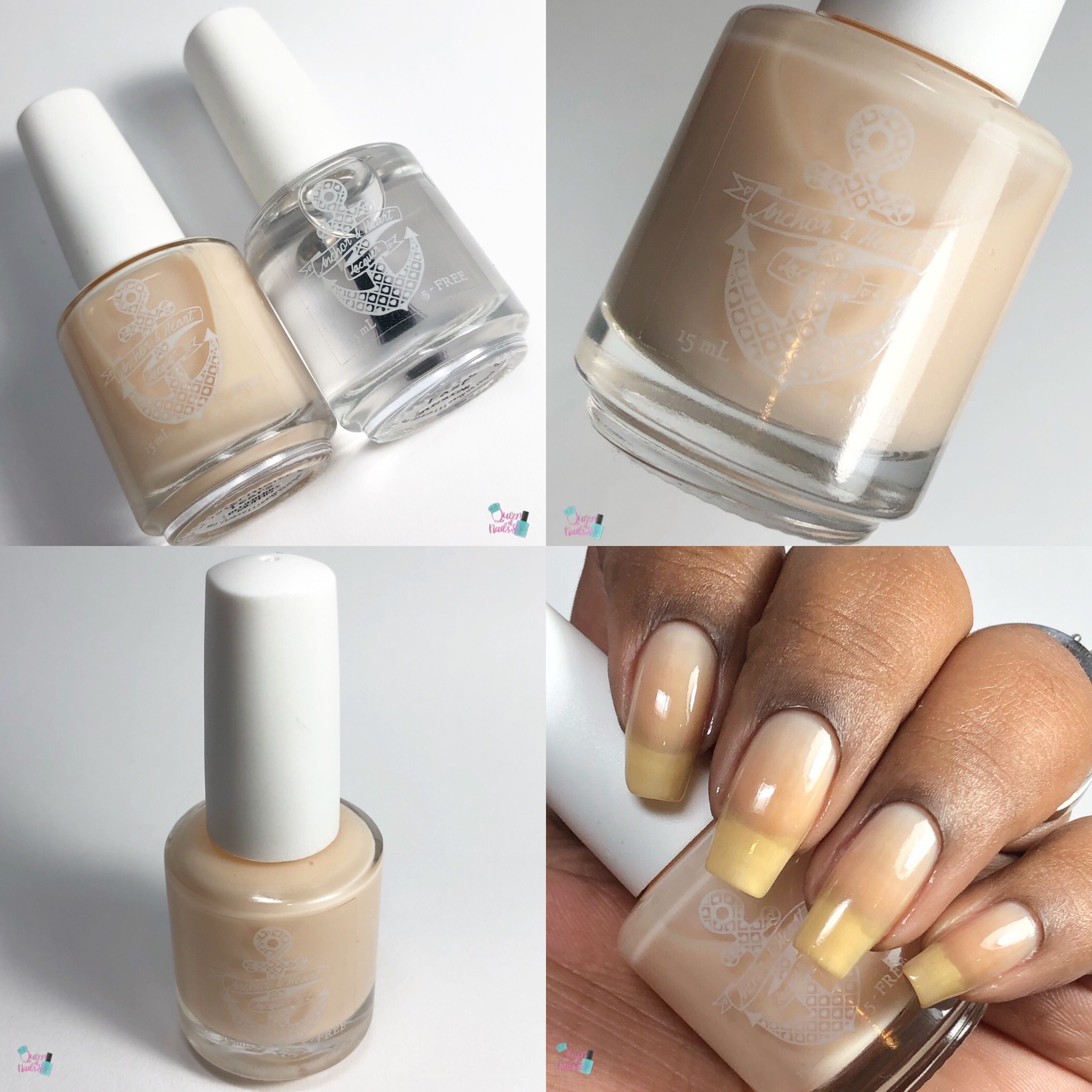 The Complete Essentials line also includes:
Sea Glass Matte Topcoat – a super velvety finish without distorting your nail polish color!
Iron Anchor – a strengthening base coat with garlic extract  helps to seal nail bed, resulting in longer, stronger nails!
Vitamin Sea – a custom blend cuticle oil, formulated to absorb quickly while providing tons of skin-loving fatty amino acids and vitamin E!
Anchor & Heart Lacquer – Nail Care Essentials
Overall: Mermaid Tears is a home-run. I love the look it gave to my nails and would have no problem wearing by itself while in between manis. As for Ferry Fast Top Coat, I was very impressed with it's quicker than life dry time. Literally, my 3 coats of polish was dry to the touch in 7 minutes. And the scent!! Yes, both the base and top coats were scented!!! At first I thought it would be too much but the soft scent of blueberry accompanied by sugar was absolutely delish!!
Availability: Saturday, May 25th
Anchor & Heart Lacquer
*Like, Comment and Subscribe*
Eat, Laugh, Polish, Repeat
Queen of Nails 83

💕