Hey Sugas!! Who's ready for some purple-ish colors from Tonic?!?!??!??!
This Friday, May 3rd, Lindsey will be releasing 5 new colors previously launched only at Polish Con Nola! Woohoo!!!
Here are a few important deets you need to know:
The PCNOLA Purples will be available through June!

There will be a 1 (one) day "overlap" on May 3rd before the following colors leave the shop to go back into the vault on May 4th. GET THEM WHILE YOU CAN!!!
Saharan $12, Antarctic $12, Angel $10, Heart on Fire $12, Once Upon A Dream $13, Please Don't Say I Love You $12, Truly Madly Deeply $12, You Are All I Need $12, Oops 10 $12, Oops 12 $12, Edna $15, Flawless $16, MFA-PE2 $12, MFA-PI9 $12, Promis Of Spring $12, Queen $16, Snow Glowbe $15, Taffeta $12, There's Magic In Your Hair 2.0 $13, Watcher's Woods $12 and Xtravaganza $16
Already sold out on the website and will NOT be restocking at this time: Diva Royale, Grand Marais, Luminescent, Mille Lacs, Northern Lights, Oops 11, Oops 9, Poison Rose)

Amends, Deep Secrets, Enchanted Elixir, Light of Lyra, I Pink You Blue Me Off, and Titanium Orchid will all be available through the end of May
Well, I think that'll do it for now… let's check out the goods!!!
Enjoy!
**All swatches are done using liquid latex base coat, glossy, QDTC and matte topcoat. Swatch photos are taken using artificial lights.**
Firestorm
A glowing dark magenta that subtly shifts to red, orange, and a little gold. $12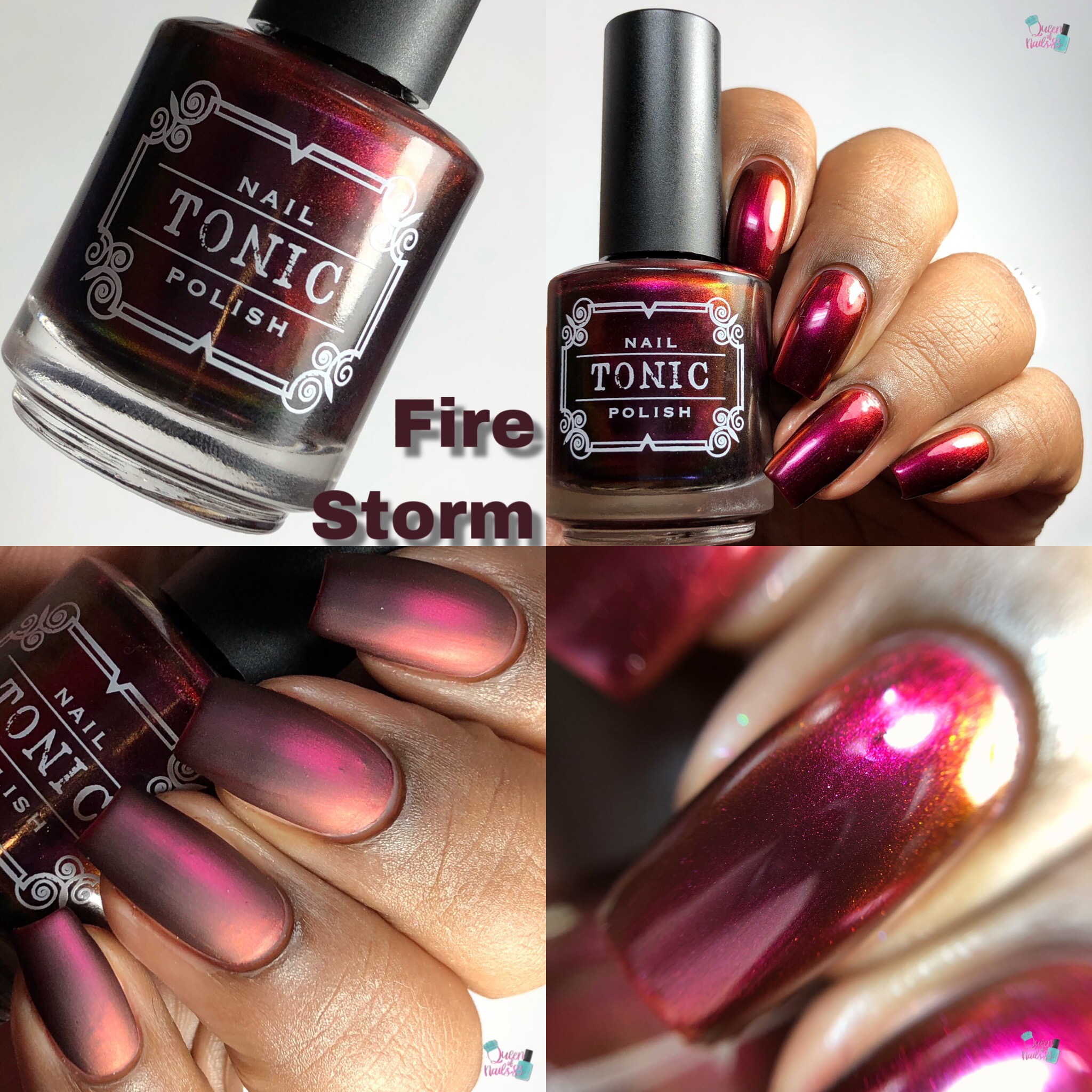 Electric Amethyst
A dark-ish blurple with pinky-peach shimmer! $10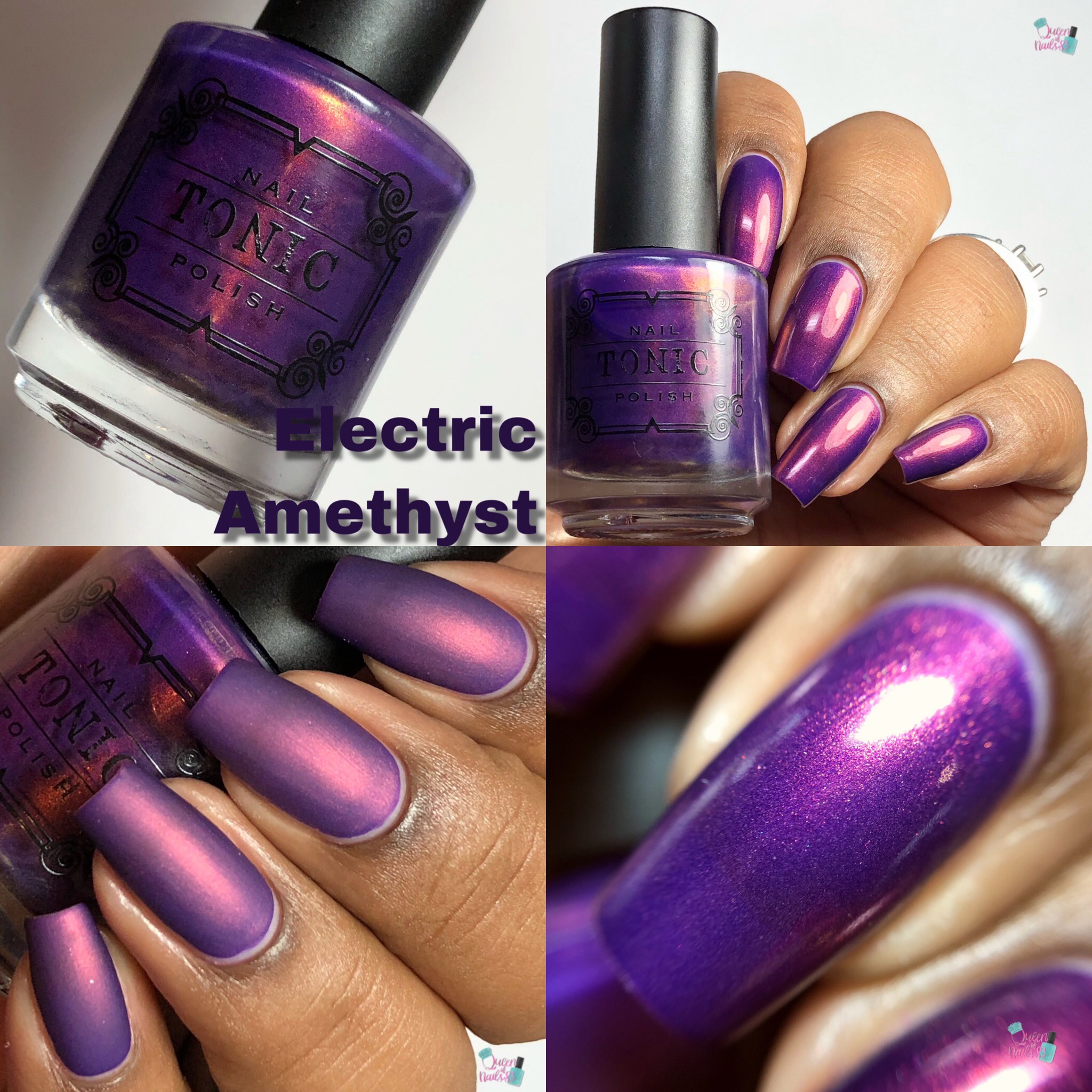 Voodoo
A dark burgundy linear holo! Made with a little bit of multichrome pigment to give it some personality and depth. $12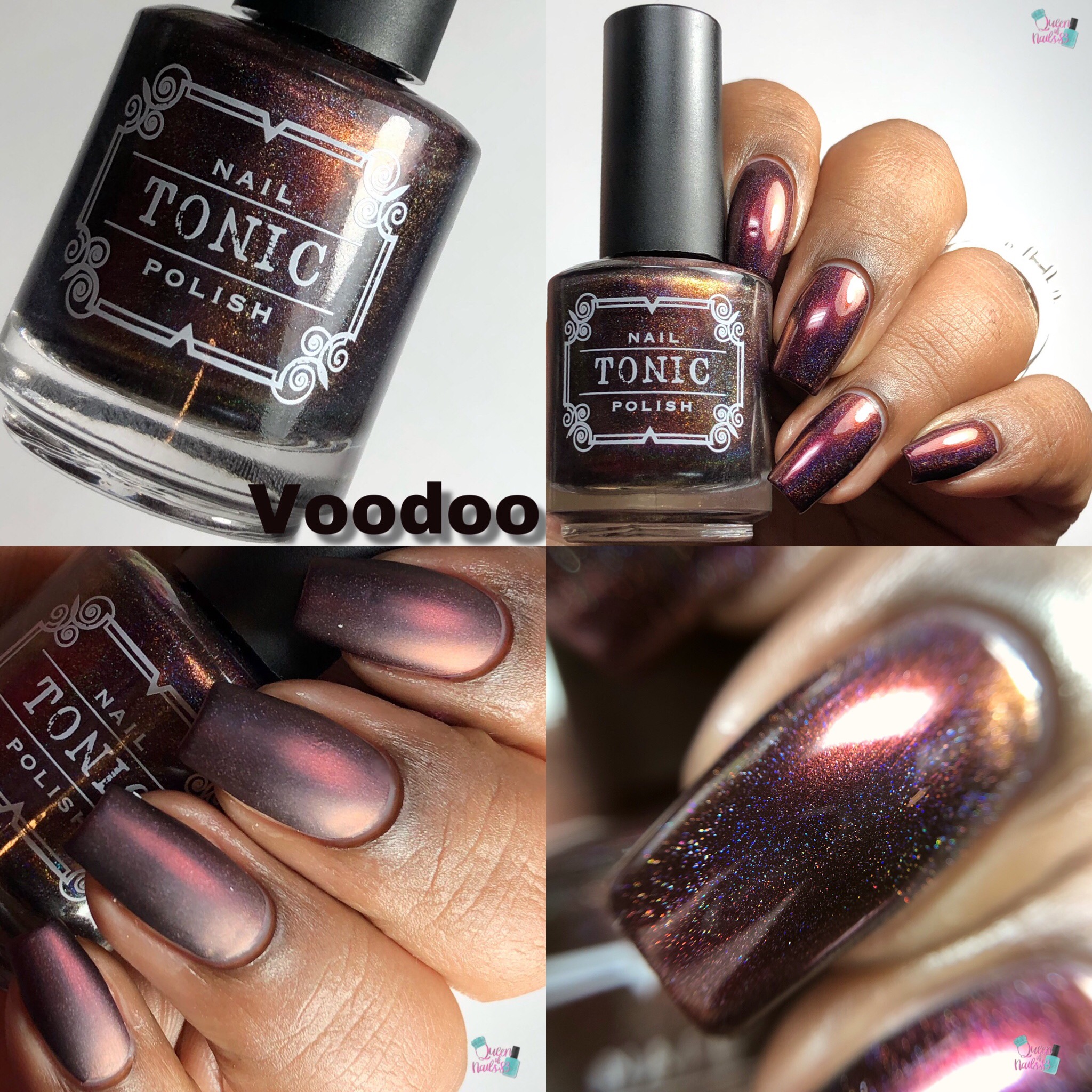 Midnight in the Garden
A dark raisin purple with strong red to gold shifting multichrome shimmer and scattered holo flake. $12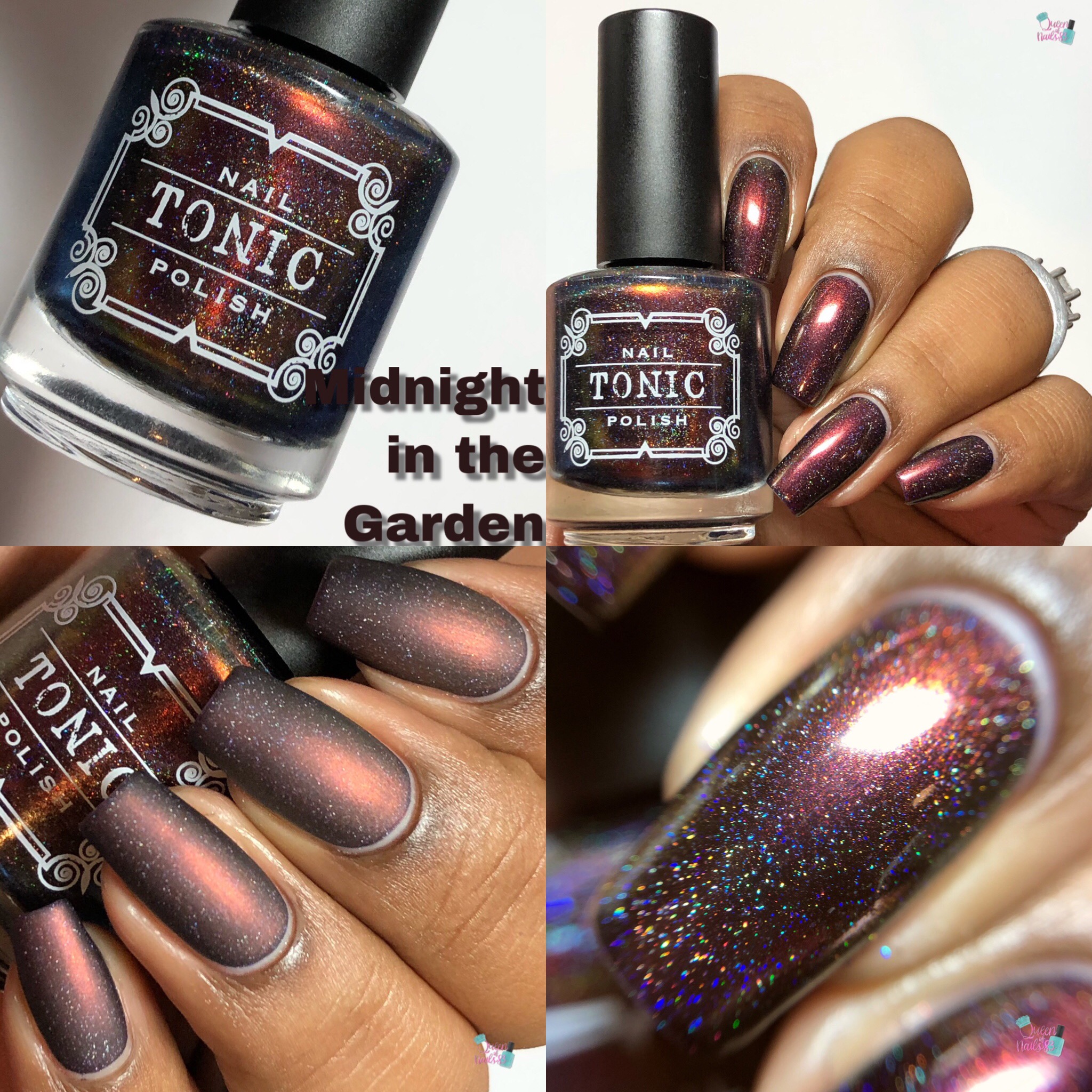 Plum Dandy
A dark purple with a combo of OG unicorn pee pigment and red to green shifting shimmer flecks. $13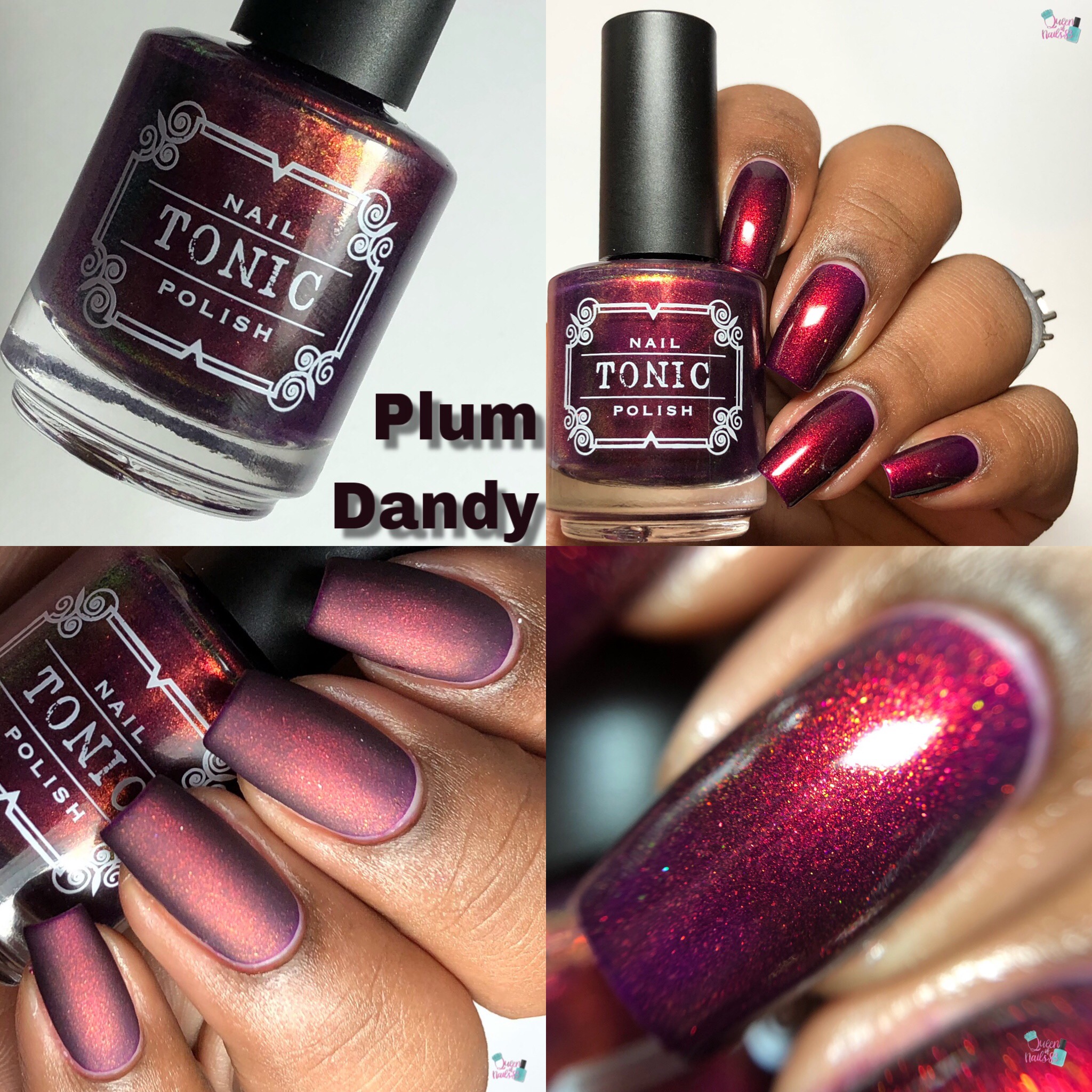 Tonic Nail Polish – PCNOLA Purple Collection
Opacity: swatch shown in 3 coats.
Price: as stated above or Whole Shebang listing of the five new colors for $59
Availability: Friday, May 3rd at 2:00pm CST
Tonic Nail Polish
*Like, Comment and Subscribe*
Eat, Laugh, Polish, Repeat
Queen of Nails 83
💕