Hey Sugas!!! It's late, about 9:45pm est, but I couldn't go to bed without bringing you a few of the May 2019 Polish Pickup (PPU) offerings.
I'm excited about May for 2 reasons, #1 it's my birthday month and #2…. the PPU theme is the 1980s!!! From the hairstyles to music, from the tv classics to the toys, the 80s will always heart a special place in my heart. It was decade of the first cell phone, cabbage patch dolls, MTV and the game boy…. oh the memories!!!! But instead for a trip down memory lane, how about we check out what these makers created!
(Please note, some info is missing and i will be back to update as it become available.)
Enjoy…
**All swatches are done using liquid latex Peel-off Base, glossy, QDTC and matte topcoat. Swatch photos are taken using artificial lights.**
Maker: Cynthia
Inspiration: Men At Work
Description

: A mustard gold crelly with red to gold shifting shimmers
Price: $8.50 / Cap: NONE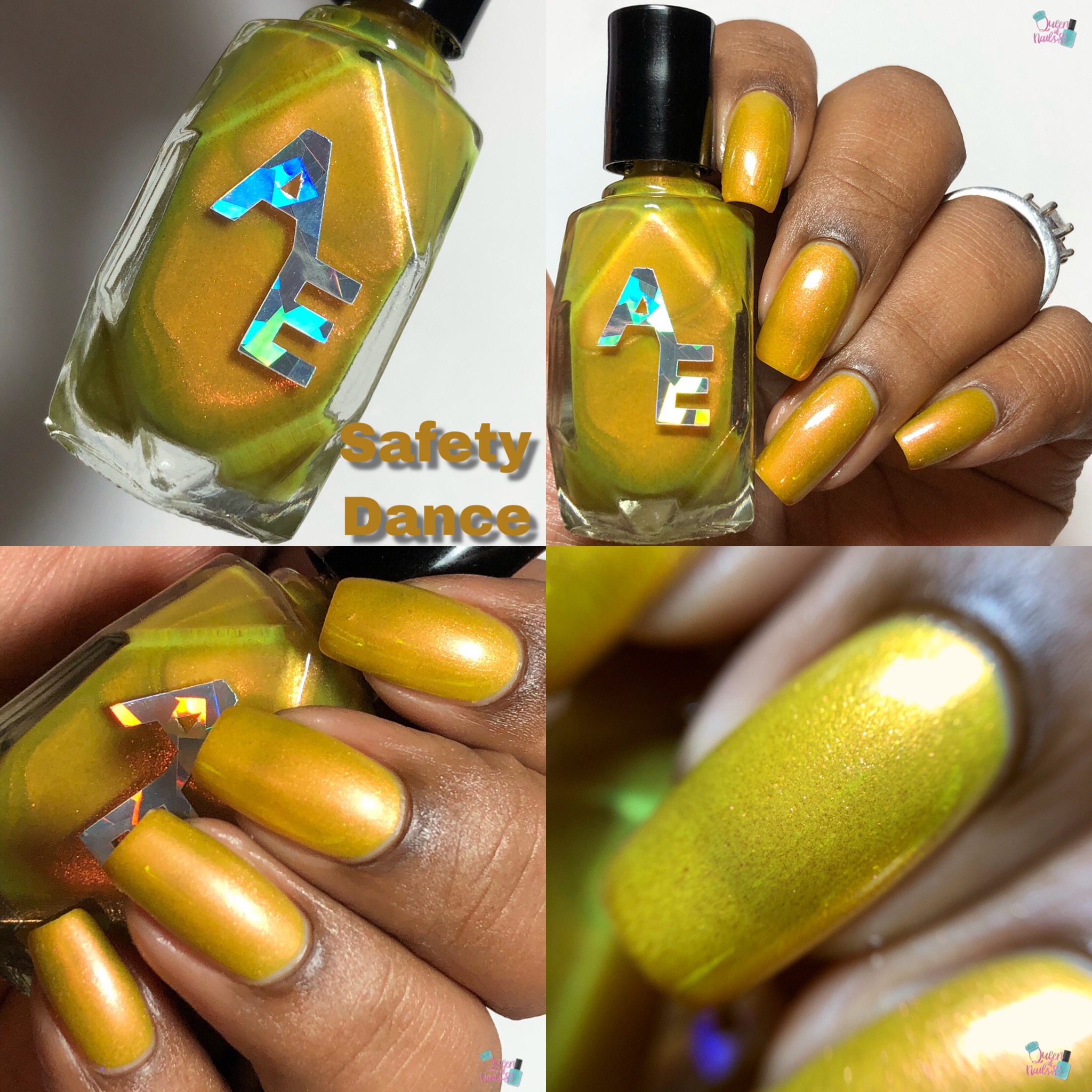 Ego Boosts Salt Scrub
Price: $7.50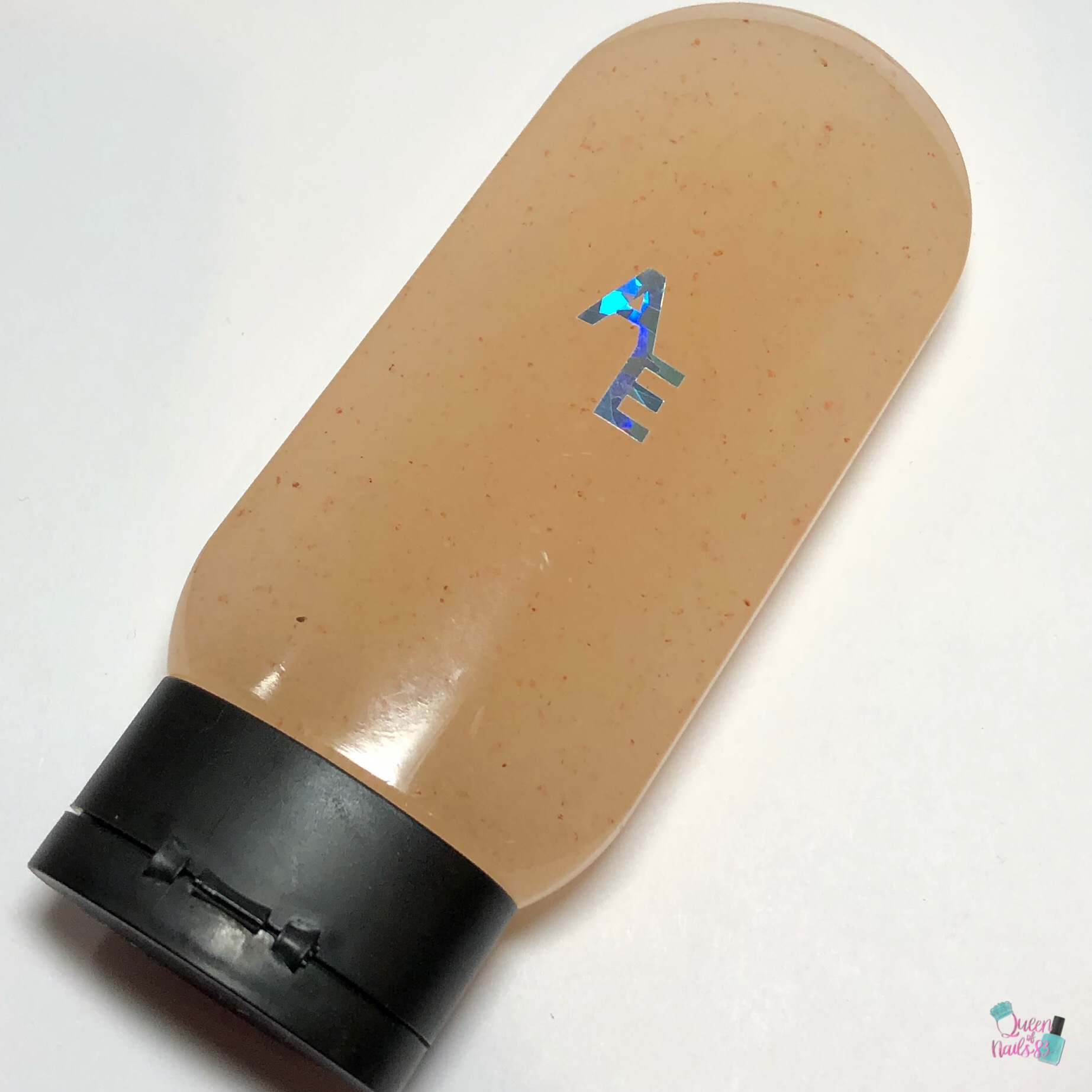 Maker: Taryn
Inspiration: The original Muppet Babies cartoon. The intro song is so nostalgic for us 80's baby!
Description

:

A periwinkle super linear holo with strong turquoise shimmer, a pink/orange/green aurora shimmer, plus a dusting of orange/gold/pink iridescent flakies and pink micro flakies.
Price: $13 / Cap: NONE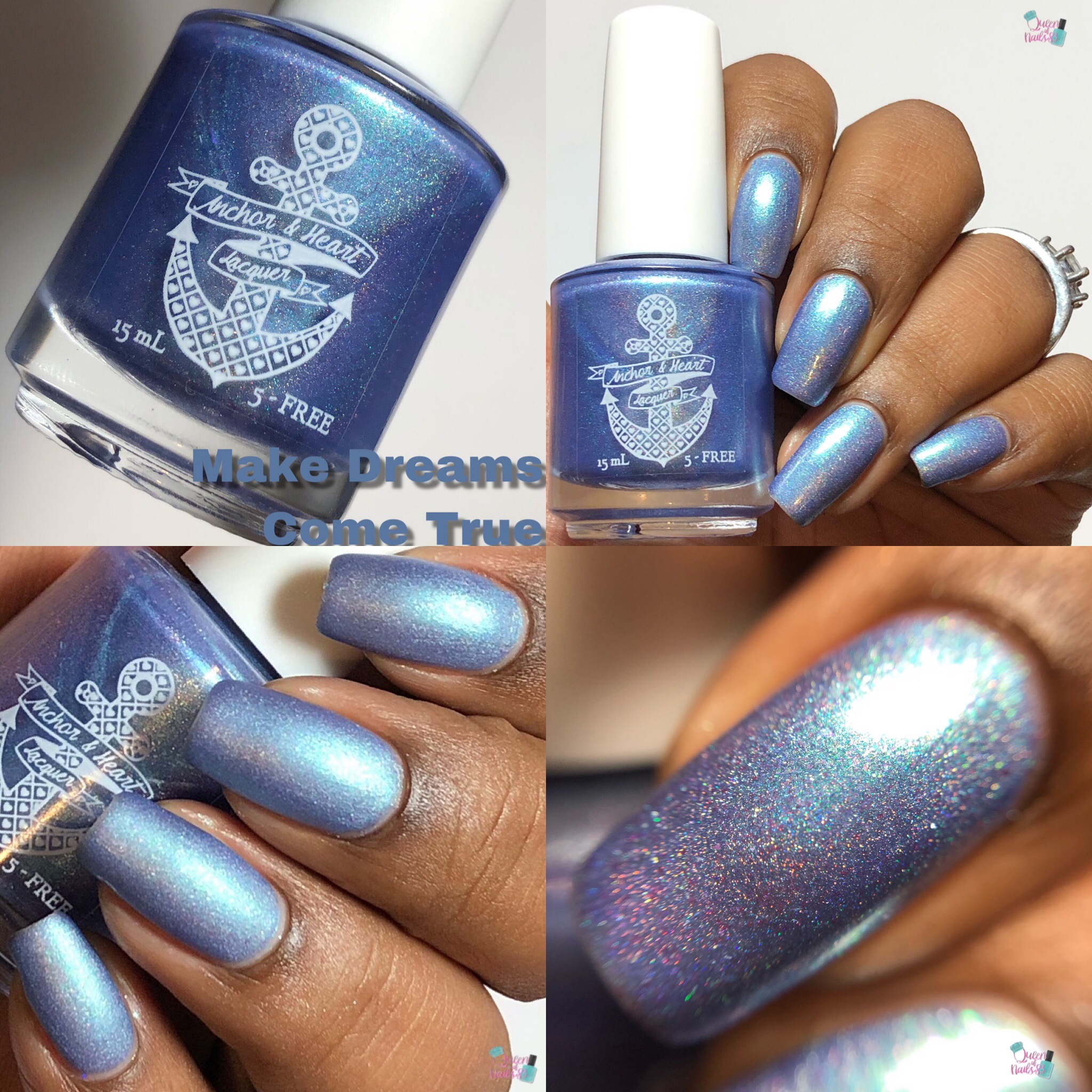 Maker: Sarah
Inspiration: Sarah went with a movie that scared her so much as a child, Pet Sematary
Description: A medium gray with an eerie gold to green sibling UP shimmer and ghost flakes that shift green to blue and red to green.
Price: $15 / Cap: NONE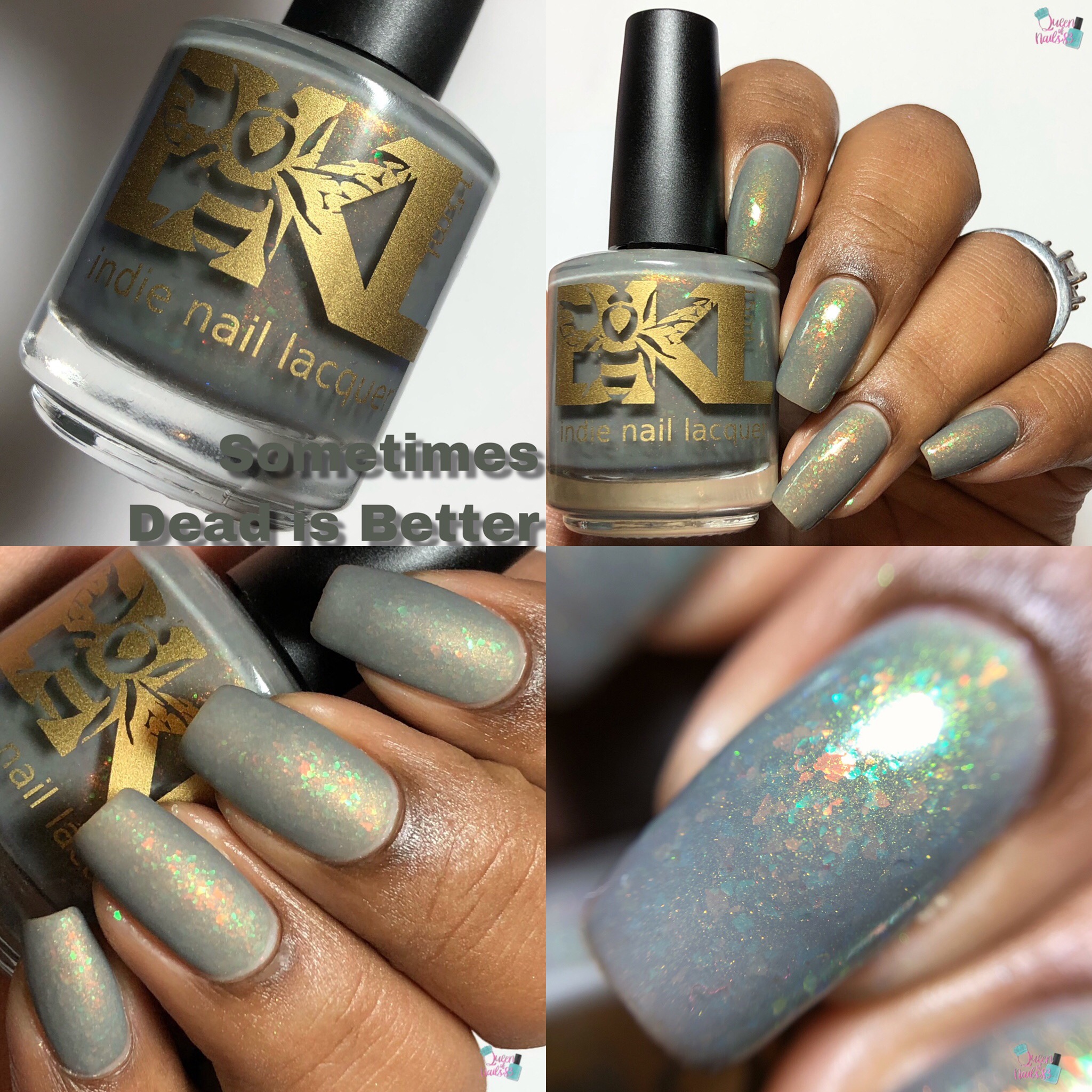 Maker: Meagan
Inspiration: Maverick and Goose from Top Gun
Description: A deep but also bright blurple that can lean more purple base with an intense red, gold to green shimmer.
Price: $12.50 / Cap: NONE
Maker: Adrienne & Sarah
Inspiration: vintage MTV logo
Description: A black based polish with shifting green shimmer and packed with a rainbow of multi chrome flakes throughout
Price: $11 / Cap: NONE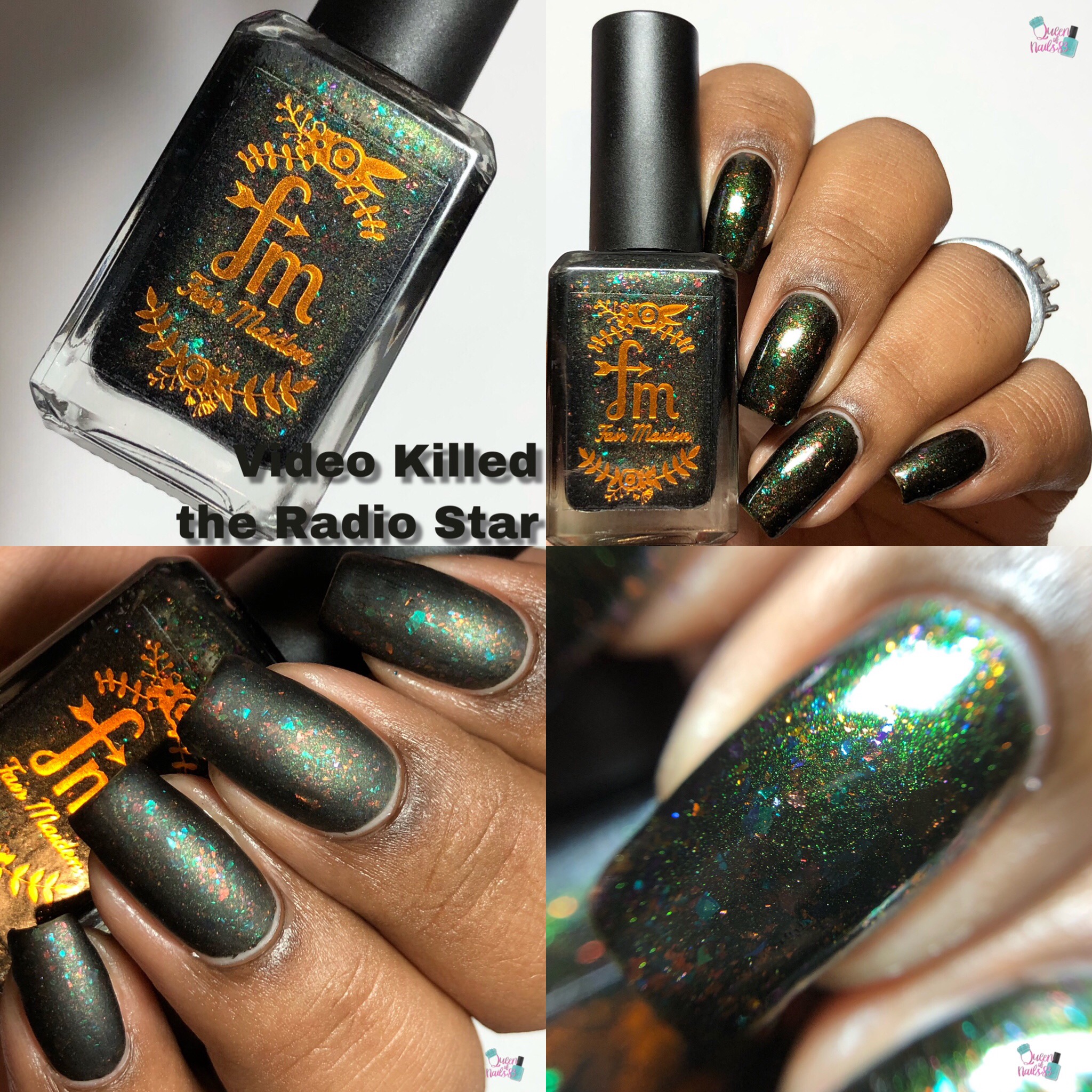 Maker: Sophie
Inspiration: Polly Pocket
Description: A clear (warm) to purple (cold) thermal with aurora red-green shimmer and matte glitters in teal blue, hot pink, watermelon, lime and orange
Price: $14 / Cap: NONE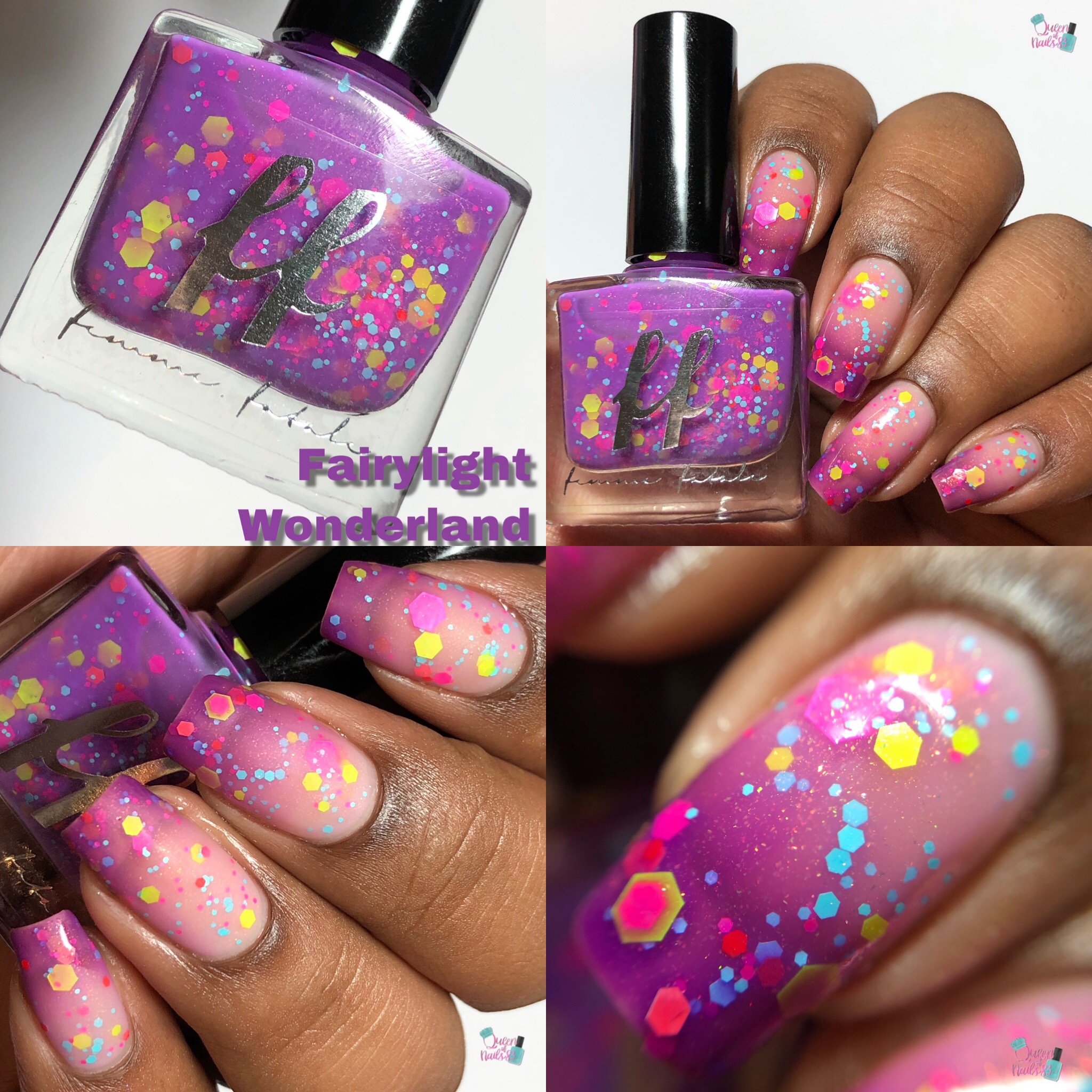 Maker: Mariah
Inspiration: Paper Dolls
Description: A white crelly filled with red to gold to green and purple to blue to red shifting multichrome flake and finished with a sparkling shifting shimmer going from purple to red to gold
Price: $12.50 / Cap: NONE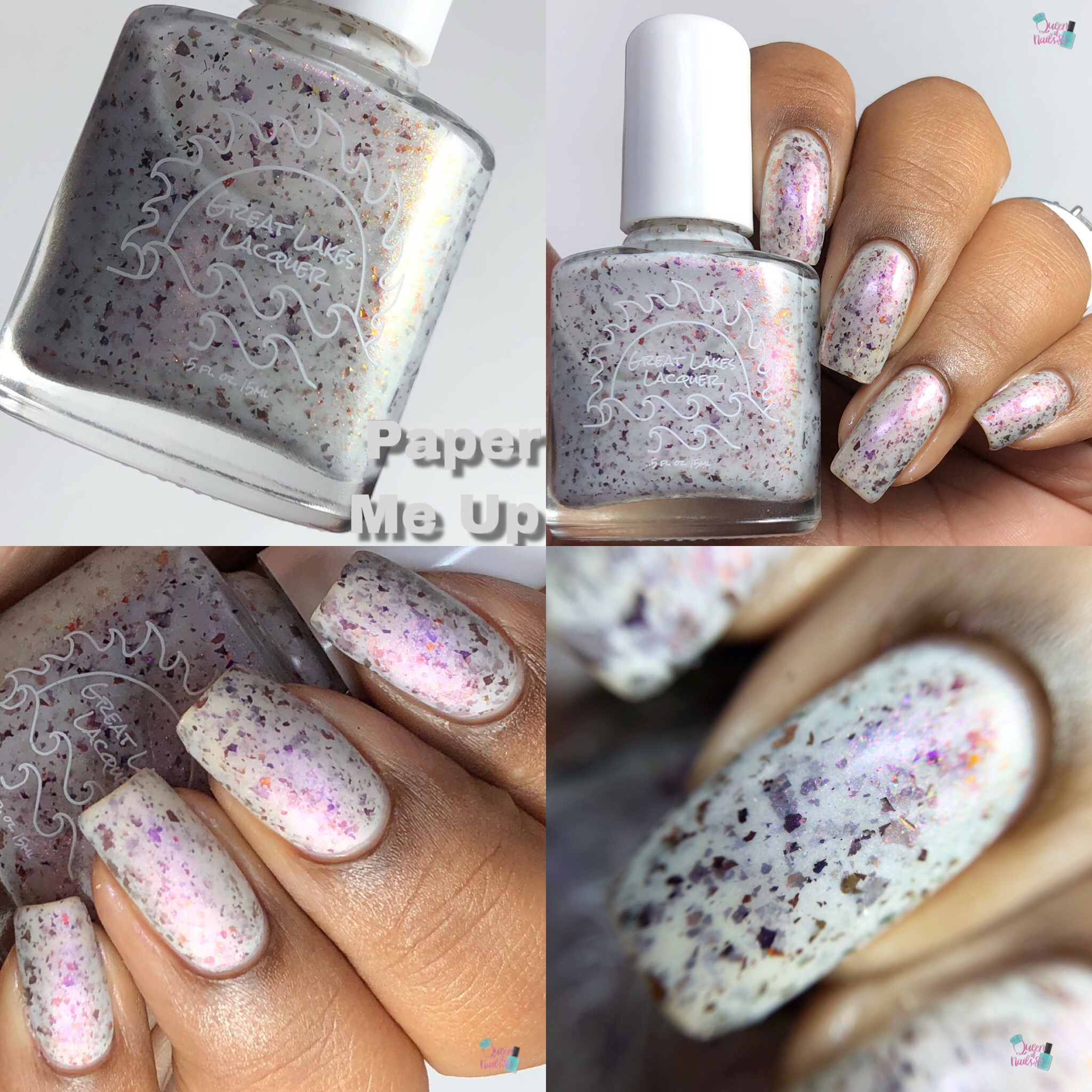 Illyrian Lacquer
 – Predator (M)
Maker: Vanessa
Inspiration: Predator
Description: TBA
Price: TBA / Cap: NONE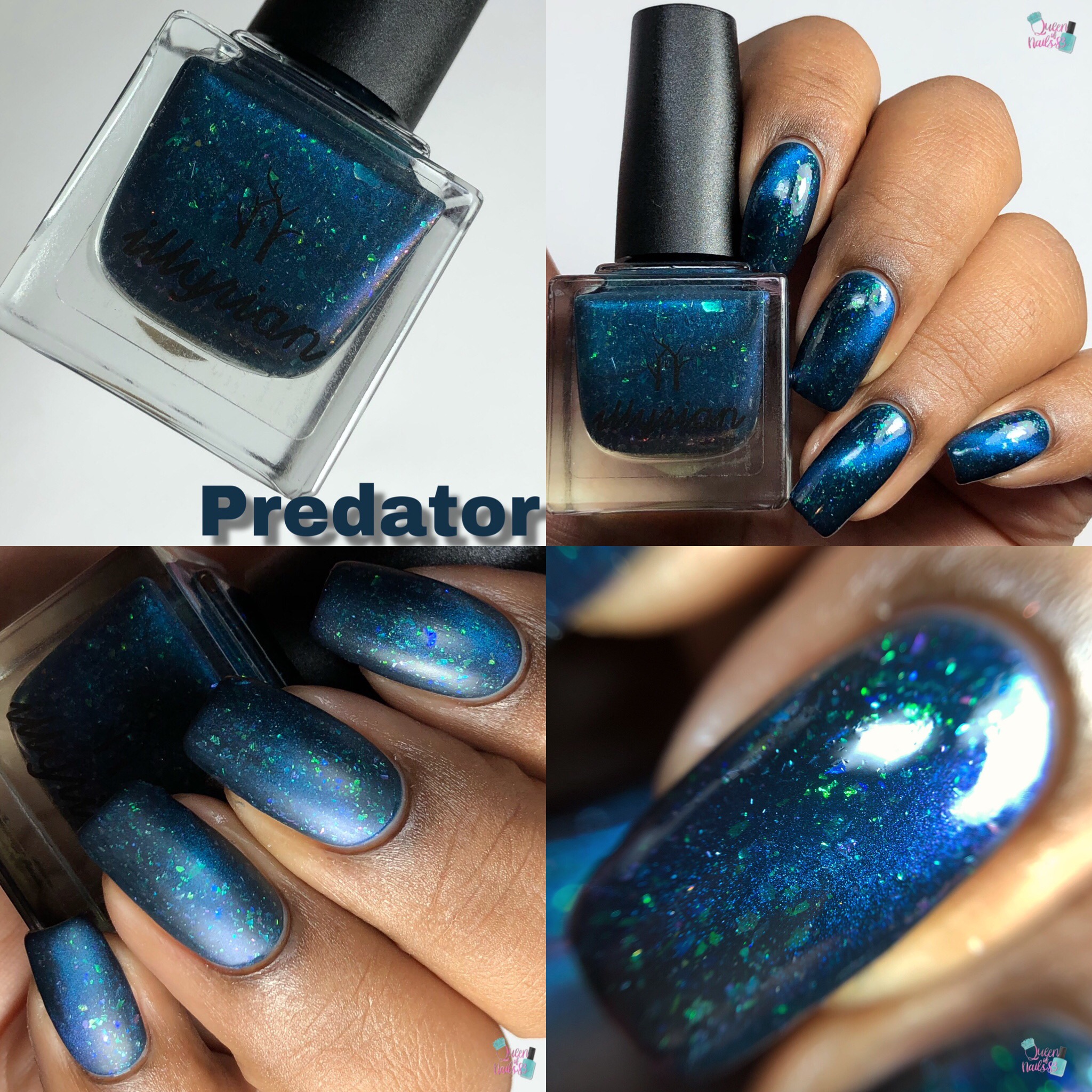 Jior Couture
 – Best Friends 4 Eva
Maker: Sacha
Inspiration: Growing up in the 80's jelly bracelets were like all the rage!
We would collect and trade them. Then scented glitter bracelets came out! Gah! Giving a few to a friend solidified your bestie-hood.
Description: A juicy, berry pink jelly with like a fresh holo flash. Like it's totally packed with rad chameleon flakes and like a phat amount of aurora pigment to give it like a bad glow no matter the angle.
Wait. Like you thought that was it? Like please, it's the 80's duh! Like of course it needs to be scented. That's why it's totally got like a dope soft berry scent so you can like sniff your fingers all day!
Price: $12.50 / Cap: NONE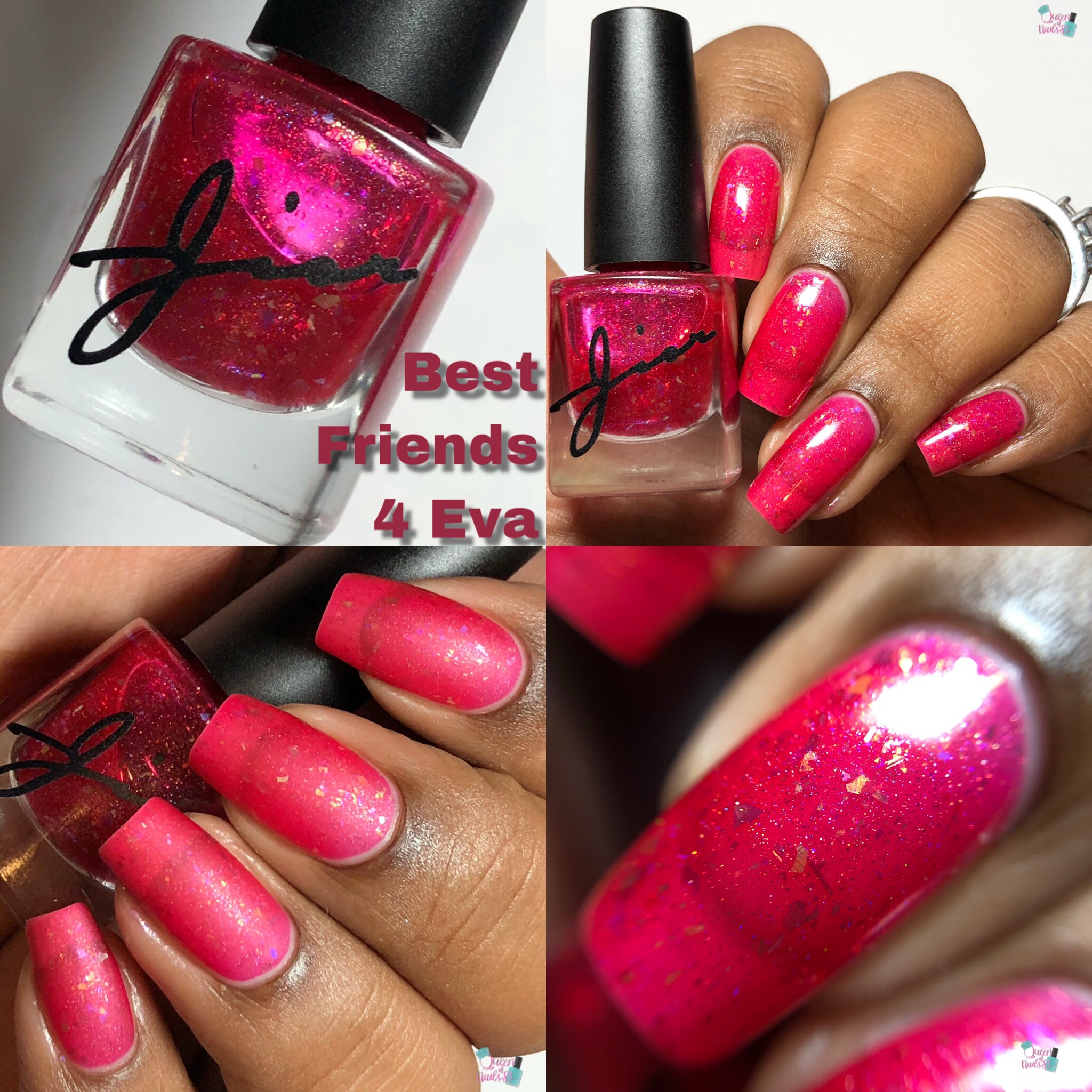 Maker: Mary Mia
Inspiration: A a bright multicolored windbreaker 
Description: A 
bright red to neon coral to neon pink 
tri-thermal with aurora shimmer
Price: $12.50 / Cap: 125 bottles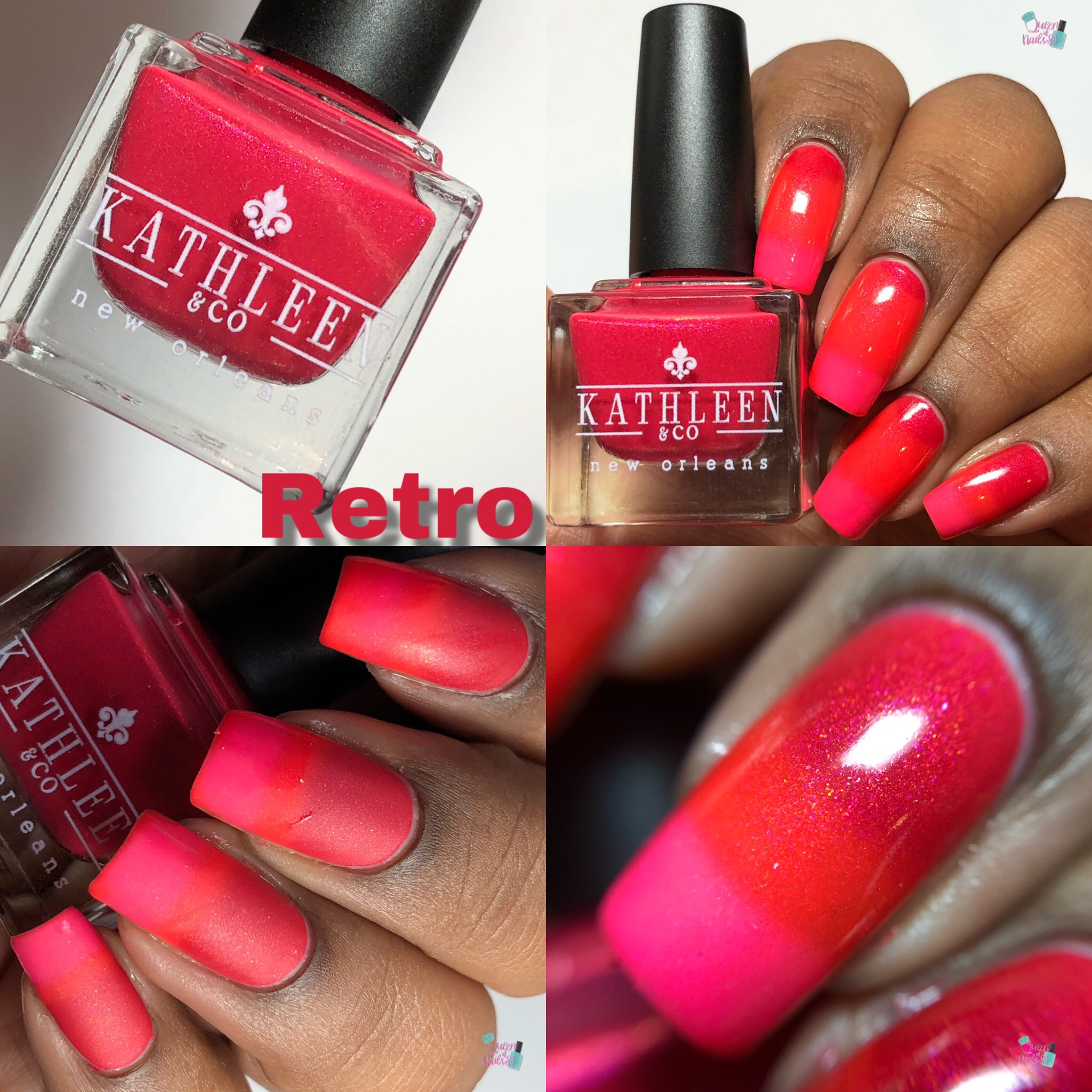 KBShimmer
 – The Brite Stuff (T)
Maker: Christy
Inspiration: Rainbow Brite
Description: A bright blue to white thermal sets off a rainbow of small glitters which really pop when the base turns. Each bottle will come with a bag of star sprinkles so that you, too, can help bring color to the world!
Price: $10 / Cap: NONE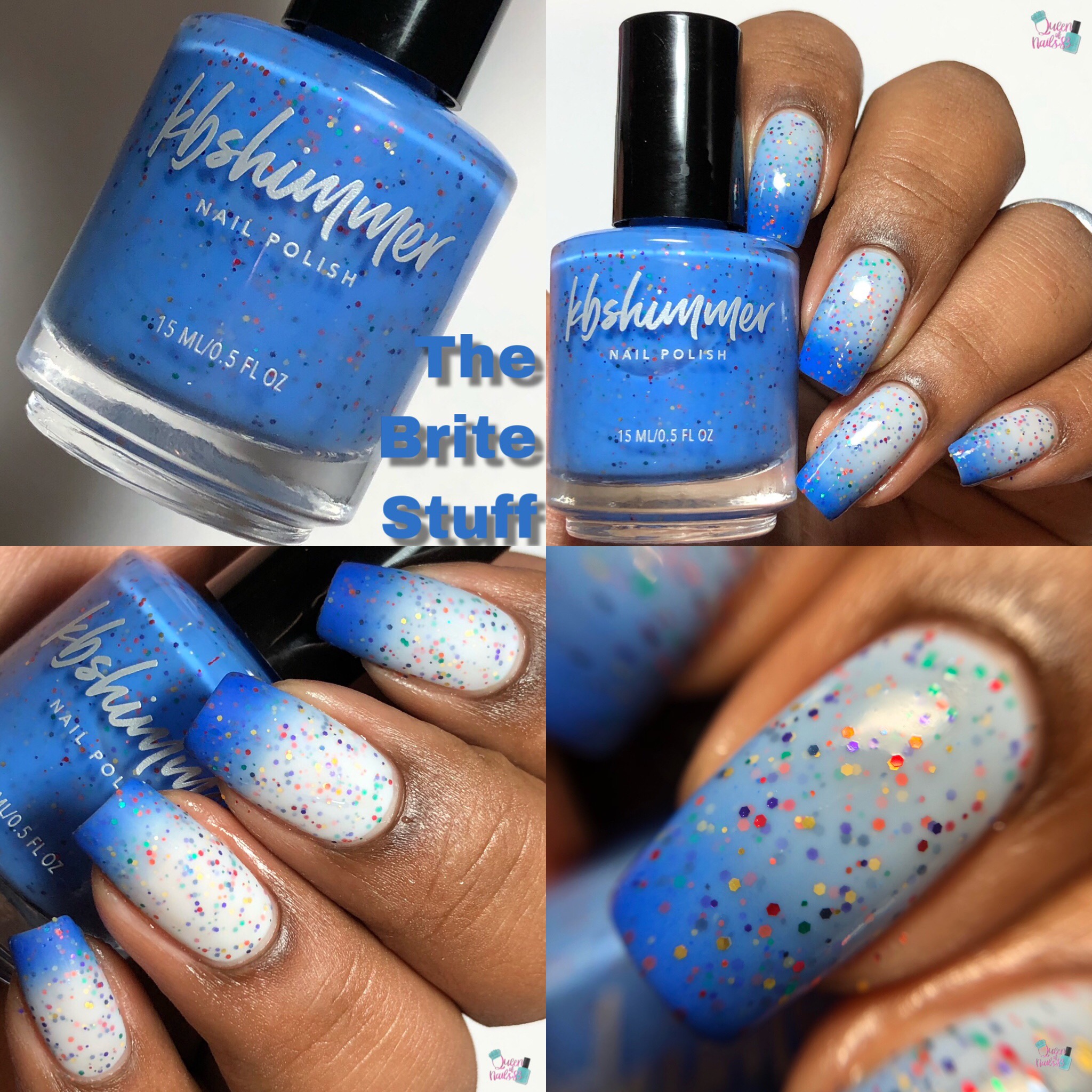 Wacky Watermelon Popping Bath Powder 
To Use: Scoop out desired amount and place to water. This super moisturizing powder can be used in the bath or as a mani/pedi soak.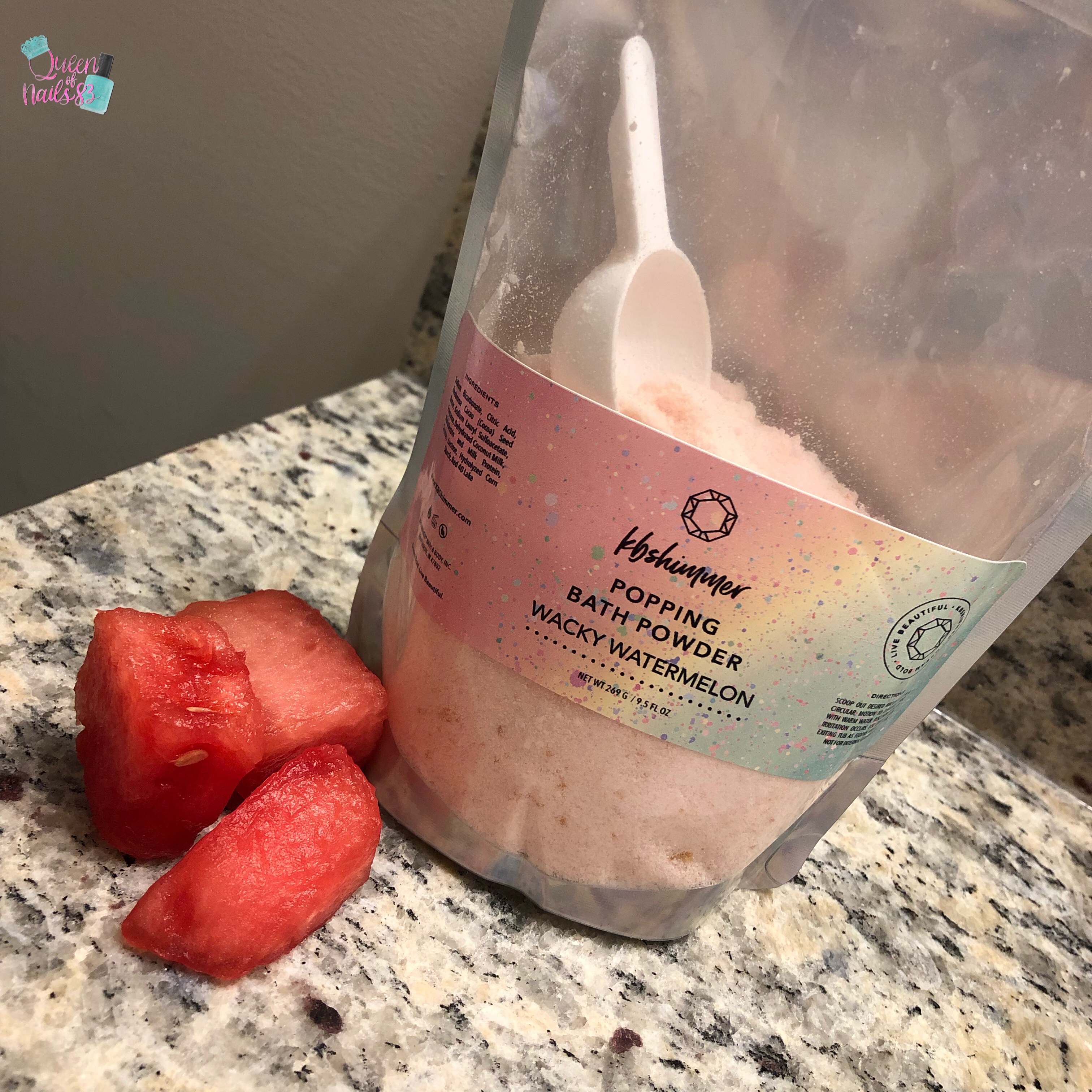 Maker: Cassie
Description: A mix of aurora shimmers in purple/blue, green/gold, gold/orange/pink and orange/red and a full rainbow of ridescent flakes in a clear base. Swatch shown in 2 coats over black creme. 
Price: $13 / Cap: 250 bottles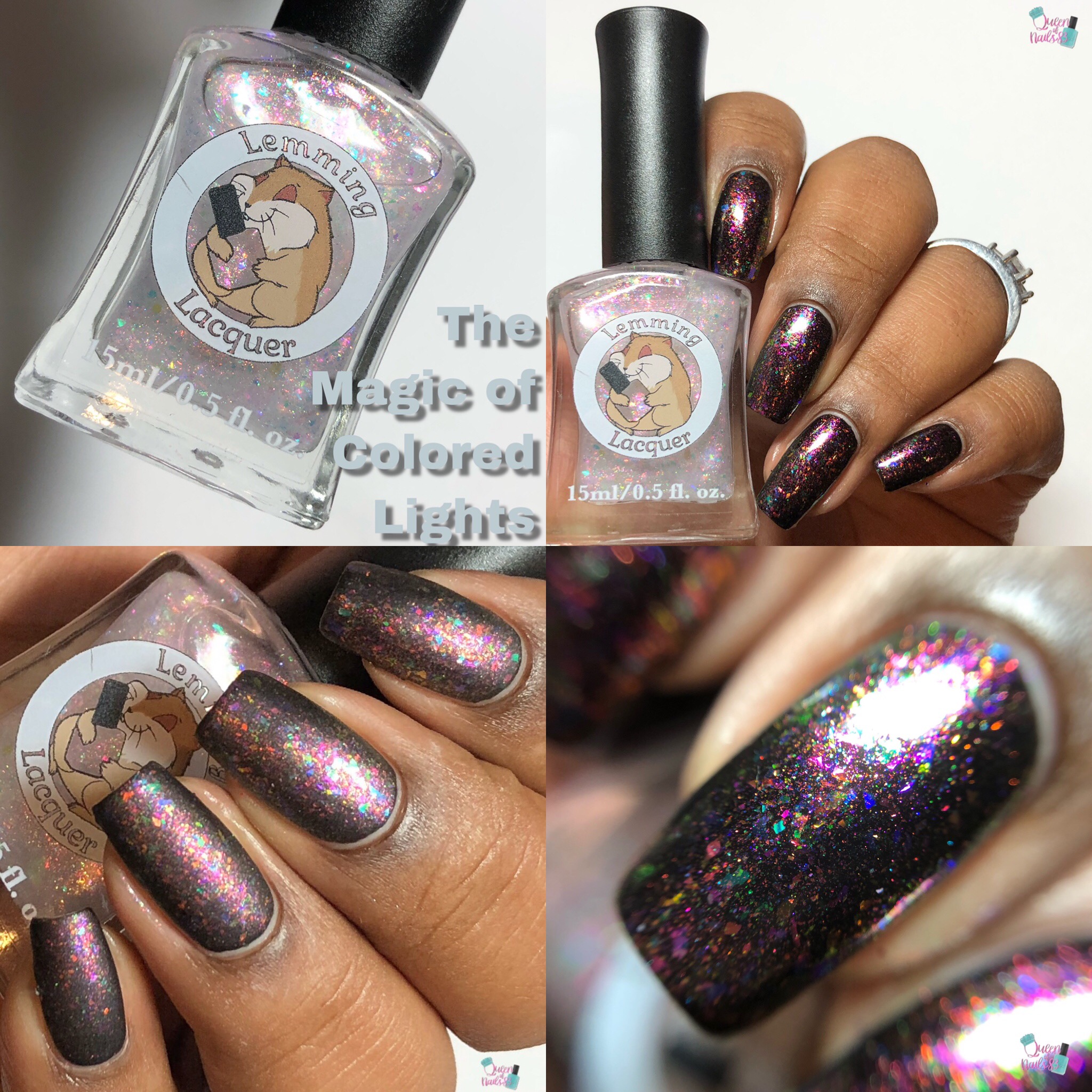 Maker: Jennalyn
Description: A sea foam green base with intense green to pink to silver multichrome shimmer, 2 different UCC flakies and holo micro flakies
Price: $12 / Cap: 225 bottles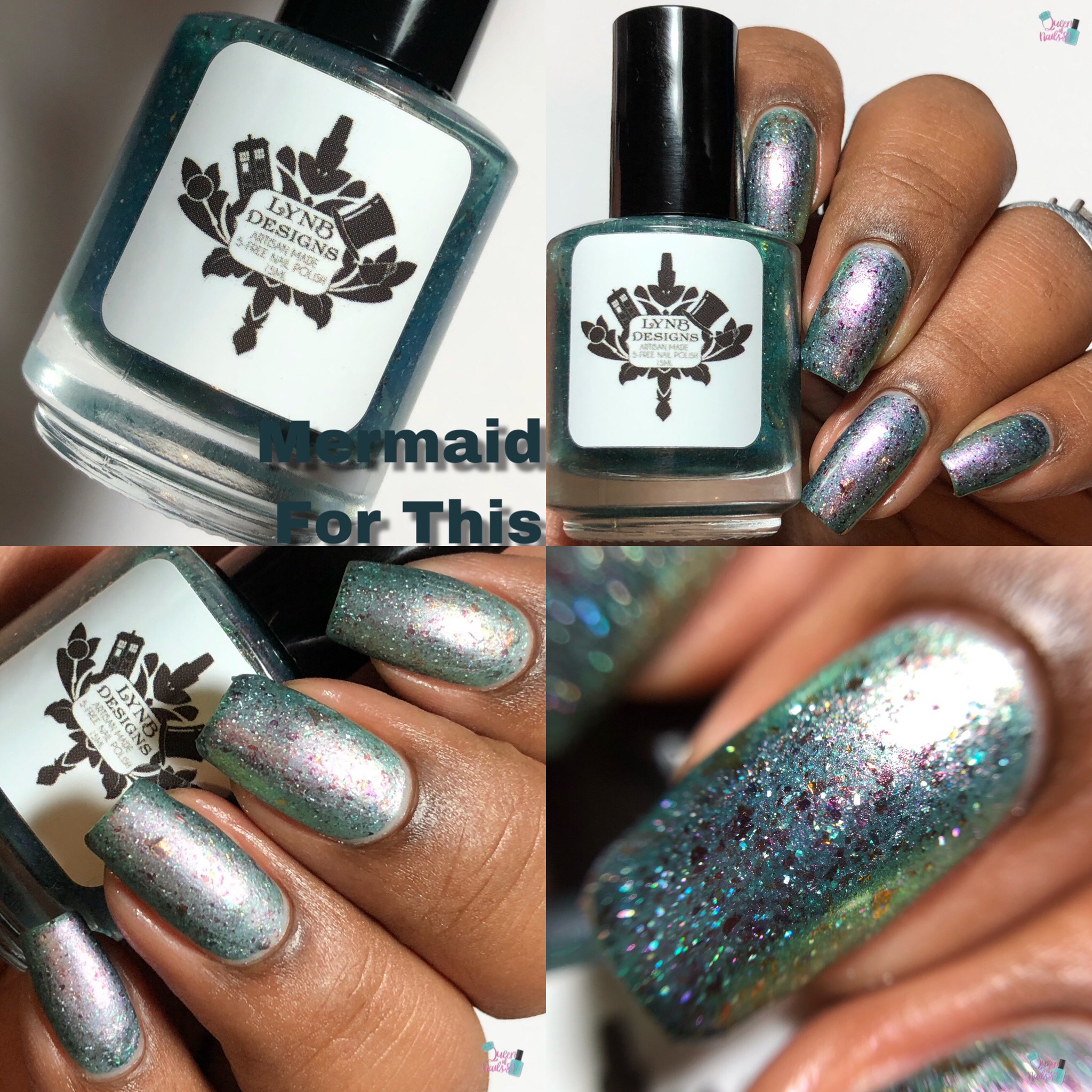 Maker: Kim
Inspiration: Pat Benatar's Tropico album cover
Description: A mauve pink crelly with violet/green/pink/gold color shifting iridescent flakies and subtle holo
Price: $12.50 / Cap: 100 bottles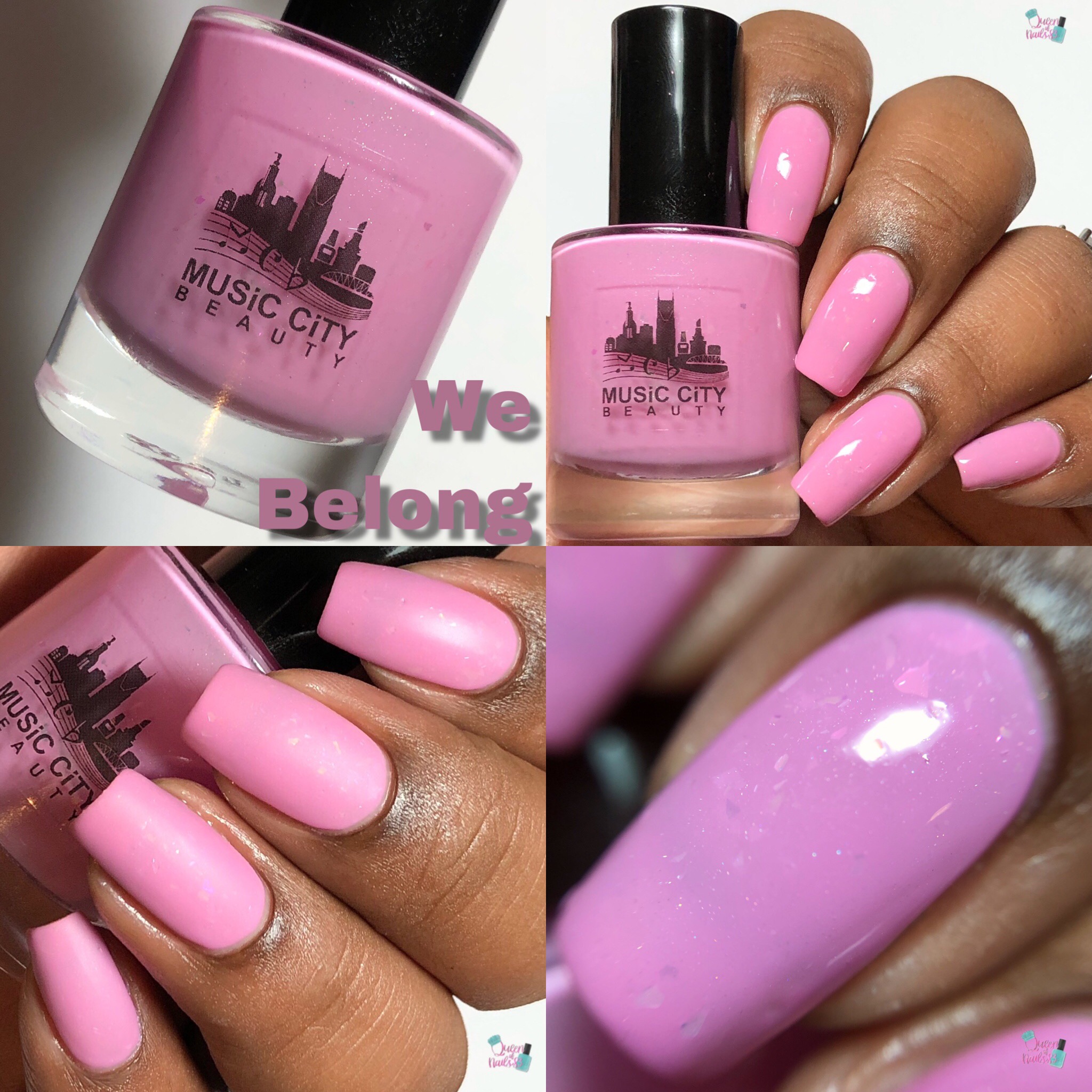 Maker: Tamara
Inspiration: E.T.
Description: A blue base, a purple and blue multichrome shimmer, silver flakes, scattered holo, blue micro flake and ucc flake
Price

: $11 / Cap: 100 bottles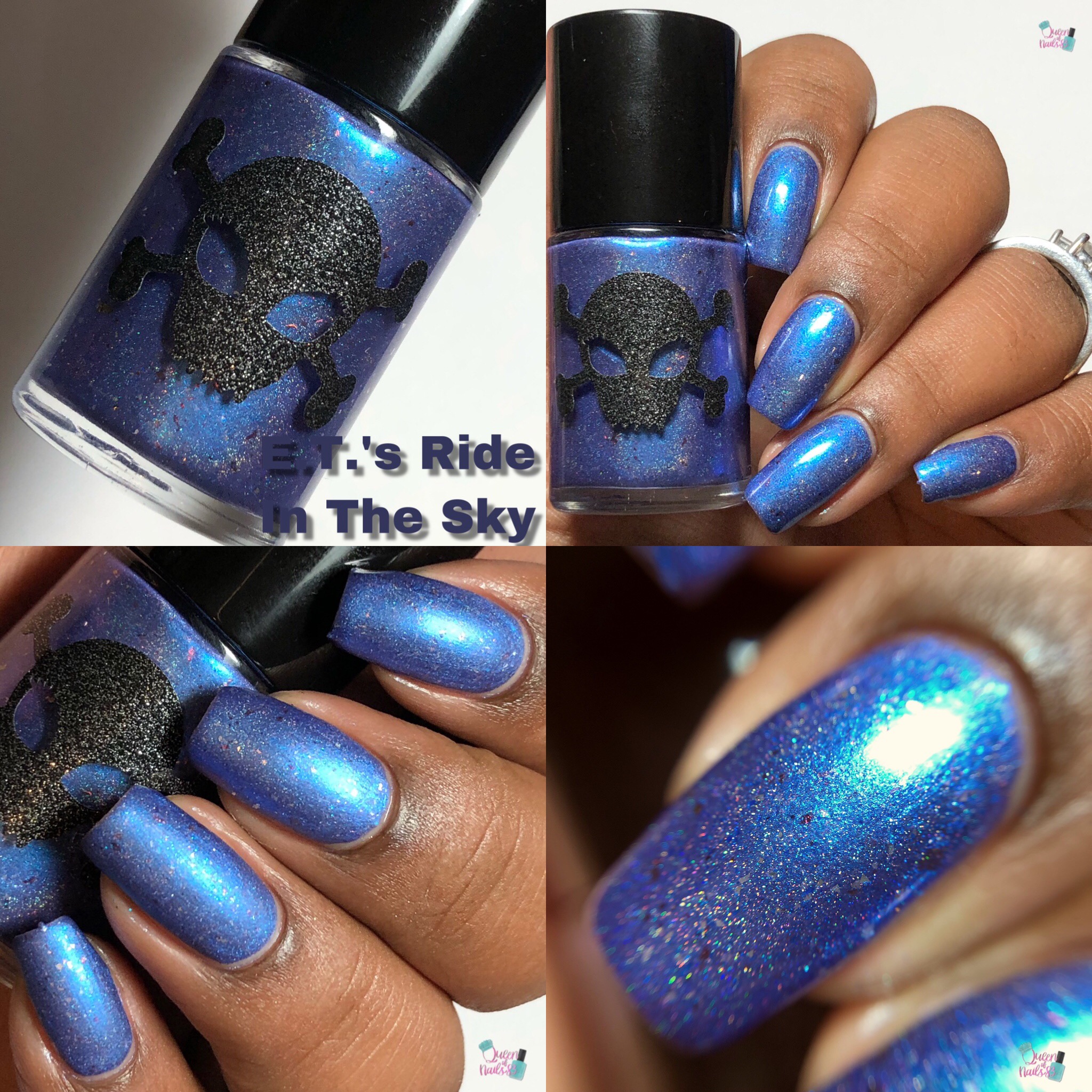 E.T. Crack Treats – Reeses Wax Melts
A sweet and salty fragrance of peanut butter, sugar cookies, butter and beer. 
Price: $6 / Cap: NONE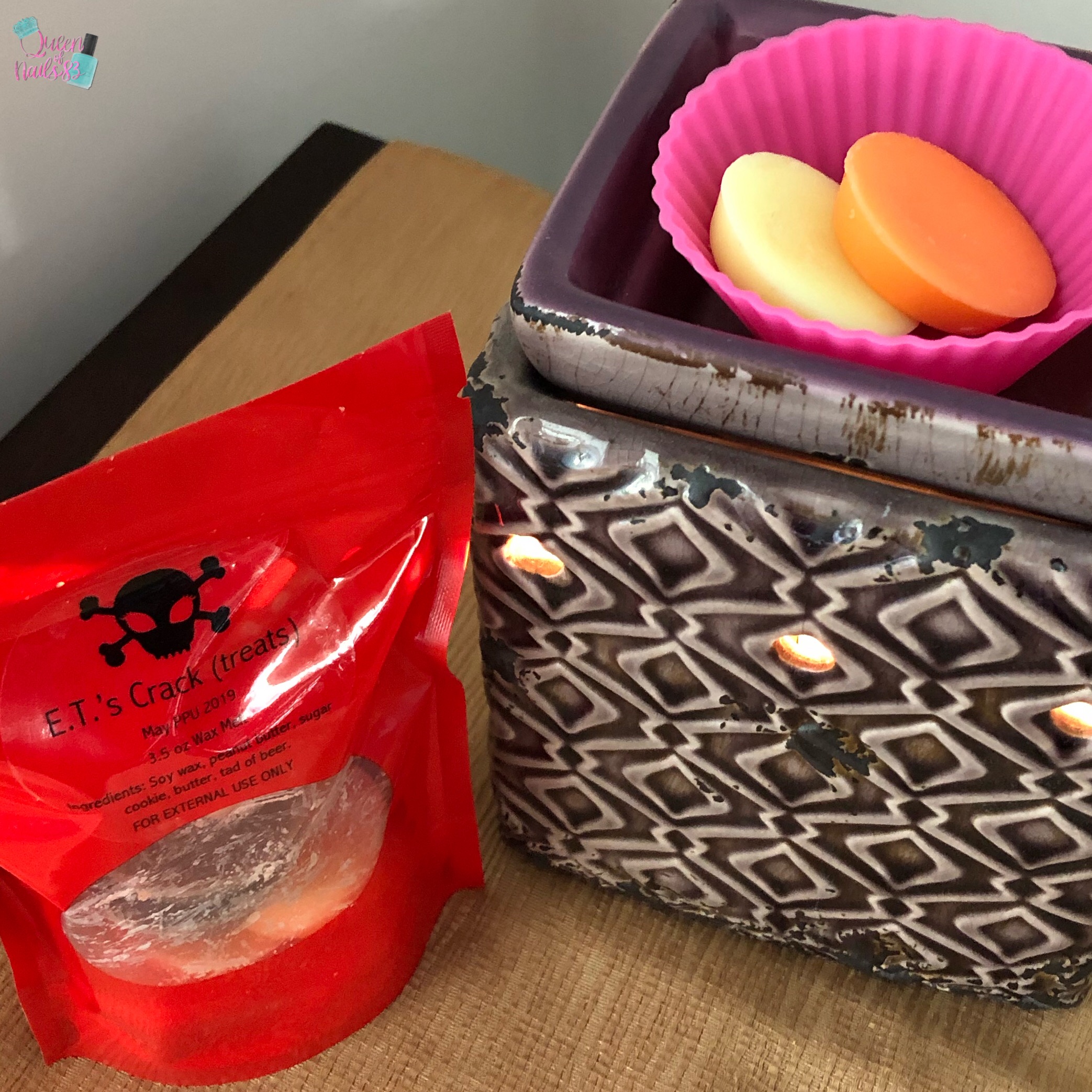 Maker: Lindsay
Inspiration: Dirty Dancing
Description: elicate blush tinted base loaded with 2 different shades of shifting aurora shimmers
Price: $12.50 / Cap: NONE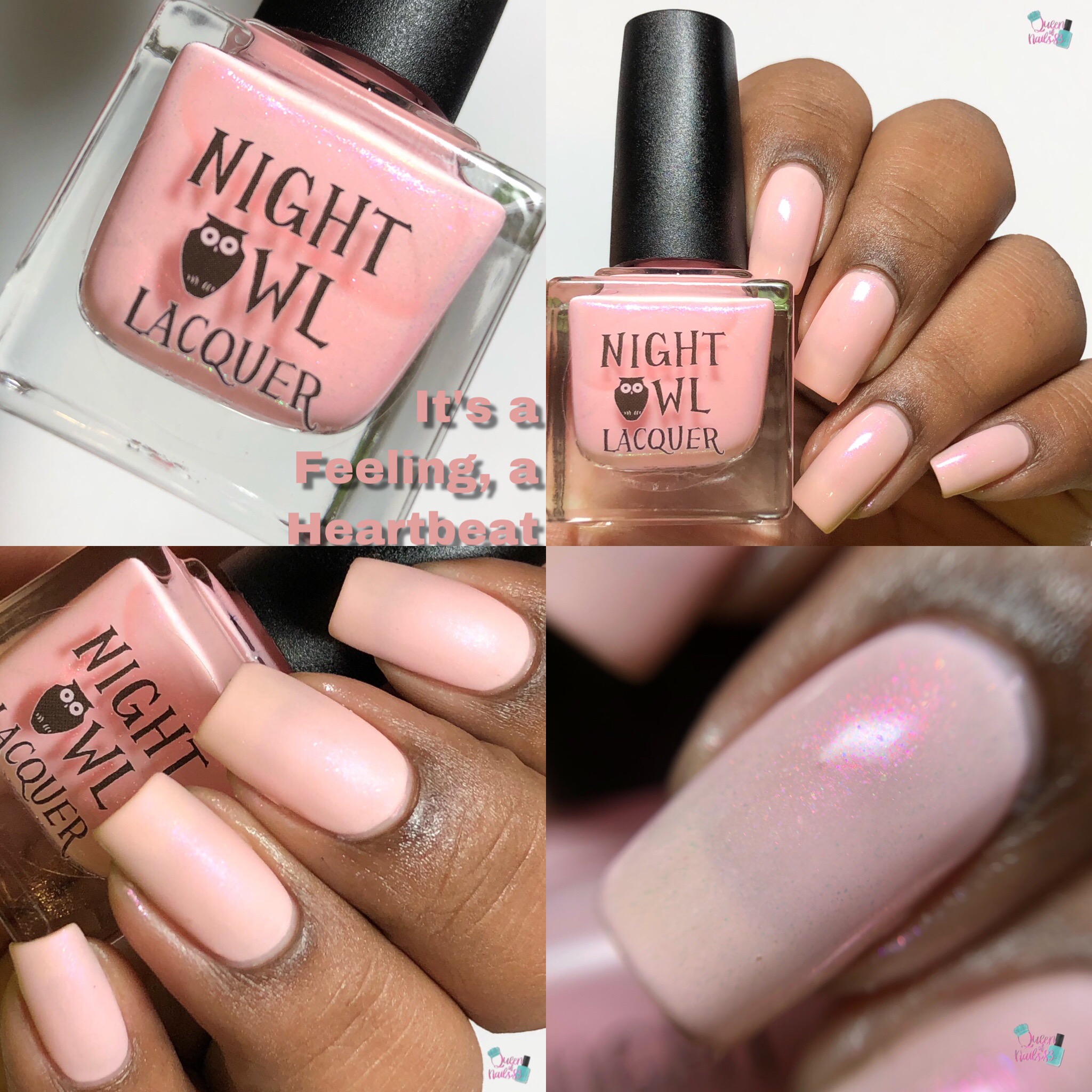 Maker: Virigina
Description: A royal blue thermal polish that transitions to clear when warm, filled with assorted shaped and sized neon glitters with a sprinkling of silver holographicglitter
Price: $10 / Cap: 110 bottles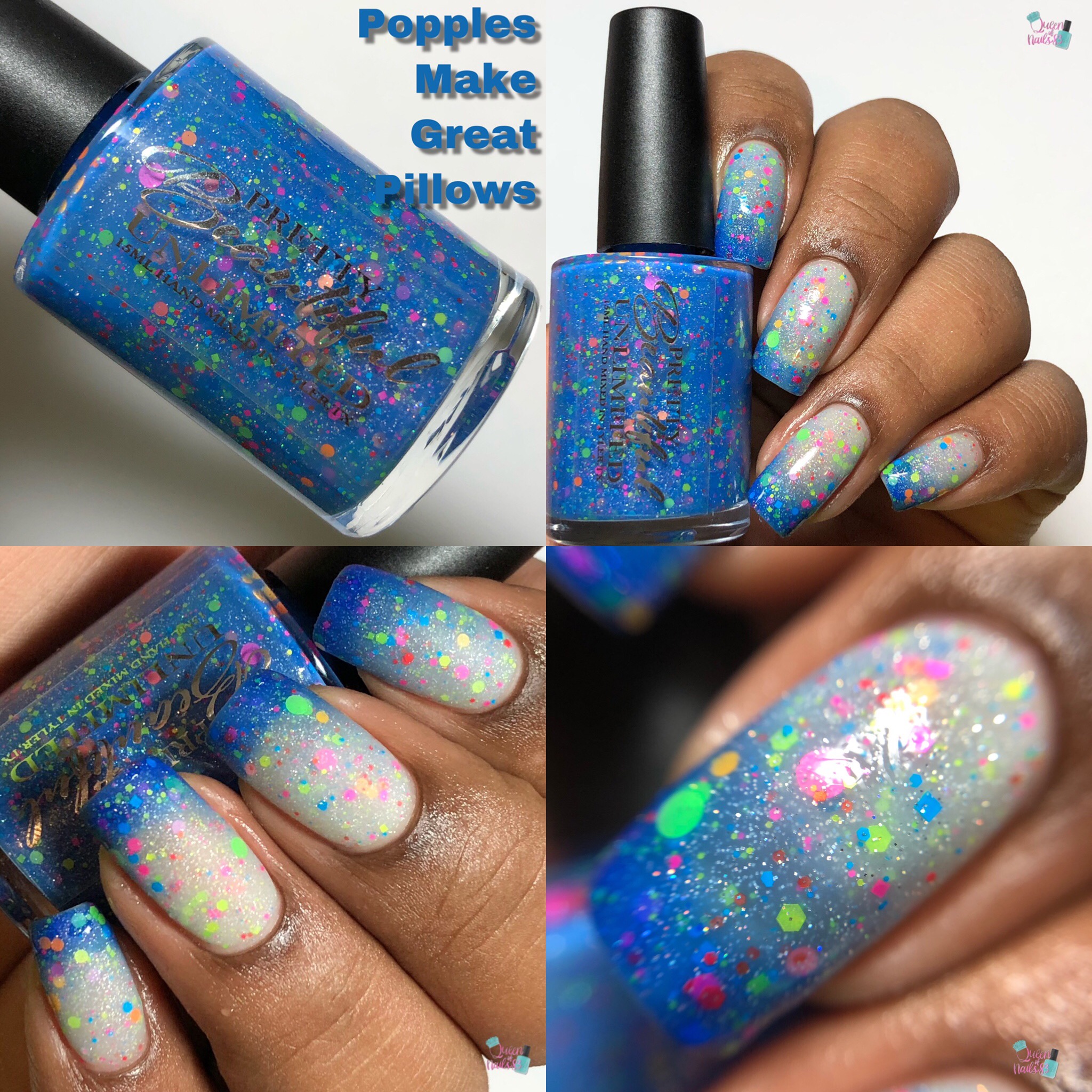 Maker: Rachel
Inspiration: Miami Vice
Description: A bright blurple crelly with large popping red copper bronze ucc flakes
Price: $12 / Cap: 350 bottles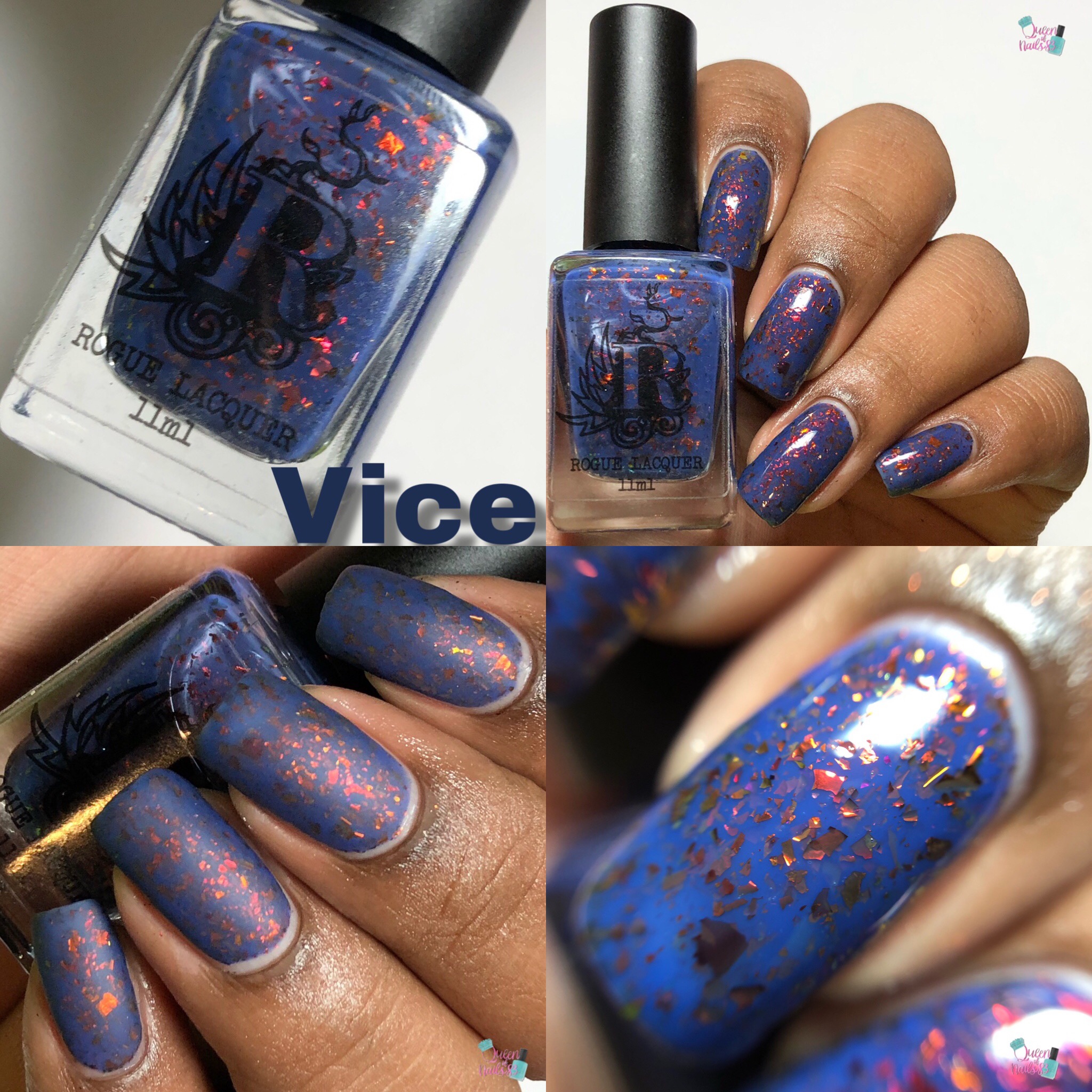 Maker: Kasi
Inspiration: Moondreamers
Description: A white crelly with light pink,purple and blue matte glitters, matte pink and purple stars, gold holo glitters, pink galaxy glitters, and pink, purple, and blue crystal flakes. There will extra stars wrapped up with your polish for you!
Price: $10 / Cap: 80 bottles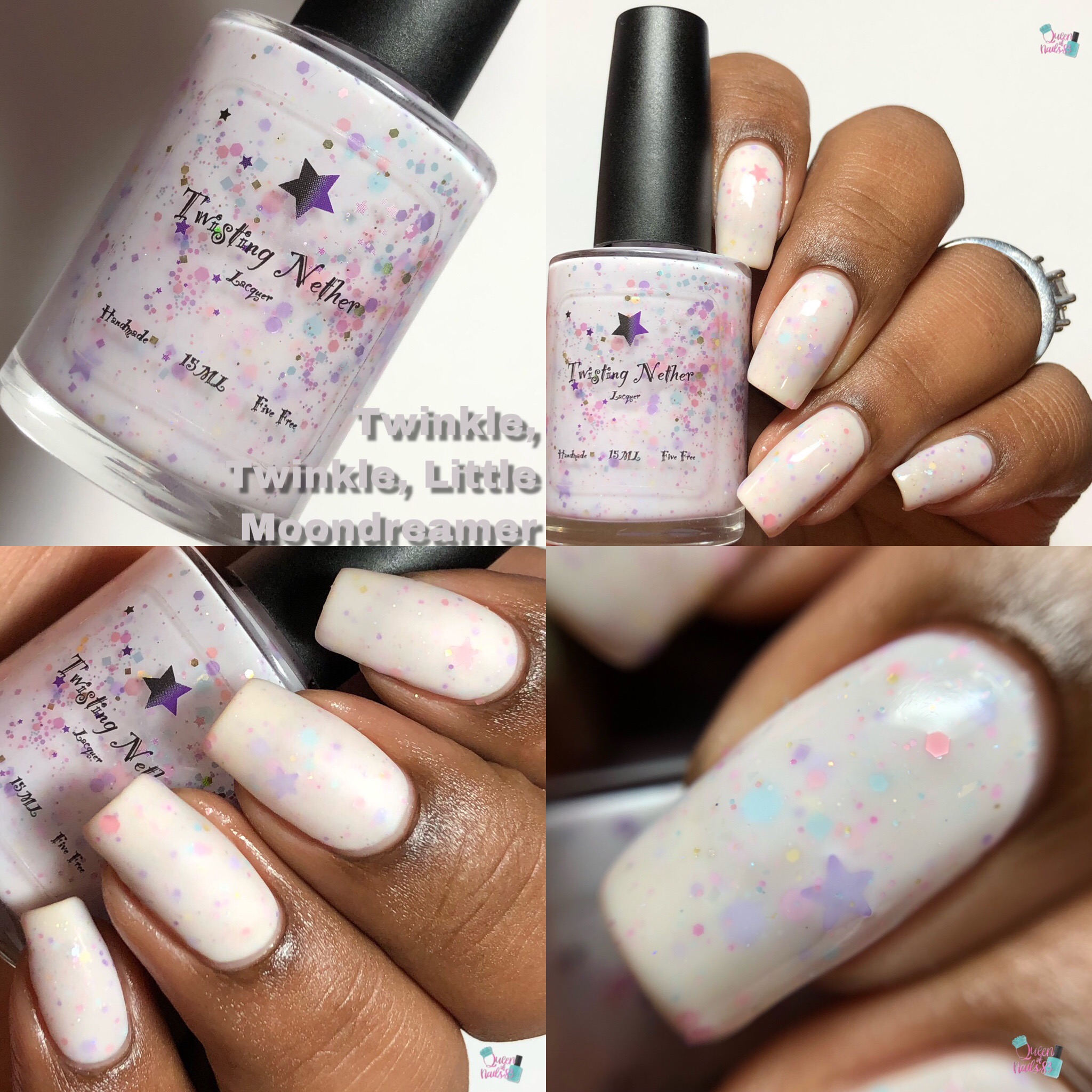 Available: Friday, May 3rd @ 11am et – Monday, May 6th @ 11:59pm et!!!!
**Polish Pickup**
*Like, Comment and Subscribe*
Eat, Laugh, Polish, Repeat
Queen of Nails 83
💕