Hey Sugas!! I'm back with a brand that is making its Queendom debut, Takko Lacquer. I had the pleasure of meeting Sheryl at PCNY Fall 2018 where I purchased my first Takkos and it was love at first polish. 
I now have the opportunity bring you the newest Spring Macaron 2019 Box as well as some customer favorites and highly requested colors. But first, a little about the maker and brand…
"Takko Lacquer started with a love of unique nail polishes, a passion for trends and fashion, an earth loving soul and a dream to capture nostalgia, inspiration and rainbows in tiny bottles.
Each of our Luxe nail polishes are articulately hand blended with earth friendly minerals, micas and raw materials in loving small batches and individually hand poured and labeled. Our polishes are 5-free, infused with Vitamin E, PETA certified as 100% cruelty free and vegan. All proudly made in the U.S.A.
Owner & Creator Sheryl, uses her background as a Fashion Designer and Visual Artist to create colors that transcend mainstream brands by researching and experimenting with bases, pigments and micas to develop unique finishes, distinct colors and unconventional polishes for those with an unusual & extraordinary taste."
Enjoy!
**All swatches are done using liquid latex base coat, glossy, QDTC and matte topcoat. Swatch photos are taken using artificial lights.**
Spring Macaron Box 2019
Cherry Blossom (T)
A thermal strawberry milk pink (cold) to white (warm) jelly creme with crushed golden flakies. $13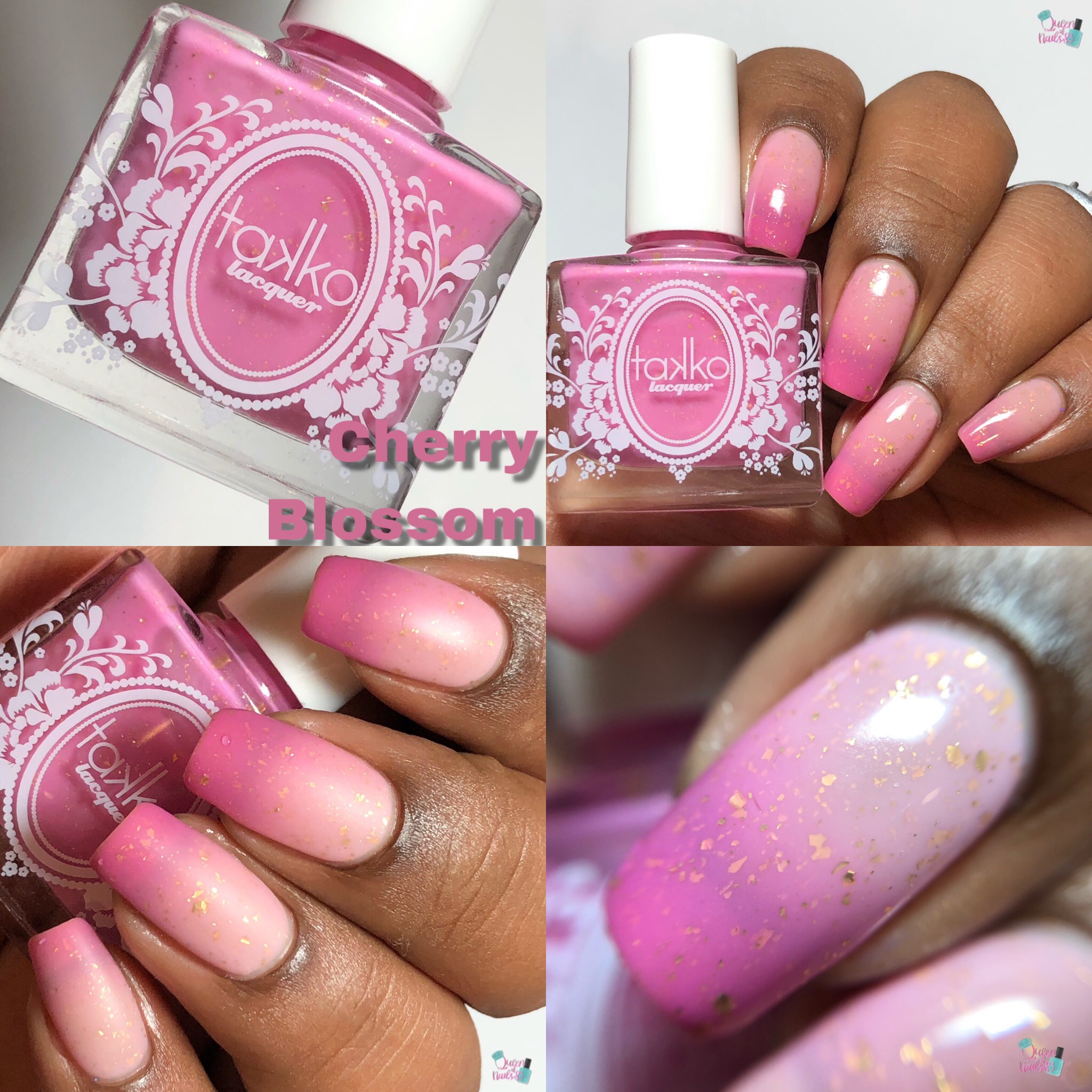 Wisteria
A light purple jelly creme with multi colored pastel crystal flakies. $13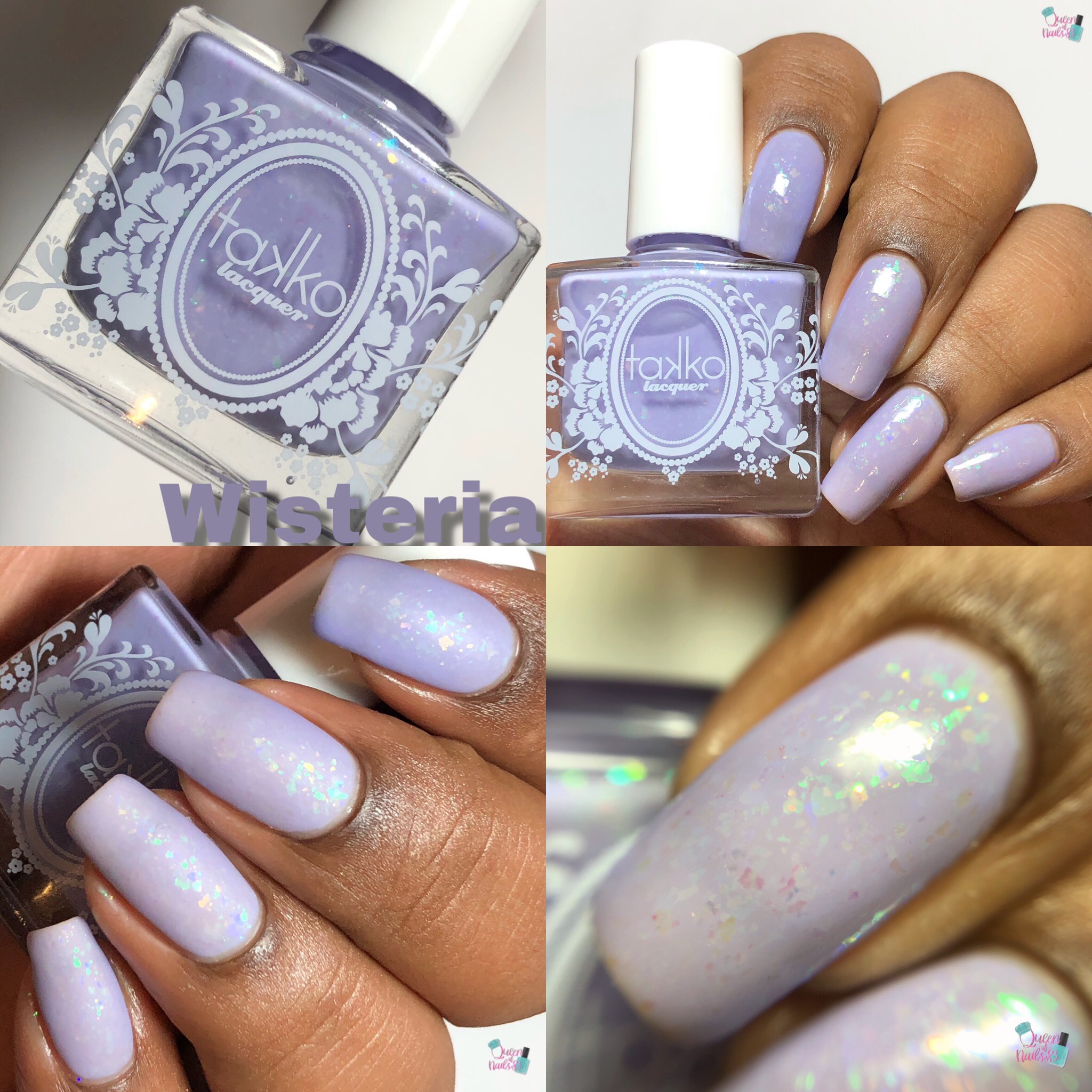 Gilded Lily
A light ivory with crushed golden flakies and platinum flakies. $12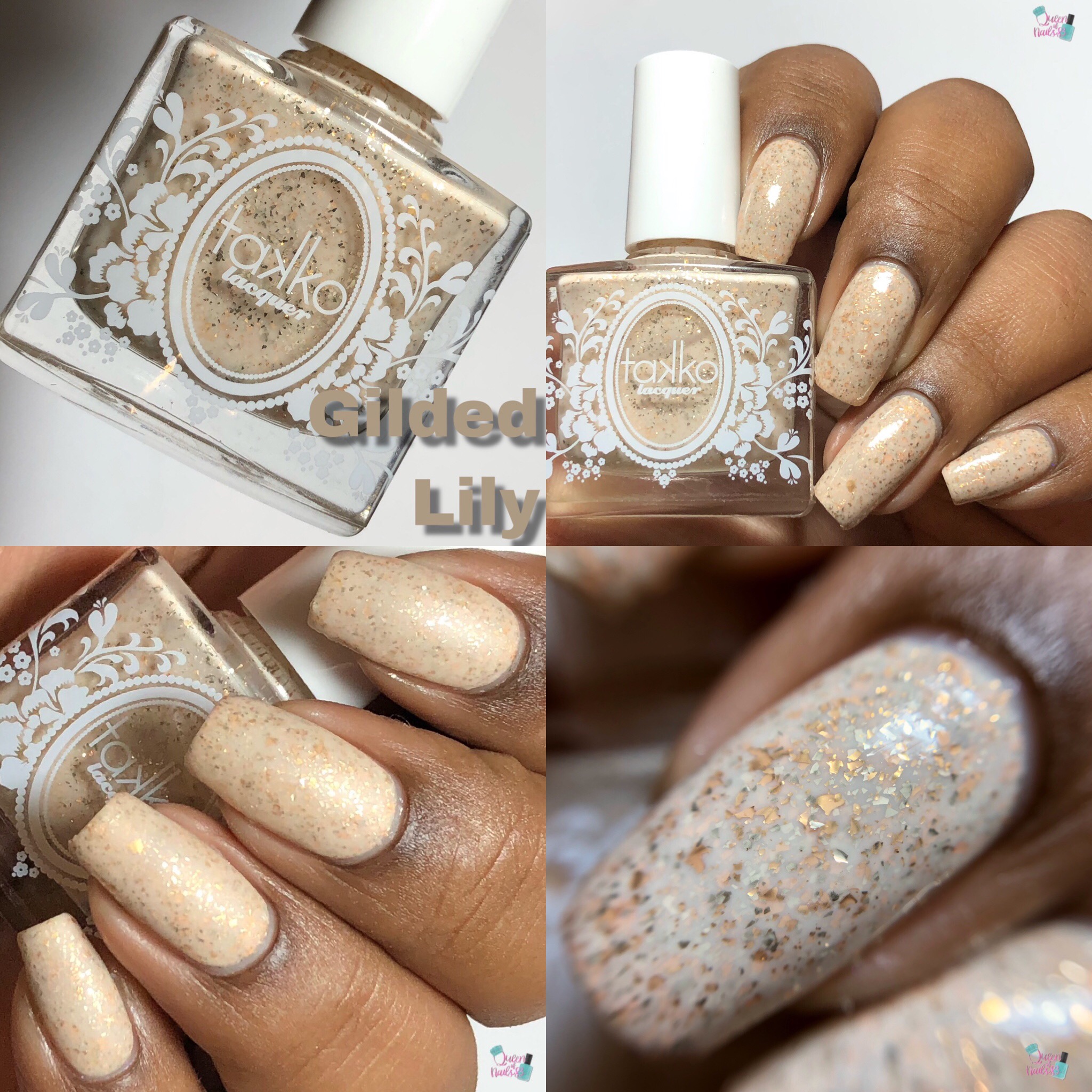 Restocked Colors
Marie Antoinette
A dusty robin egg blue creme with pink and violet shimmer. $12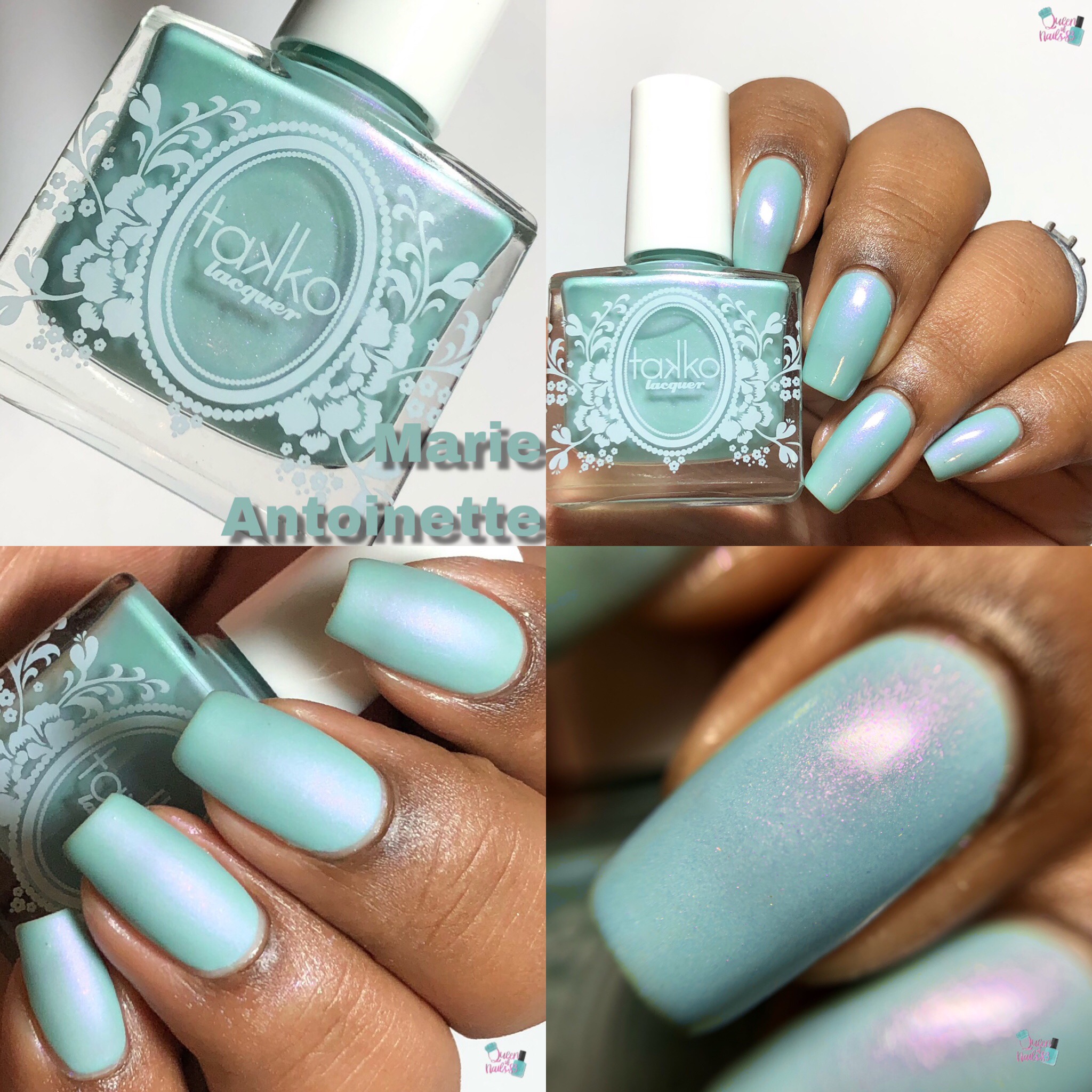 Stone
A light grey polish filled with black & gold micro flakies and golden shimmer. $12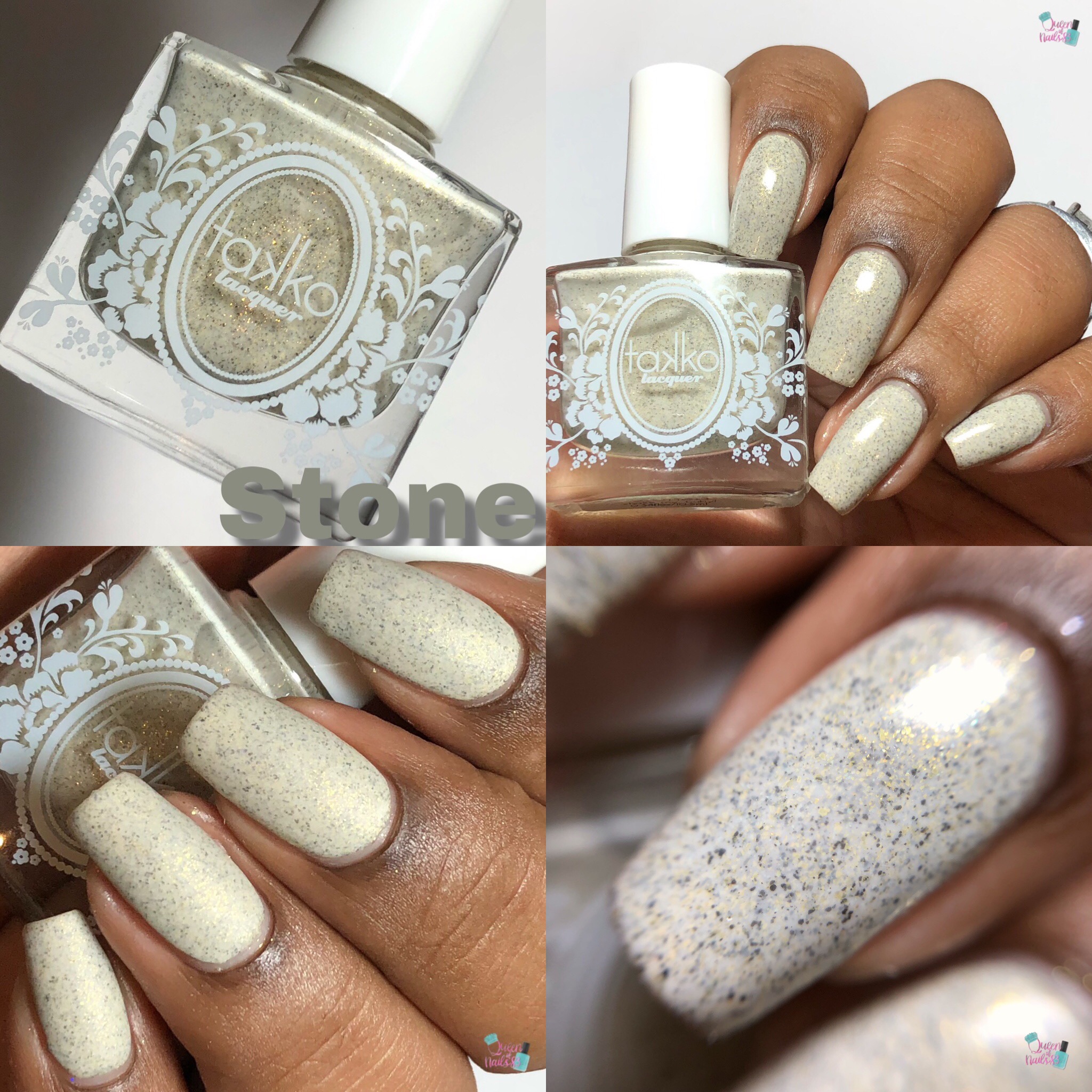 Cosmic Queen
A charcoal grey full of iridescent shimmer that changes from red to pink, gold to green in different angles. $13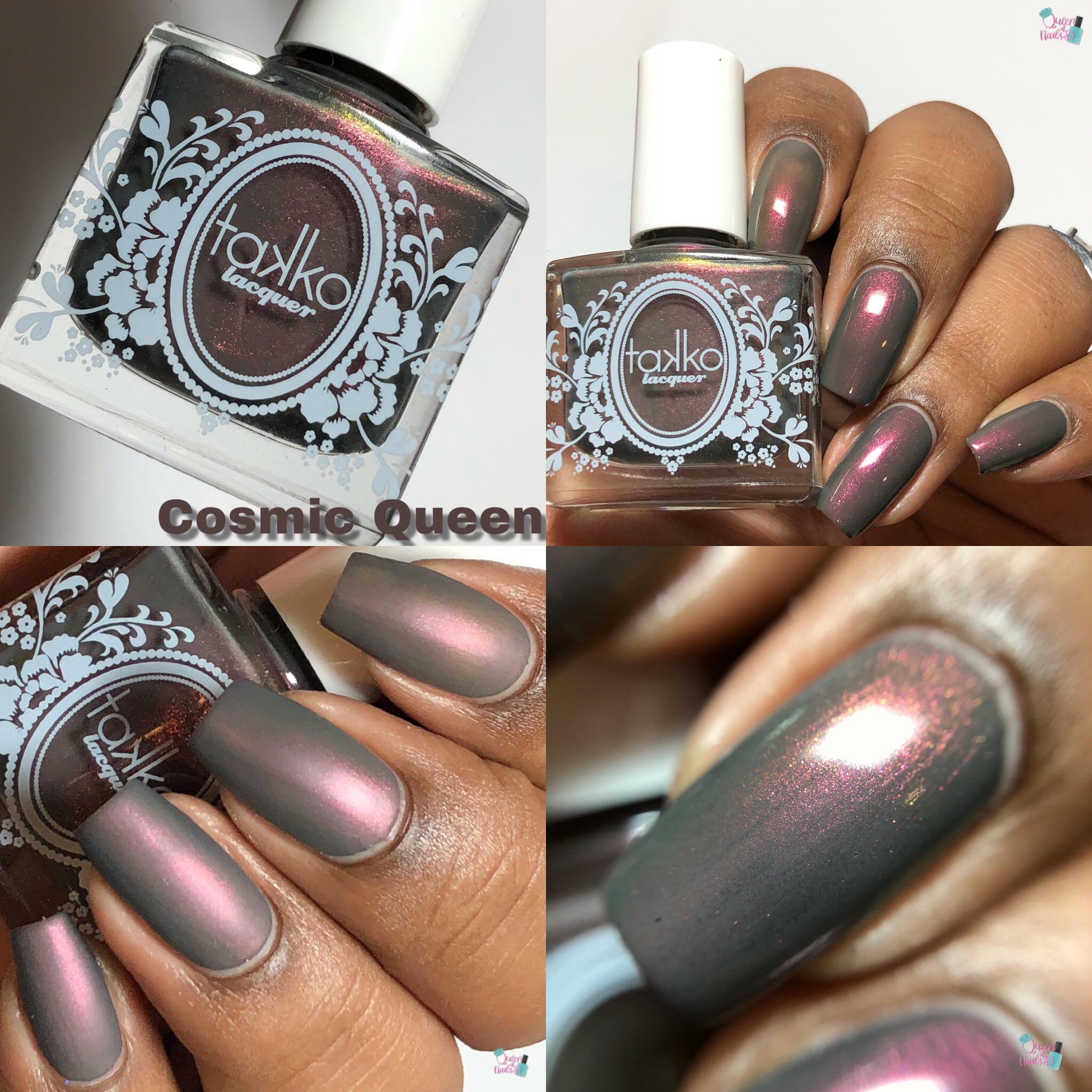 Takko Lacquer – Spring Macaron Box 2019 and Restocked Colors
Overall: The Spring Macaron Box has a very sophisticated look with colors and hues that are timeless but with finishes that are current and appealing. I can see why the restock colors are highly requested, they are stunning!!! Formula/Application: easy to apply and have a great consistency.  
Opacity: swatch shown in 3 coats.
Price: as stated above or Spring Macaron Box 2019 $35
Availability: Friday, April 12th
Takko Lacquer
*Like, Comment and Subscribe*
Eat, Laugh, Polish, Repeat
Queen of Nails 83
💕