Hey Sugas!!! One year ago, KBShimmer took a leap forward and launched a new look to celebrate the anniversary of their 10
Now, they celebrate the one year anniversary of KBShimmer's new look, which we love even more today, by bringing you a new magnetic top coat trio! This trio features magnetic multichrome flakes and vibrant micro holo flakes for a celestial look that is out of this world! 
Galaxies swirl with planets, stars, dust and dark matter with Universal Appeal and dusk gives way to night with the vibrant tones of nature as they become muted as moonlight casts a soft glow in Moon on Over and finally, the hot, fiery, warming of the sun changes our moods, warms our homes, and gives life to our planet. Sol Mate echoes the colors of nature that the sun helps bring to life.  
But none of this is made possible without Ring Magnet! These magnetic polishes are an out-of-this-world invention with the power of a magnet. Color is shifted and relocated on the nail for a futuristic effect. For best results, you need a strong magnet with the right magnetic pattern – and not all magnets will work.  The KBShimmer Neodymium Ring Magnet will give your magnetic polish manicures a makeover! This one-inch magnet has a convenient 3/4-inch opening large enough for most fingers, and is 1/4-inch in width. For a curved, negative space on the nail, hold ring flat against nail about 1/4 inch away. For a subtle linear look, hold nail inside the ring. This magnet can be used with all magnetic polishes including gel varieties.
 Enjoy…
**All swatches are done using liquid latex peel off base coat, glossy, QDTC and matte topcoat. Swatch photos are taken using artificial lights.**
Universal Appeal (M)
A galaxy-inspired shade with hues of purple and pink that shift into a vibrant emerald green and micro holo flakes for added sparkle. At some angles, hints of golden orange or dusty silver also appear.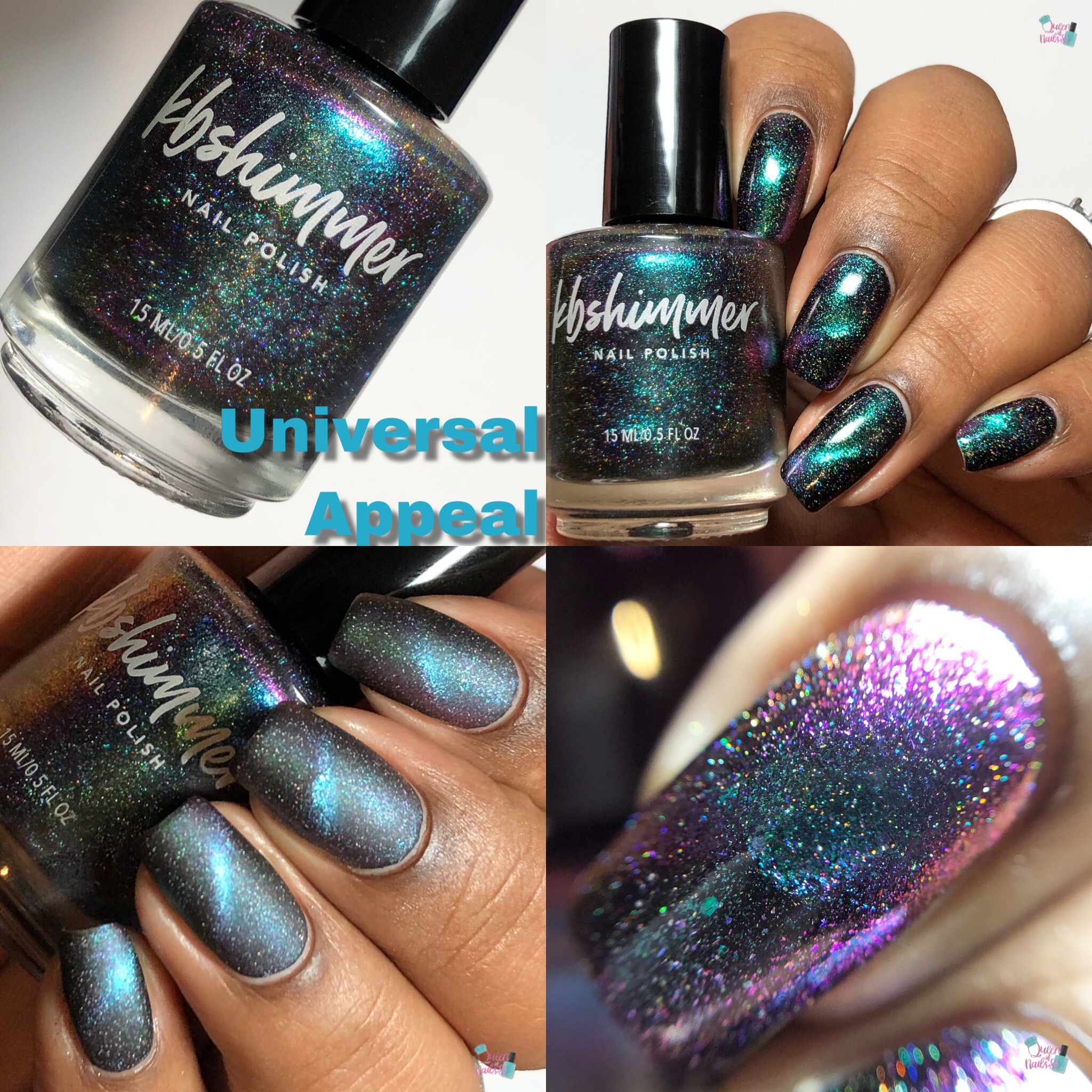 Moon On Over (M)
Inspired by muted tones, Moon on Over features a soft peach hue that shifts to pink, lime, and grass green with micro holo flakes for added sparkle.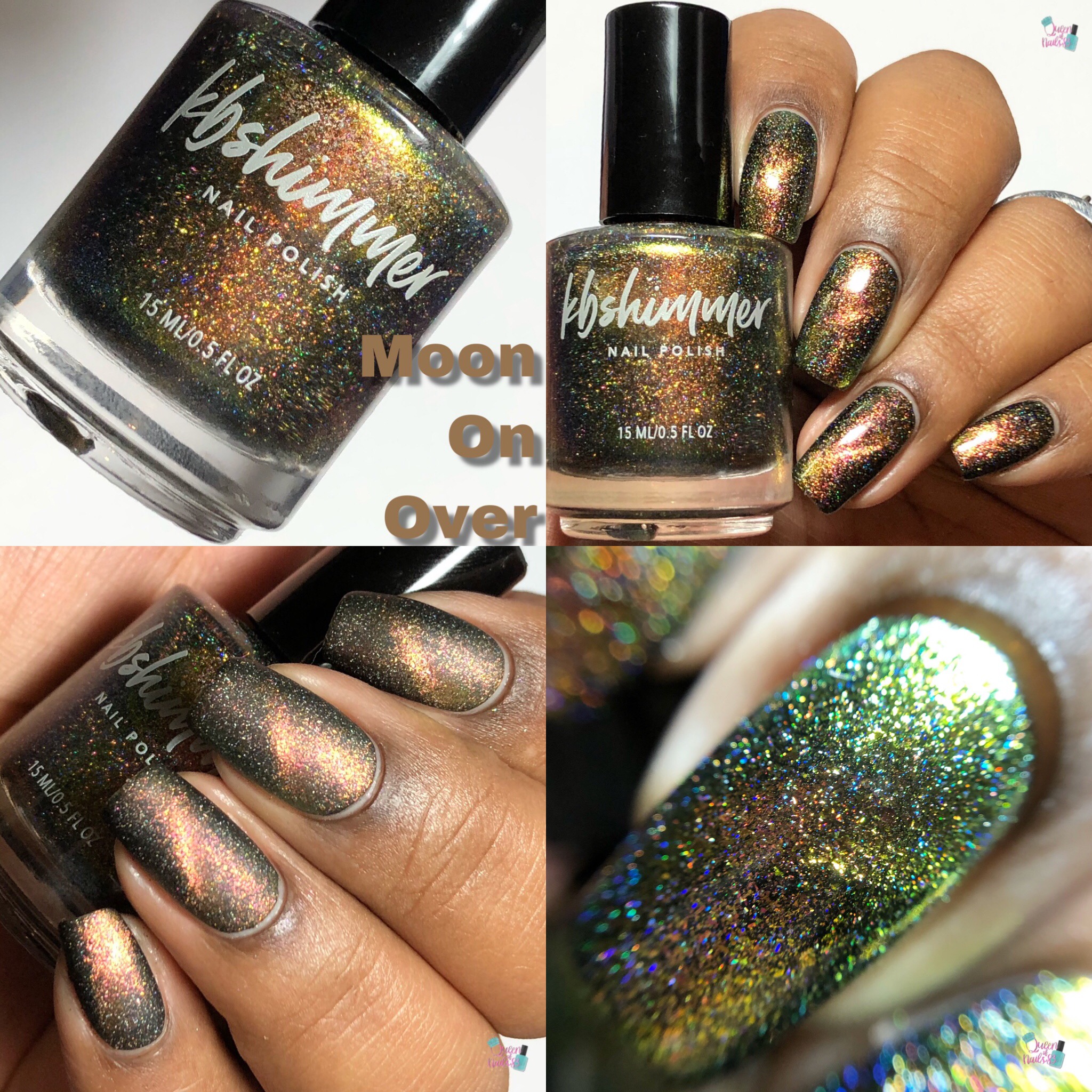 Sol Mate (M)
Starting as a bright pink, Sol Mate quickly shifts to shades of gold, green, copper and peach with micro holo flakes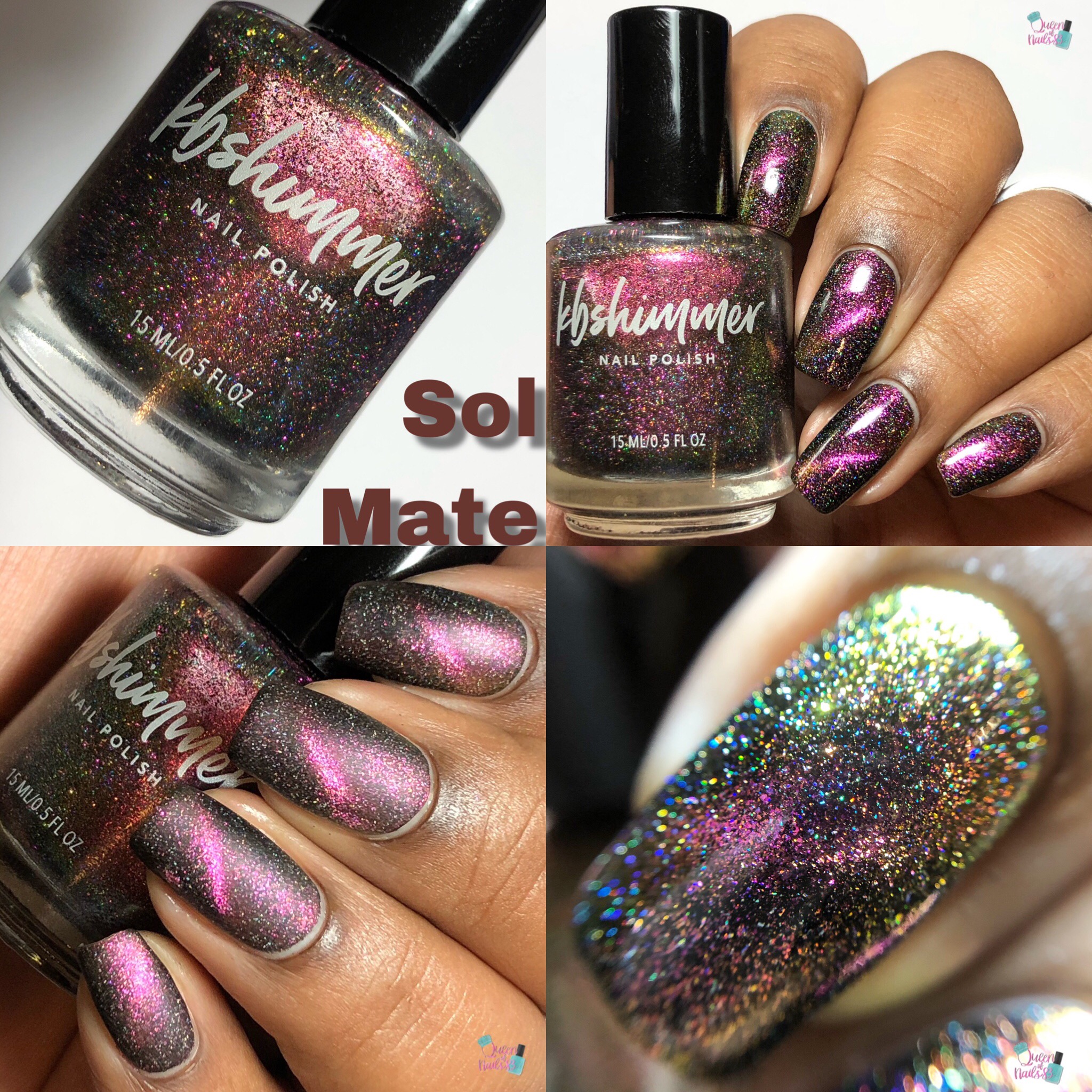 KBShimmer – Launch Party 2019 Trio
Opacity: swatches shown in 2 coats over Eclipse (black creme) and also recommended over other dark colors when used with Ring Magnet. All shades can also be worn alone in 2-3 coats when not magnetized for a unique multichrome finish.
Price: $10 each
Availability: Monday, April 8th
KBShimmer
*Like, Comment and Subscribe*
Eat, Laugh, Polish, Repeat
Queen of Nails 83
💕