PLEASE NOTE – THIS POST CONTAINS VIP SWATCHES!
Hey Sugas!!! A party just ain't a party until the host arrives. And here in the Queendom, we know how to party!!! Traditionally, the host arrives a little later than the invited guests and makes a grand entrance. Now the grand entrance is important because it set the tone for the entire event. The entrance should make sense and evoke a sense of excitement. We've all seen amazing entrances at weddings and Sweet 16s – maybe it's being flown in on a private helicopter or horse drawn carriages, regardless, it's always the talk of the town. 
So let me paint the scene for you…..
Lights are dim and instantly a loud BOOM and complete darkness fill the space with hundreds of party go-ers. Suddenly, glowing neon strobe lights in shades of purple, green and gold appear and out of nowhere music is blaring out of the speakers. Slowly the lights start to fade in and there is Miranda of Ever After Polish atop her Mardi Gras float.
The host of all things Polish Con has officially arrived!!!! Let the party begin!!! Along with her, she brings her event VIP, an exclusive , 3 LEs and a remix. This is one for the books!
Enjoy….
**All swatches are done using liquid latex peel off base coat, glossy QDTC and matte topcoat. Swatch photos are taken using artificial lights.**
Ain't No Party Like A N'awlins Party! – VIP
A party in a bottle this graphite gray crelly is loaded with silver holo, iridescent purple hex glitters, grape micro flakes and pink aurora shifting shimmer.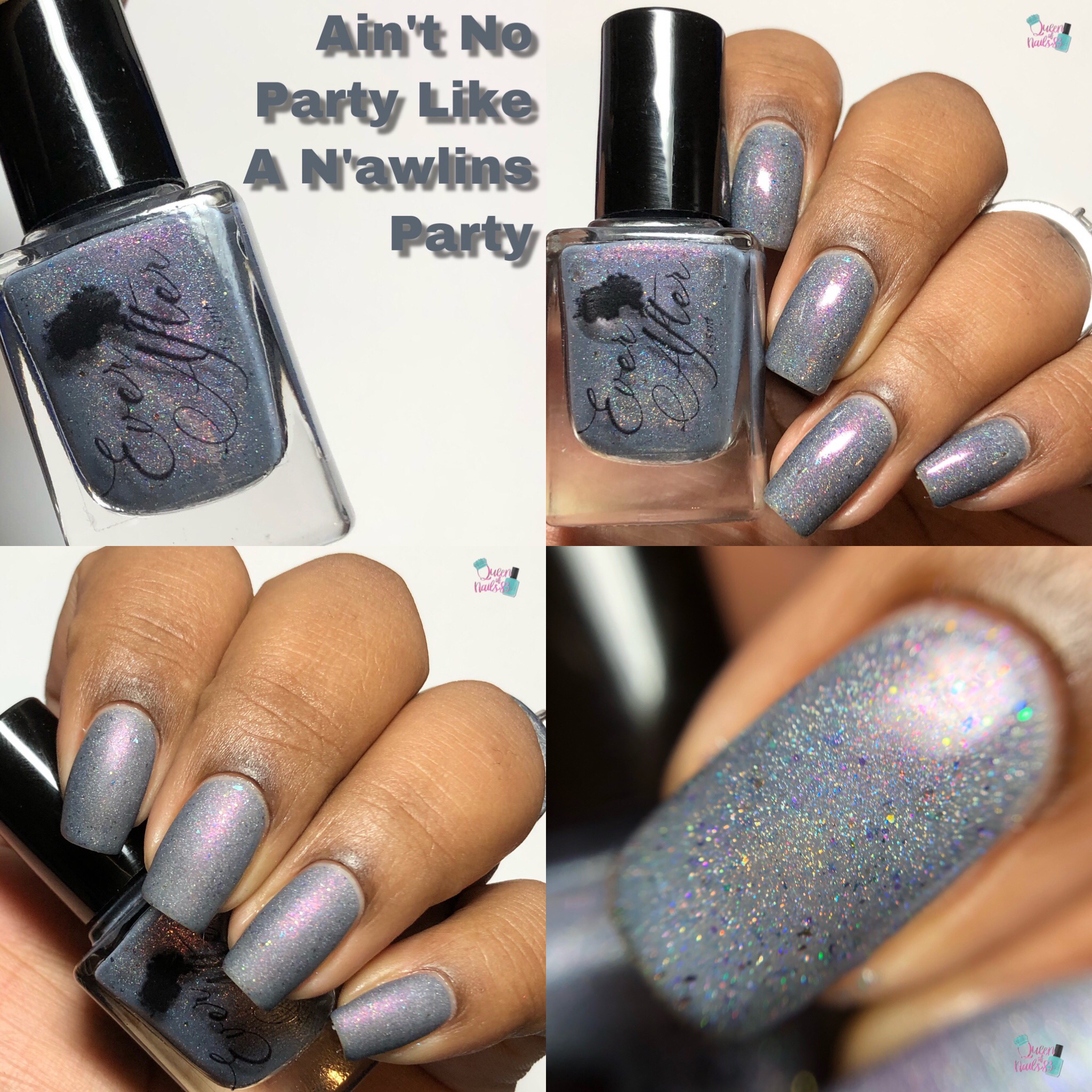 Geaux Big Or Geaux Home – Exclusive
A rich purple jelly holo with purple/black Shifting shimmer, blue/purple/red/gold UCC flakes and a hint of purple aurora shimmer.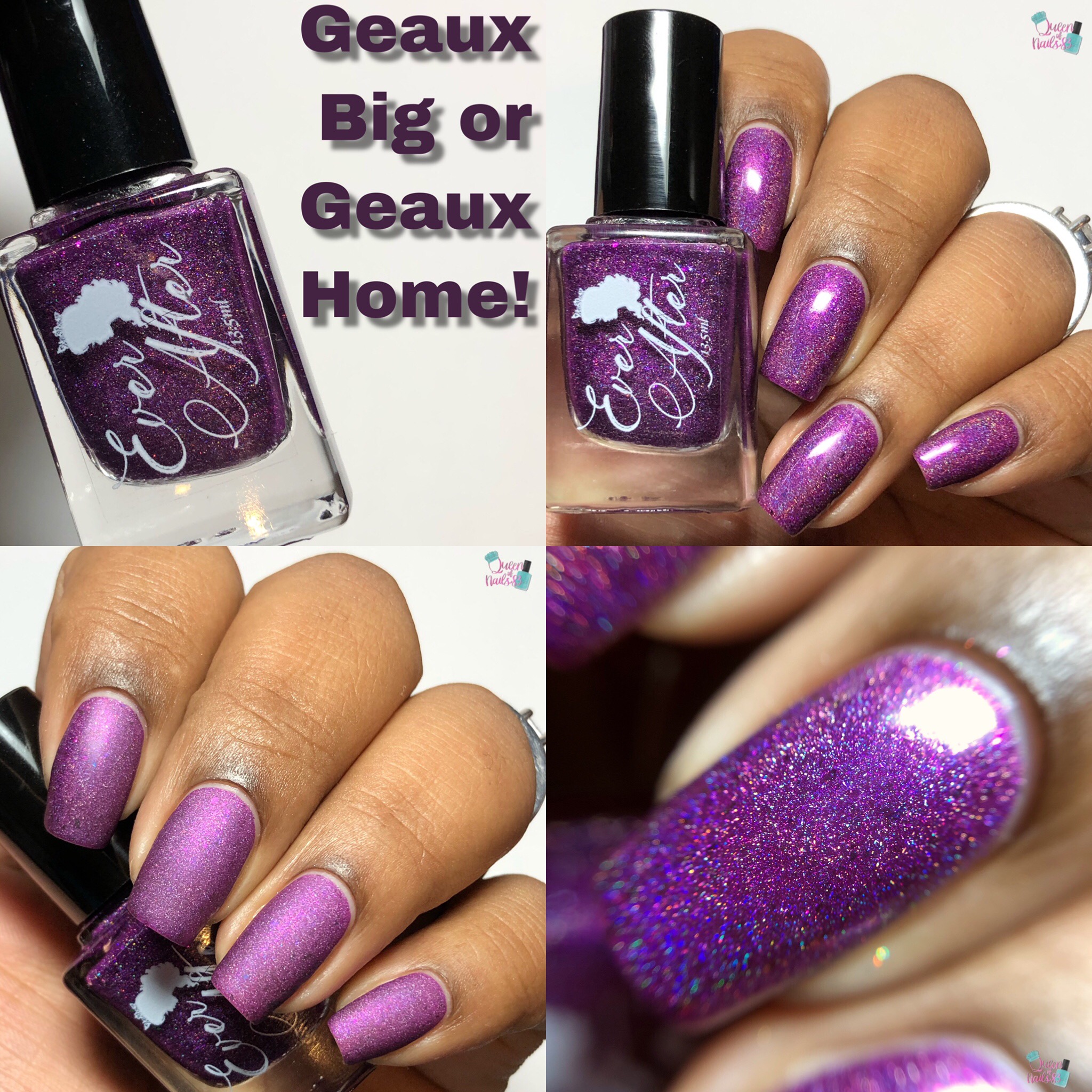 Lemme Bayou A Drink – LE
A different color in different lights this multichrome shifts from shades of purple to green depending on the light and is full of holo, aurora shifting shimmers and silver/red/blue/green UCC flakes.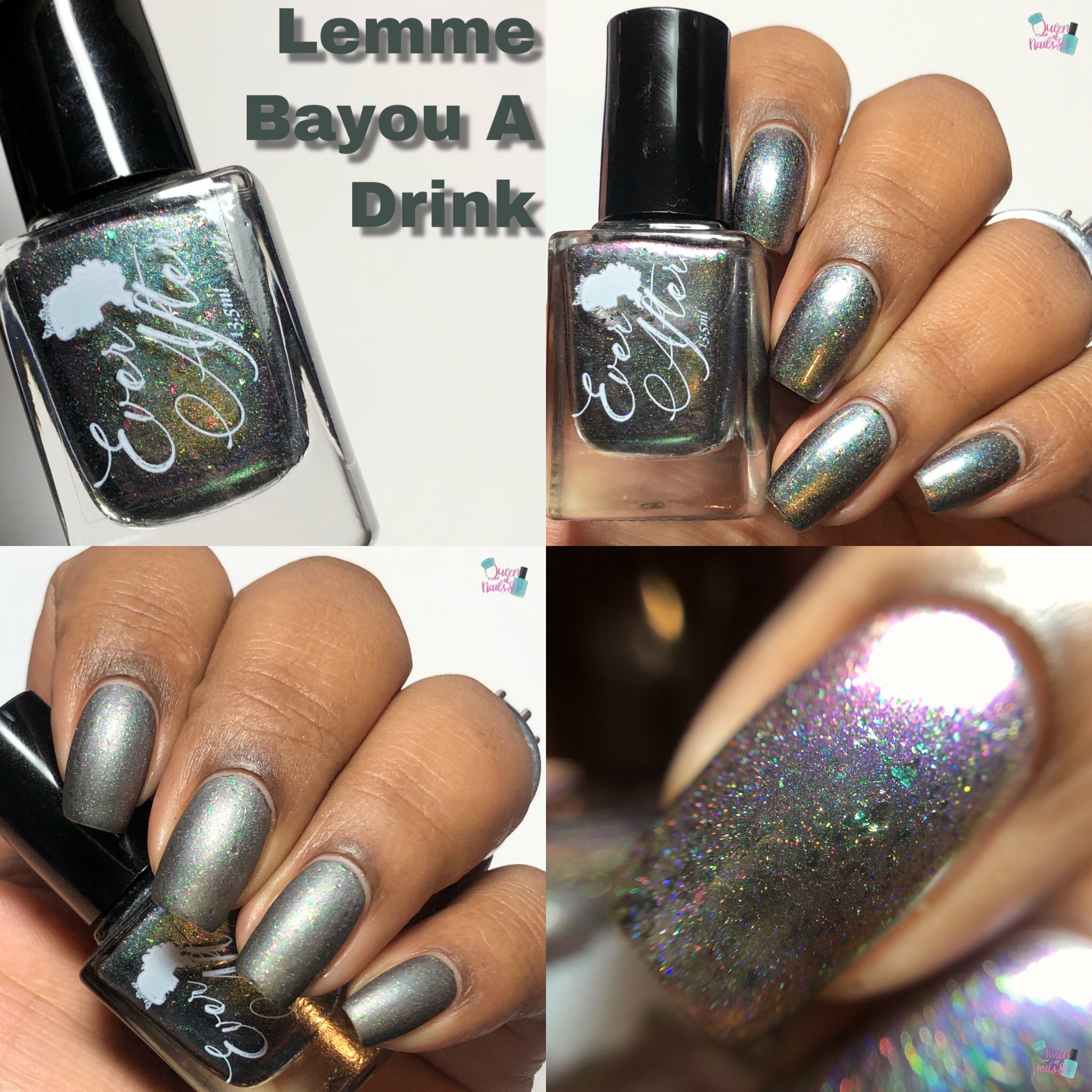 The Big Easy – LE
An exciting green jelly full of shifting shimmers green holo glitters, gold micro flakes and silver/red/blue/green UCC flakes.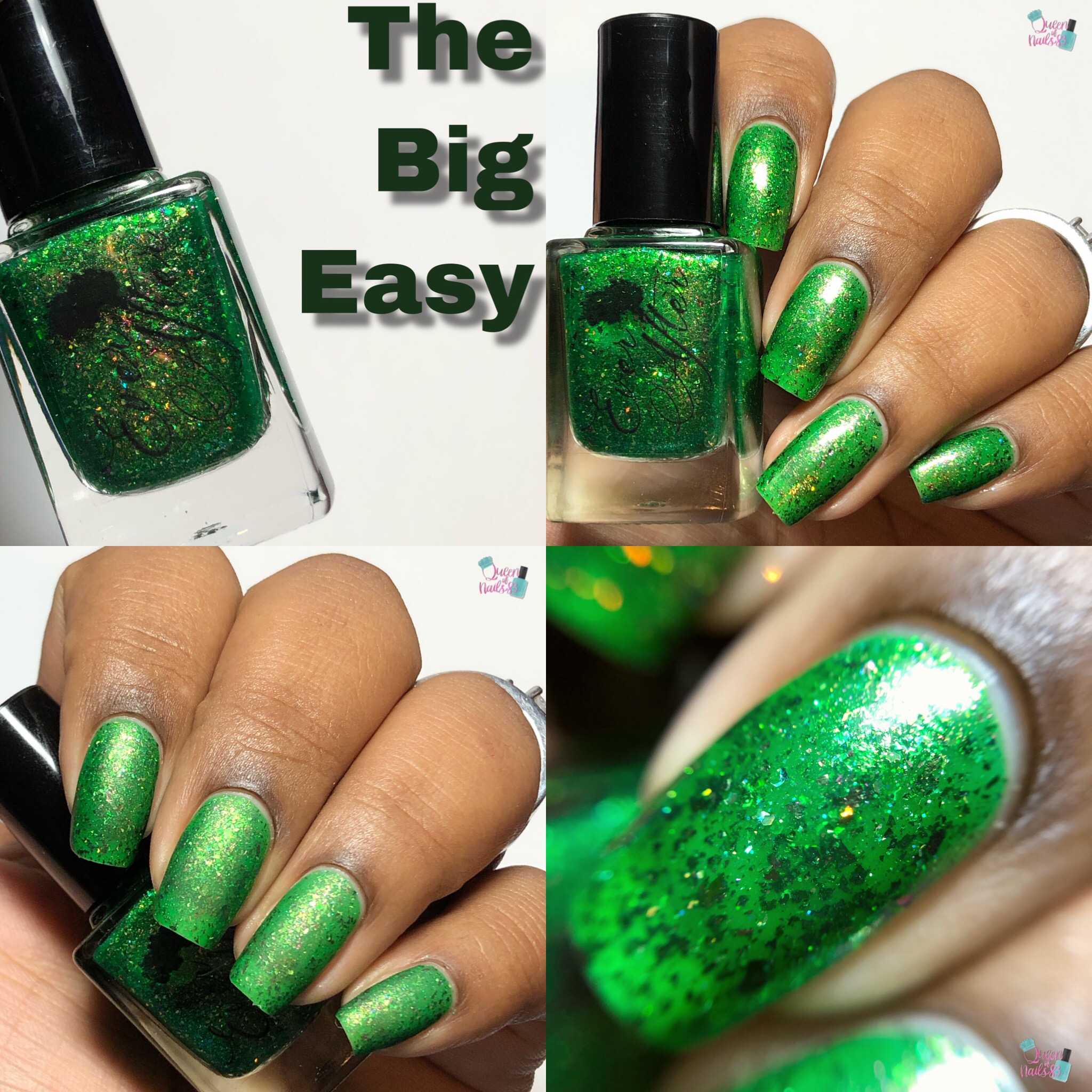 Peench Da Tails, Suck Da Head! – LE
A freshly boiled crawdad this vibrant red holo is loaded with silver holo, a gold holo micro flakes.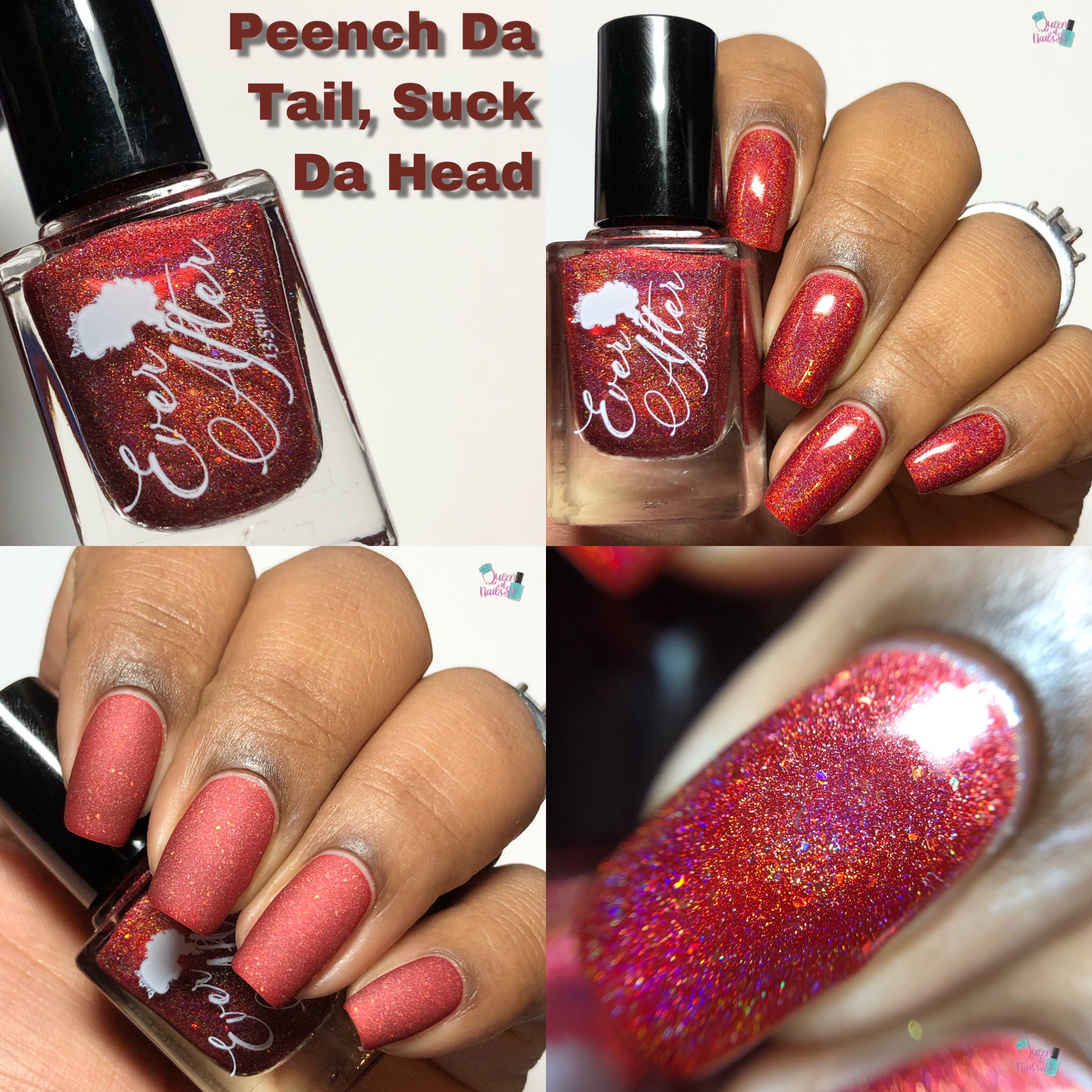 Laissez Les Bon Temps Rouler 2.0 Remix
An antique gold with purple, green and gold UCC flakes, gold holo and assorted purple, green and gold glitter. Swatch shown in 2 coats over black.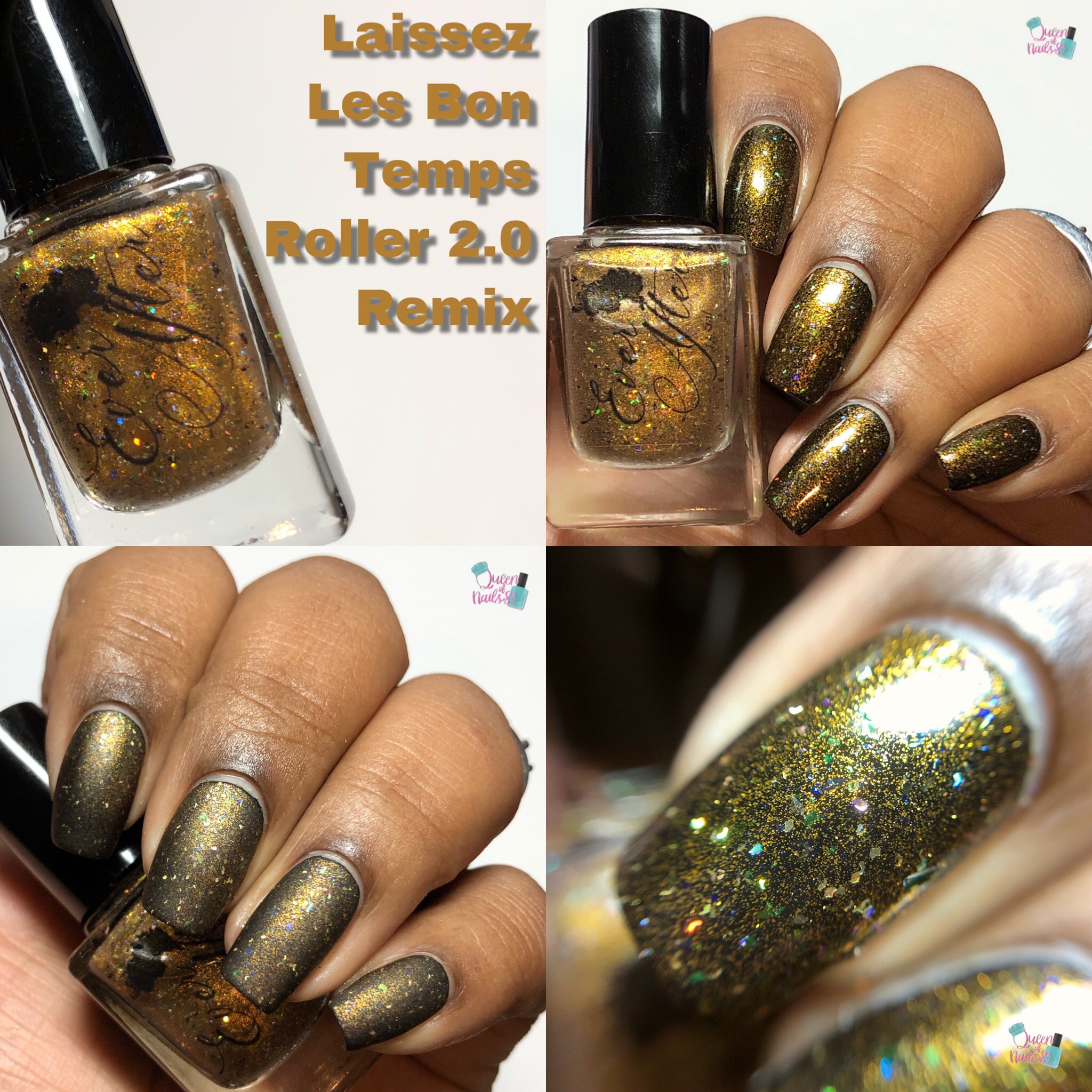 Ever After Polish – Polish Con New Orleans 2019
Fairy Program: Yes
You may be wondering…. what is the FAIRY PROGRAM????
It's simple!!! It's a virtual shopping experience which allows those that are unable to attend Polish Con the opportunity to shop along and join the fun! Allow Polish Con Fairy, organized and fulfilled by the ladies of Fair Maiden (the founders of Polish Pickup) to be your one-stop shop for event overpours, RTPC (Road to Polish Con A & B), LEs, Exclusives, etc.
Upcoming Dates
3/30 – Wish list shopping will begin

4/6 – Shop opens at 1pm cst

4/9 – shop closes
Please join the Facebook Fan Group for more details and information. Please note – not all makers/brands will be participating in the is feature. 
Opacity: swatches shown in 3 coats
Price: $12/each and $10 for Remix
Availability: Saturday, April 6th at PCNOLA 2019 and online TBA
Ever After Polish
To stay in the know of all things Polish Con, shop, like, join and follow
**Polish Con**
The Polish Convention New Orleans
Sat, April 6, 2019
1:00 PM – 6:00 PM CDT
Ponchatrain Convention & Civic Center
4545 Williams Blvd
Kenner, LA 70065
*Like, Comment and Subscribe*
Eat, Laugh, Polish, Repeat
Queen of Nails 83

💕