Bourbon St, crawfish, LSU, The Saints, Mardi Gras, French Quarter and beignets are all synonymous with New Orleans and after April 6th, you can add Polish Con to that list!
In just a few short weeks, Polish Con is headed to the Big Easy and this event will be one for the history books. In attendance to the PCNOLA lineup, is veteran maker/brand, Chrissy of Turtle Tootsie Polish. This mighty turtle has created 6 new polishes that will debut including 3 LEs and 3 exclusives. 
Enjoy….
**All swatches are done using liquid latex peel off base coat, glossy QDTC and matte topcoat. Swatch photos are taken using artificial lights.**
Bayou A Polish? – LE
A purple holo polish with aurora shimmer and gold and purple flakies
NOLA Power – LE
A super sparkly yellow linear holo polish loaded with multiple gold holo glitters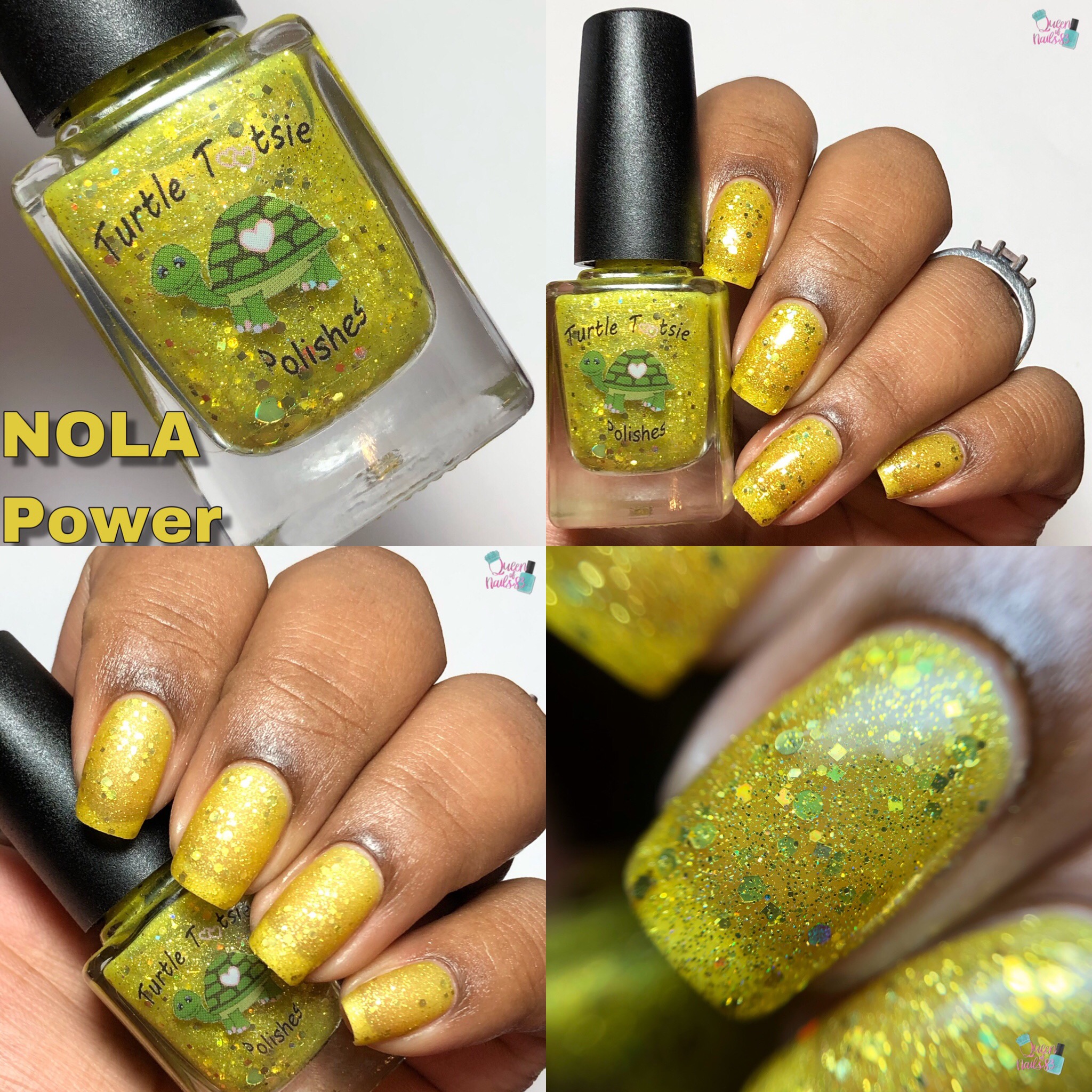 Jazzin It Up The Mississippi – LE
A grass green linear holo polish loaded with holo green flakies and glitters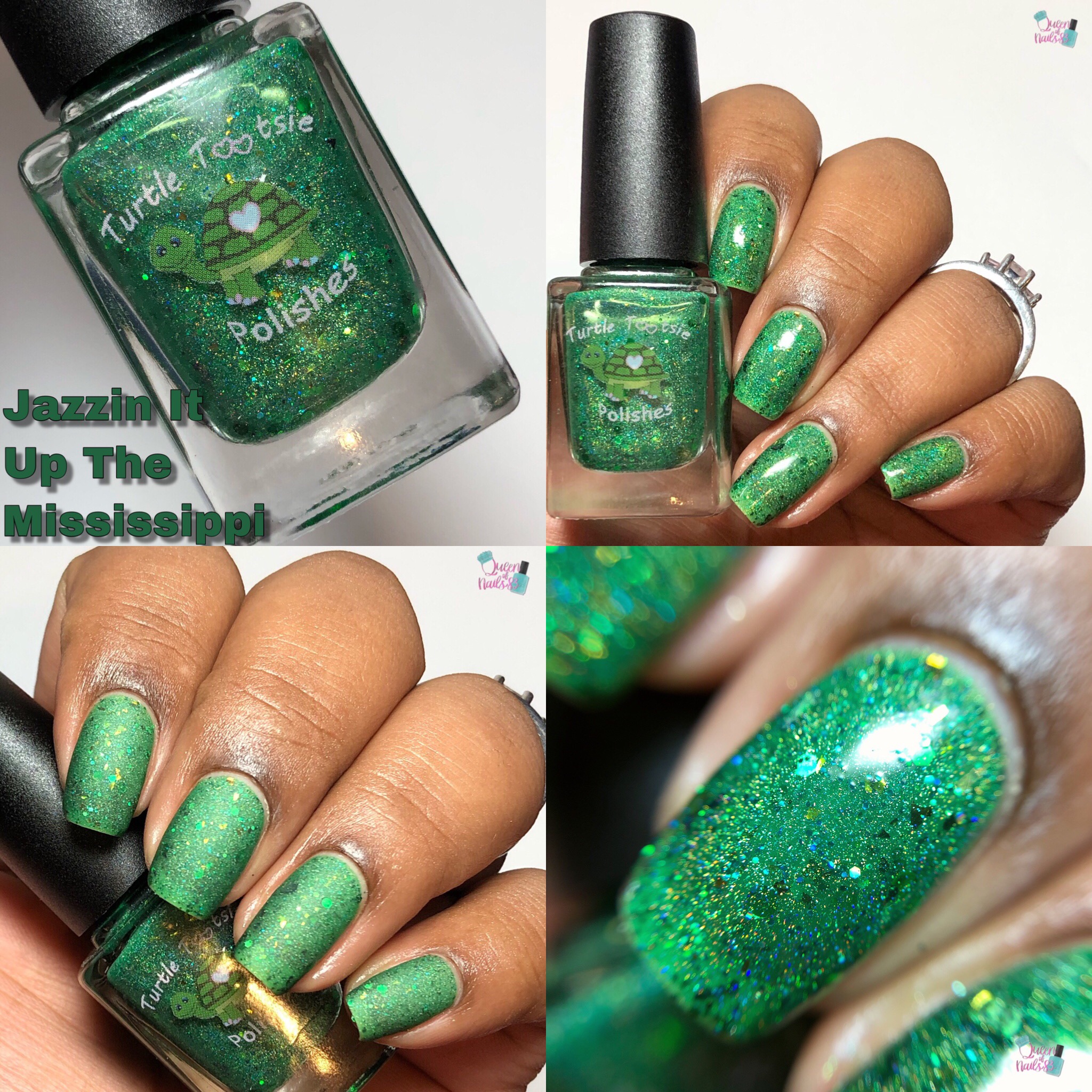 Even The Gators Wear Beads – Exclusive
A swamp green holo polish loaded with holo glitter, UCC flakies and purple shimmer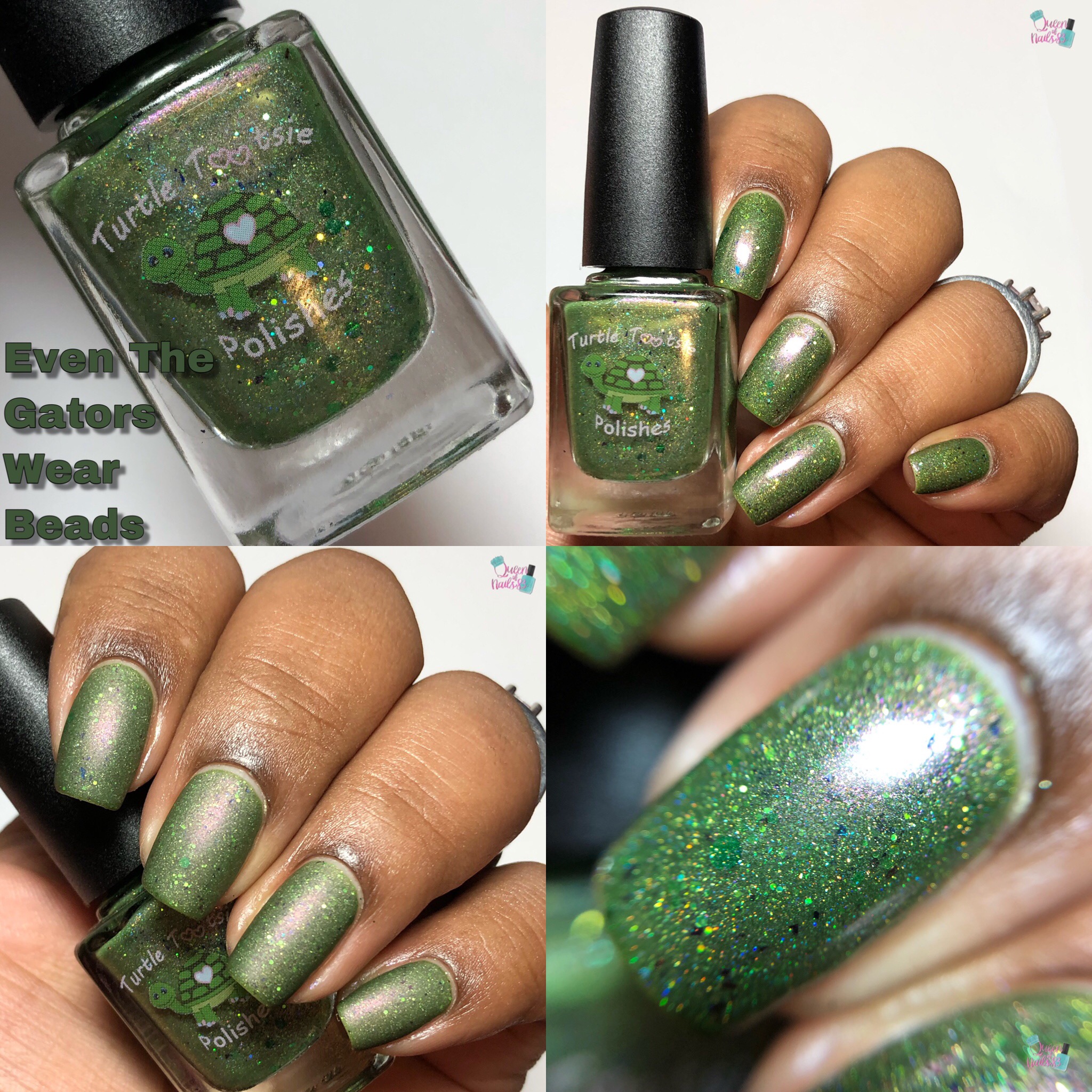 Mardi Gras or Bust – Exclusive
A white crelly loaded with green, purple and gold holo flakies and glitters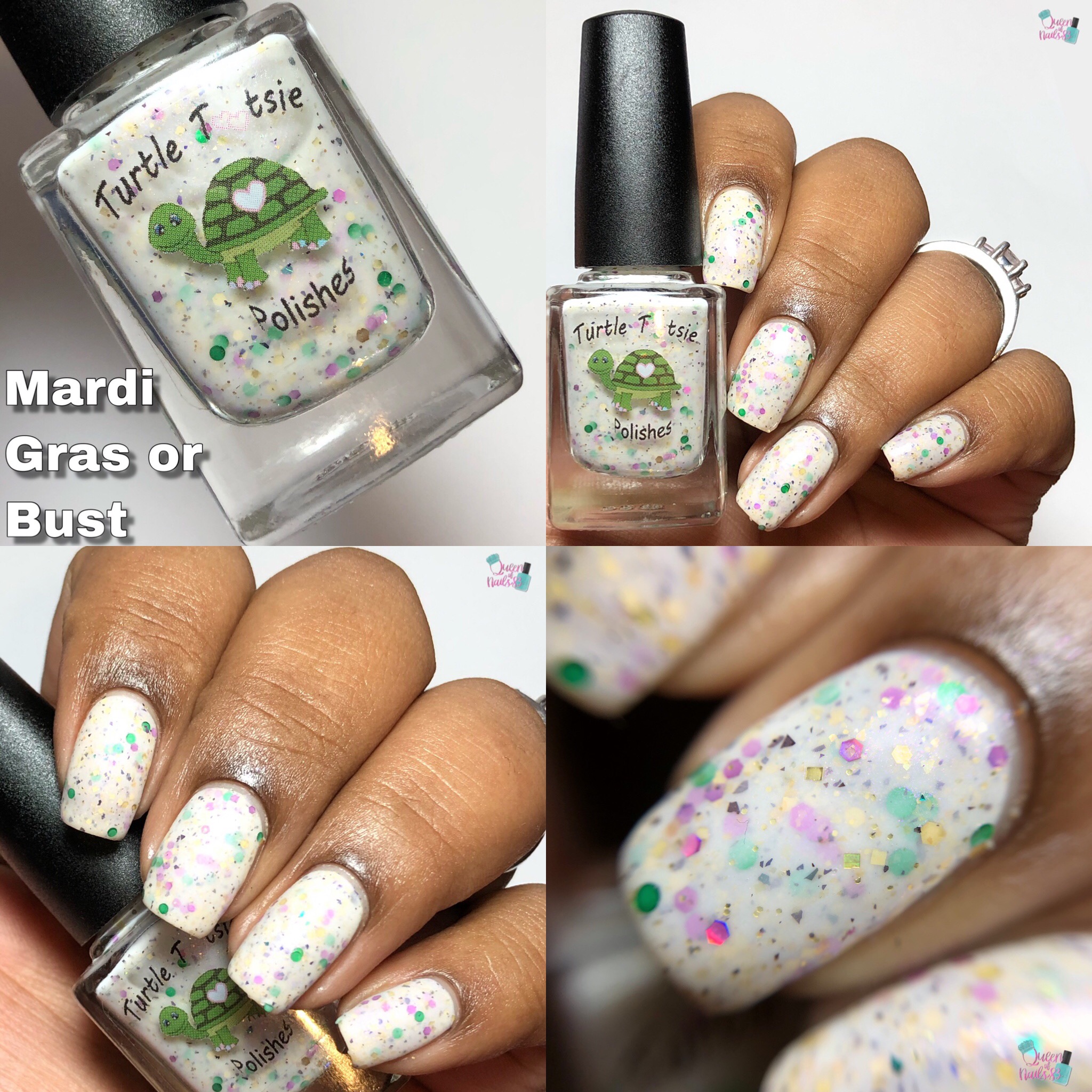 Festooning It Up – Exclusive
A holo glitter bomb/glitter topper loaded with green, purple and gold holo flakies and glitters. Swatch shown in 2 coats over black creme.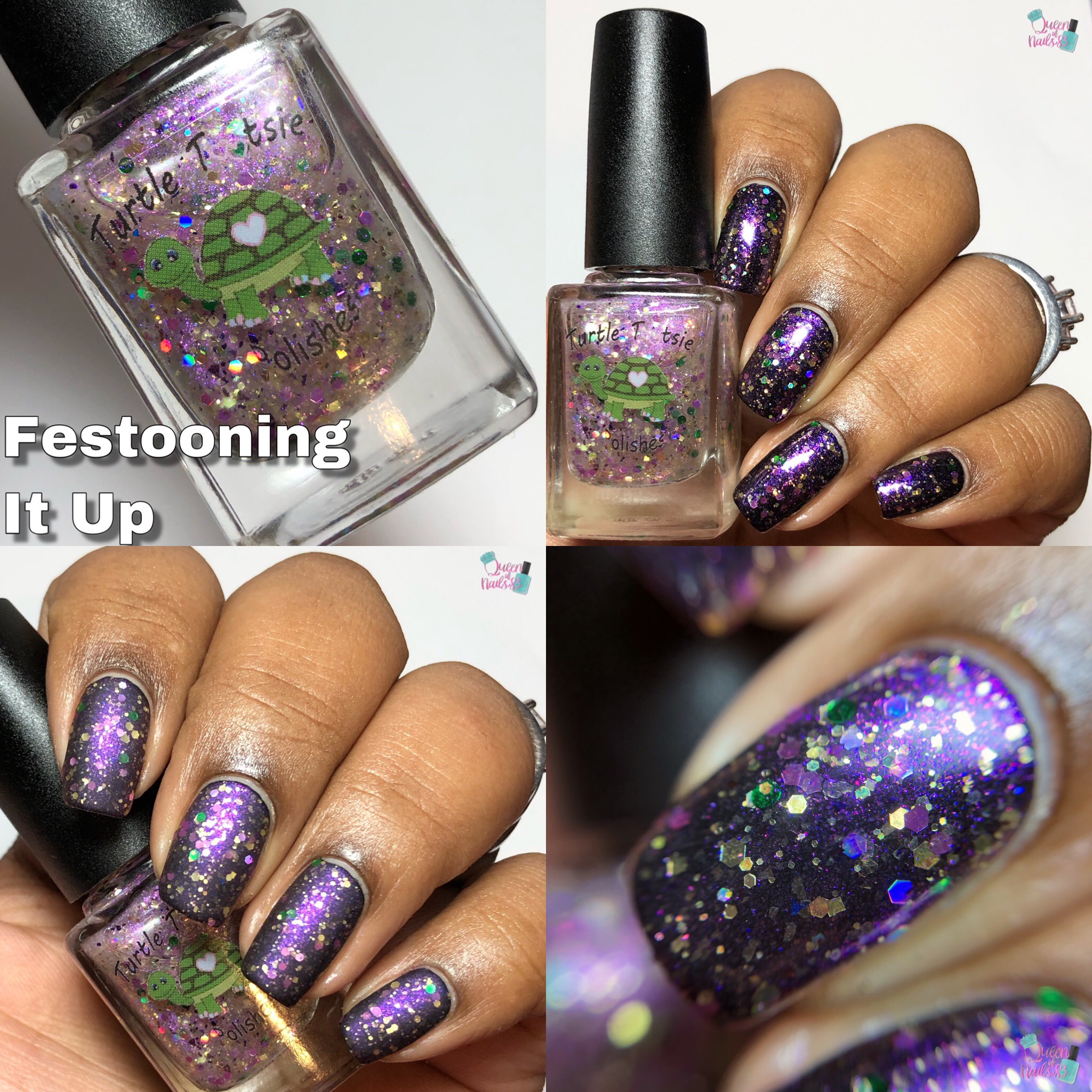 Turtle Tootsie Polish – Polish Con New Orleans 2019
Fairy Program: Yes
You may be wondering…. what is the FAIRY PROGRAM????
It's simple!!! It's a virtual shopping experience which allows those that are unable to attend Polish Con the opportunity to shop along and join the fun! Allow Polish Con Fairy, organized and fulfilled by the ladies of Fair Maiden (the founders of Polish Pickup) to be your one-stop shop for event overpours, RTPC (Road to Polish Con A & B), LEs, Exclusives, etc.
Upcoming Dates
3/30 – Wish list shopping will begin

4/6 – Shop opens at 1pm cst

4/9 – shop closes
Please join the Facebook Fan Group for more details and information. Please note – not all makers/brands will be participating in the is feature. 
Opacity: swatches shown in 3 coats
Price: $10 for 1; $27 for 3 and $50 for 6
Availability: Saturday, April 6th at PCNOLA 2019 and online after event TBA
Turtle Tootsie Polish
To stay in the know of all things Polish Con, shop, like, join and follow
**Polish Con**
The Polish Convention New Orleans
Sat, April 6, 2019
1:00 PM – 6:00 PM CDT
Ponchatrain Convention & Civic Center
4545 Williams Blvd
Kenner, LA 70065
*Like, Comment and Subscribe*
Eat, Laugh, Polish, Repeat
Queen of Nails 83

💕