PLEASE NOTE – THIS POST INCLUDES SWATCHES OF THE VIP BAG POLISH!!!!
Hey Sugas!! For the next 3-ish weeks, we are counting down the final days until Polish Con New Orleans Spring 2019 (PCNOLA)!!! There is so many great things in store for this event including new Polish Con appearances from brands like Ethereal Lacquer and Crystal Knockout and the return of some fan favorites including Fair Maiden, Great Lakes Lacquer and Tonic Nail Polish.
Polish Con began in 2016 with its inaugural event in Chicago, IL showcasing indie nail polish hosted by Mariah, Rachel and Miranda. Since then, there have been a few changes but the main focus has remained the same, indie nail polish. Polish Con has become a bi-annual event hosted by Miranda of Ever After Polish with locations throughout the northern US. For PCNOLA, Miranda has teamed up with Co-Host, Jill of JReine for a spectacular event sure to knock your socks off.
If you haven't already purchased your ticket(s), for the GREATEST SHOW ON EARTH, and no, I don't mean the circus, there is still time. Get your ticket(s) for Polish Con New Orleans Spring 2019!!!
The Polish Convention New Orleans
Sat, April 6, 2019
1:00 PM – 6:00 PM CDT
Ponchatrain Convention & Civic Center
4545 Williams Blvd
Kenner, LA 70065
Among the returning veteran PC brands is Carrie of Sassy Sauce Polish. Carrie will be traveling all the way from Illinois to bring you event LEs and Exclusives along with some of her current stock including the March 2019 Release. Don't fret, I have all of it for you right, just keep reading.  
Enjoy….
**All swatches are done using liquid latex peel off base coat, glossy QDTC and matte topcoat. Swatch photos are taken using artificial lights.**
Event Polishes
Gator Glam – VIP
A golden shimmery lime green packed with colorful crystal shifty flakies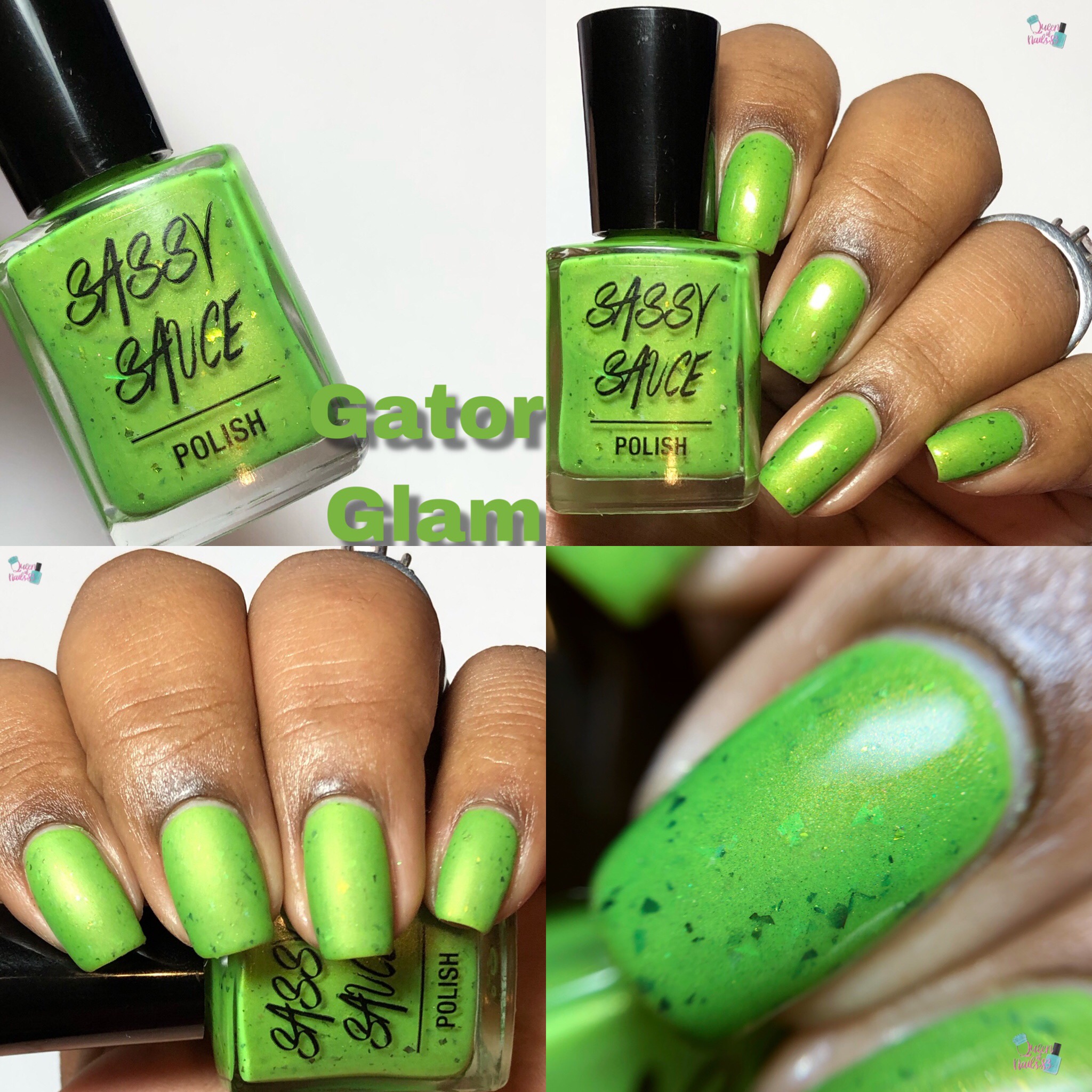 Who Dat – Limited Edition (T)
A black thermal jelly with a golden coppery shimmer that fades to clear and leaves behind some super shifty duo chrome shifting flakies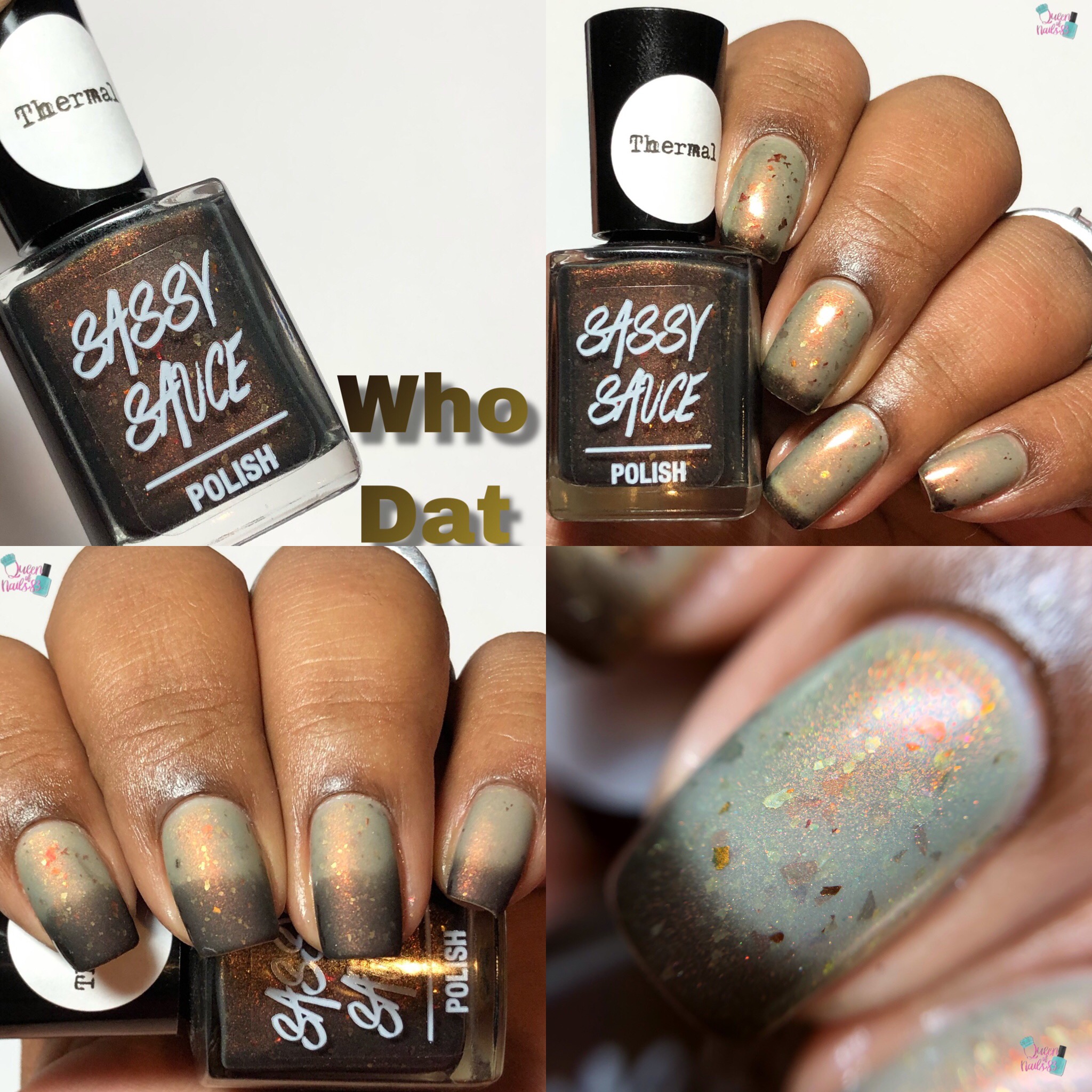 Mask On Mask Off – Limited Edition (T)
A royal purple thermal with a golden red shimmer. When the mask comes off (warm) the purple fades to clear and the festive shifty duo chrome flakies pop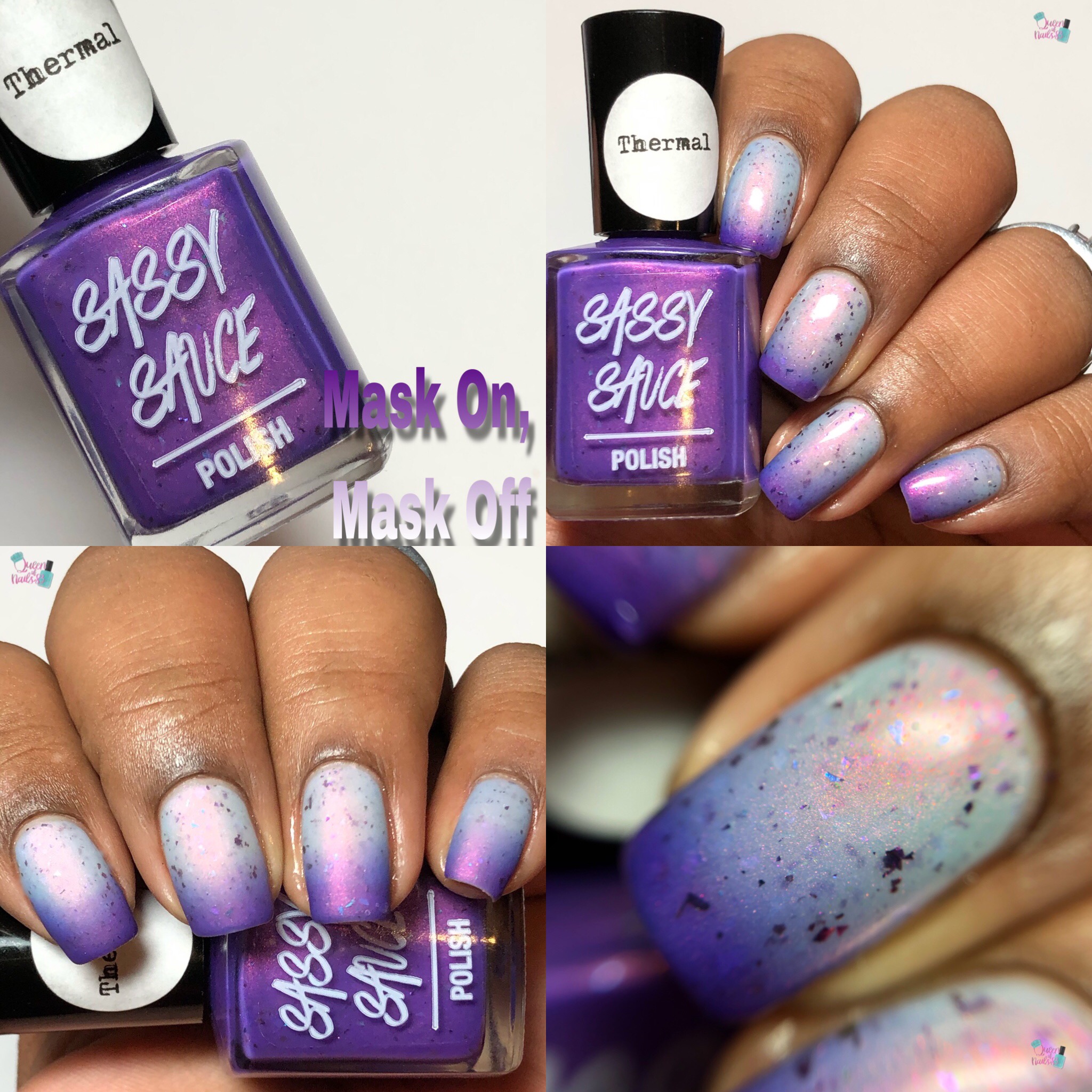 Whose Party Is The Room In – Exclusive/LE
A shifty metallic blurple with a red shimmer and sneaky crystal shifty flakies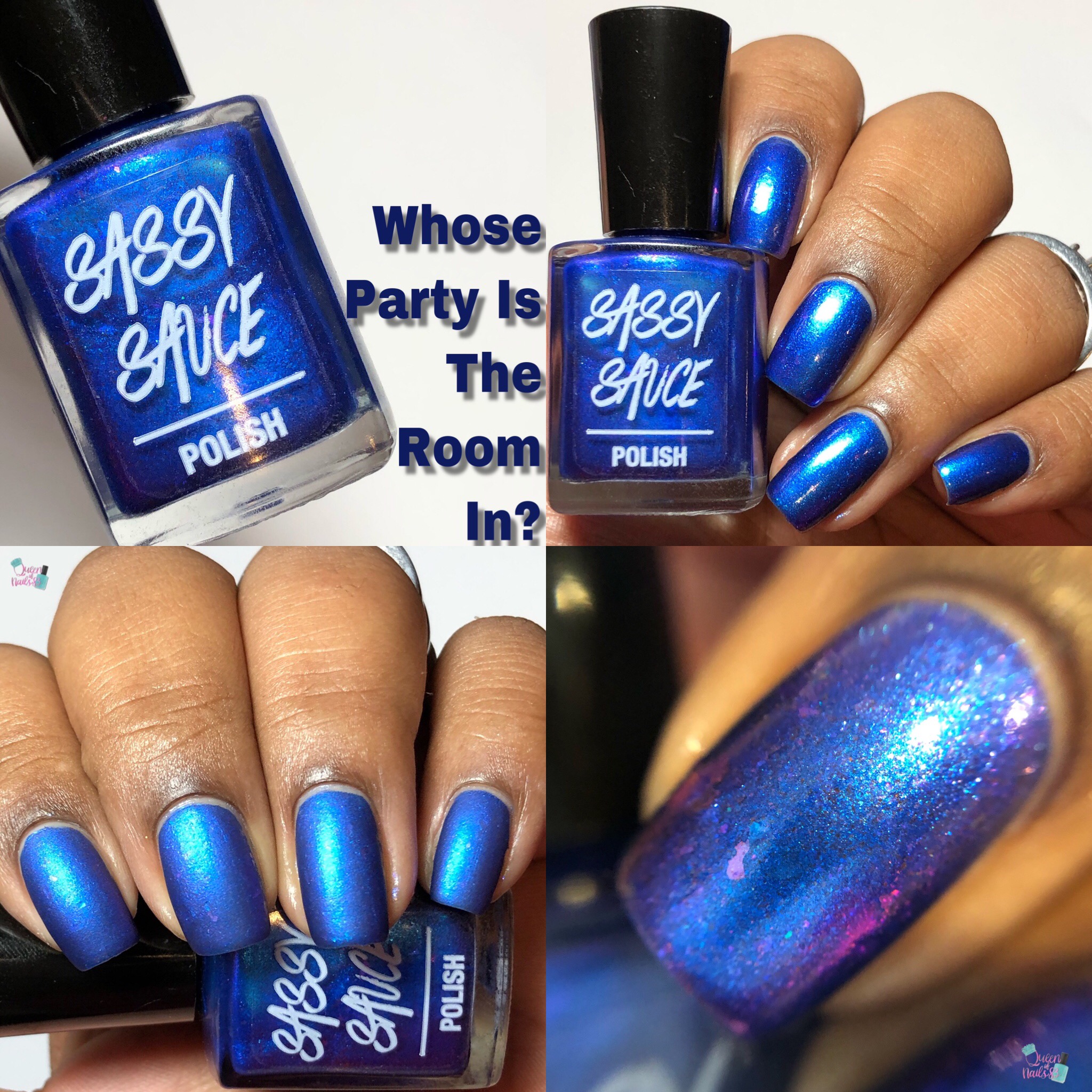 March 2019 Release
Solid Right Swipe
A blurple base with blue glass flecks, scattered holo and duo chrome shifting flakies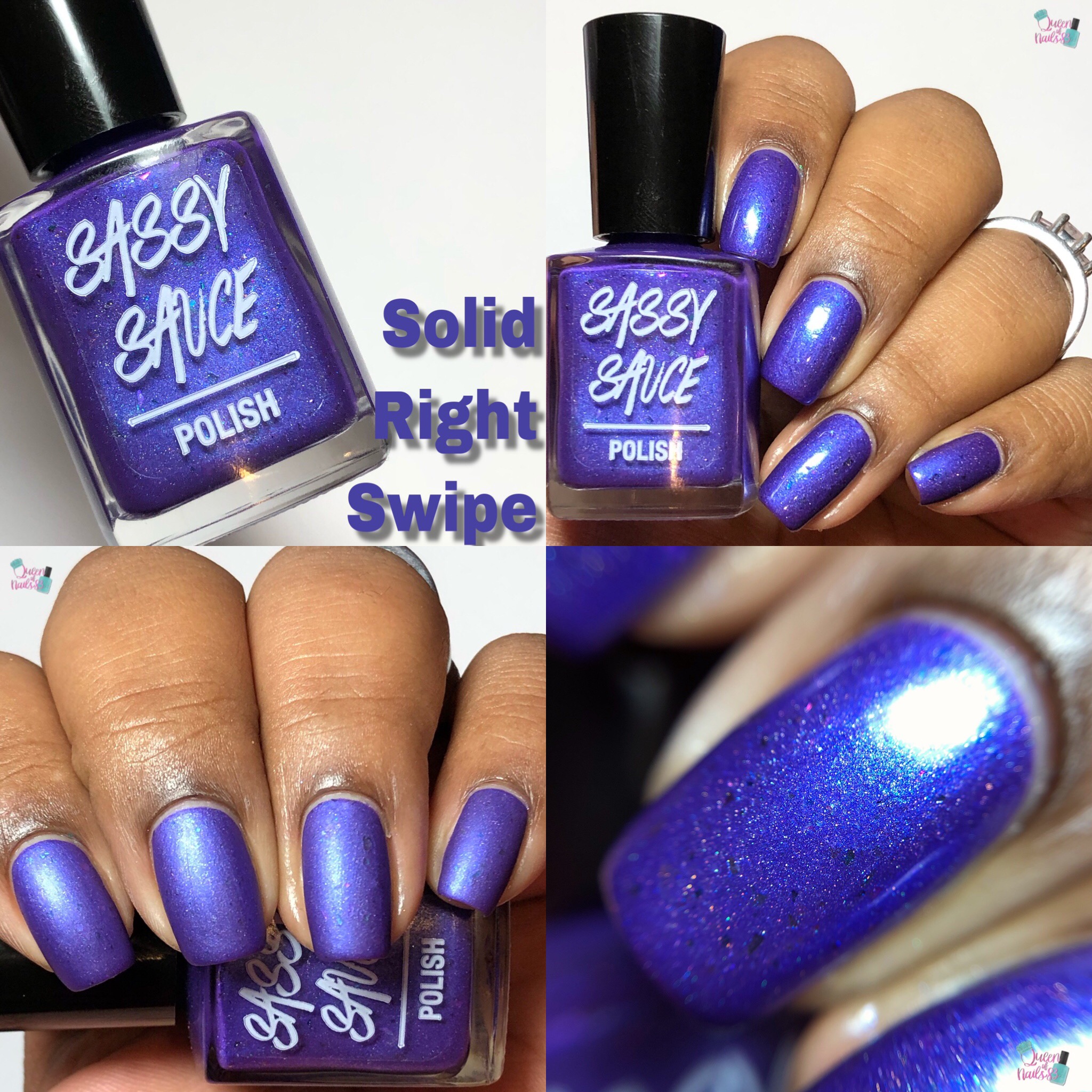 Concrete Theory
A grey crelly with a strong blue flash and shifty crystal flakies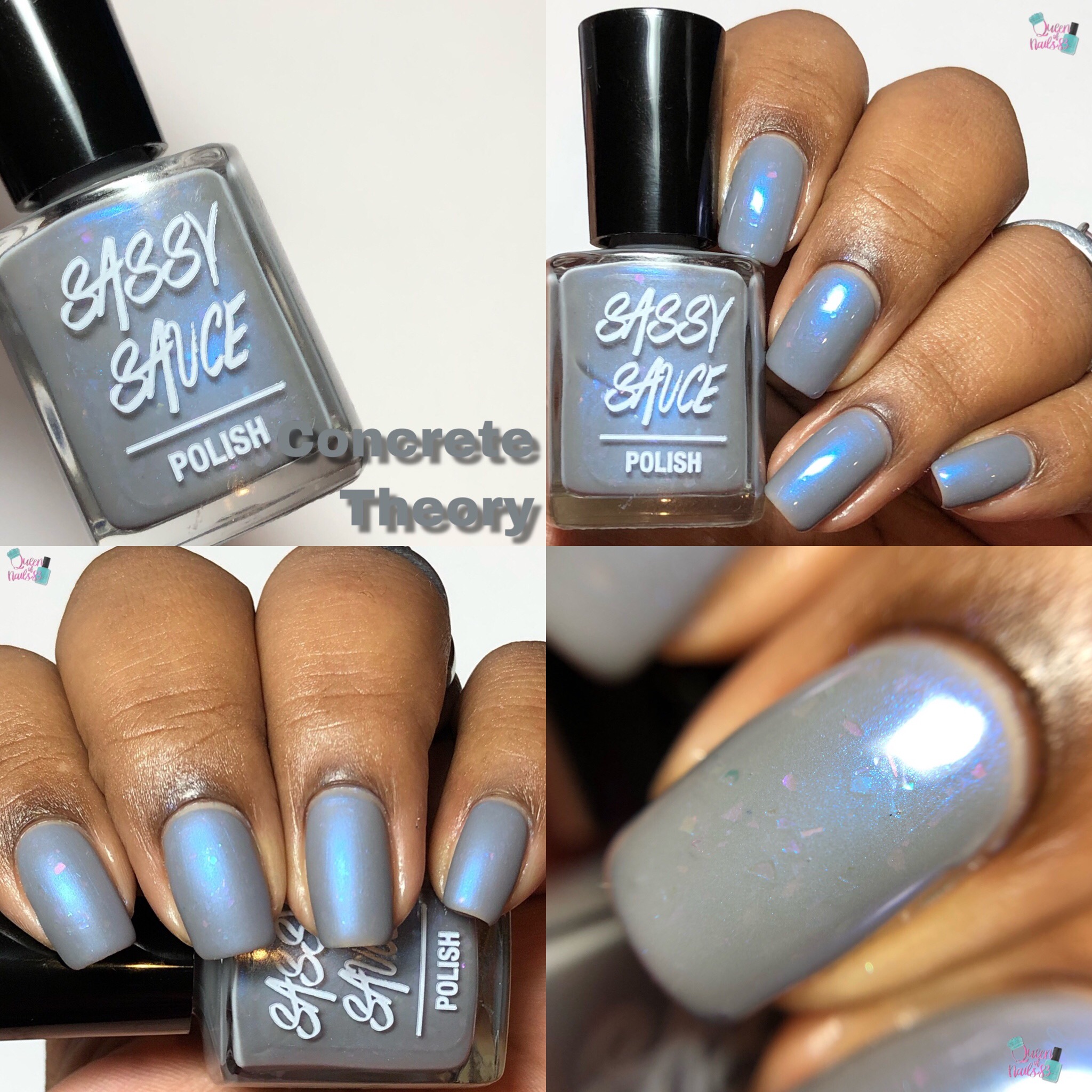 Wicked Sun Daze (T)
Cold state is a rose thermal with scattered holo, aurora shimmer, blue sparkle and duo chrome shifting flakies that goes clear when warm and leaves behind a glowing Sun daze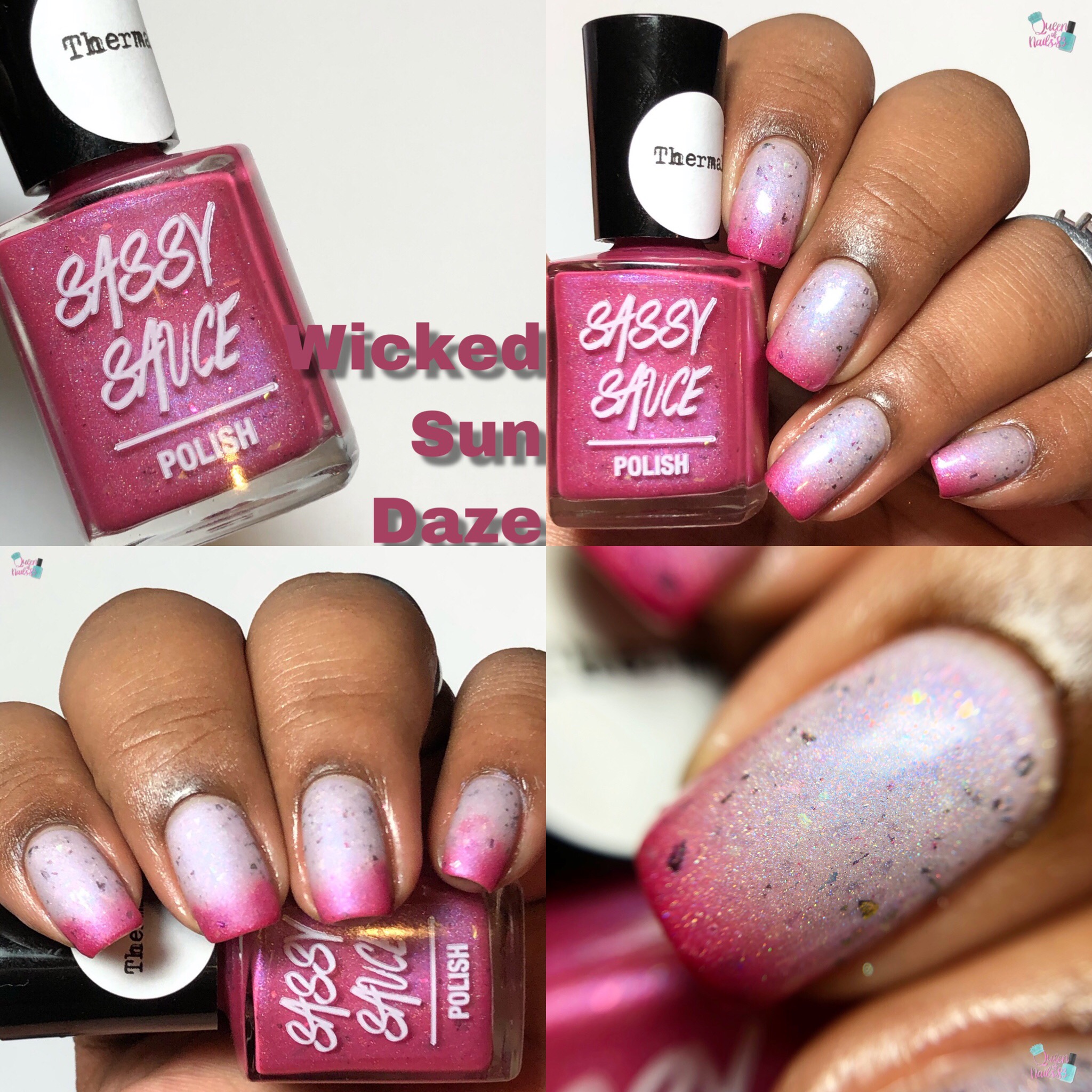 Hot Pinkini
A shimmery hot pink base with blue flecks and crystal shifty flakies!!!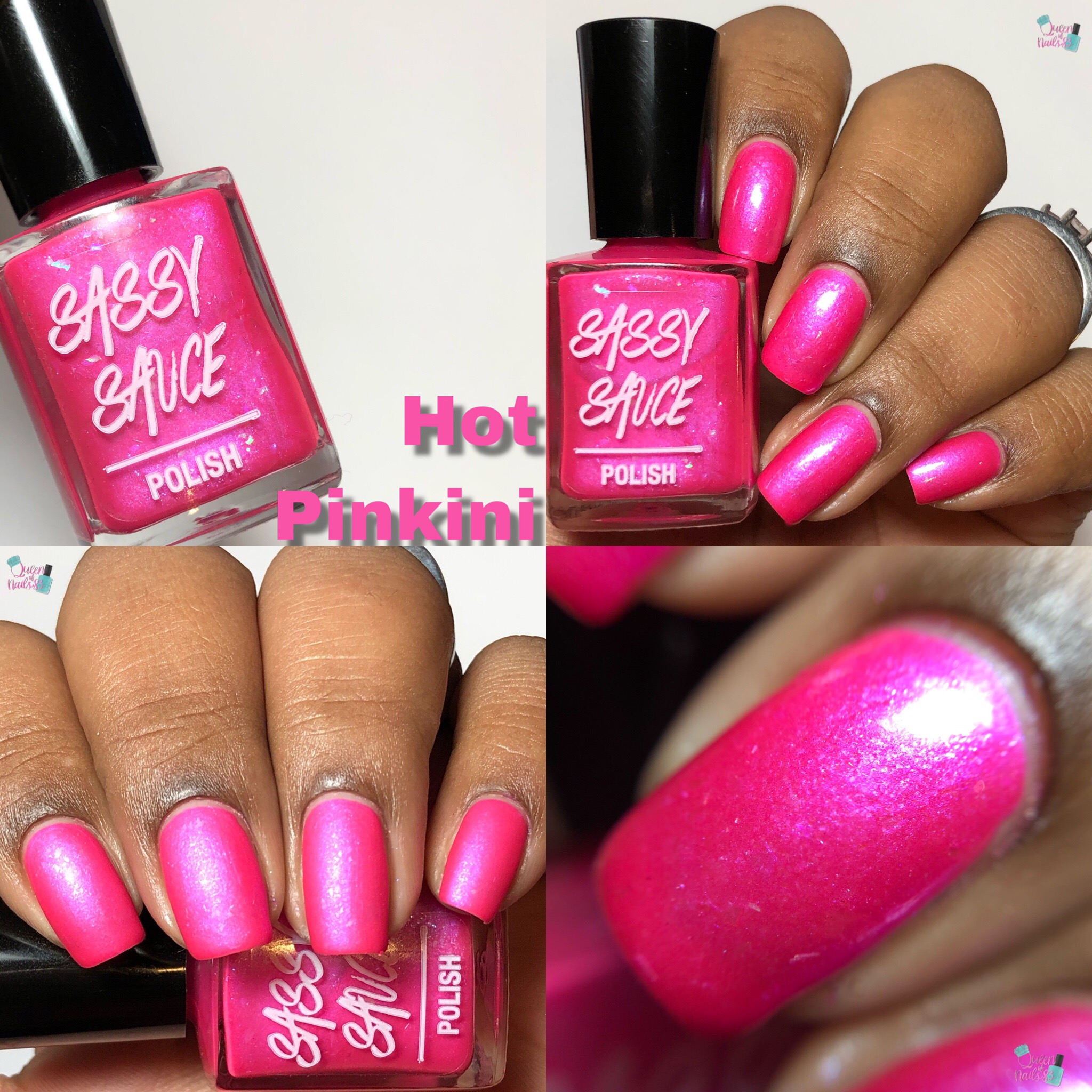 Sassy Sauce Polish – Polish Con New Orleans 2019 & March 2019 Release
Fairy Program: Yes
You may be wondering…. what is the FAIRY PROGRAM????
It's simple!!! It's a virtual shopping experience which allows those that are unable to attend Polish Con the opportunity to shop along and join the fun! Allow Polish Con Fairy, organized and fulfilled by the ladies of Fair Maiden (the founders of Polish Pickup) to be your one-stop shop for event overpours, RTPC (Road to Polish Con A & B), LEs, Exclusives, etc.
Upcoming Dates
3/30 – Wish list shopping will begin

4/6 – Shop opens at 1pm cst

4/9 – shop closes
Please join the Facebook Fan Group for more details and information. Please note – not all makers/brands will be participating in the is feature. 
Opacity: swatches shown in 3 coats
Price: $11
Shipping: Free shipping on U.S. orders over $60 to Canada on orders over $100
Availability:
Event Polishes – Saturday, April 6th at PCNOLA 2019 and online after event April 10th

March 2019 Release – Saturday, March 23rd at 11am cst
Sassy Sauce Polish
To stay in the know of all things Polish Con, shop, like, join and follow
**Polish Con**
*Like, Comment and Subscribe*
Eat, Laugh, Polish, Repeat
Queen of Nails 83

💕